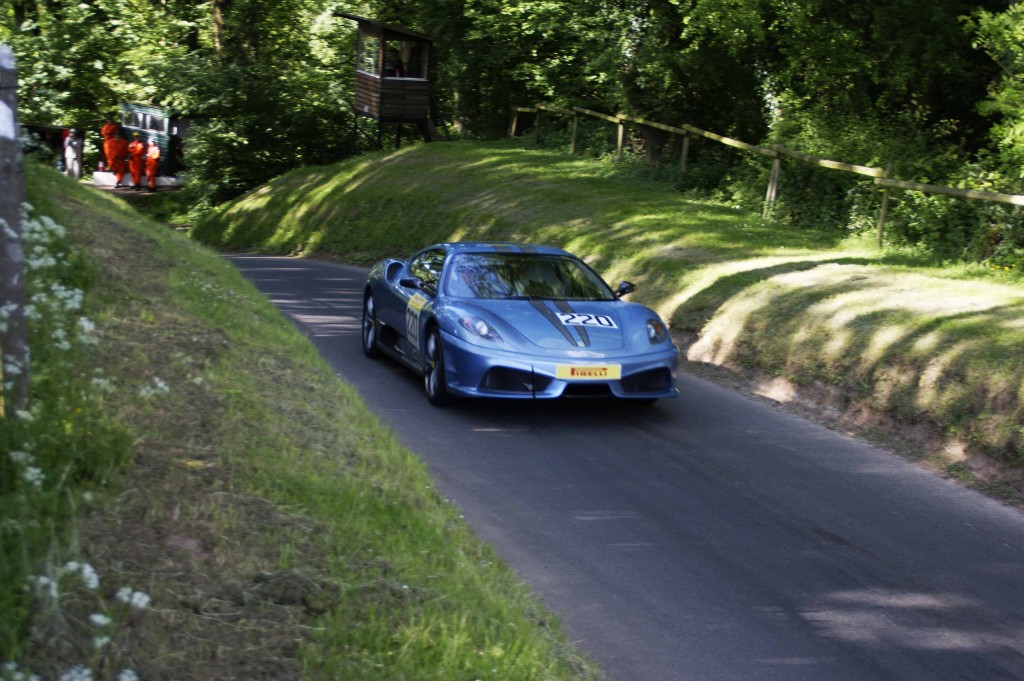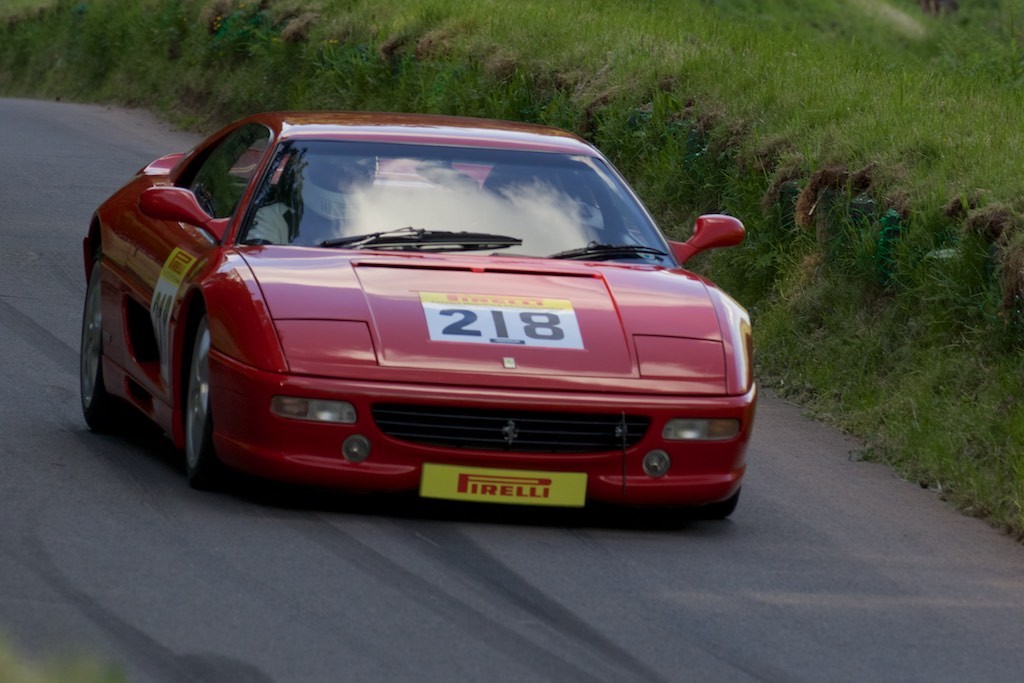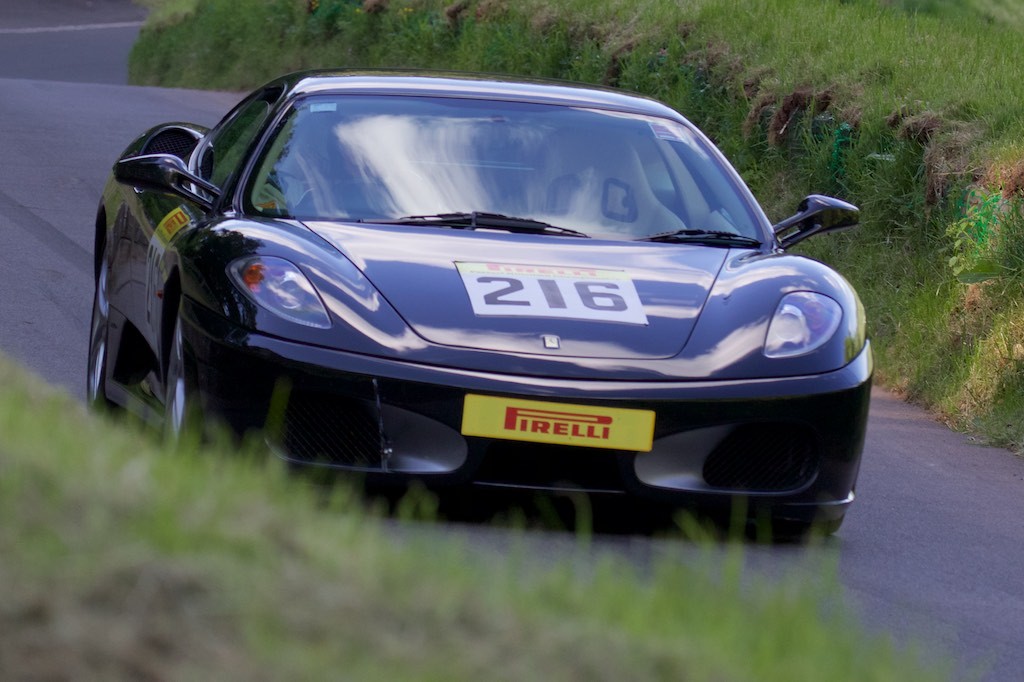 We checked the weather forecast before leaving home and the Met Office was sure it would not rain this week end but as we fixed our numbers and timing struts we felt a few spots of rain. However, most of the Ferrari competitors chose to practice after lunch by which time the weather was nice and warm.
Nick Taylor had the start line light turn red just as he started, so he stopped and then realised the red was not for him, but it messed up his start and he took over six seconds for the first 64 feet and a time of 41.40 which was slow for Nick, even with the 4 second start line delay taken off. It just shows how much a small hiccup at the start can affect the overall result.
Mark Wibberley brushed the bank after Crossing and gave himself a fright and Wendy Ann was pleased with her first run, but not with her second. As she left the start line the car jumped out of gear. She got it back together quickly but you can never make up time on a hill, only lose it so even though her split times were good, she was still two seconds slower than her first run.
Richard Allen was entered in his 355 but, due to a delay at the service centre, he had to dig out his old faithfull 328 and put in a pair of pretty respectable practice times which he was far from pleased with.
Philip Whitehead also brushed the bank on his first run, but got it right next time and put in two good solid runs in the mid 35s. Swifty was a little slower but pleased with his 90 mph finish.
Richard Prior had a long wait on the start line as the car before him had a big off and left the track a bit dusty, so after a cautious first run he got into the 34s, the only driver there so far apart from Marshall in the Scud, who, with his PEP needs to go about two seconds quicker than anyone else. His 34.26 was not really good enough, and so that was about it.
But where is Pauline.Goodwin? She arrived eventually having had fuel problems in the car the day before. It was only thanks to Nick Cartright that the car had been sorted and she arrived in time to practice with minutes to spare.
So off to the Talbot Inn where most people met up for a sociable meal together, except that we learned too late that there are two Talbot Inns, several miles apart.
The next morning dawned bright and sunny but there was no rush as the Ferraris were running last in the program. There was no need to arrive before about 11 am by which time the scene was buzzing and everything looked good and exciting in a way that only Shelsley can.
As we prepared the cars I looked up the hill and could see Buzzards circling, which always puts me in mind of vultures waiting to pick the bones of any intrepid climber who fails to make it. Fortunately at hill climbs there are well trained marshals to keep the vultures away…
With a few offs during the morning and only the Top Twelve runoff to follow it was almost lunch time by the time the Ferraris lined up.
Mark W had a good first run seven hundredths under his PB and then Nick Taylor set the hill smoking with a 33.89. Pauline got too much wheel spin at the start and was disappointed with her run but Philip didn't and wasn't. His 2.42 start was the fastest of the weekend so far and he was one of only three drivers to go under 35 seconds. Swift, Marshall and Allen all put in good steady runs which would have pleased many drivers but these old timers were well off their PBs and not satisfied.
Up in the top paddock I could hear the commentator getting very excited as Richard P messed up gears in the middle of the Esses and the car got well out of shape. But Richard kept it in check and arrived safely at the top with a mid thirty five having lost a second or two. Last up was Wendy Ann who made her best start of the weekend and came within hundredths of her PB with 39.19.
Without a calculator it looked close for the maximum points between Whitehead and Taylor with Marshall third, but Richard P being a wild card if he could get it right next time.
So with the sun scorching the tarmac and barely a cloud in the sky it was all to play for as we waited for the final runs. and we waited, and we waited, and we waited. With a full entry and a slightly late lunch stop the time dragged on and a steady stream of cars being brought back to the paddock on the recovery truck saw the sun sinking lower and the temperature dropping before the Ferraris were finally called.
Sitting in the queue I could just see the digital timer on top of Vox Villa, the start line commentary box where Murray Walker started his career. I watched the seconds click up and they stopped at 34.46. I didn't know who had done it but it seemed significant.
Then it was my turn and I got a good launch. As the speed picked up a bit of wheel tramp developed so I short shifted into second and floored it. For a few yards everything was fine and then the car slewed violently sideways. I had that horrible feeling you get just before a crash but somehow it didn't happen. The car stayed on the very narrow black stuff and I carried on, but it was too late. I had blown a fuze in my brain and drove gently to the top still shaking.
But Richard P wasn't shaking and stormed up in 34.51 just five hundredths behind Philip W.
So back down the hill, wave to the marshals and now for the inquests.
Most drivers had gone slower on the second run, probably as the temperature was falling, which makes Philips run all the more remarkable as he was the only driver get under his PB, which he did by a massive four tenths and he also scored the best 64 ft time of the day on that run.
So in the end it was Marshall first with Taylor second and Whitehead third on scratch, but Philip was the real winner and very deservedly took the 20 points.