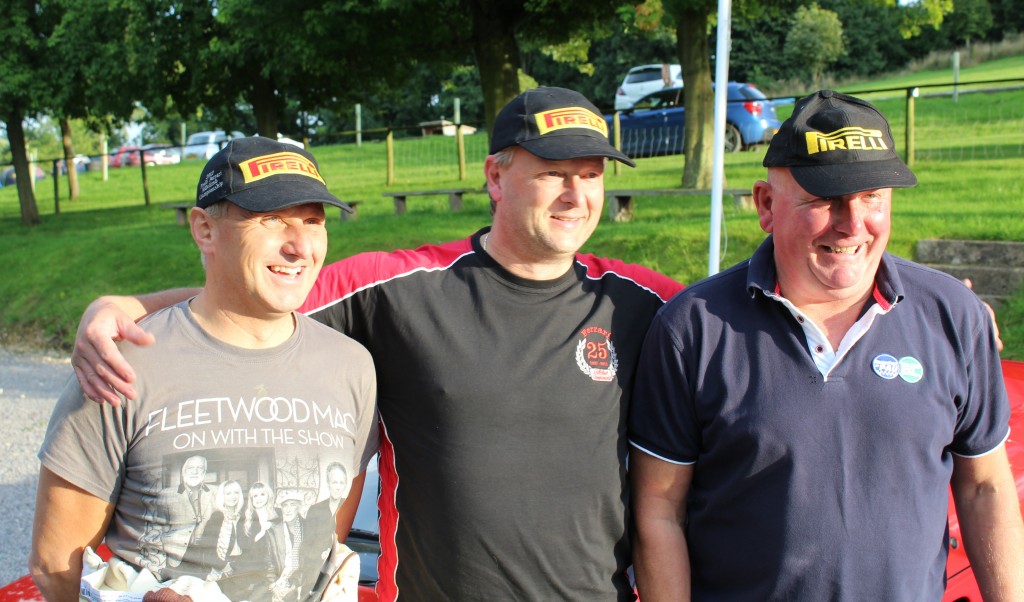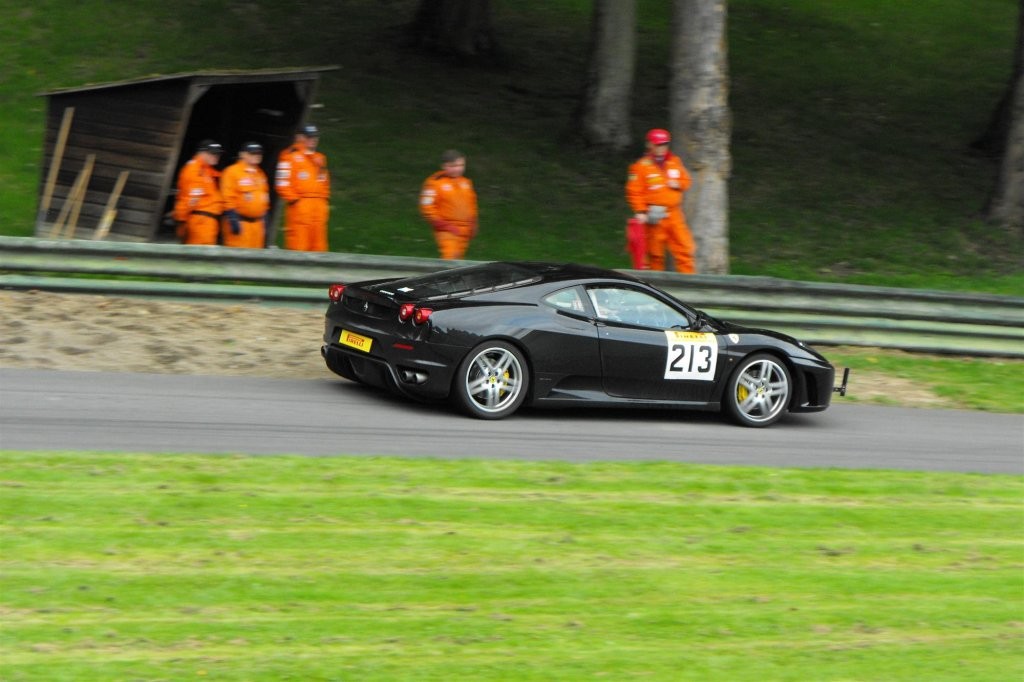 A distinctly damp Prescott greeted the small band of Ferrari competitors at what is regarded as one of the most popular Hillclimb venues, though there were only 4 of us initially which suggests otherwise. With 2 withdrawals due to family illness, a no show and circuit racing robbing our Championship of 2 further contenders, we were pleased to see our numbers swelled by our usual latecomers, Messrs Prior and Taylor. Nick in fact even arrived before Richard, some achievement by our Champion…
With absolutely no grip for the early runners, the only dry sectors being narrow tracks after semi-Circle, and their times best left unreported except a very ballsy 52.81 by Philip Whitehead, the later arrivals therefore had a much better experience on a dry track. Richard was 52.78, Nick 51.17. Proper practice and a lie in…
P2 was very different – due to Phil's helmet being impounded and thus Shaun lending him his, the rest of the field had the benefit of interrogating Shaun about conditions, as he went up considerably earlier on his new Bridgestones. It was remarked that the helmet issue and RP being late could decide the Championship, but neither ha d a bearing in the end. So, Shaun, myself and Jeff Cooper all knocked 5 seconds of our first practice, the leading runners, being 3 of the top 4 in the table, shaving off 1-2 seconds. Phil suffered too much wheelspin off the line yet recorded his first ever sub-50 time at 49.96, Richard was distracted by having to leave his bacon butty with a start line marshal and jumping out of gear on the Esses exit and Nick was asleep when I went to ask him. I hit the rev limiter for the first time on this hill coming into Pardon and messed up my exit but overall, nothing dramatic to report. This left matters finely balanced for the crucial first run, with Phil seemingly on fire and although half a second slower than Nick (49.47), half a second up on PEP. RP was on 51.27.
This was the position at 11:30 – we didn't go again until 4:15, a massive wait hanging about and negating the benefit of practice when 5 hours passed before another go. This gave us plenty of time to talk about people who weren't there, for Christian Mineeff to arrive for photography duties and us to wonder at the mounds of kit the single-seater boys have to bring to clutter up the paddock. There was no party atmosphere to enjoy like la Vie en Bleu so we made up our own entertainment.
So, first timed runs in very good conditions started dramatically for our class with Shaun Smith taking a very wide line at Ettores, collecting gravel with 2 wheels all the way round and finally crossing the line a tad under 100 seconds. Phil laid down the gauntlet with a stunning 48.96 which left him visibly shaking, and none of the others could catch him this run. Nick was closest at 49.59 followed by Richard on 49.99. Myself next on another rev-limited run of 54.17 and Jeff Cooper 2.5 seconds faster on 57.36.
So after waiting around all afternoon, second timed runs were immediately taken, with no time to analyse or compose. The sheer effort of T1 was too much for Phil who slackened off the gas to 49.74 and Nick could only shave 0.37 off, Richard even less, 0.11, to give Phil Whitehead both the scratch win and the 20 points for the second time this season. Nick was second and for 17 points, Richard was third but didn't improve his overall Championship score. Once again at Prescott I was 4th on scratch having improved further to 53.62, a disappointing 0.5 off my target of beating my PB and Jeff again lopped 1.5 seconds off to finish on a best time of 55.97. I was demoted to 5th on points by Shaun who was distinctly off-colour on 54.37, with Jeff Cooper picking up a very handy 11 points.
It's now all to play for at the next round, Shelsley Walsh, with Phil leading the Championship by just a single point.  Bring it on !