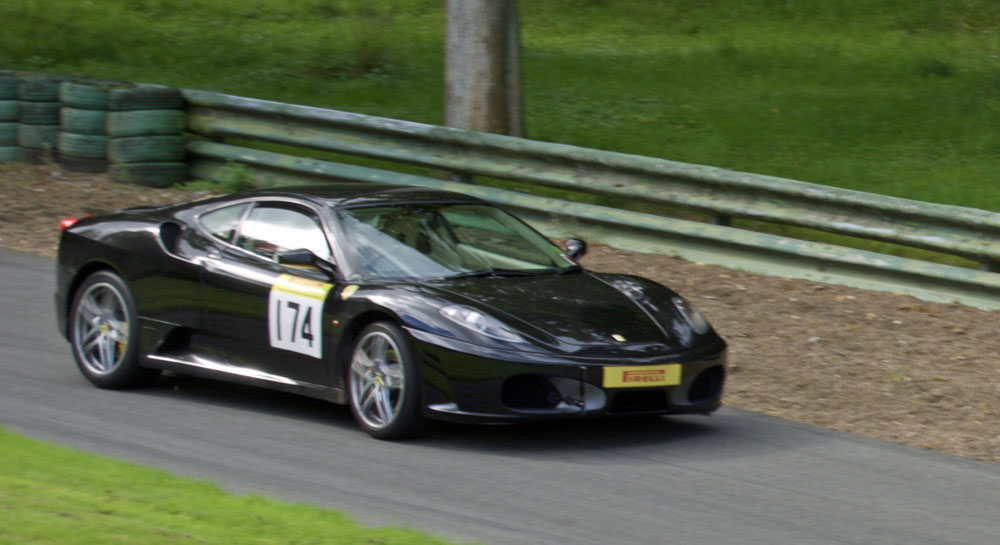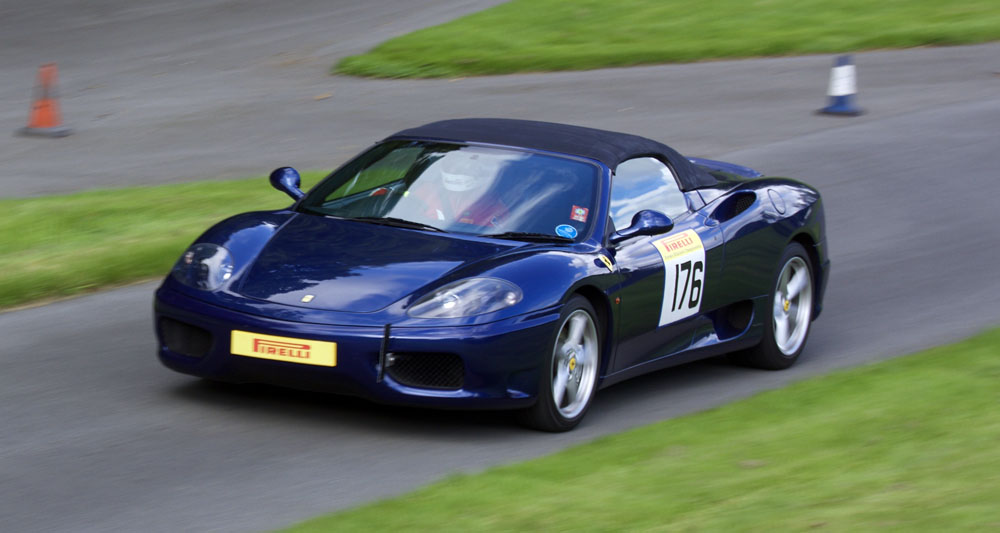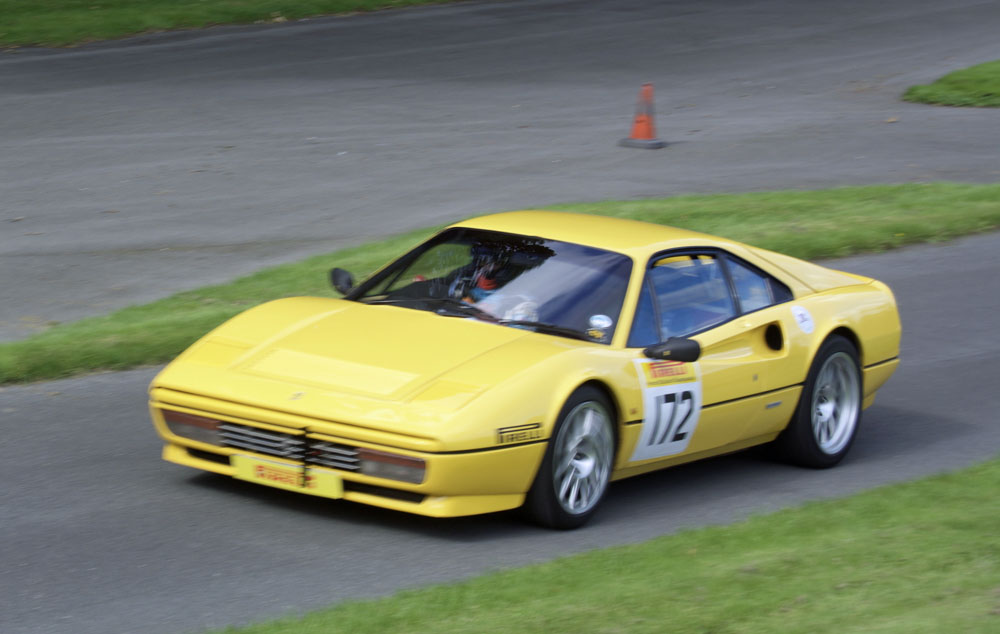 Round Two! What is normally a late summer round, where the destination of the Championship is becoming clearer, when drivers are on top of their game after ten rounds of competition, and Prizegiving Dinner is not far away.
So to stand on the Bugatti Terrace for the first round (for some of us) this year, was something of a novelty, and contemplating the highly technical Prescott Hillclimb, with very limited time in the car since the end of last season, was slightly, well, scary.  Sadly, two of our friends couldn't make it:  Paul Booth knew a couple of days in advance that the new windscreen for his 458 wouldn't be fitted in time, and Phil Whitehead (F355) suffered the ignominy of brake failure just 100 yards from his home as he  set off for the event the evening before and missed out on his first appearance for two years. Nick Taylor of course arrived in his customary leisurely fashion just before first practice in his menacingly black 430, closely followed by Peter Rogerson. It was lovely to see Paul Skinner along to support us too.
Despite a small field though, and a somewhat downbeat atmosphere due to no spectators, fewer cars, limited catering (especially coffee) and no outside tables to gather round, our merry band enjoyed the weak sunshine and usual banter.
It took 2 hours for our first practice run, with Jon Goodwin leading the way in his sonorous V12 250, recording a decent opener of 60.66, followed by wife Pauline in the unfamiliar 2019 Championship-winning yellow 328GTB on 59.41 – 'very poor' by PGs own admission and standards.  Better was expected later.  Peter Rogerson's 60.59 reflected it being a first run though Nick Taylor was straight into the groove despite 3 years away from this venue, with 50.42.  Last up, after an alarming start which saw massive wheelspin force the car towards the start-line Armco, and an error-strewn run which deserved at least 60+, was Mark Wibberley with 54.85.  A mixed bag indeed.
Just before lunch we went again for our P2.  Jon Goodwin spun the wheels and the clocked stopped 1/100th quicker.  Pauline lopped over 4 seconds off – one to watch there — and Peter R was smoother – but slower.  Nick was really on it, within a second of his personal best now at 48.95, and your reporter neater, less raw, and faster by a second to 53.59.
Lunch was less convivial than normal, and due to endless offs by other classes — mostly cars with the engine at the wrong end — actual competition times were delayed to the point that the benefit of practice was ebbing away. Add in white cement dust all over the track, on and off the lines due to an earlier oil leak, and decision making was always going to be compromised by the fear of loss of traction. All competitors reported this had slowed them, but times showed it was all in the mind.
Nevertheless, the Goodwin V12 was smoother at the start, better lines all the way up – and a massive tenth faster. There really is no logic to this game.  The other Goodwin V8 was over a second slower but Pauline reported that it felt that way – ragged and moving about on Semi-Circle, the Alpine-style last corner of the track, and reportedly feeling different to her red 328.  Nick Taylor was also a second slower, though still sub-50; Peter Rogerson too, and also Mark Wibberley.  None could blame it on a hearty lunch.
Final runs, as the tarmac cooled and afternoon naps were taken, saw Jon Goodwin return yet another mid-60 second time, recording a variation of only 0.11 of a second over the entire day despite changing everything including tyre pressures and socks.  The Queen of Starts also tried different strategies off the line but never achieved previous legendary levels and settled for an enjoyable day out, finishing on 55.99 for third on scratch.  The Yorkshire contingent headed off for the Belfry and dinner, with another mid-60s recorded – happy after an enjoyable day but thinking what might/could/should have been.  But Nick Taylor stamped his class on the event with a 49.22 to take the Class win comfortably.  Last up the Hill for the entire day was your reporter with a best start and time of the day 53.54, and second place.
An anti-climactic end, with no awards or prizes, no commentary throughout and no points to work out and a round of drinks to celebrate them. Such is the way for this year, hoping Shelsley in 2 weeks time will return to more normal service.