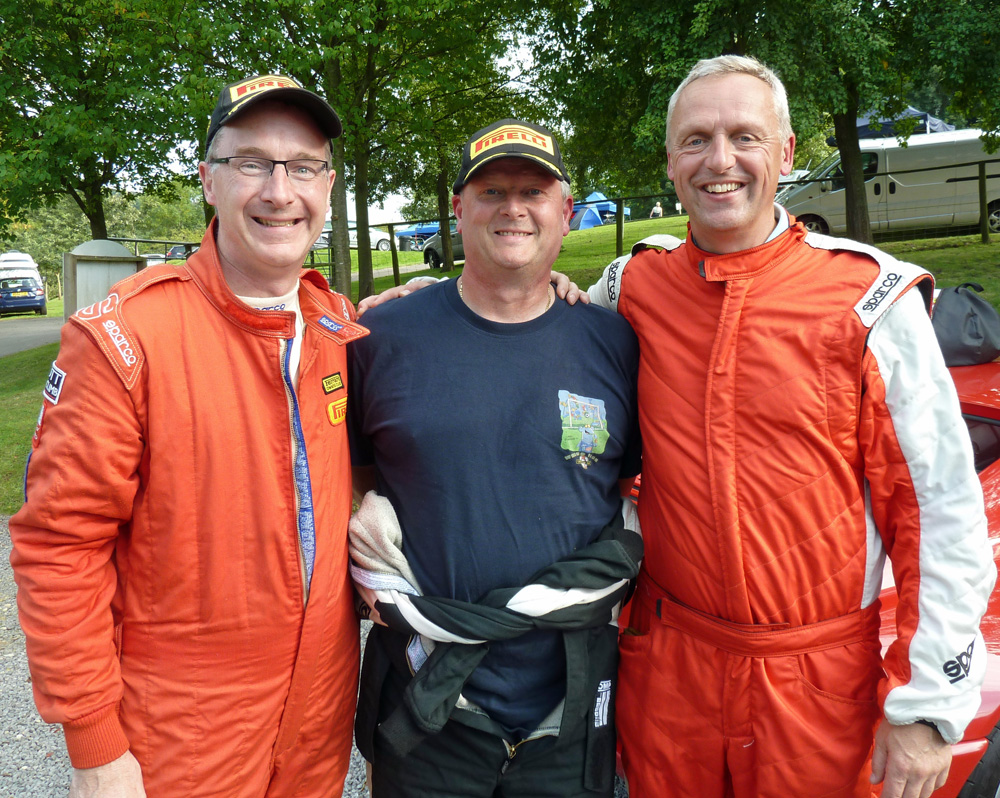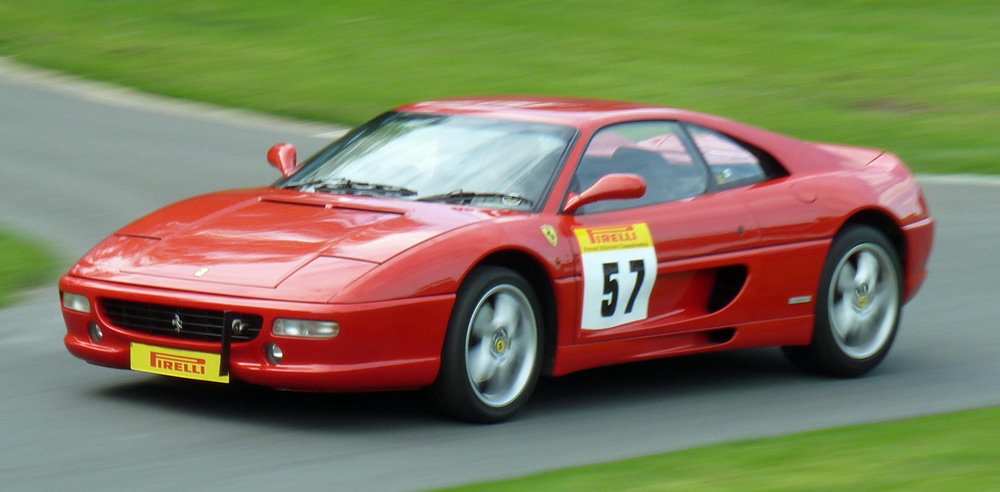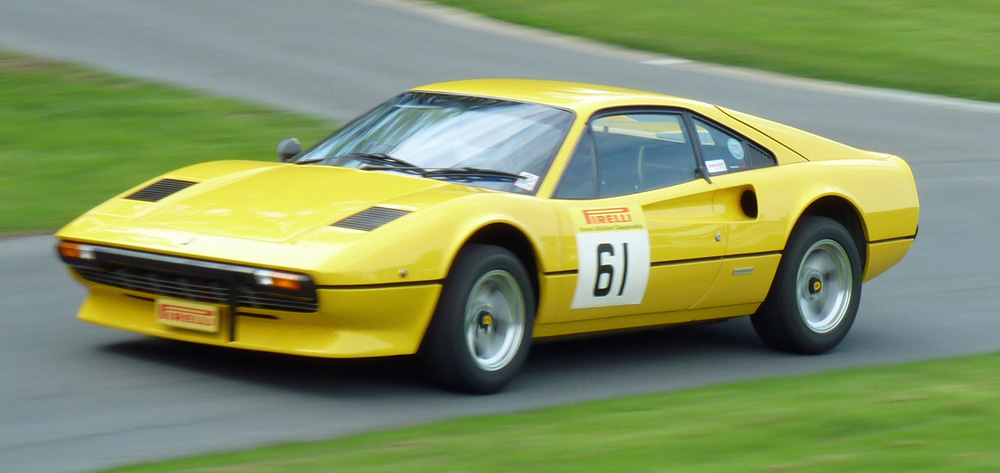 Although the PFHC visits some very attractive venues during the course of the season, few would disagree that Prescott, especially in the spring or late summer, can't be bettered.  Round 10 of the 2018 Championship was blessed with sunny and warm conditions tempered by a gentle breeze – ideal for dozing in a deckchair or, in our case, getting to grips with what is a testing, technical hill.
For various reasons the Ferrari entry was on the modest side.  Our seven-strong showing was reduced to six after Mike Spicer was unable to take part for personal reasons.  However, what we lacked in numbers we made up for in variety.
Starting with the oldest Ferrari present, Brian Jackson brought his venerable 308GTB which is looking ever more immaculate every time I see it.  Pauline Goodwin was in her familiar 328GTB while Phil Whitehead and John Swift came with their F355s in red and black livery respectively.  More modern machinery was the lovely 360 Spider of Mark Wibberley and the sleek 458 Italia spider of Paul Booth.  The field covered some 40 years of Maranello production and I am constantly amazed that the Championship's ingenious PEP tariff system continues to work so well with such varying performance potential.
The meeting was heavily subscribed and some of the competing cars had to be accommodated in the Orchard on the north side of the track.  To keep to the timetable the cars had to be ready for scrutineering at 7.45am, and drivers were required to attend a briefing at 8.15.  Since the Ferraris were one of the first classes to practice it was all hell and no notion at the start of the day. The ladies delegated to sign-on duties didn't appear to be in tune with the haste required and this process took an age, with long queues of drivers fretting about the time it was taking.
Eventually all the checks were completed and the Ferraris commenced their first practice runs.  Whitehead was immediately on the pace, his F355's engine still hot from its fast trip from Wales.  More leisurely were Booth, Swift and Goodwin – all adversely affected by the somewhat hostile attitude of some of the start line marshals.  Then, after all this early bustle, we had to lounge around for three hours for P2 to begin.
During this spell we were pleased to see Paul and Sue Skinner, followed by John Warner and his friend Marjorie: a splendid 67% attendance by our Championship stewards.  Dave Snelson and daughter Daisy joined us on the Bugatti Terrace, having driven up in his newly acquired bright yellow 488 dream machine. Christian Mineeff also came to see us and I immediately pressed him into service at the controls of my little Lumix spy camera.  You will see from the accompanying photos that he did a pretty good job.
P2 started around noon.  Everyone improved on their earlier time including Mark, despite encountering a gear change problem at Pardon hairpin. Phil kept a 2-second advantage on scratch.  And then it was the lunch break and most of us adjourned to the Bugatti restaurant.  I have to say that the food was disappointing and Pauline probably did the right thing by bringing sandwiches from home.  Shelsley Walsh's excellent eatery has nothing to fear.
The main business of the day for the Ferraris started mid-afternoon with R1.  Phil improved by a whisker (50.75 sec) to retain the scratch lead.  Then Booth tried something new: left foot braking.  It was a slightly odd thing to do at this stage of the competition and, as he confessed later, it didn't work as well as he hoped.  Swift chopped a second off his previous (53.81) but Wibberley was marginally slower.  Then Jackson opened up the throttles on the giallo coloured 308 to record 53.44, which was to be his fastest of the day.  Pauline made a slight improvement on her P2 figure but her 0-64 ft time equalled Phil's figure.
And then, with barely time to catch our breath, we were called to the start for our final run.  Pauline had stalled on the way back to the paddock after R1 and maddeningly the 328 refused to fire up again.  She parked on a slope and hoped the engine would play ball when it was her time to take the start.
This time Booth eschewed any fancy leg work and blasted his 458 to a second place 51.43 – fastest of the R2 runs and only a soupçon shy of Whitehead's winning time.  Swift was going great guns until, as he swept into the Esses, an over-aggressive attack on the kerbs caused the 355 to jump out of gear.  Quelle tragédie!  Wibberley was the quickest of us all through Bridge and improved to 52.32. Jackson was marginally slower but as always showed metronomic consistency.  Pauline successfully managed to get her car to fire up and set her fastest time of the day (54.34).
Our Championship Coordinator Anne Swift did all the sums in double quick time and revealed that the 20 points had been scooped by Brian Jackson, with Whitehead and Goodwin runners-up.  On handicap, it was Mark Wibberley who took the honours.