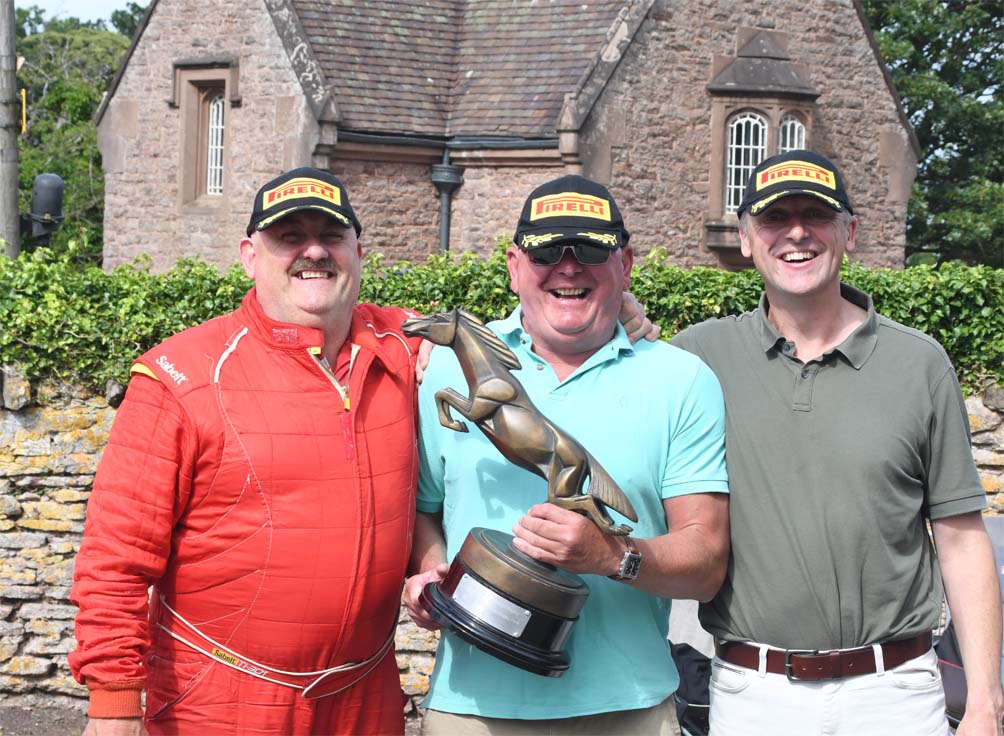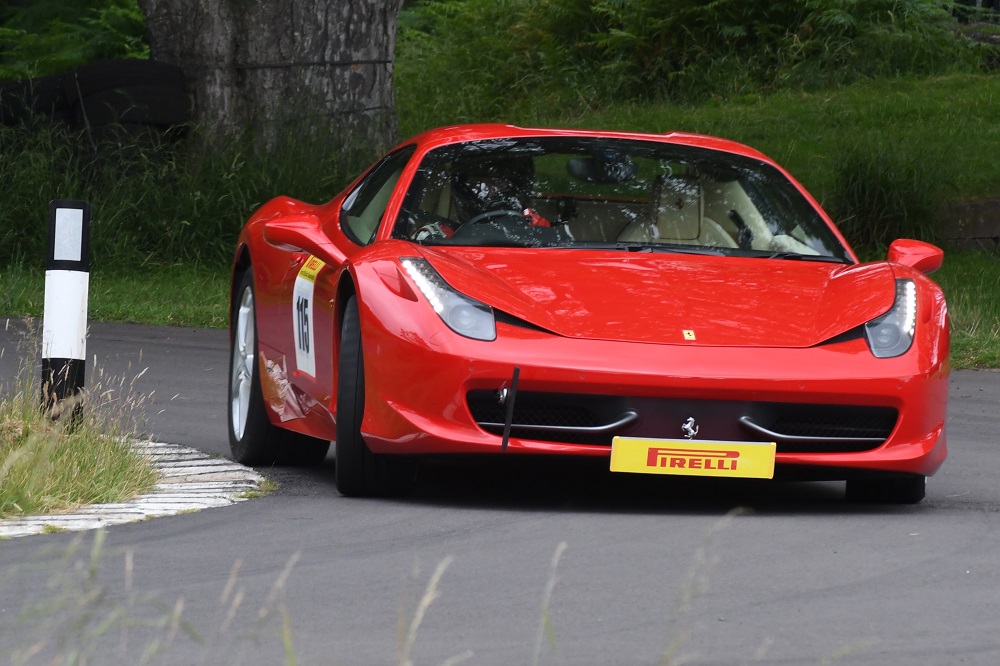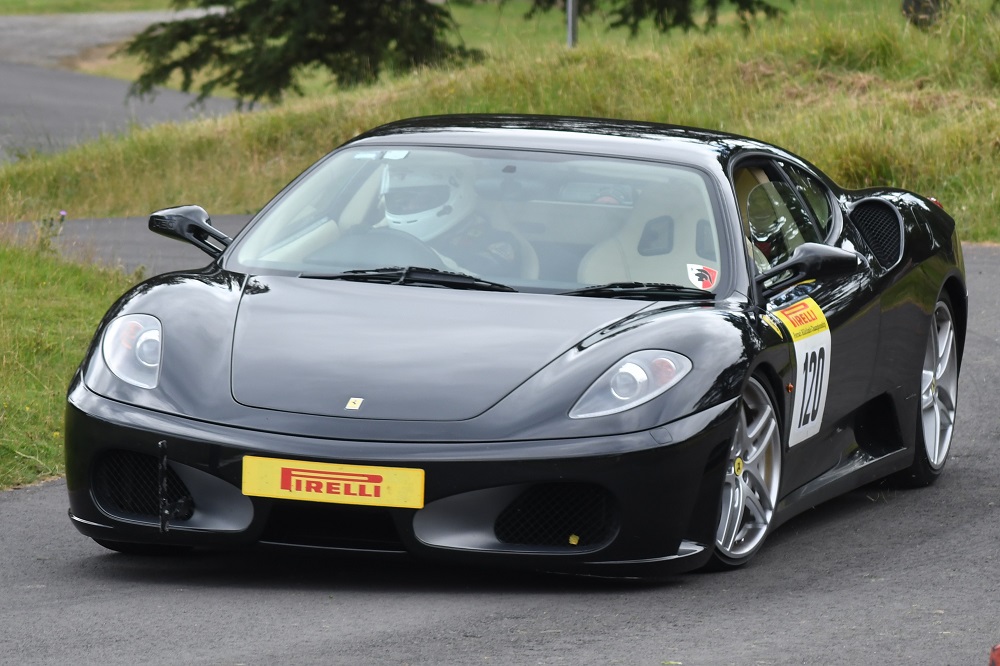 The weekend double-header at Loton Park, in an English parish bordering Wales to the west of Shrewsbury, is perhaps the highlight of the PFHC competition year.
The hill itself is tight, fast, challenging and complex. It demands knowledge of yourself, your car and the hill, and utter precision. It's narrow, especially in critical and often high-speed segments and contains the forbiddingly blind Museum corner to catch you out when you think you've done a fine job so far. It's the kick in the pants that competitors often experience when they think its almost all over.
Add in a strong field every year, a splendid dinner on the Saturday evening preceded by Pimms on the lawn and the odd cooling beer, as it's often very warm being in July. It is not one to miss. There is also a striking and coveted Cavallino-like trophy awarded by Sir Michael Leighton , the owner of the estate in which the hill sits, to reflect his Ferrari-racing forbear the Marquis de Portago and awarded to the fastest Ferrari driver on the Saturday.
So, without further ado, Saturday's first practice. An absence of only a few days greeted some of our competitors, but seven years in Caroline and Jeff Cooper's case (although the Coopers had actually scratched from Saturday's event but were due to commence battle on Sunday). Practice times reflected reticence and unpreparedness in some cases on a slightly patchy course that demanded circumspection.
So, Messrs. Booth and Attwood, in the newest and oldest cars out to play, had instantly forgettable runs – slow and steady mind you – and Richard Preece would rather have forgotten his excruciatingly slow start and a slight 'off' too. John Swift lifted off with incorrect suspension settings, which gnaws at the mind when wrestling with an awkward car, though he'd had a fine trial run on his way to the hill and should have known better. Peter Rogerson and Dave Snelson arrived late (though the latter had only come 8 miles and had no excuses). Mark Wibberley put in a scrappy, squealy run (from the tyres, not the driver) but daringly put in the fastest top speed (83mph), though not time, of the first batch. Nick Taylor hit the ground running with a pleasing 61.36.  So – the usual mixed bag then.
Second practice, on what was supposed to be a showery day but which actually did nothing but warm the track, saw off-road excursions from Mark Wibberley at Loggerheads, and Tony Attwood at both Triangle and Fallow. And again, on his re-run! Admirable consistency or repeated lunacy? Anyway, no damage to report, fortunately.  Everyone else made progress – which is what Practice is for. Notables were both Taylor and Snelson, getting into the 59s, Mike Spicer almost at his Personal Best, Messrs Preece, Swift, Booth, Iwan Attwood and the Goodwins all getting the hang of it. Peter Rogerson went below 70 seconds too, and the top speed merchants struck 86mph.
So, come the first run that counts, following an excellent BBQ lunch arranged, as usual, with the pub down the road. Of the early runners, Peter Rogerson benefitted from a re-run on warmed tyres due to Tony Attwood's Dino leaving the track again – at the same place – but neither had anything to write home about. Richard Preece took pleasure in segments of his first competition run here in his newly acquired 360 Modena to record 63.34 and Mike Spicer  recorded the fastest 'small car' time, at 61.98, in over 15 years. Wibberley tried too hard to make up for coming off last time, though had developed a distinct Scandi Flick at the top of the 'Isn't' – the straight that isn't really – for a decent 65.14. Others felt generally OK, having put down a decent banker; Booth, Attwood Jnr knowing they needed to just go a little faster next time. Our defending Champion put in a fast but not quite fast enough 60.09, so definitely needed to work his new tyres harder. He was followed by Nick Taylor who threw down the gauntlet with a perfect run to record a new Class Record of 58.28. As the existing record holder, Nick clearly likes this venue!
So, a clear leader and perfect track conditions on a very warm day when we were called for the final time. Could Snelson snatch the class win and mega trophy? Could others learn their lessons on line and cornering, and where the black stuff is, to change the order? Could Pauline Goodwin rediscover her blistering starts, and Jon in his beautiful 275, driven with the top down and cigar at the ready, wring any more power from its glorious V12?
The answer was, in summary, no. Most drivers were actually slower – the past Champions of Snelson, Taylor and Spicer were, also marginally Mr & Mrs Goodwin. But Peter Rogerson took over 3 seconds off for a 68.52, Tony Attwood went much better, principally by staying on the track, John Swift improved to 66.17 and Paul Booth beat his PB by almost a second to take 3rd place on scratch with 61.69. A slight improvement on the PB of Mark Wibberley, to 62.41, saw him take the Handicap prize, but major honours for the day went to the irrepressible Nick Taylor, with a Class record, 20 Championship points, and that great trophy.
(For more pictures go to our Flick page).