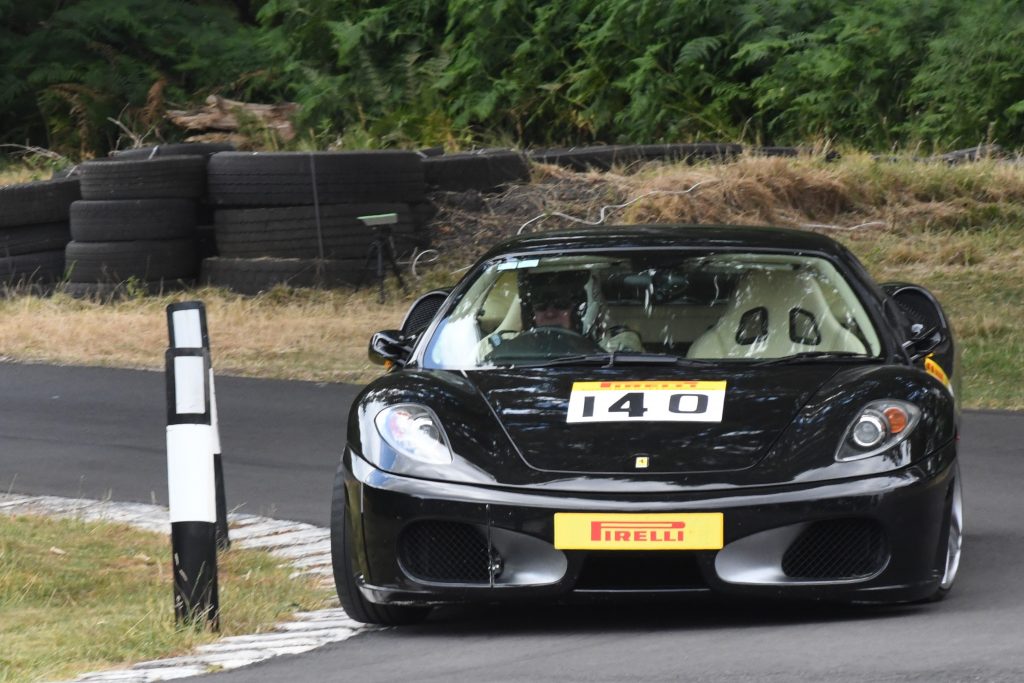 Sunday began just like the previous day: sunny, not a cloud in the sky, and the promise of more scorching hot weather.  Unlike Saturday, we were spared the frenetic sign-on and scrutineering procedures that usually have to be done in double-quick time and, being the last class on the programme, it was all quite leisurely.
The Ferrari field was the same as before and, with the benefit of Saturday's experience, we all looked forward to bettering our previous times.  A quick canvas of opinion revealed Dave Snelson was optimistic of breaking Jon Goodwin's seven-year-old record set in his 458 (58.83 secs).  To do this he reckoned he needed to use his 430's 'race' setting or even, if desperate, dispense with the traction aids altogether.  We offered a word of caution.  Peter Rogerson had set himself a target of a sub-70 second time for the weekend.  "If I don't do it, I shall retire forthwith."  We all hoped he would manage it, just as he had the day before.
Richard Preece looked relaxed (a dangerous sign for his competitors) while Lorraine Hitchman, after her altercation on Saturday with a fleet of ducks, hoped for better luck.  Paul Booth is really getting the hang of his lovely 458 spider: each of the previous day's runs were progressively faster than the last (a sure sign of a good hillclimber) and we fully expected the progress to continue.  Pauline Goodwin decided "more precision" was needed although her Saturday times were very respectable.
Jon Goodwin paid a courtesy call to Loton Park's landlord, Sir Michael Leighton, who, over coffee, confessed he may have made a mistake by letting the organisers continue with the meeting during the church morning service.  A few parishioners had complained it disturbed their prayers.
And so to Practice. These days, a conversation with the Attwoods usually pivots around whether their GT4 is suffering from a misfire.  Happily, today it wasn't, with Tony hitting the sub-70s.  Booth took a conservative approach albeit a pretty quick one, while Goodwin J was more rapid than Saturday (perhaps Sir Michael had put a dash of something in the coffee).  The duck-less Lorraine found over nearly two seconds while husband Chris looked very impressive with a pair of 63 secs runs.
Pauline was a little slower than yesterday (too much precision?) while Mark Wibberley wrecked his chances of victory in the handicap by slicing off a handful of time (62.88 and a personal best).  Preece and Swift vied with each other in their F355s with the latter a few hundredths ahead.  Brian Jackson was a model of consistency in his gorgeous yellow 308GTB (which was selected for the Paddock Cup as the day's best turned-out Ferrari).  Equally yellow and almost as perfect was Mike Spicer's 328GTB, which gets off the line with unbeatable haste.  At the front, Snelson out-paced Taylor by a whisker but was aware that Nick has a habit of turning up the wick in the afternoon.
There was a variation on the 'BBQ-that wasn't a BBQ' today.  Our good pals at The Old Hand and Diamond pub had done a selection of baguettes for us which, considering the heat, wasn't a bad idea. Pickles, chutneys, salads and choices of soft drinks completed the fare, and we all enjoyed another excellent alfresco lunch.
Snelson had brought sandwiches from home (he enjoys his porridge for breakfast) and when we all returned to the paddock there he was, sitting in the 430's cockpit, practising switching from race mode to 'suicide' mode with his race gloves on. His plan was to change modes on the way up Cedar Straight.  It looked a bit risky to your observer but his resolve to win was applaudable.  A quiet word with Nick Taylor suggested he might use race mode for a change.  Spicer thought "a high 61" was possible – which would move the bar upwards.  Swift checked his tyres  (5psi above normal) and thought lowering the pressures might pay dividends (it didn't).
So, around 3 o'clock, we commenced the first 'officials'.  Iwan Attwood went quicker to get closer to his dad, Booth speeded up by 12mph on the straight (to 84), Chris Hitchman – without any fuss – improved to 61.36, making him 3rd fastest, and Tony Attwood imposed seniority by 0.14 on his lad.  Jackson continued his Rolex-style performance albeit dipping into the 65s while Spicer rocketed off the line in a class-leading 2.23 seconds.  Taylor was the last to run and stopped the clocks at 59.89 to better Snelson's slightly slower effort by just 0.12 sec.
The track was cooling – but only slightly – as we lined up for the final assault.  Iwan A was quicker but then again trumped by Tony A by 0.12 secs.  Booth changed his conservative stance to get the 458 almost two seconds quicker, Jon G fired the glorious red 250 up the hill in its fastest ever time (66.94), and Chris Hitchman posted a high 60 – it might have been even quicker but the 430 is his dad's car, remember.  Richard Preece clocked a very useful 62.83 to put paid to any ambitions your reporter may have had.
But the best was last.  Nick Taylor got everything right to register 58.50 to capture the full 20 Championship points and break the long-standing class record – a wonderful effort.  Again it was a costly time at the bar for Nick as he treated most of the Ferrari drivers a second time but I am sure he felt it was worth it!
The Loton Park weekend will go down as one of the best events of the season, combining stunning weather, ultra-close competition, very enjoyable hospitality, and a great Saturday night party.  What more do you want!