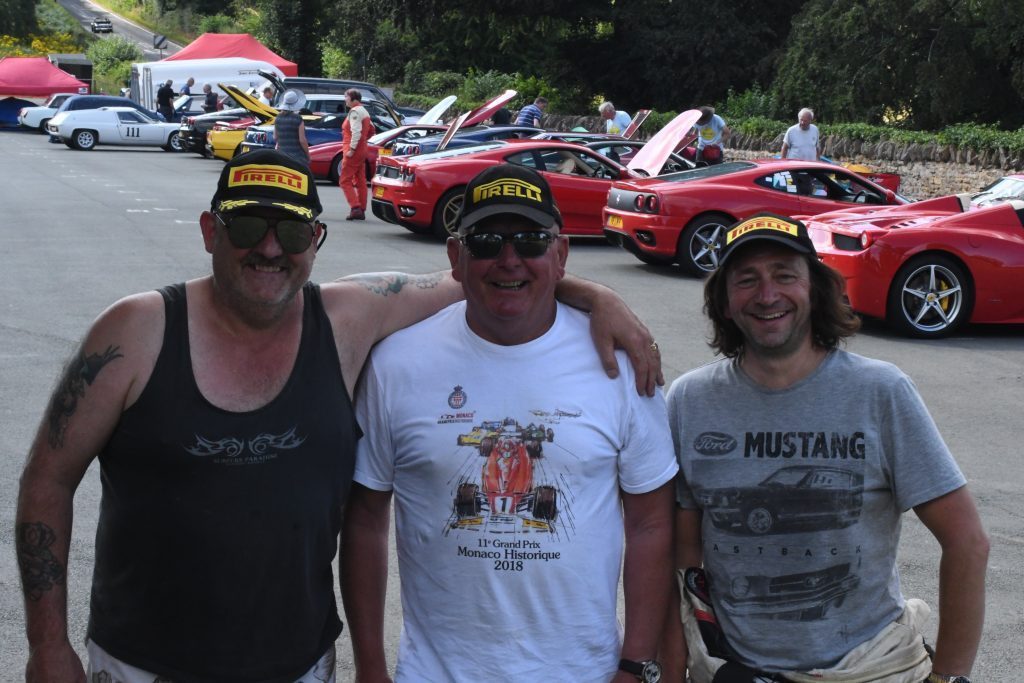 With the continuing spell of indecently hot weather hopes were high for good conditions and fast times at the first of the annual double headers at Sir Michael Leighton's Shropshire estate and deer park. The field of 15 Ferraris spanned a variety of models, from Jon Goodwin's re-created 250 SWB to Paul Booth's 458 Italia, through 308, GT4, 328, F355, 360 and F430 too.
Battles were expected for the outright win between the F430s of David Snelson and Nick Taylor, the latter on his first outing of the season, and between them and Mike Spicer in the 328 for the maximum points. Elsewhere individual tussles for pride and points between the Attwoods and others added spice.
Practice 1 dawned in warm sunshine and cloud cover, providing an already warm track, though we were reminded that this is a wildlife haven with a pheasant on the track and a gaggle of ducks forcing Lorraine Hitchman into a sharp stab on the anchors, making the first run rather entertaining. This was added to by it being Paul Booth's first run here, Chris Hitchman taking his father's F430 here for the first time, and Richard Preece sliding off at Loggerheads, one of the first corners. Several drivers were reminded that this is a complex, narrow and technical hill, 'with too many corners' according to Mr Booth. As for times, defending champion Trawlerman Dave got down to business immediately with a 60.49, the rest warming up.
The second run before lunch saw competitors trying harder, in some cases too hard, and most thinking that in these conditions they should be going faster. Others should have gone slower in places . . . such as Mike Spicer, over enthusiastic with the gas into Cedar forcing a lock up and 13 seconds slower than in P1. Paul's 458 also just avoided the cones at Triangle, again due to excess speed (though not hard when you have 585 ponies on tap) but did improve by 3 seconds. I should have slowed too, recording a personal best by half a second and thereby blowing any chance of the Handicap award. The Attwoods' GT4 wasn't helping with a misfire restricting outright speed, and Chris Hitchman playing with the seat controls not helping much either. Peter Rogerson was a smidgen off his target time of sub-70 with a 70.6, and others felt they would go faster after lunch, which was a Ploughmans this year due to the tinderbox nature of the estate, banning our usual excellent BBQ.
So – now it mattered. Captain Snelson slapped down a challenging 59.83 to which Nick Taylor responded with a 59.61, and Mike Spicer returned a 62.76 to keep them on their toes for the points. Chris Hitchman dropped into 3rd on scratch, Jon Goodwin was the biggest improver with his fastest time ever in this car and Pauline lopped off a second. The rest seemed to be content to lay down a banker, apart from Iwan who lost his way at Triangle and created his own cone slalom, going around the back instead of the front of them, though again the car plagued Tony's efforts to improve much. It seems the run to Maranello for the Dino celebrations didn't agree with the gearbox. And a re-run for Jon Goodwin after a timing error resulted unusually in his best time of the day, though you always wonder about the one that got away…A wait on the start line ruined John Swift's efforts, though Preece and Jackson kept steady and your reporter's run was going swimmingly until an error after Cedar saw a grass cutting expedition which cost a couple of seconds and some frantic action in the cabin.
But worst luck of the day was Lorraine, who exited Loggerheads too fast, and in her desperation to scrub off speed before the fast left of Fletchers Dellow spat off the track left at high speed through soft ground, narrowly missed the pond after deft steering input, with mud and grass sods flying behind in rally style and marshals running for cover. Avoiding the huge trees, she rejoined before Triangle and bravely continued to record a 72.90 – very similar to her P1 time, which was dull by comparison.
Final runs saw the pressure mount as points and positions were tight at the top, and many competitors felt improvements were there to be had. Overall, and thankfully, there was less excitement and incident, no off-road antics and good, sensible hillclimbing.  Cap'n Dave failed to improve, but Nick did and put in his best time of the day at 59.18 to take the headline win. But it was points that mattered, and Mike Spicer, one of the last to run, was the key.
Paul Booth was actually first up and took over 2 seconds off to record 63.41, Lorraine took the tarmac all the way to the top for a steady 68.85, and Tony Attwood, Brian Jackson, John Swift, Pauline, the F355s of Messrs Swift and Preece all recorded very similar times to P1. With an early start for many, the heat may have tired some, as Peter Rogerson, Chris Hitchman and Jon Goodwin all proved slower. Under pressure from disappointing T1 times, Iwan lopped off 3+ seconds but came second to his father, and I managed to beat my P2 time by 1/100th to set a new PB and 63.34. That lunchtime polishing must have paid off . . .  So, what of Mike S?  As usual, class will tell and our 2016 Champion went up 0.68 seconds faster and thereby took the main prize, the coveted 20 points.
Nick Taylor did the honours by buying the beverages as most competitors adjourned to the searing heat outside our hotel, with our Pimms reception preceding dinner. Joined by Championship Stewards Sue Skinner and John Warner, past competitor Peter Hayman belted out some excellent ragtime and boogie-woogie on the hotel piano before many took an early night. With the forecast even better for Sunday, there was some serious competition to be enjoined . . .