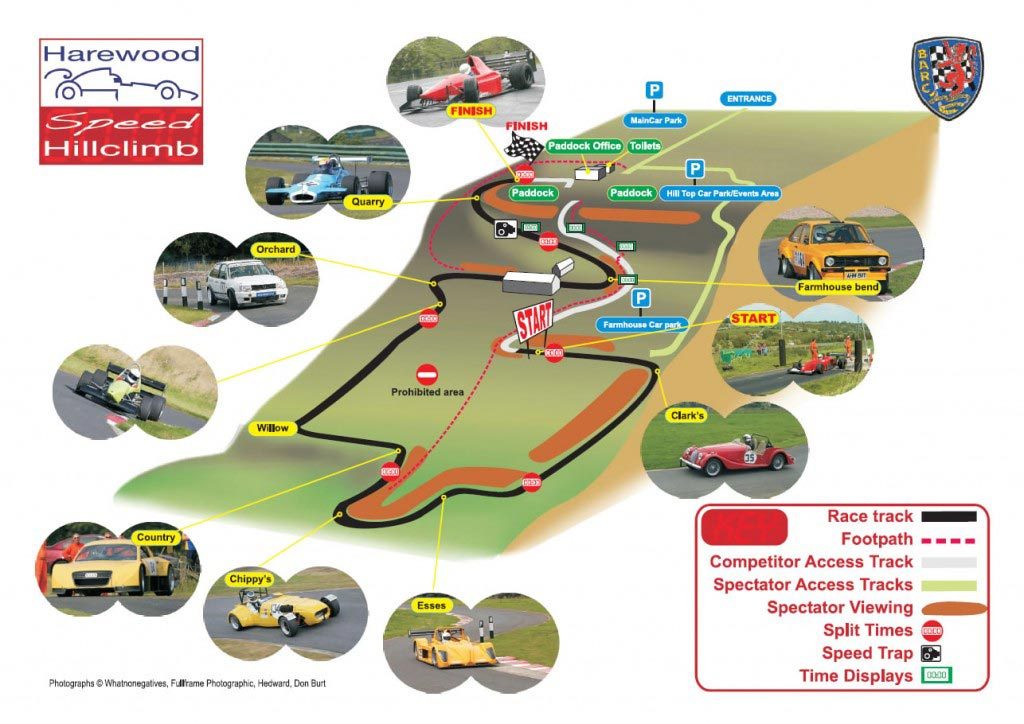 An additional contestant for SUNDAY was Phil Whitehead with his F355, who hadn't managed to secure a Saturday entry due to the extraordinarily complex entry system which Harewood has introduced this year.  Most of us had to wrestle with the unnecessarily tortuous new arrangements on our computers but clearly Phil had given up in frustration.  We can only hope that BARC has learned some lessons for the future.
First practice times were generally slower than on Saturday, perhaps due to the odd damp patch on the track.  Tony Attwood's turn for a slight contretemps in P2, but at least the track was now fully dry.
Dave Snelson led the P2 times on 67.88 chased by ex-Champion Phil on 68.95.  Chris Hitchman stopped the clocks at 71.57 and led the closely matched new boys, Salvatore and Paul, on 72.32 and 72.54 respectively.
After the first timed run Dave led with a new personal best of 67.41, still followed by Phil and Chris.  Lorraine also recorded new PB of 71.47 to take 4th spot from Salvatore.  Salvatore's was now suffering clutch problems with difficulty selecting reverse.  He decided to call it a day and headed back to Liverpool and home.
The final runs produced a new best of 75.22 for Iwan Attwood moving him up to 10th, just behind dad Tony.  At the front Dave was slower but his first run time was enough for the win and the top 20 points again.  Chris Hitchman jumped Phil for 2nd spot with a 68.76 against 68.92.  Lorraine was slower allowing Brian Jackson to move up to 4th with 71.32.  Paul Booth on 71.48 stayed ahead of Mark Wibberley on 71.56 for 6th and 7th.
Yorkshire once again served up a very enjoyable weekend and a great start to the 2018 season.