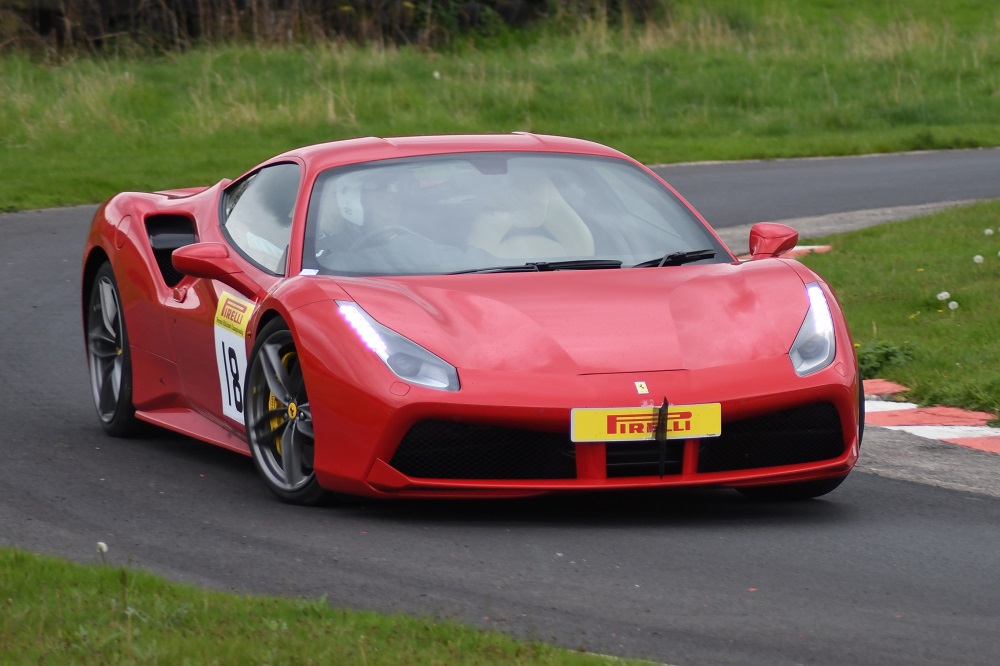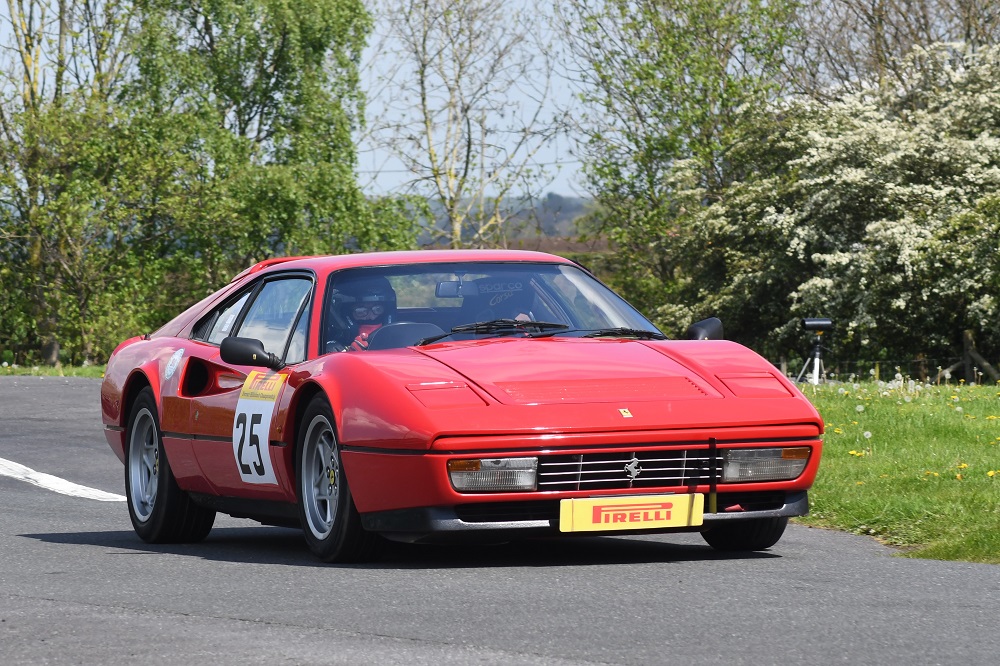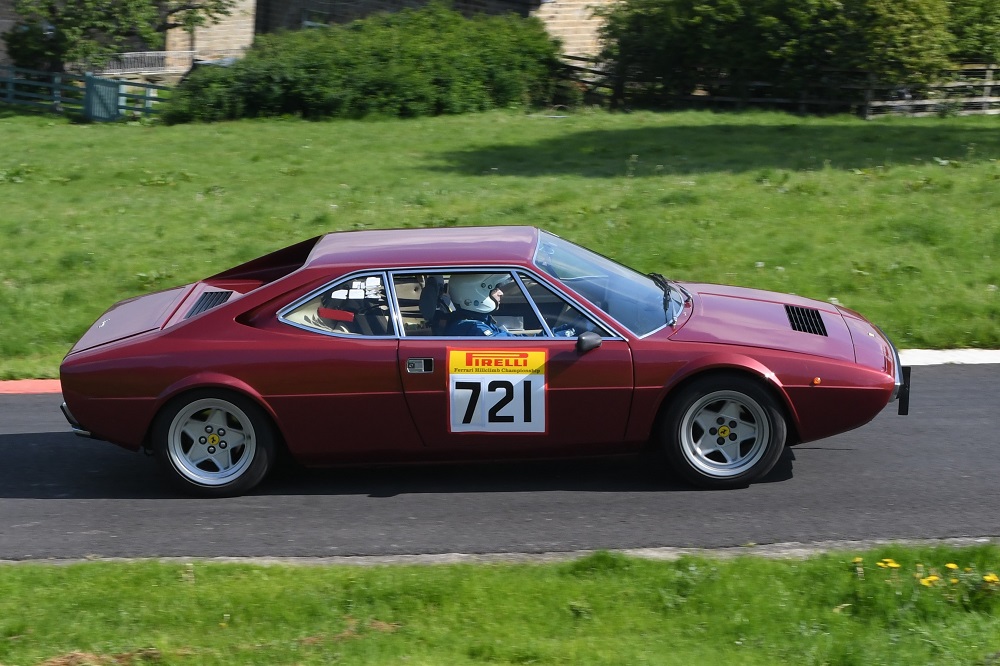 Day 2 at Harewood was a bit more relaxed than the previous day had been.  It wasn't necessary to have the cars re-scruted, we all knew where we were positioned in the paddock, and most important of all, the sun was shining.  In fact in contrast to Saturday's miserable rain, it promised to be a fine, warm and dry day once the early morning moisture had evaporated from the track.
All yesterday's competitors reported for duty.  Also reporting for duty was our third Championship steward, Sue Skinner with husband Paul, so that we had a full complement of our Club officials for this Yorkshire weekend – a nice treat!  Martin Jones secured a loose air duct on his 360 Modena but apart from that it was all about a quick wash and a polish for the cars.  The marshals were prompt in getting P1 off the ground although the Coopers and Jones decided to sit it out until the tarmac was totally dry.  The two 430s of Dave Snelson and Nick Taylor were the quickest Ferraris whilst most of the rest of us put in modest sighting shots.  "We don't want to peak too early!" said one driver.
P2 followed fairly quickly since there were few hold-ups from the racing car classes.  This time the Ferraris were driven with more purpose and generally times were much faster.  Paul Booth agonized as to which setting to use on his 458 spider's manettino.  Peter Hayman, with the first 488GTB we have seen on the hills, had no such dilemma.  "Full Race," he said.  "It's the only setting that gives me complete car control".  Clearly he was right because he immediately seared up the hill in 63.97 – a second or so under Nick Taylor's existing class record of 64.82.  The other big hitters were not far behind, with Nick on 65.70, Snelson on 66.89, and Tim Dickinson on 67.35 – the latter clearly getting the hang of this hillclimbing business.  Not to be left out, Mike Spicer confidently popped in a sub-70 second ascent in his 33 year-old 328GTB.
We were then told that since the meeting was running early we could have a third practice run.  I had a quick chat with Championship Coordinator, Mrs Swift, and we both thought that if it were possible, competitors might prefer an extra official run instead of a third practice.  At Bouley Bay the previous month they had cut practice to just one run and given an extra official instead, all in accordance with new Motorsport UK guidelines.  A quick straw poll of the Ferrari competitors all agreed this was preferable and so I had a meeting with the clerk of the course.  "Sorry, it's impossible," he said.  "The timing system has to be re-set for official runs."  This didn't seem to me to be a very plausible reason. However you can only argue with clerks at your peril so Practice 3 it had to be.
The times in this third run were generally an improvement on P2, although no one got down to Hayman's previous scintillating numbers.  Tony Attwood was going great guns in the 308GT4 until a mistake at Orchard, resulting in an excursion into the gravel and red flags, ruined his time.  Also worth mentioning was that Richard Preece was now closing in on Mark Wibberley's times in the battle of the 360 Modenas.
The organisers changed the running order for the afternoon so that the Ferraris, instead of being in batch 1, were reallocated to batch 7.  The result of this was that we were kicking our heels for quite some time after the lunch break.  Eventually we were called up for R1.  The track was now in tip-top condition and we anticipated some exciting competition.  Iwan Attwood started things off by beating his dad by 5/100ths of a second, which brought a wide grin.  In the 360 brigade, Caroline speeded up; Jeff Cooper (75.03) got the better of Peter Rogerson and Martin Jones; and Richard Preece was a second off Mark Wibberley's time, who had dipped into the sub-70s.
Brian Jackson (308GTB), sniffing some high Championship points were in the offing, recorded 71.19 while Mike Spicer (328GTB), with a similar sense of smell, stopped the clocks at a very competitive 68.74.  These yellow cars were just going sublimely well.  Pauline G, in her 328, wasn't quite on this pace but her sensational 0-64ft time (2.41 secs!) was unbeatable by anyone.
Writing about 0-64ft start times, I should mention that BARC – who run Harewood – prohibit any tyre warming or wheel spinning at the line.   Despite this, I believe all the Ferraris were just as quick – as witness Pauline's time – as they are with all that spectacular smoke and tyre burning that is a regular feature at other venues.  So perhaps we should give our tyres and transmissions some respite and abandon all those start-line fireworks in future.
Your scribe, in the only F355, thought he tried hard but clearly not hard enough.  Paul Booth looked tidy on a 70.36 which beat his previous best time with the 458 spider.  And then we concentrated on the really fast boys and their more potent machinery.  Dave Snelson opened the batting with a slightly disappointing 66.55;  next, Dickinson  and Taylor vied with each other for runner-up spot at 65.18 and 65.08 respectively.  But then the gorgeous 488 of Peter Hayman took R1 honours with a spectacular time of 64.85.
Clearly Peter's time had the effect of concentrating the top runners' minds, as everyone trundled down to the start line for their final effort, in R2.  A small mistake by Jeff Cooper meant that Caroline's 77.26 run time was quicker.  Tony Attwood speeded up (75.48) but not as much as Iwan, who clocked a magnificent 73.04 in the shared 308GT4.  Mark Wibberley kept ahead of Richard Preece's 360 and Pauline G competently beat my F355 time by 2/100ths of a second.  The battle for top dog still raged at the front with Nick Taylor trying all he knew in the 430 to finish on 64.61, just 0.09 seconds off Peter Hayman's winning time of 64.52 – a new class record.
Looking at the results, Nick Taylor went home with the 20 Championship points in his pocket, with hero Brian Jackson trousering 17 and Mike Spicer a very useful 15.  On handicap, the top award was deservedly won by Martin Jones from runners up Iwan Attwood and a delighted Mark Wibberley.
The 2019 Harewood meeting will go down in the PFHC annals as one of the very best.  We shall remember that friendly but knife edge competition, and the remarkable debuts of some fine drivers.  And now to Prescott and a completely different set of challenges.