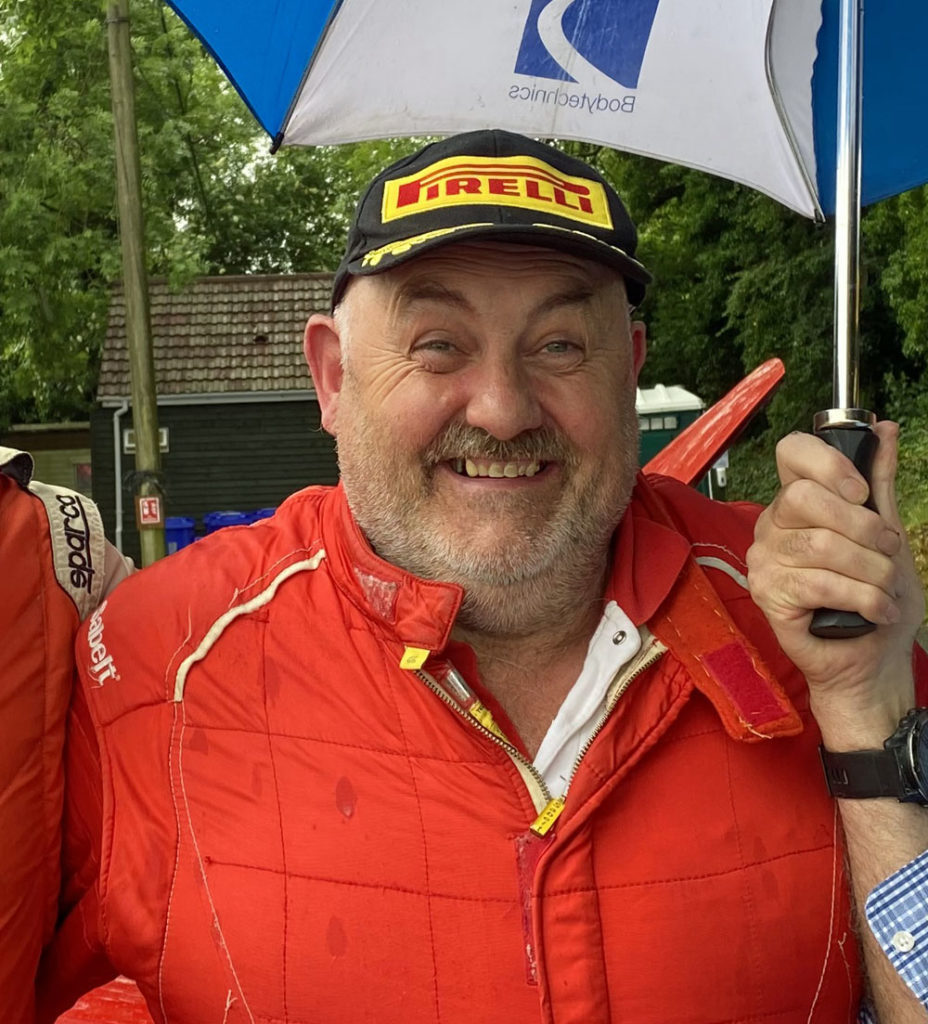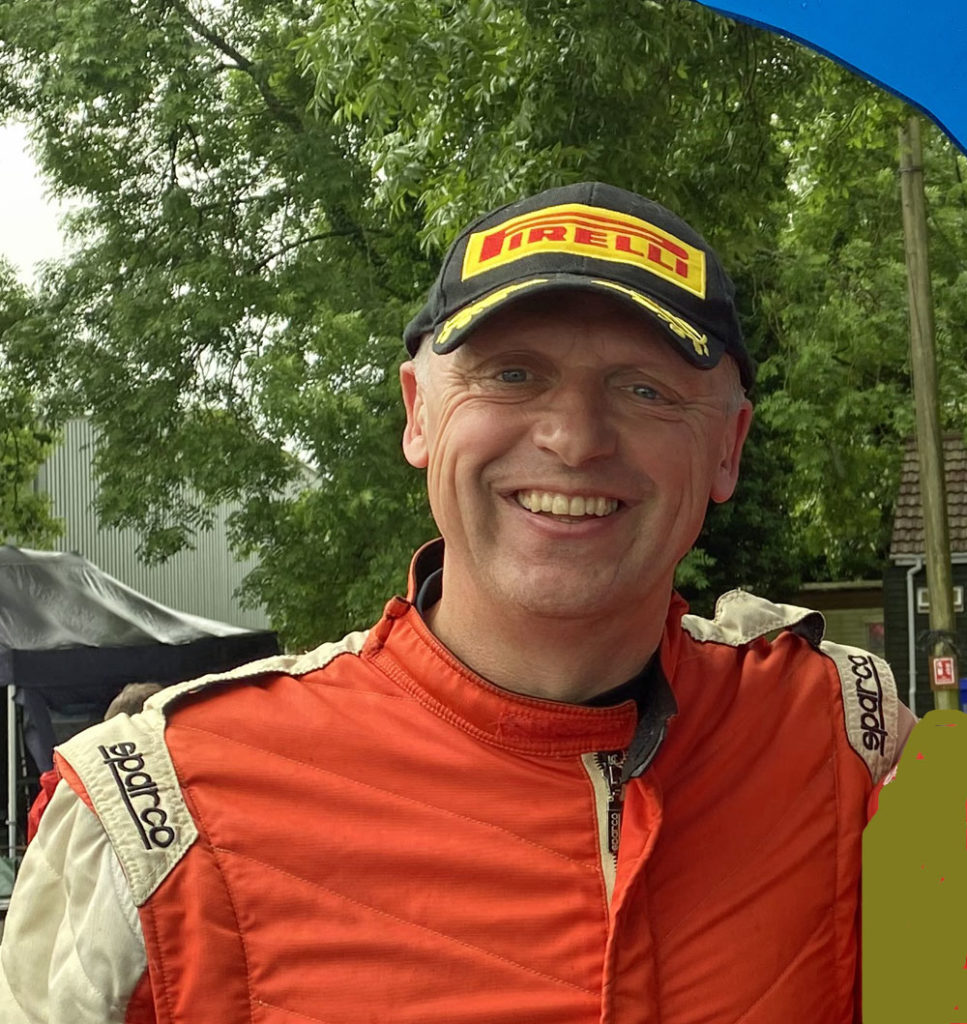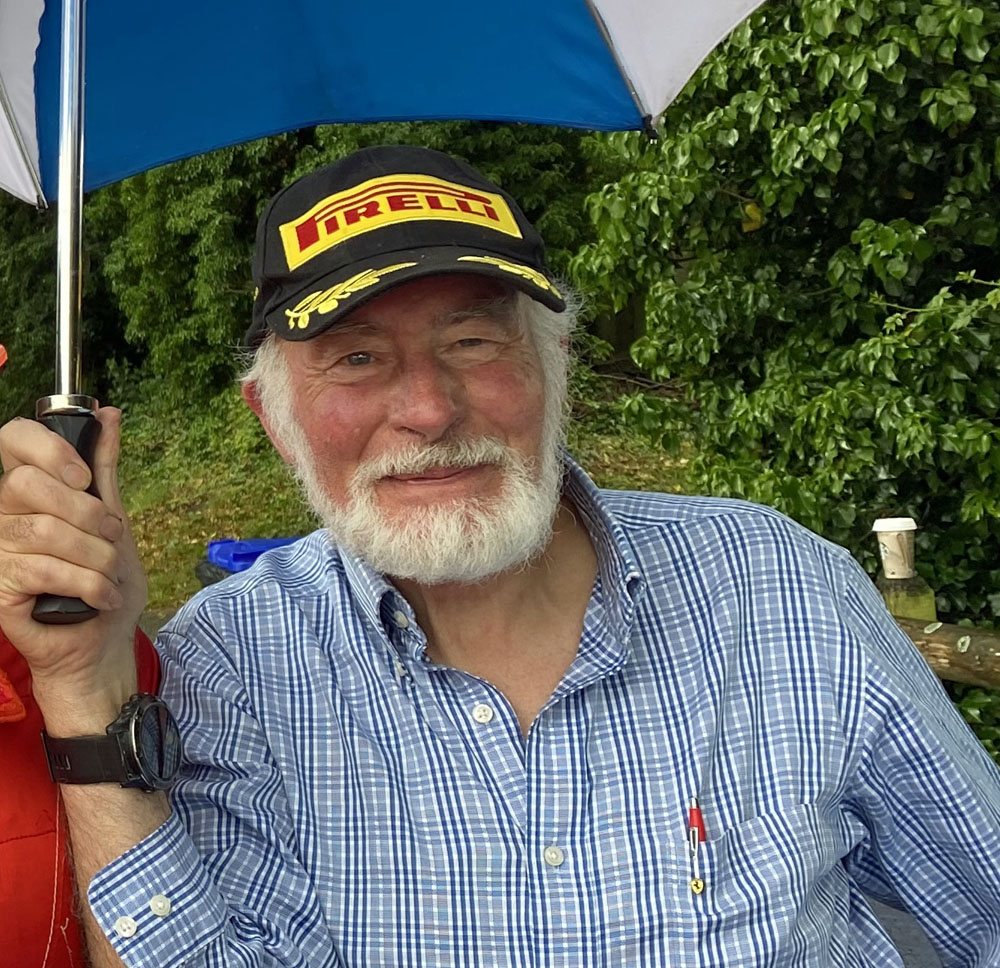 The rolling beauty of the Wiltshire countryside in midsummer was only slightly lessened by the relentlessly wet weather. Yet, despite the damp, there was still a cheery post-lockdown mood amongst competitors and marshals.
Dave Snelson had considered using his 488 Pista, but the drizzle saw the return of his trusty F430. Paul Booth was in his usual 458 spider, Pauline Goodwin arrived in her bright yellow 328, while husband Jon turned up in his beautiful blue 250 GT Lusso.  Tony and son 'Kimi' Attwood opted to share their Dino 308 GT4.  One disappointment was John Kennedy's absence from the starting line. After gearbox issues forced John to return his previous California T, his new car (a more recent California T) had not yet been delivered in time for the meeting.
The Gurston course starts with a dive downhill into a valley, called Hollow, followed by a great sweeping bend where competitors cling on and pray for adhesion.  Starting and gathering speed are rarely problems, but the wet weather for first practice saw most of the Ferrari class spinning their wheels at the start, all of which led to a corresponding loss of courage as the worst fears about levels of grip were confirmed.  Jon Goodwin's appeal to be allowed to start from the bottom of Hollow, on the grounds that hill climbs should only go up, fell on deaf ears.
First practice was described universally as "slippery", "awful" by Pauline, and even "worrying" by Dave, with Paul's 458 managing only 45.2 mph across the finish line.  More worry arrived in the form of scrutineers, who wished to photograph Dave and his HANS device.  They believed the way he used it should be outlawed, and were keen to send photographs to the MSA.  As Dave has no reflection in some mirrors, most were concerned that he simply would not show up in their photographs.
Second practice saw a rise in collective courage, with everyone crossing the slippery finish line at over 60 mph, and all improving their times, most by three seconds or more.  Dave and Paul were both recorded at Hollow at 87.0 mph, with Dave gaining further speed in the corners.  Jon bemoaned his "Sainsburys car park" start, while Kimi could be heard to mutter something about being "squirmy" through Deer's Leap.
After a lunch break in the splendid cafe, marshals arrived to admire Jon's truly beautiful 250 GT Lusso.  Jon's silver helmet and orange visor added to the 1960s astronaut look.  It was unmistakably stylish but sinister Bond-villain territory, and this might explain why the scrutineers now leave him well alone and focus upon Dave instead.
With the start of real, timed runs, the track seemed marginally less wet.  Competitors in all classes became more confident, and consequently started sliding off the course, leading to a number of delays.
Pauline was not having the best of days, and although she would go on to record the fastest start time of the day, her 3.13 time to 64ft in the first timed run was very slow by her high standards. Dave took another 1.5 seconds off his time, with Paul 1.9 seconds further back. Jon was almost a second faster than his last practice run, and his 1960s 250 GT only 4.79 seconds slower than Paul's much more powerful and modern 458, which works out at roughly a one second per decade difference.
One unsurprising aspect of the first run was the reignition of the rivalry between Kimi and his father, with the latter going faster by just 100th of a second.  Tony was all smiles; Kimi was silent.
Then the clouds parted, the sun appeared, and the track began to dry in earnest.  Tony Attwood joined the rest of Batch 1 for his run in the car he shared with Kimi, only to reappear just a little later with a facial expression he probably stole from the Cheshire Cat.  He had knocked 1.25 seconds off his previously quick time, and now the rain had resumed just as the main Ferrari contingent was getting ready.  Kimi Attwood looked gloomy and became uncharacteristically talkative.
Tony's improvement on his already impressive first run time placed him first on PEP.  It was raining harder than ever, and Paul advised Dave not to chance his car in an attempt to regain the PEP lead. Jon advised Dave to "go for it".  Paul then ignored his own advice and went just over a second faster. Dave was slower through Hollow than Paul, and only marginally faster over the finish line, and yet managed to be 1.43 seconds faster overall, undoubtedly due to better cornering.
Almost everyone went faster in the very wet second run than in the first, even if Kimi was heard to complain that it was more like boating than driving.  Pauline put in her fastest start (2.67 sec), and Paul stopped spinning the wheels on the straights.
Tony Attwood took the handicap prize with his excellent second run. He was also an impressive second on PEP, but the day belonged to Dave Snelson, as he delivered a superb, controlled drive to snatch the maximum 20 points on a misty, rain-soaked, slippery, worrying, but nevertheless enjoyable track.
Looking at the Championship positions, Dave Snelson continues at the top of the table with 94 points, pursued by Pauline Goodwin (65) and Nick Taylor (40).  The next rounds are at Loton Park on 10th and 11th of July.