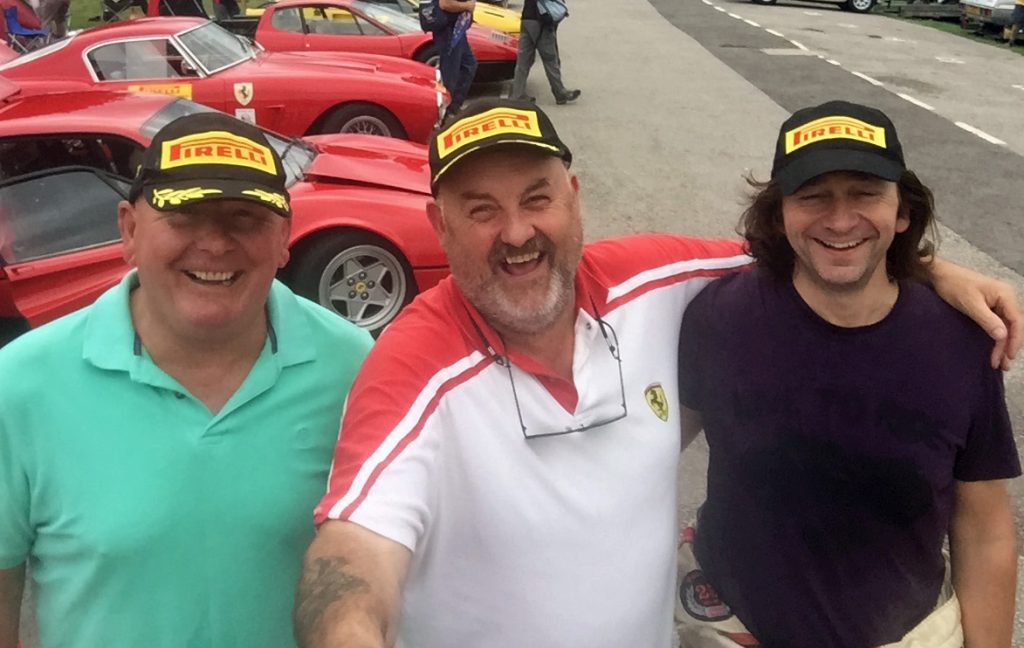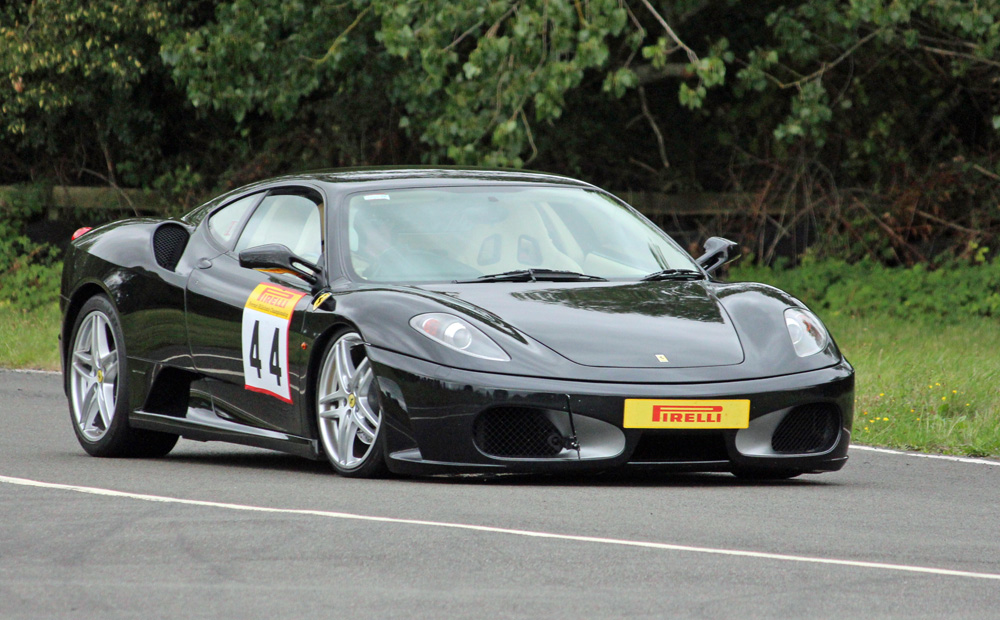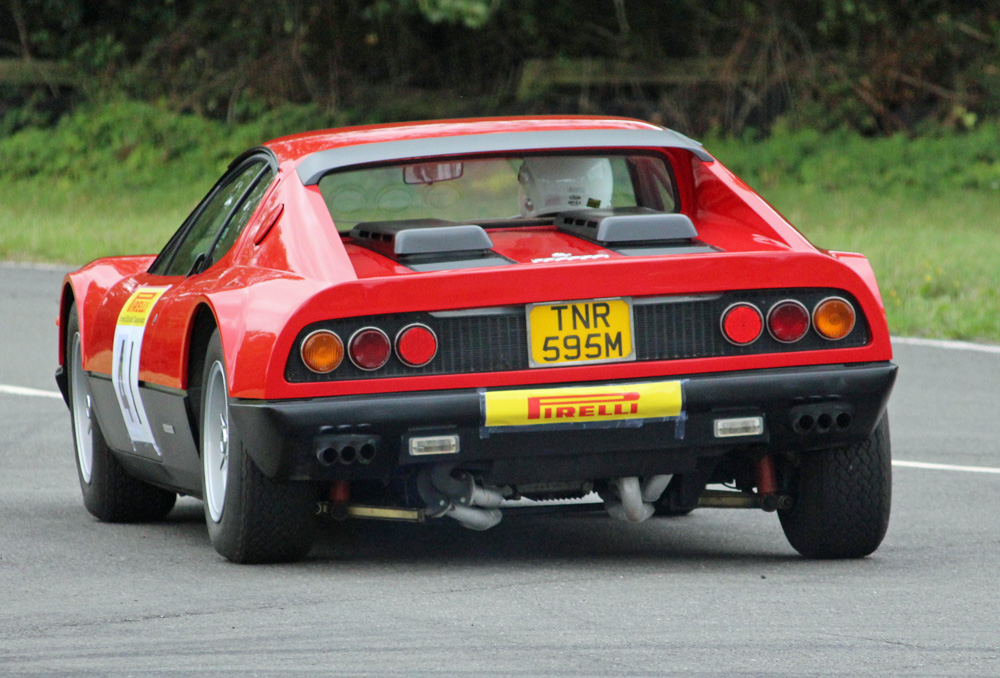 Curborough Figure of Eight Sprint
After a low entry at Blyton, Curborough looked much more promising with 14 entrants.  Come the day though, this had reduced to 11, back problems side-lining Lorraine Hitchman and Mike Spicer, and an operation on wife Angela ruling out Richard Preece.  As we shall see later, Mike's no-show had a dramatic effect on his chase of Dave Snelson for the Championship.
A faulty starter motor solenoid had put Mark Hargreaves' 308 temporarily out of action but he switched to his big gun and brought along his 365 BB, which we have not seen competing since a Sprint at Wroughton in 1998!  A very nice original car still running on tall and fat XWX tyres!  Another with car trouble was Tony Attwood: the gear selection on his recently rebuilt 246 GT had begun to play up again despite recent attempts at a fix.  This is another car not seen competing here since 2013.  If we factor in Jon Goodwin's classic 250 SWB recreation, the Dino must have been the most valuable Ferrari in the paddock we have seen for several years.
We began to wonder if Dave Snelson would be also a no-show but he turned up just after the rest of us had taken our first practice runs.  After excuses the organisers decided he could still compete and he took his first run as the final car of first practice.  A short light shower passed over between our runs and Dave's, but the track quickly dried.  Pauline Goodwin was the first to have problems on the run, a lock-up at Molehill saw her take to the grass for a fail.  Snelson, running late, gave us a cheeky thumbs-up as he passed the commentary box, Taylor returned the favour using a different digit as he passed us again to complete his run.  Dave, in his F430, led first practice from the similar car of Nick Taylor.  Chris Hitchman, this time in his F355, was next followed by Paul Booth in his 458 Spider.  These four were all under 70 seconds.  Brian Jackson (308 GTB) on 71 seconds was ahead of Peter Hitchman's F430, Jon Goodwin (250 SWB), Tony Attwood (246 GT)and Peter Rogerson (360 Modena) who covered the 76 to 79 second bracket.  Bringing up the rear was Mark in his Boxer on 84 seconds.
Second practice saw Booth sneak ahead of Chris Hitchman, while further back Pauline put in a 72 second run to claim 6th place, just ahead of hubby Jon.  The rest all improved their times except Attwood who fell to the back of the field with his tricky gearbox.
We had been joined by the Swifts and Mark Wibberley during the morning so it was now time for lunch at the Curborough diner.
First away on the afternoon official runs, Paul Booth was just off his practice time on 67.65, enough to hold on to 3rd place though.         Then Snelson put in a 65.34 to stay ahead of Nick Taylor, a little off the pace on 66.06.  Both Paul and Nick had untidy runs, neither finding enough grip.  Chris Hitchman made a good improvement to 67.82 and Jackson remained outside the 60's with 70.30 but ahead of Pauline on 72.19.  Peter Hitchman clocked a PB of 72.85 to lead Jon, Tony, Peter and Mark, all now in the 70's.  Although Tony Attwood's 76.44 was his best time of the day he decided not to take the second run as his Dino gearbox was not sounding too good.
And so to the final runs which went off without too much drama.  The cars of both Snelson and Taylor had evidence of contact with the first corner marker post, showing how hard they were trying.  Luckily for them, the half second penalty in the regs for striking a marker was not applied.  Dave improved his time to 65.00 to win the class, with Nick just 3/10th behind but good enough to take the 20 points after the PEP factor was applied. Chris Hitchman edged out Paul Booth by 8/100th to take 3rd spot.  Paul had the consolation of a double: best 0-64ft time of 2.37 and fastest finish speed of 105mph over the line.  Jackson finally got below 70 with a 69.92 to take 5th and 17 points, easing Dave back to 15 points.  Pauline put in a PB of 70.51 for 6th and 12 points.  Of the rest, only Peter Rogerson improved, his time recording 76.96.
The points tally shows Snelson now on 137.  With only a maximum of 60 points available from the final three rounds, Mike Spicer can at most amass 134 points; he really needed to pick up some points here today to keep the Championship alive.  So Dave Snelson looks destined to win his second Championship, joining the elite group of Robin Ward and Richard Prior who also won two consecutive Championships while carrying the +1% winner's PEP.  Happily the fight for 2nd and 3rd still continues, with at least half a dozen drivers in with a chance.