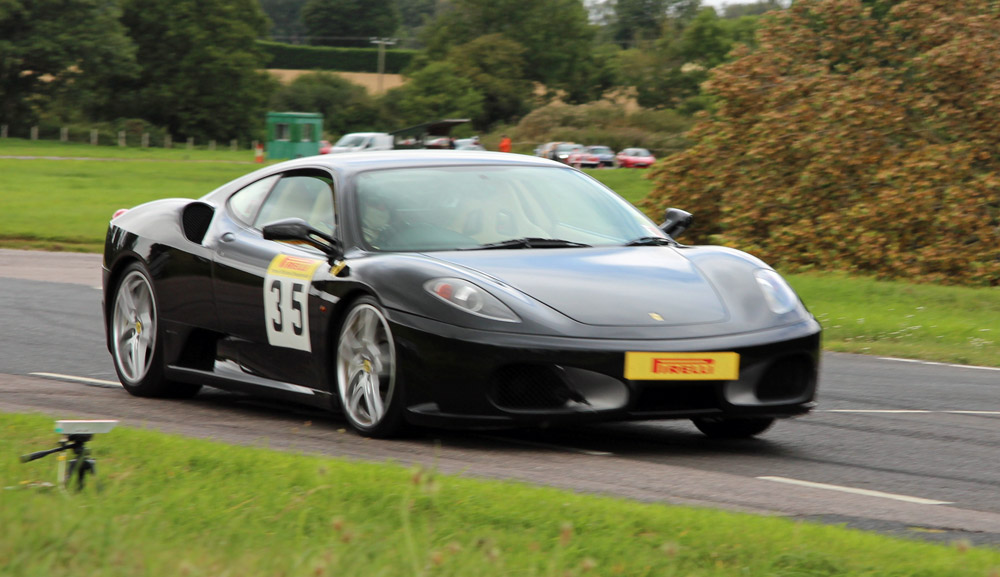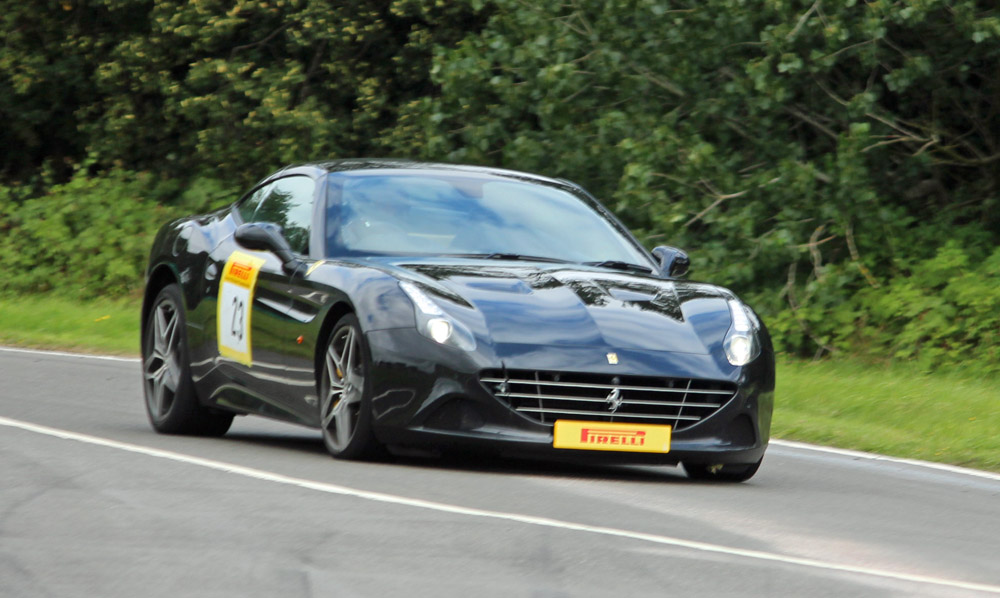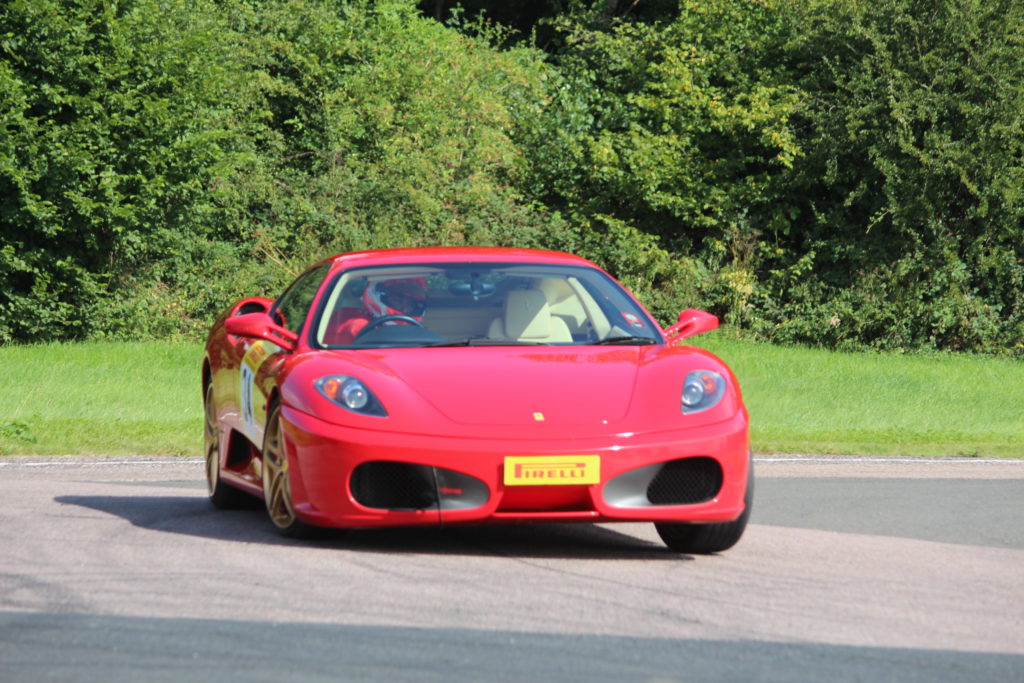 The first PFHC Curborough meeting of the year was on Sunday, 15 August, attracting an entry of 12 Ferraris – the highest number we have seen this season.  It was also the first time that spectators have been permitted to attend, and this, together with full-scale catering and Championship Coordinator Anne Swift getting the okay to display our results board, was a wonderful sign that things were at last returning to normal.  It couldn't have happened a day too soon. 
Our well-turned-out Ferraris were mustered in the main paddock, and were mostly familiar machines that have competed this season, except for Lorraine (she prefers 'Raine') Hitchman's lovely 430 Spider finished in gleaming nero metallica.  She explained she had only taken delivery 5 days before and the only experience she'd had was driving it home and parking it in the garage.  The paddle-change 430 replaces her much-loved 328GTB, so there was lots to learn. 
The weather greeting us was fine and warm – perfect conditions for what promised to be a close contest, especially the battle for FTD between the 430s of class record holder Nick Taylor and current Championship holder Dave Snelson. 
The menu for the day was two practice runs and two official competitive runs, and things got off to a brisk start, with the Ferrari class towards the end of the batches.  P1 was an opportunity for a sighting shot for most although Dave Snelson and John Kennedy (California T) were immediately on the pace with sub-67 second times.  We noted that both Dave and Richard Preece (F360 Modena) gave the course markers a glancing blow which, if repeated in the official runs, would incur a 5- second penalty. 
P2 saw almost everyone's time improve by around 3 seconds, although our P1 leaders were now a thought slower than they had been.  Iwan Attwood complained of a misfire on his father's 308GT4.  The two dived into the engine bay to change the plugs, but were only able to gain access to the front bank.  The transverse engines on 308s are a bit tricky to work on if you don't have arms with universal joints. 
The Chief Paddock Marshal was invited to judge the Paddock Cup for the best-turned-out Ferrari.  She chose Dave's immaculate 430 as the winner, although she quietly added "but really, Jon Goodwin's 250GT Lusso, which I placed second, is my favourite".  
There were few hold-ups at this meeting, so the 'officials' got underway without any delay.  John Kennedy opened the batting with his California T (the most powerful in the class), setting a target of 67.18.  Preece. whose F360 sounds excitingly raucous with its new lightweight exhaust system, steered clear of the bollards to clock 69.23. The 430 of Peter Hitchman looked tidy (74.44), son Chris did a quick 69.06 in his familiar F355GTS, and Raine a commendable 72.65 in her very unfamiliar 430 spider.  Brian Jackson had selected his venerable yellow 308GTB this time around and looked very precise but fast in delivering 71.38, which was to prove his fastest of the day. 
Perhaps one of the three prettiest Ferraris came next, the Dino 246GT of Tony Attwood, which circulated in a respectable 75.02, and looked like a candidate for the Club Handicap award.  To her consternation, Pauline G. reversed her yellow 328GTB over her loaded fuel can as she prepared to leave the paddock and then, to double her misfortune, had a failed run for reasons unknown to us. Husband Jon swept round elegantly in his Lusso to return an excellent 73.71.  Iwan struggled with the misfiring 308GT4, his 75.58 slightly slower than the little Dino.  Then it was the turn of the favourites.  Snelson went first and recorded 64.74 but then Nick Taylor trumped it with a 64.65.  These close margins were like the differences we are seeing these days in F1 qualifying! 
Then it was time for lunch.  The catering ladies at Curborough are famed for their burgers and triple-fried chips, and they were just as delicious as always.  While all this gastronomy was going on the Secretary of the Meeting consulted Anne and, in view of the incident free running, offered a third official run; she gladly accepted. 
The times after the lunch break were generally slightly slower than R1 (those chips?).  However, Pauline's 328 got away from her shortly after the start, veered onto the grass, and pirouetted a full 360⁰.  Happily, there was no damage and she returned to the paddock stirred but unshaken. 
Competitors then had a final opportunity to squeeze the last ounce out of their cars.  John Kennedy was noted to be doing some fancy warm-up exercise before climbing aboard.  It seemed to work as he clocked the fastest finishing speed of the day, at 103 mph, and 3rd place on scratch.  Chris Hitchman improved by almost a second to take 4th spot ahead of Preece's 360, while Raine continued to impress with yet another improvement (70.71).  Pauline managed to avoid the ignominy of another 'fail', just beating husband Jon in the scratch pecking order. 
Iwan Attwood, whose last appearance at Curborough was way back in 2015, beat his handicap time by almost three seconds to take the Club handicap award, with Tony A. in 2nd spot.  The final Ferrari runs of the day determined the scratch winner.  Snelson was the first to go, stopping the clock at 64.41.  Then Taylor blasted off the line just as a few spots of rain started to fall.  He was 3 mph faster than Dave at the finish but his time was just a soupçon slower.  However it was good enough to take the maximum 20 Championship points when the PEP corrections were applied. 
So, with the rain now falling quite heavily, the cars were loaded for home.  A nice finishing touch was the Chief Paddock Marshal's comment: "It was a real pleasure to have the Ferraris here today.  All the drivers were so pleasant and unassuming".  Prizes were presented in the organisers' marquee, drawing to a close what had been a very enjoyable day.  We are back at Curborough for more fun at the last round of the season on the 10th of October.