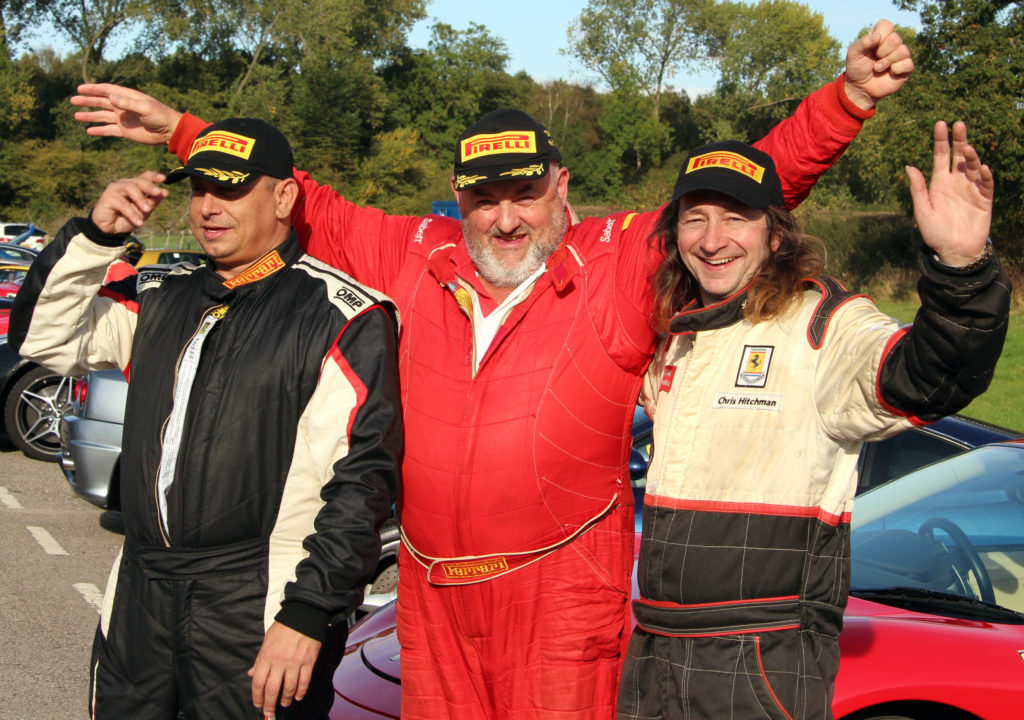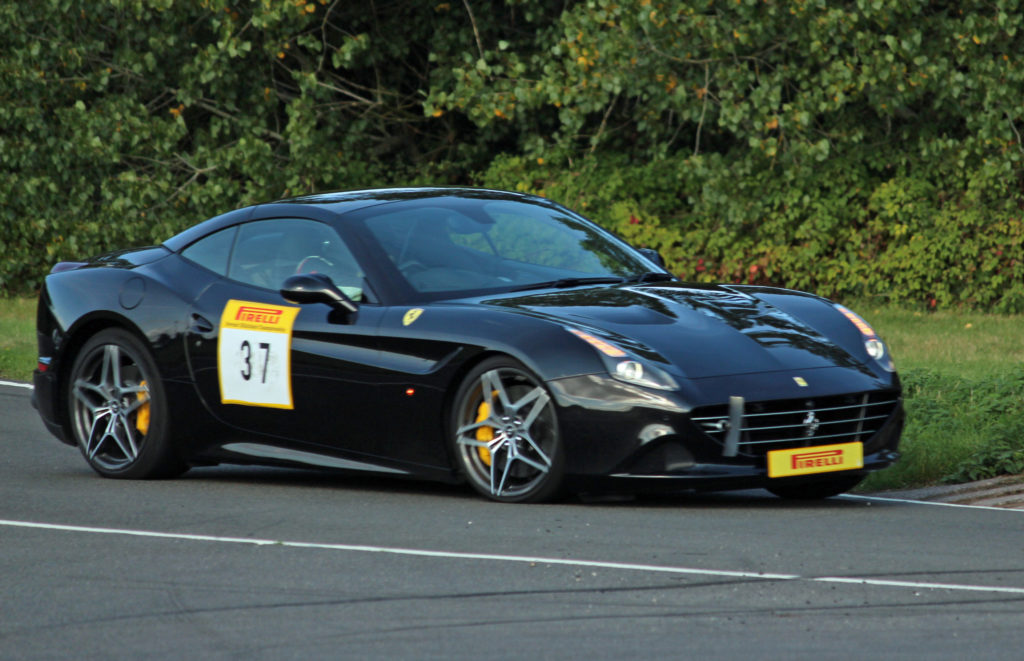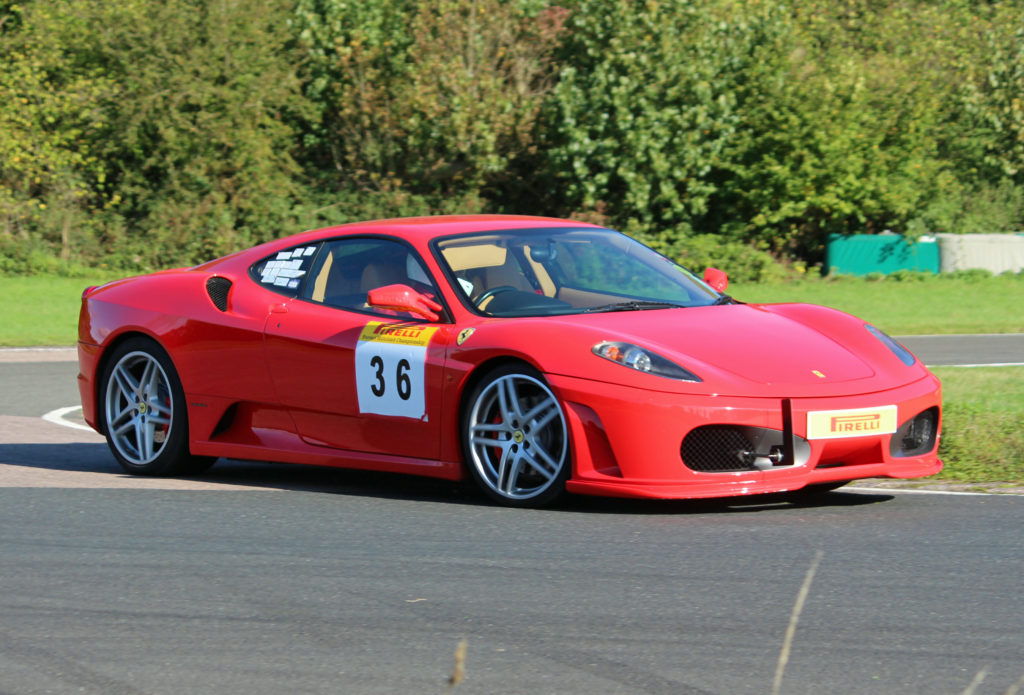 The final round in the 2021 Pirelli Ferrari Hillclimb Championship was held at Curborough sprint track on Sunday, 10th October.  Weather conditions in the autumn can be unpredictable but happily the gods smiled on us, and the sun shone for most of the day. 
There were eleven competitors taking part – a reasonable number in these days of health concerns and restrictions – and although the destination of the Championship's premier award, the Frank Bott Trophy, had already been decided, there were several battles still to be fought.  In view of the favourable track conditions, there was also the chance that Nick Taylor's record time could be under threat.
The Ferrari class was early in the day's running order, and Tony Attwood set the ball rolling with a 76.60 secs in his 308GT4, quickly followed by Pauline Goodwin in the bright yellow 328GTB that Mike Spicer had driven to the tied Championship victory of 2019.  Fittingly, Mike had called in to Curborough to watch the fun and cheer on Pauline and his old car. Jon Goodwin had entered his 250 Lusso for this round but encountered some minor engine problems with it earlier in the week.  He therefore substituted his gorgeous 250SWB recreation at the last minute.  His P1 time of 73.33 just shaded Pauline's by a couple of tenths. 
The Hitchman family usually go into action in threes and today was no exception.  Rain H. was having her second outing in her handsome black 430 Spider, closely followed by husband Chris in his F355GTS.  Then came Chris's Dad, Peter, in his 430 Coupe.  Chris's time set a target of 68.44.  John Kennedy, our American visitor, is becoming very accomplished this season in his California T and crossed the finish line at a rousing 101mph to record a sub-70 sec time.  Richard Preece's dark silver 360 Modena is always beautifully turned out, but if you miss the glistening paintwork you are sure to notice its raucous exhaust note.  Richard posted a promising 70.41, a thought quicker than Mark Wibberley driving his Spider version of the same car. 
Peter Rogerson was one of the two drivers who were chosen as the best of those taking part in the Club's Introduction Day at Curborough earlier in the week, and he recorded 76.06 (his fastest of the day) in his 360 Modena.  And then it was the inimitable Dave Snelson, our current champion, to show us what he could do in his trusty 430.  He stopped the clock at 64.63, fastest of course, but over a second shy of Nick Taylor's record of 63.47.  A bit more work to do! 
Then there was an unusual occurrence involving Jon Goodwin's car.  The scrutineer noticed that the driving seat wasn't fitted with a head restraint and therefore appeared to breach current Blue Book safety regulations.  Jon was told that the car couldn't take part.  Jon reasonably explained that the car would not have been fitted with them when new.  For heavens sakes, head restraints were not invented in 1961.  After some anxious moments, the Chief Scrutineer took charge and to Jon's relief overruled his colleague. 
By late morning the Ferraris were back on track for their second practice runs.  Things were warming up in the sunshine and, for some, their times reflected this.  Those who significantly improved in P2 included Tony Attwood (74.77), John  Kennedy (67.84) and Mark Wibberley (70.64).  The meeting was running ahead of time due to few stoppages and the Clerk of the Course discussed with our PFHC Coordinator, Anne Swift, the possibility of having a third official run following the break for lunch, and this was agreed providing there were still no hold-ups. 
The catering ladies at Curborough are renowned for their canteen cooking, and everyone enjoys their bacon and brie sandwiches not to mention their triple-cooked chips.  I suppose, for the drivers, their fare doesn't help with their run times but it certainly gives inner satisfaction. So, after the inner man was satisfied, the competitors returned to their cars to recommence battle. 
Of the official R1 times around half were an improvement on practice times.  Notably, Pauline G. achieved 71.15, Richard Preece 69.34 and John Kennedy 66.89.  And then the Clerk of the Course appeared again to tell Anne that the timing gear had developed a fault and the consequential delays meant no third official runs after all. 
When the R2 session finally arrived, the track temperature had fallen and it was therefore doubtful that there would be any last ditch drama to the R1 order, although Chris Hitchman had a harmless spin going into Flagpole Corner in a vain effort to beat Mr Kennedy.  So the final pecking order showed that Dave Snelson had taken the scratch win and the important 20 Championship points to boot.  And to his obvious delight, Peter Hitchman (who this year is honoured with the title of Sheriff of Lichfield) was the winner of the Club Handicap. 
The accompanying results table shows all the statistics together with the 2021 season's most successful competitors.  We congratulate Dave Snelson on being this year's top man, and once again showing unbeatable determination and skill.  And we must also salute John Kennedy for showing impressive progress in his first season of speed hillclimbing.  Finally, your reporter gives thanks to all the Ferrari competitors who took part in this year's Championship as well as those who organised it, in spite of the very difficult conditions.  Forza Ferrari!
There's lots more pictures of the day on our Club's Flickr pages.