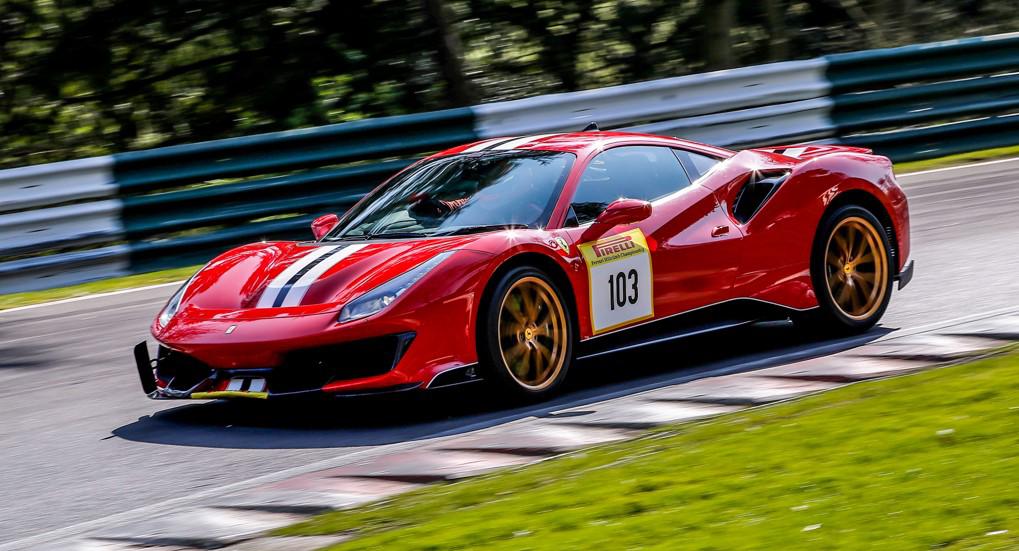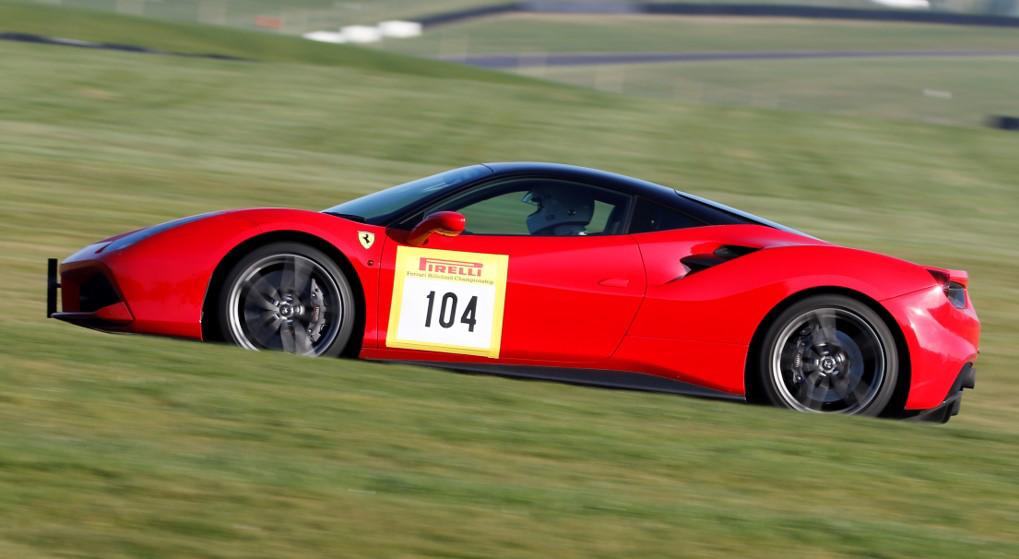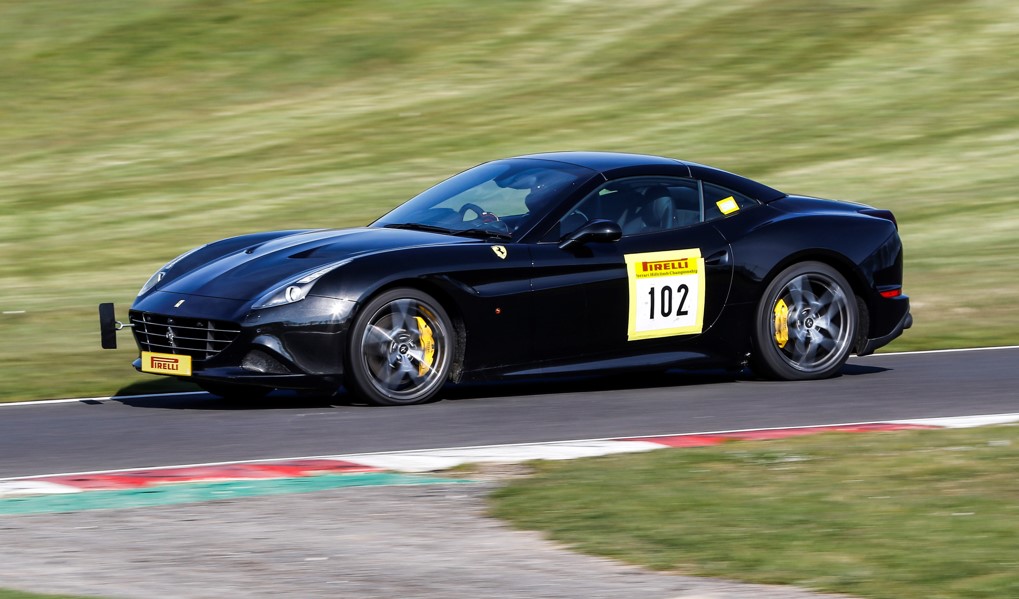 After the long winter months, and with the wretched pandemic still affecting our lives, the 2022 Pirelli Ferrari Hillclimb Championship burst into life at Cadwell Park on Saturday, 26 March.  Cadwell is, as most of you will know, primarily a race circuit.  The sprint course is from the start of a race lap and incorporates some swoopy curves leading to a couple of testing right hand corners before opening up to a fast straight and up a steep hill to the Finish line. The quoted track distance is 3.15km.
It is some years since PFHC was last at Cadwell Park.  We were first here in 2005, and returned the following two years.  Setting the Ferrari record initially, Nick Taylor was fastest in his 348GTC.  In 2006 Chris Butler was the star, breaking Nick's record in his F355.  And then, the following year, Taylor regained the crown, again in his 348GTC.  The circuit in those days was rather scruffy and unkempt.  However, in the intervening 15 years things have changed immeasurably for the better:  Jonathan Palmer, the new owner, has waved his famous magic wand and the venue is a now a model of spick-and-span excellence.  It reminds me of a miniature replica of the famed Nűrburgring Nordschleife, to which someone has taken a dustpan and brush. 
For various reasons the Ferrari class was a bit down on numbers although not on variety.  The Attwood family – Tony and Iwan – were sharing the former's 308GT4.  Pauline Goodwin was driving her ex-Mike Spicer Championship-winning giallo 328GTB and had husband Jon to help with the spanners if necessary.  A newcomer this season is musician Gary Mullins who appropriately drives a very throaty 360 Spider.  Paul Booth lives quite handily up the road from Cadwell and was in his familiar 458 Spider. Back in the UK was John Kennedy, at the wheel of his rapid California T.  John has his eye on a tilt at the top of the championship this season.  Another recruit, who did exceptionally well in our Introduction Day at Curborough last year, is Steve Thompson.  He is well equipped with a very nice and rapid 488GTB.  He came along with his personal coachwork detailer, which is a nice touch.  And no PFHC event would be the same without our current champion, Dave Snelson, who had a change of Ferrari for this event: his super-potent 488 Pista. 
There were a few adventures on the way to the venue. As we have found in the past, Cadwell isn't the easiest place to find unless you happen to have an ace navigator (or reliable sat nav) and your scribe did a couple of miscues en route.  Dave Snelson was particularly unlucky to encounter a hare at high speed which damaged some of the Pista's front-end carbon fibre aero appendages.  As you may imagine, replacements don't come cheap. 
Anne Swift, our hard working Championship Coordinator, was busy handing out the new 2022 PFHC/Pirelli caps to competitors together with assorted items of branded clothing for those who said they would like them.  The weather on arrival was glorious: warm spring sunshine and not a cloud in the sky.  Things got off to a slow start.  The timing gear wasn't working properly and when the Ferraris were called to the assembly area around two hours had been lost.  Mid-morning the whirring of helicopter blades signalled the arrival of Jonathan Palmer to check that the circuit was in apple pie order. 
Tony Attwood led the Ferrari attack with an opening 122.12 followed by Kennedy (97.33).  We watched expectantly as the Pista rocketed off the line: Dave's time: 92.74.  For a newcomer, Steve Thompson's 488 time was impressive: 99.75.  We felt sure there was much more to come.  Paul Booth slid back the roof on his 458 Spider and returned an exploratory 107.54.  Similarly testing the water, Gary Mullins stopped the clock in 118.19 albeit keeping the hood in place on his nice 360 Spider.  Pauline Goodwin, the only Ferrari driver to have competed here previously, returned a useful 114.24.  And finally Iwan Attwood took over the GT4 from his dad, to clock a rather disappointing 129.46.
With so much time lost, the organisers decided to dispense with P2 and press on with the first official timed runs.  There were no problems with the Ferraris, and times were all improvements on practice figures.  Iwan was obviously now paying attention with a huge betterment of over 10 seconds to take the edge from Tony.  Two other notable 'improvers' were Booth (now 101.86) and Mullins (112.76).  Then came a break for lunch and we were able to sample the food in the spotlessly clean circuit canteen.  There was a good selection on the menu, service was brisk, and – along with Jonathan Palmer sitting at the next table – we enjoyed our meal. 
R2 times were generally slightly slower than the first official runs had been.  This could have been a cooling of the track temperatures or maybe the effect of that lunch.  There were some exceptions: Tony Attwood spun the 308GT4 on the climb after the bridge, and another (non-Ferrari) car missed a gear and comprehensively blew up its engine.  There was another long delay as a result.  By the time the Ferraris were called up once more, it was clear that (a) the track was significantly cooler and less grippy and (b) there was little chance of the half-promised fourth competitive run.  And so it proved.  As always, Kennedy tried very hard but spun off the track.  He was subsequently disqualified for reasons unknown.  Booth had to miss his run due to a prior dinner engagement.  And the stars of R3 were new boys Thompson and Mullins, who were the only ones to improve on their earlier times. 
The prize-giving went well with Dave Snelson taking victory on scratch on his maiden outing in his bruised Pista.  We were particularly impressed with the showing of second-placed Steve Thompson, who promises to be very competitive as he gains more experience.  And Gary Mullins also demonstrated lots of latent talent; we hope he will be able to arrange his weekend gigs to allow him more time in his Ferrari.  Also, we must mention Pauline Goodwin who drove her 'classic' 328 with the consistency of a Rolex.  I believe the meeting was a lot of fun, with lovely weather, and some excellent performances at an unfamiliar venue.  We just need a few more drivers to join in!