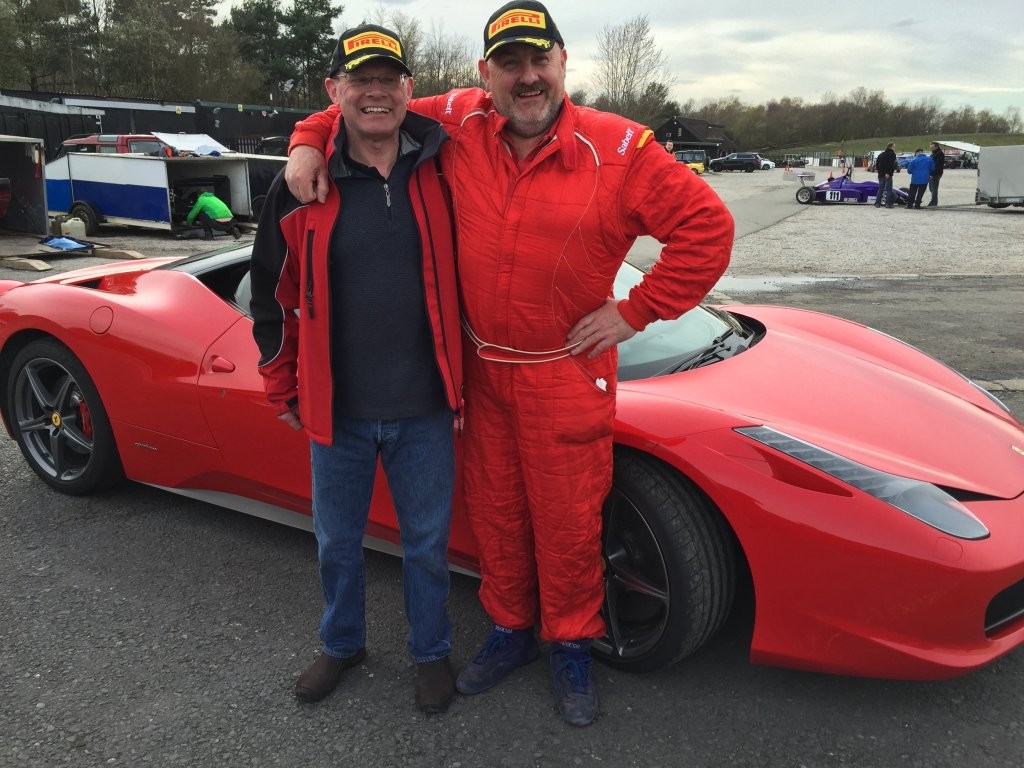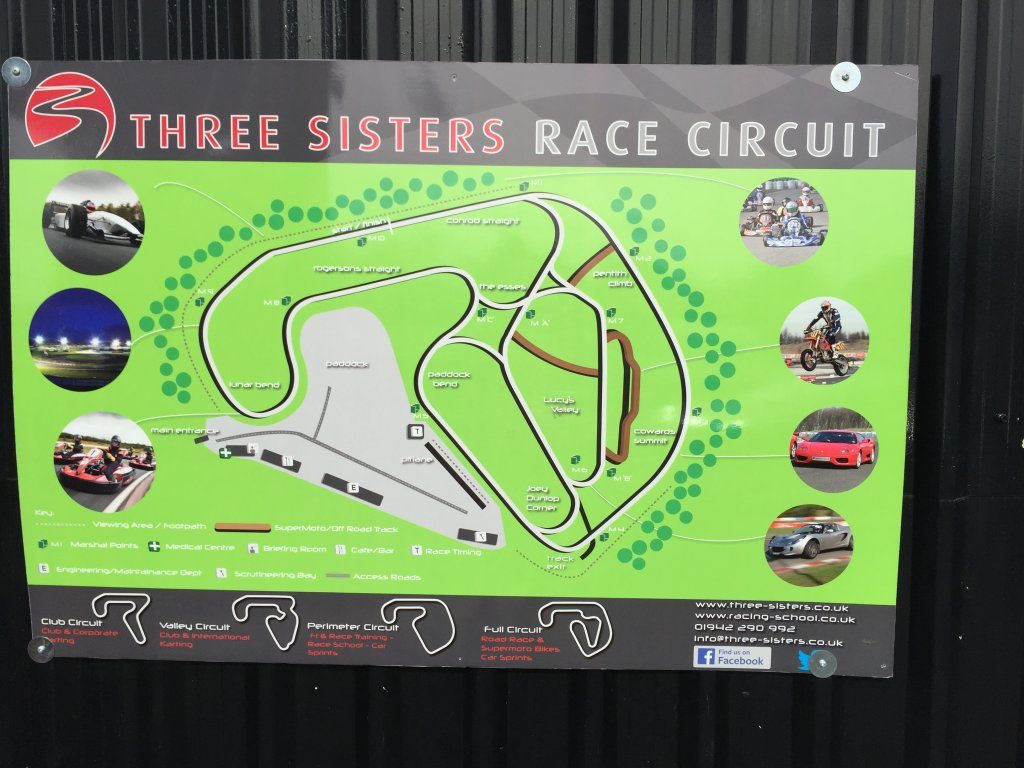 It seemed like a good idea when I put this event on the calendar, now the reality of driving up North for the first of this seasons three long distance weekends hit me. Staying overnight at a local hotel with Mike Spicer was a good idea, but waking on a beautiful sunny clear morning near Wigan we had to scrape the frost off the cars. In April?? Thankfully we avoided any rounds in March this year.
No-one had been to the 3 Sisters track before, only seeing it on YouTube to get an idea of the layout. We all thought it would be a tight twisty karting track, but in real life it was actually quite wide,  like a scaled down version of Brands Hatch or Cadwell Park. The only downside is the small amount of run-off (not a worry if you've driven Shelsley Walsh) and the tarmac surface was a little rough in places so I wouldn't want to race a kart around here.
The natives were friendly and the organisers were laid back and helpful, happy to see 8 of Italy's finest cars appear here for the first time. The drivers briefing included a roll call to make sure every driver attended, luckily for Dave Snelson (458) he arrived just in time. Apart from the usual flag reminders they also warned all the new drivers to the track that it will be slippery until it warms up. They weren't joking!
In first practice we found understeer halfway around every corner. But we managed to control ourselves and made it back in one piece, although Tony Attwood found oversteer and had the Dino at 45 degrees to the normal direction at the first right hand corner.
There were no additional splits for us to ponder on the scoreboard, just a plain and simple finish time, which showed Dave Snelson at the top as predicted with 55.78 – he was way ahead of the pack. With this sort of margin he could get the 20 points too. Nick Taylor (430) was next on 59.38, Mike Spicer (328) 60.41, and Richard Prior (355) on 62.87.
Pauline Goodwin had bought along her California, quite good for tackling sprint courses, although this one had a bit more elevation than Curborough or Blyton. Pauline was only 0.16 behind Spicer with 60.57, followed by Juan Moreno (360) 64.84 seconds, then Tony and Iwan Attwood sharing the 308 GT4 on 63.60 and 71.94 respectively.
As is tradition, we went for bacon sarnies after this excitement. The onsite diner seemed to be doing a lot of trade despite a lack of staff behind the counter, but it was worth waiting for. We talked about the lively 1st practice and hoped for more grip on the next one.
It didn't take long before we were back in the cars.
Times improved for everyone, Snelson by 1.3 seconds and Taylor by 2 seconds. Spicer was faster by 3 seconds and Prior improved by 5 to sneak ahead of him. Iwan Attwood was more familiar with the track now and moved up by 6.5 seconds.
The meeting was running smoothly and well ahead of time, so an official run was announced before lunch.
We all returned to the cars, but unfortunately Pauline had left the California ignition turned on while checking tyre pressures, but the friendly locals rallied around with a booster pack and got her going again and slotted her into the end of the class. After this rushing around and chatting blokes up (as usual) the adrenalin was flowing and did her some good as she clocked a quick 56.90, ahead of Juan Moreno's 58.14. Dave Snelson took almost 2 seconds off such was the power of the 458, Nick Taylor was now over 3 seconds adrift, with Richard Prior snapping at his heels just 0.18 behind on 56.12. Mike Spicer also got into the 56's, just ¼ second ahead of PG.
After lunch the 2nd run showed more improvements, except Dave Snelson who had peaked in the 1st run and couldn't shave any more time off for the rest of the day. We heard the news that there would be at least 2 more official runs, great we thought, you certainly get your money's worth up here.
Most of the class reached their optimum time during the 3rd run. Nick Taylor peaked on 53.91, Mike Spicer managed an incredible 54.99 in the 328, and Pauline squeezed another 0.66 out of the big Cali to record her best of 56.10. In this run and the last one, Juan was keeping up with Pauline, always within a couple of tenths. He topped out on 56.24, and Iwan was happy with steady progress throughout the day to rest on 62.80.
The 4th run wasn't too late in the day, but the sun was down over the yard arm and it started to cool off a bit. Only Richard Prior and Tony Attwood would go quicker on this one. Prior broke into the 53's at last but frustrated to be 1/100th behind Nick Taylor, and Tony found a half second from somewhere to finish on 59.38.
Incredibly they did start a 5th official run, but after stoppages due to 2 major offs with single seaters beyond the finish line, we realised we wouldn't make it on track before the meeting curfew came up. So we resigned ourselves to taking the Pirelli plates off and removing the door numbers.
Dave Snelson got the scratch win, comfortably ahead of Nick Taylor, but Richard Prior was still kicking himself for just being pipped into 3rd.
Mike Spicer was the clear winner for the 20 points, more than 1 second ahead of Prior who took 17 points. Nick Taylor got the 15 and Dave Snelson 13 points.
It's almost a month until the next round, again up north with the double header at Harewood.