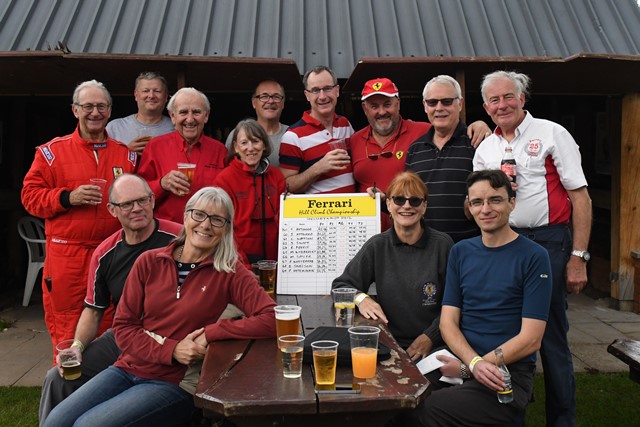 The Autumn Speed Finale at Shelsley Walsh on Sunday, 17 September was the last hillclimb event in the 2017 Pirelli Ferrari Hillclimb Championship calendar reports John Swift. The day was blessed with fine sunny weather although the hill was slippery in places due to oil spills from competitors' cars the previous day.
Nine Ferraris made an appearance including the shared 308GT4 of the Attwoods (father and son). A mix-up by organisers MAC almost precluded the entry of Peter Hitchman, who at the last minute took the place of Juan Moreno who unfortunately had to scratch.
The Ferraris were once again allocated places in the historic covered bays in the paddock. The timber support posts are poor bedfellows for wide Italian machinery, being better suited to narrow ERAs and Bugattis, and several Ferraris have made contact with them in the past as they were manoeuvred into position.
Practice started promptly at 9 o'clock – a bit too early for some who had long distances to travel. Potential scratch favourites Dave Snelson (F430) and ex-champion Phil Whitehead (F355) immediately showed they meant business with 36-second times. Len Watson (308GTB) hadn't been to Shelsley in recent times – not since he set sail for Australia years ago – and realised he needed to quickly become familiar again with the track's peculiarities.
P2 saw everybody's times improve, with Whitehead now leading the field. Swift (F355), whose 2.52 second getaway in P1 was the quickest, tried to improve even more but only succeeded in snaking alarmingly off the line with an excess of wheelspin. In the GT4 battle, Tony asserted his parental authority by a soupçon of time. Last year's champion Mike Spicer turned up the wick on his beautiful bright yellow 328GTB to demonstrate that when the PEP factoring is applied, he would be hard to beat.
A leisurely lunch in the excellent Shelsley restaurant set most of us up for a more determined afternoon of serious timed runs. It was a bit too leisurely for Peter Hitchman who almost missed T1 as he no doubt lingered over his cheese and port. Barbara Spicer brandished her serious-looking Nikon to record the action and son Joe arrived from university to cheer-on his Dad.
Talking of Dads, Iwan Attwood turned the tables on his Dad by recording a blistering 38.58 in T2, an advantage of 0.6 seconds over his father. This seemed to be more like Palmer versus Hulkenberg than Dad v The Lad.
Richard Preece (F355) turned in a competent 36.58 to go clear of Mark Wibberley's 360 Spider time by just over a second, but Spicer now dipped below 36 seconds in a super-competitive run. Also on the money was Snelson, whose 34.61 had now shaded Whitehead for fastest to date.
By mid-afternoon it was time for T2. Iwan A went even faster in the GT4 to maintain his advantage, Tony complaining that the car had developed a misfire, as witness the car's reduced speed over the finish line.
It is worth mentioning that the straight bit of the course to the finish has now been lined on both sides by a formidable wall of sleepers. Someone likened it to driving through a tunnel. The thought did go through my mind that some of the single-seater boys are doing 150+mph along here and if they should get out of shape – perhaps due to a mechanical problem – what would previously have been an innocuous slide onto the grass could now be an accident of epic proportions.
Len Watson carved a second off his times while Swift improved by 1.5 secs to achieve some semblance of respectability. Preece, in his similar car, showed how it should be done by returning 35.77 to take 3rd on scratch. Wibberley made a worthwhile improvement (36.36) while Spicer was marginally slower than in T1.
Dave Snelson, to his obvious delight, finished the day with an FTD of 34.33, good enough to not only snatch the 20 Championship points but also, surprisingly, beat the handicapper's target.
Winning, as Dave has found out to his cost this year, can have its penalties. His bill at the bar, for drinks all round for those he beat, must have been eye-watering!