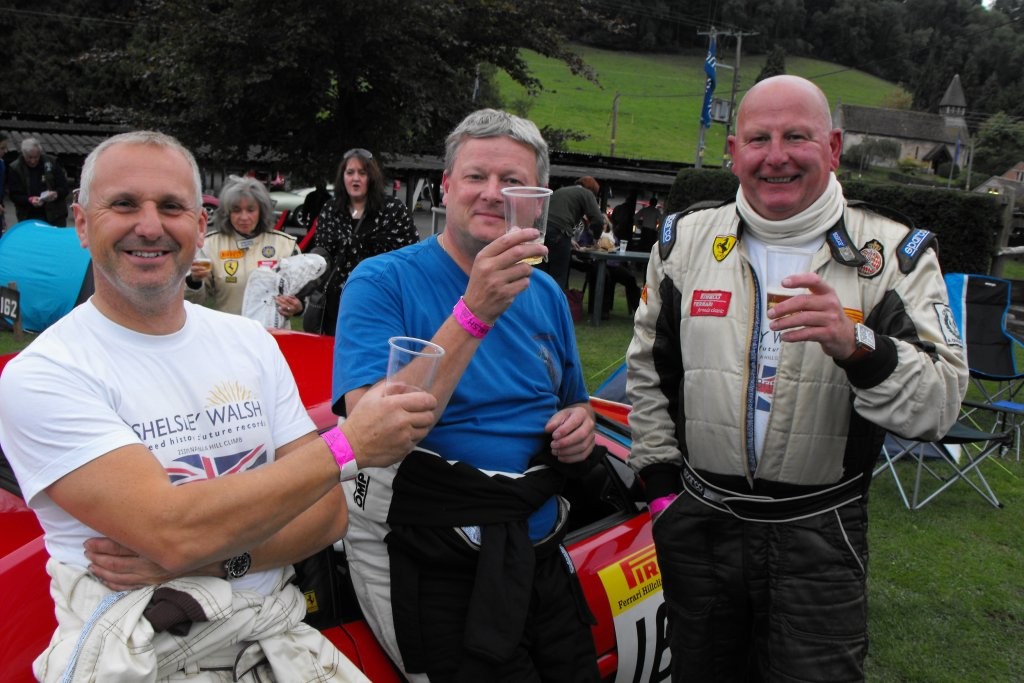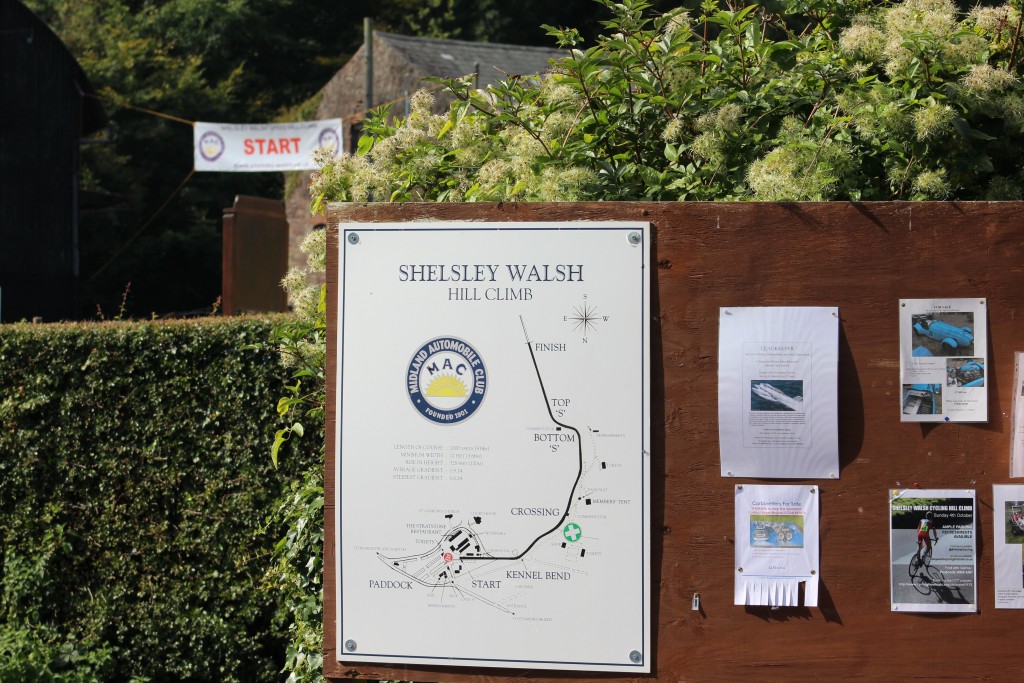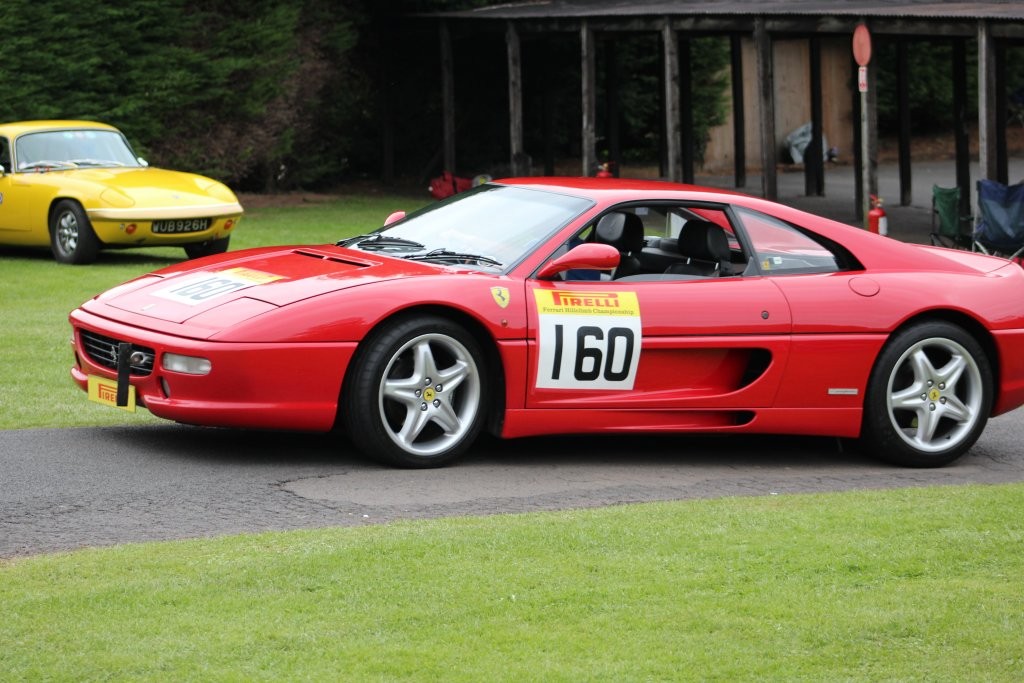 Having breakfast at Shelsley with the two main protagonists of the penultimate round of the Ferrari  championship was a banterous affair. 355 drivers Phil Whitehead and Richard Prior were full of good humour and enjoying ribbing each other – "Don't go too fast you could win the championship today", "Be careful in the Esses it will be damp".
I couldn't help but wonder when a long hard season comes to an end, with the championship to fight for, where else in the world of motor sport would you find such camaraderie?
At a slightly overcast and misty Shelsley our nine competitors assembled. First off for practice was Iwan Attwood in the 308 GT4 he shares with Dad Tony. Iwan was troubled by the mist in the Esses and did well to set a time at 44 secs when he couldn't see. By the time the rest of the Ferrari drivers came out for P1 the mist had lifted.
Nick Taylor was straight in with a conservative (for him) 36.00 dead in the 430 Coupe, the only other notables being Tony Attwood on a PB with 39.64 and the currently phenomenal Philip Whitehead with 34.40, a PB I think.
Second practice saw a small improvement from most. Tony unable to match his earlier time. Iwan knocking nearly 4 seconds off (he's alright when he can see!) and Richard Prior matching Phil's earlier time exactly.
And so to lunch, always rather civilized here; more banter and a look around the newly opened second bar in the courtyard which is really very nice, of course the drivers couldn't drink but your reporter wasn't driving! (first time in 17 years).
On the startline John Moody held a nice little presentation to our old friend Roger Thomas, MAC competition secretary for the last 17 years. Most of us have had dealings with and help from Roger. It will be sad to see him go especially as he is apparently going to spend time on caravan holidays! Poor chap. I walked up to the Top Ess for the afternoon and found it rather more strenuous than when I first came here over 40 years ago!
The official runs started a little late as ever, but this is not a place to clock watch. Nick was disappointed with an improvement over practice of only a tenth, Mark Wibberley (360 Spider) was also a tenth quicker, Peter Rogerson (360) a tenth slower, John Swift (355) nearly a second slower, Pauline Goodwin (328) had her best run of the day on 38.45, but RP was slower although his 34.68 was the quickest Ferrari time. First blood to him!
As for Phil Whitehead, well I want to set the scene for his first run. Just before our guys one of the single seaters had gone off and over and down the side between the Esses flying 6 ft in the air and 20 ft down the bank frightening not only himself but upsetting the hundreds watching.
When he emerged unscathed  there was a gentle round of applause, of course, but when Whitehead approached the same bottom Ess at an incredible 93 mph, nicely controlled through the corner, just like the single seater the back then stepped out but it was caught (to much cooing and cawing from the crowd) and then back the other way, then seemingly locked on to the sleepers outside of the Top Ess but Phil just managed to steer away with a fag paper's width between the front bumper and the bank.
Well the crowd went wild as though he'd got FTD instead of a 38.50.
But he had another chance on the second runs. He was visibly tense during the break but put in a blistering run of 34.44 to take the lead.
Prior could not match it, he was just too far behind to keep the championship alive, a 34.56 was a gnats whisker behind Phil. Nick also peaked in this final run but his 34.88 was also out of contention. Phil had done it with one round still to go!
Also ending the day on their fastest runs were Rogerson on 41.92, Iwan (39.89) and Swifty with 37.22. Mark Wibberley notched up a new PB with a grand 36.92 and Tony also with a 39.15.
So, for the first time in 10 years we had a new champion who wasn't named Prior, Taylor or Butler. The Wibberleys provided champagne in the paddock to celebrate both that and Mark's 50th birthday.
Phil looked a little overawed but soon looked worse when he had to buy yet another large round in the paddock bar. It was an unexpected championship but one that gradually unfolded during the season and he became the man to beat. Many congratulations to him.