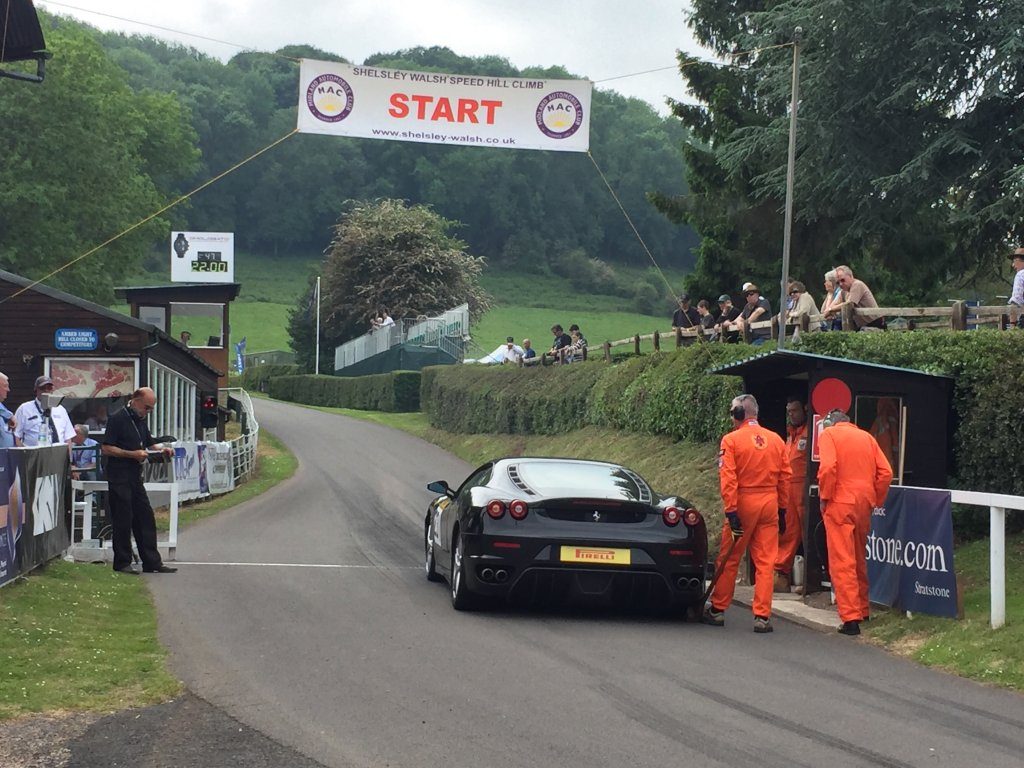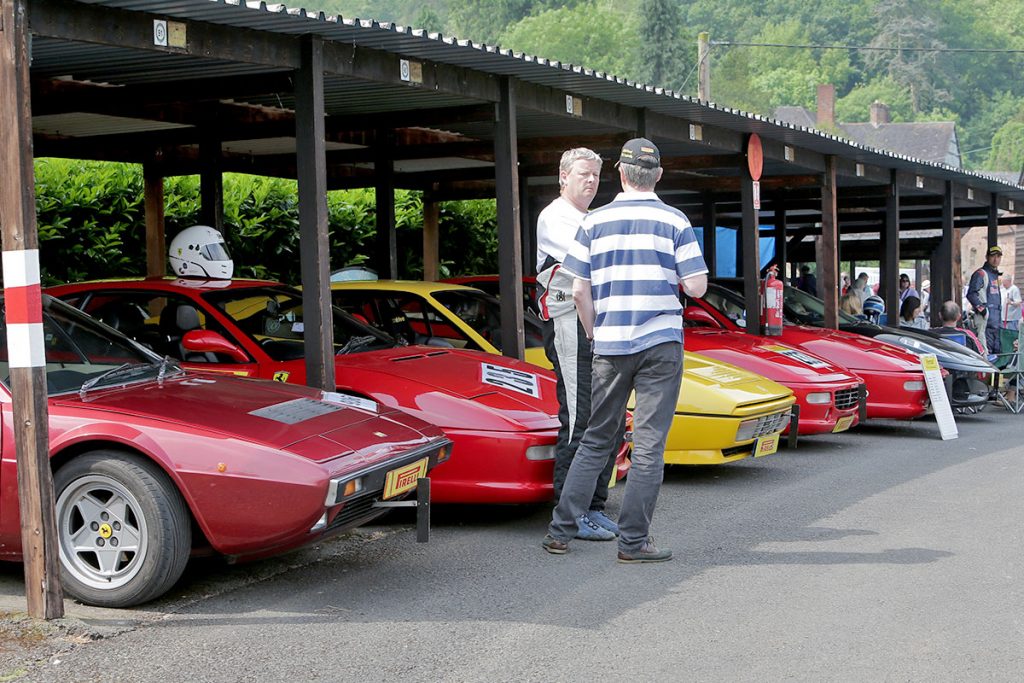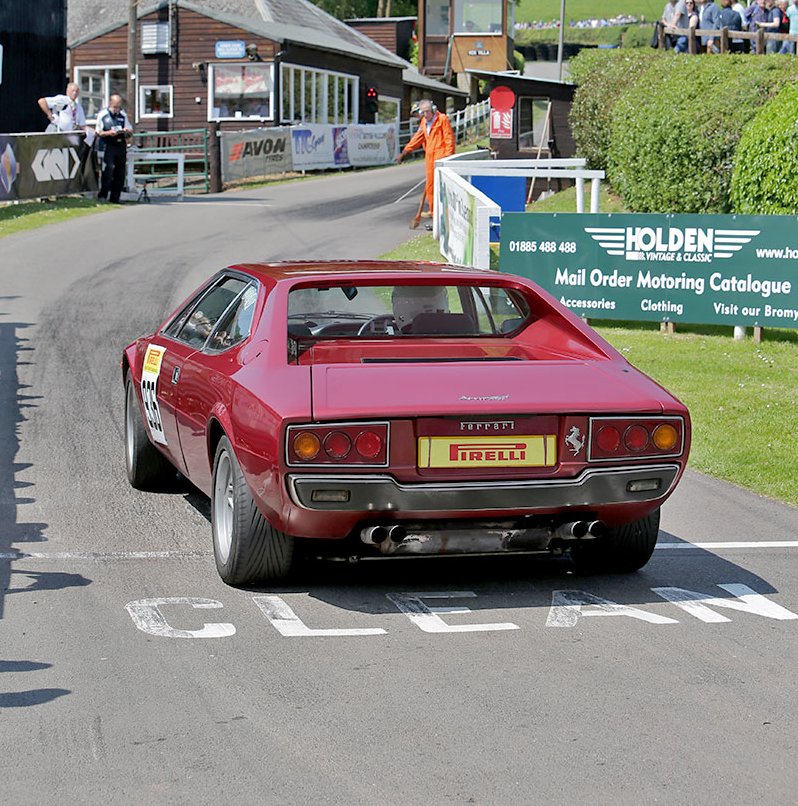 With a BBC forecast for light showers early afternoon on the Saturday practice day and bright skies for the Sunday timed runs, your author arrived early at the wonderful Shelsley Hill. His cunning plan to have the only dry practices in our group seemed to work with two runs put in well before lunch and no other Ferrari company until near lunchtime – in fact, most of the morning I felt like 'Billy no mates' with others in my class having a lie-in or just travelling from afar. It will be no surprise to hear that after all this planning the weather forecast failed me and the day stayed dry with all entrants putting in practice times on a good track, irrespective of their arrival time.
The track at Shelsley has undergone some changes over the past year or so – primarily to the kink on the main straight where there is now an earthen rise to the track side rather than the familiar narrow grass strip that could tempt some to disaster down the steep hill to the left. A more recent additional change is to the left kerb as one enters the 'esses' – once a low 'rideable' kerb this is now a high kerb that seems to threaten any curve hugging wheels and can pitch the nearside wheels off the ground if attacked too aggressively.
Practice runs ran apace on the day with no incidents and not much to mar things for our entrants. Taylor lost not one, but two, door number plates and considered instant glue over his usual bubblegum. Mark Wibberley modified his usual starting technique which worked well on his first run but then showed itself to be inconsistent on the second. It should be noted that rapid 0-64ft times at Shelsley are difficult as the start is on a considerable slope but Spicer took all this in his stride and banged in a 2.49s closely followed by Prior with a 2.62 on their first runs. All competitors improved their times in second practice but for the Attwoods who were suffering a loss of power and a misfire at revs in their pretty GT4. Mike Spicer, in his beautiful yellow 328, put in a storming second practice of 35.35 giving him the fastest time ever achieved in our classic section. Prior responded with a very tidy 34.43s and Taylor only a hundredth slower – Phil Whitehead was a second down followed by Richard Preece who had been away from this track for a year or so. Wibberley and Juan Moreno were in the 37s and Tony and Iwan Atwood in the 41s, their GT4's horsepower feeling the strain on this steep hill. If PEPs were applied (theoretical of course for these practice times) then Spicer's best run was the fastest with Richard Prior only one hundredth behind and Nick Taylor a close third – all a warning of the close competition awaiting us for the Sunday.
Our Club's hillclimbing series is a very social sport and on fine days a group of chairs are usually found in our pit area occupied by drivers, partners and friends spending the waiting times between runs swapping tips and gossip. The main subject this weekend being some of the more notable snippets from the excellent commentators at the track describing cars and their attempts up the hill – some of these will be called upon later in this article. I'll leave you to decide your favourite but for now the Saturday practices were over and entrants packed up and left ready for the promised sunny Sunday. Socialising was not over though, as our group got together for a meal at the Talbot Hotel at Knightwick which commenced with drinks in the garden observing the 0-64ft times of some very active piglets in the adjoining field.
Sunday morning arrived and the early sun highlighted the beautiful countryside in this part of England. Competitors were prompt in arrival this day, some camping at Shelsley, some using local B&Bs and just a few taking the 'close enough to home to drive' option. After preparing our cars for competition there is plenty of time to watch the other classes – everything from early Cooper 500s and classic Lolas to modern bespoke Imprezas. Most morning runs in these other classes went with only a few small incidents and despite our group being last on the program our first runs started mid-day.
Moreno's lovely light blue 360 put in a banker at 38.05 followed by Wibberley (Commentator – I could live with the sound of that car for ever!) who shaved well over a second off his practice time to achieve a creditable 35.99s. Taylor (Comm. – A little tight in the kink) steamed up on 35 dead followed by Prior who corrected massive oversteer in the second left, called Crossing, and kept his foot down despite edging closer and closer to the right banking. His efforts gave him a fine 34.44 and the shakes for 20 minutes! Preece put in a solid 36.24 eclipsed comfortably by Mr Spicer at 35.85 – proving that experience matters over the age of car you drive. Whitehead put in a 34.96 and the commentator noted his car 'stepped out at top ess' – mind you Phil had the company of many other drivers in this comment. Both the Attwoods put in solid runs with Tony breaking into the 40s. Back safely to the pits and all done for the first timed runs – time for the chairs and more gossip, or maybe just a kip! Most had some lunch whilst temperatures climbed well up in the 20s.
Second runs for our batch suffered a little as a result of delays due to driver mishaps but before too long our cars were lining up ready to take advantage of a warm track. Juan Moreno was first away and managed to improve his time despite finding the esses slippery and another 'stepped out on the exit' comment. Time for the 360 Spider of Wibberley was down a little on his first run but still fast whilst Taylor improved to 34.26 closely followed by Prior who put in a neat-lined run to give 34.29. Preece set off with the second fastest start, tidy lines through Kennel and Crossing but lost some control on the entry to the esses – his correcting losing him time he still finished with a reasonable 36.11. Spicer stormed up the track but a distraction at the start line had upset his concentration and after giving the esses kerb a clout good enough to launch the nearside of his car off the track he was unable to beat his first timed run.
The esses seemed to catch out a few of our people on this run and Philip Whitehead had a massive moment there – such a moment, in fact, that the commentator failed to give out any of the regular one-liners. Phil grazed the barriers but luckily came away without damage to his well turned out 355 – Phew! Tony Attwood followed and put in a tidy and controlled 38.95, almost a second off his personal best. The field closed with Iwan, who despite suffering stomach problems earlier in the day, held it all together to put in a sub 40 second run.
Everyone filtered back to the pit area and a nervous wait for the summary of times and associated calculations. The results of our class – Taylor, Prior and Whitehead took scratch 1, 2 & 3 but after the equalising percentage was applied Prior deservedly snatched the maximum 20 points followed by Spicer (17) and then Taylor (15). Wibberley's drive took the handicap award by exactly 1 second. Congratulations to all – a lovely weekend in the countryside and all cars back in one piece. Time to pack up and drive home.
Thanks to Richard Preece for the report, official results now added thanks to Anne Swift.
Next round, the infamous Doune Hillclimb in Scotland.