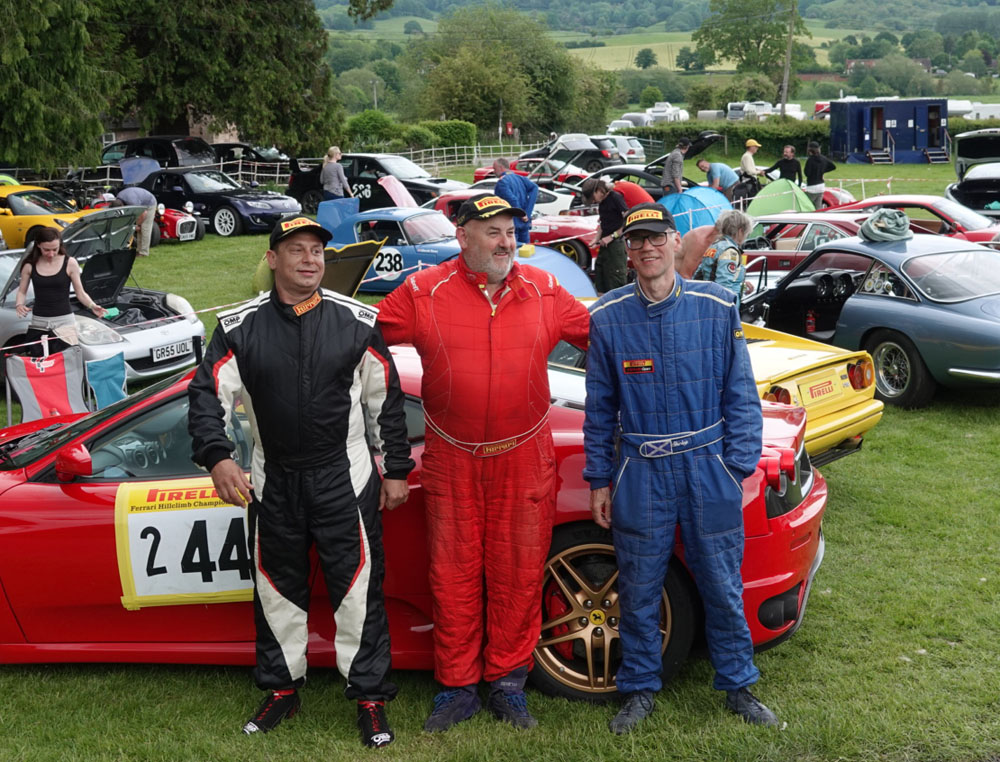 Shelsley Walsh, that grandaddy of all speed hillclimb venues, was the destination of competitors in this year's Pirelli Ferrari Hillclimb Championship.  Although the pandemic has obviously had a serious effect on entry numbers this year, this event suffered a double whammy by the unfortunate date clash with the Club's monster National Ferrari Day at Sywell.  Nevertheless, seven stalwarts made an appearance for this 4th round of the Championship and, judging from the comments, they enjoyed a lot of fun and beautiful sunny weather. 
Taking a look at the Ferrari entry, championship leader Dave Snelson was on parade in his familiar F430 (his brand new Pista is yet to appear from his armoury).  New York's John Kennedy was having his second outing with his smart California T, while John Shirley from Roy Bridge in the Highlands was taking advantage of the easing of restrictions to crossing the border.  John was driving his long-time favourite F355.  There was a full turnout of Attwoods – father Tony and apprentice Iwan – sharing the former's 308GT4.  Completing the Ferrari septet were Jon and Pauline Goodwin.  Jon had brought his lovely 250GT Lusso (now in its original blue livery) while Pauline was at the wheel of her quick 328GTB (the sun glinting on its bright giallo paintwork).  It was a disparate collection of tipos, which hopefully our PEP time adjustments would take care of.
The first practice runs, with perfect track conditions, confirmed that Dave Snelson meant business with a  34.59 secs.  Best of the rest was John Shirley, with an exploratory 38.77.  Pauline confessed to being disappointed (but then, aren't we all at some time!) with her 39.18, although it was a bit quicker than Kennedy's time (but then he hadn't seen the hill until earlier that morning).  One of Ferrari hillclimbers' interests is to predict who will be the winner in the fascinating duel between members of the Attwood family, and in P1 father was ahead by two whole seconds.  Jon Goodwin took the final slot, elegantly taking his sonorous V12 up the hill in 45.25.
P2 saw a general improvement in times: Snelson snipped a second off his P1 figure; Kennedy two seconds; Iwan Attwood 2.5.  And Jon Goodwin, with Rolex-like accuracy, replicated his P1 figure exactly.  The weather was getting hotter as the lunch break neared.  Led by Dave S. there was some sporadic water pistol fighting: Dave fired at Jon who retaliated by throwing a bucket of water at his assailant. Apparently no one was hurt in the skirmish but most were a bit cooler. 
The serious bit began in the afternoon with the start of the official runs. Tony Attwood maintained his 2-second advantage over Iwan (what happened to his Kimi Räikkönen reputation?); Kennedy improved to 36.14 (taking him to 2nd place on scratch) and Jon Goodwin put in his fastest time of the day (40.28).  Then, after a long pause for reflection, the final R2 runs commenced.  The two Attwoods were slower than in R1; John Shirley made a significant improvement (to 36.65) to close on but not better Kennedy's R1 time.  And the last to run was Dave Snelson who fired his 430 up in a consummate 33.73 secs to take the scratch victory as well as the important 20 Championship points.  John Shirley snatched the 17 points from John Kennedy, while the third John/Jon – Goodwin – pocketed the Club's handicap award. 
Dave Snelson now leads the 2021 Championship (with 74 points) from Pauline Goodwin (53) and Nick Taylor (40).  The next round is at Gurston Down on 20th June. 
I am indebted to Dave Snelson for his (soggy) notes on the event.