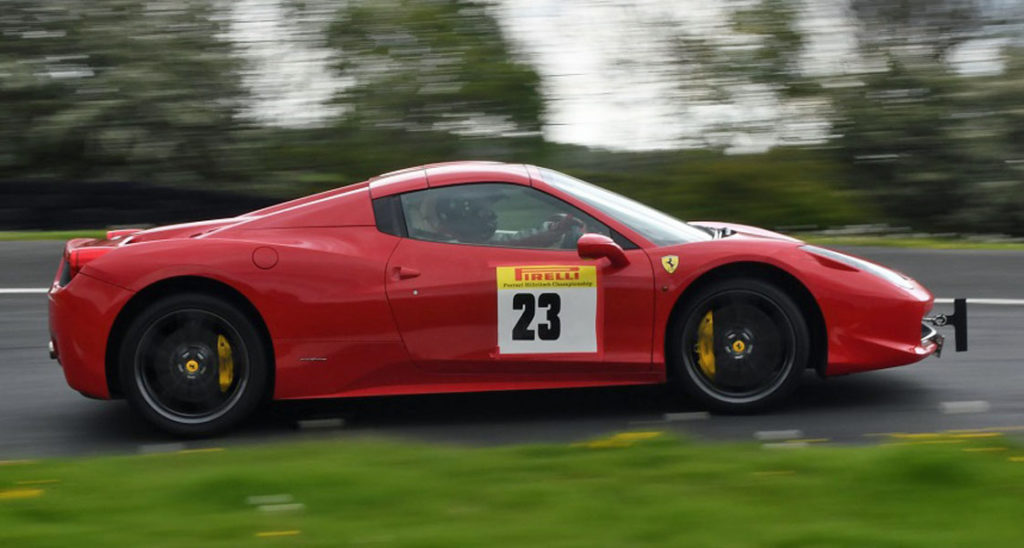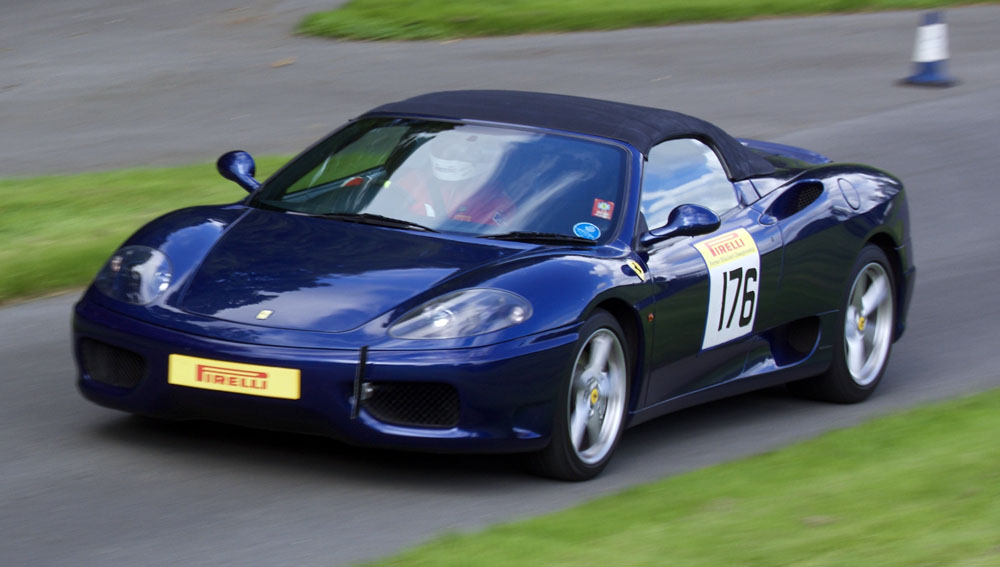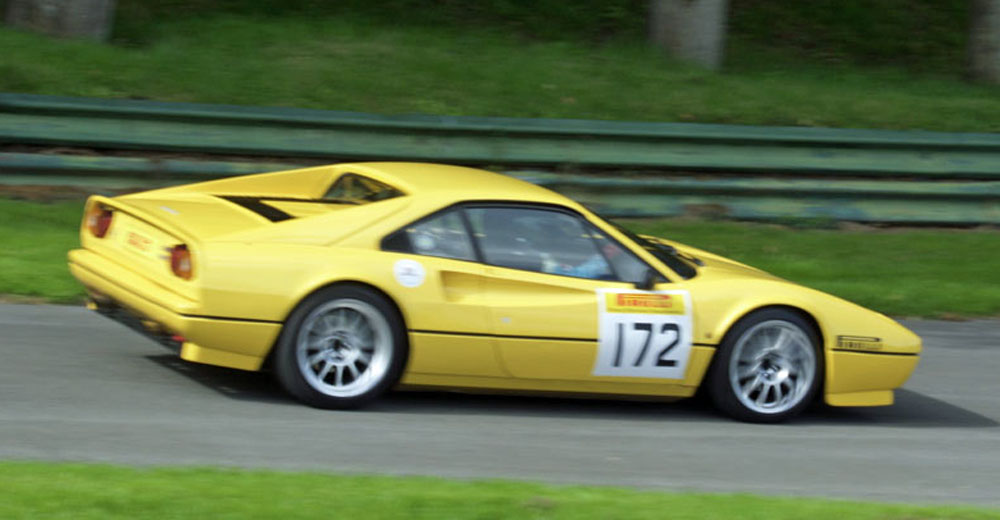 The Covid Shelsley.  A tightly restricted event with temperature screening and mandatory paddock masks, which meant we were in the Orchard Paddock for the first time.  This actually turned out rather well in the end, but it did mean two casualties from our entry list and a small Class size again albeit with six different Ferrari tipos spanning around 50 years.
Shelsley was a Lockdown Bubble, despite the huge efforts of the MAC and its helpers, which meant numbers were restricted and no spectators allowed in the Paddock; it lacked its usual atmosphere, though the weather obliged with a beautiful day and fast times across the board.
Our first run was around 10:30, and as none of us had used our cars much in anger, times were on the steady side.  Paul Booth had the most powerful car, his lovely 458 Spider, and was light on the throttle except on the final straight to the line, which he crossed at 101mph. A resultant 38.02 was a decent first bash, though Mark Wibberley bested that by a second (37.06) despite heavy use of ABS at Bottom Ess and a slow exit.  Tony Attwood, who brought his delightful Dino 246GT out to play, thought he'd done better than the clock showed (how often is that the case for us all?) at 41.34 and Pauline, in the unfamiliar yellow 328GTB, was non-plussed despite a faster run than the 458, largely due to worries about her slipping clutch which had been hastily repaired.  No trademark lightening start but fast all the same.
Jon Goodwin followed in the V12 250GT, all 3 litres of it which seems so modest these days, and brought her home safely in 42.51.  Iwan Attwood, in the other family Dino (but usually known as a 308GT4), brought the Class to a close with 41.28.  So apart from your scribe, nothing much to write home about – only 2/10ths off a PB in First Practice heralded possibly good things to come?
We then found out that the area beyond the tape behind our cars was officially not in the Paddock, so we swiftly relocated there.  Gooders whipped out a cigar to celebrate.  Later, one of our little group of rebels also engaged in a little light scrumping in the MAC orchard.  We do rather like it in there!
P2 saw modest improvement from Paul, who lost the back end at Kennel and was unsurprisingly circumspect thereafter. "There are only 5 bends and they are all dangerous" Gooders reminded us.  Despite a poor getaway Mark made further progress with 36.63 with a very uneventful, smooth run. Pauline had considered missing P2 to nurse her clutch but in the event went ahead and found the reminder that the car won't change into 3rd at high revs worthwhile, though the time was 2 seconds slower.  Tony Attwood improved marginally to 41.19, thwarted by a misfire at 6,000rpm which was even audible to the commentators.  It was a handicap in the family battle which later saw son Iwan record 40.74 despite bravery at Crossing negated by bottling the Esses.  Jon Goodwin was the biggest improver though, taking 1.2 seconds off, though he reckoned it felt like 2!  Hanging the back out at Bottom Ess looked great . . .
Lunch was partaken: nothing to write home about but chat in the sunny Courtyard was humorous, with Tony discreetly recounting stories from his professional life in cosmetic surgery.
So, now came the moment it mattered. Who would measure up? Could Paul make his power count, would PG's clutch survive, would the family Dinos run sweetly?
Well, Paul did put the hammer down where it mattered but was more sparing where it wasn't required, which oddly gave a much better time: 36.71. Not as fast as Mark's previous time, but he blew it spectacularly with massive wheelspin on the line (3.47 for 64ft for heaven's sake!) and ASR on at Top Ess for a poor 38.36. Pauline beat that by 0.26 despite ongoing clutch nerves – "we do have to drive home afterwards" she remarked – and with Tony improving again, to 40.97 (his target was 39.99, so getting there gradually) Iwan had to wait behind Jon to see what he had to beat.  Jon took half a second off to edge Tony with 40.74, and Iwan closed up to within 8/100ths of Dad, to leave 0.3 seconds between half the field.
The Scratch win looked to be in the bag for Paul, his 101 over the line being 10mph better than anyone else.  Pauline was looking good for success and was still 2nd fastest overall.  Paul made a win almost certain with 36.48 in his final run, putting pressure on Mark waiting behind Tony on the line.  Tony continued chipping away at his time, knocking half a second off again, despite the Dino still not running well towards the red line.  His time of 40.46 put pressure on Iwan, and Gooders too.  Mark obliged with another humongous start line light-up, for an even worse 3.52sec 0-64ft,  but nailed the rest of the run to return to near his P1 time: 37.18.  Although Pauline improved yet further, by a third of a second to 37.76, this was insufficient to retain 2nd on Scratch but produced a fabulous PEP time which would have secured her first ever 20 points in normal circumstances.
Jon Goodwin changed strategy to try for his target time, reasoning that changing gear was time consuming, so ran the V12 to 8,000rpm up the straights in second. It was risky, sounded amazing and worked: 40.16 (so close to a 39!).  Last up was Iwan, who despite a developing migraine, took another second off with a smooth run of 40.11 for family honours.  Like all of us, he posted his best after-lunch time at the end of another wonderful day of competition and companionship in perfect conditions at this iconic venue.