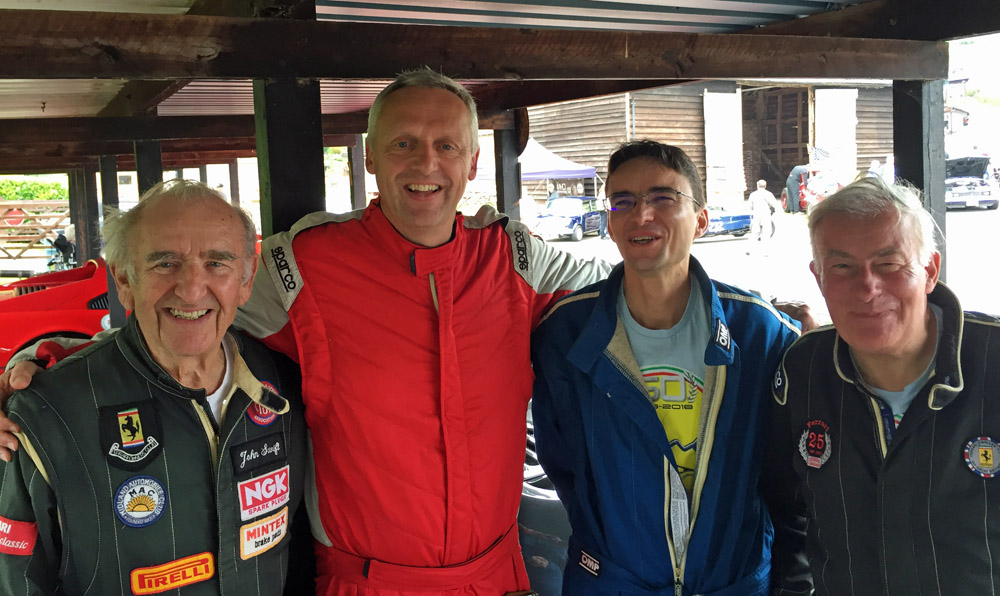 Perhaps it's an age thing, but Shelsley Walsh has a special place in the hearts of most hillclimbers.  It's the oldest motor sport venue in the UK, with a continuous history of 113 years, and it's the fastest hillclimb course.  Although its tarmac must have been replaced many times during this time (I own 3 sq yds of it myself!) the course is unchanged since it was first used in 1905.  It is 1000 yards of unblinking concentration, with just two proper bends, both of them dangerous.
Add to that the age-old paddock, with its unique bays of corrugated roofs supported by wooden posts, it is a sublime place to enjoy hillclimbing. You can almost sense the ghosts of Jean Bugatti, Raymond Mays, John Bolster and Ken Wharton as you stroll around the competition cars.
With only one more event to come, Shelsley, on Sunday 16th September, was the last hillclimb of the 2018 PFHC Championship (Curborough is a sprint, remember?) .  The weather was fine and warm, with a possibility forecast of a spot of rain in the middle of the day.  Another thin Ferrari entry of just six cars (it would have been 8 but for unexpected absences) turned up to do battle – all of them with a fighting chance of grabbing the 20 valuable Championship points on offer.
On parade were two Dinos: the 246GT of Tony Attwood and his GT4 to be driven by his son, Iwan.  Pauline Goodwin was at the wheel of her 'hillclimb' 328GTB while Phil Whitehead and John Swift had their regular F355 berlinettas. The entry was completed by Paul Booth in his 458 Spider.
The first practice runs were uneventful except for Phil reporting a shortage of power.  In the final 20 miles of his journey from Wales he noticed a sudden change of engine note accompanied by a loss of oomph, and wondered if it was due to the exhaust bypass valve having stuck closed.  He was understandably pessimistic about his chances.  Booth and Swift recorded sub-40 second times, with the former hitting a rousing 98 mph at the top of the hill.
There was a long delay before P2 after a competing car demolished part of a tyre wall, which had to be rebuilt before further runs could be taken.  This time Tony Attwood reported a misfire with his Dino engine although he was a fraction quicker than the stricken Whitehead car.  Everyone else was faster, with Booth and Swift now in the 37-second bracket.
Black clouds rolled in during the leisurely lunch break and we hoped that the expected rain would manage to miss us (we could see a downpour in the neighbouring hills).  The smart Shelsley restaurant didn't disappoint, with a good choice of well-cooked fare available.
R1 for the Ferraris got underway at 13.30 although, after watching the others, Phil decided his 355 wasn't going to clear its throat to enable him to sensibly compete and he set off back home.  Pauline was slightly slower than her P2 time, and Tony Attwood was still afflicted by his misfire.  Very quick at Crossing was Iwan (74mph) who improved to 38.38 with the GT4.  Both Swift and Booth were slower than P2 but retained their relative 2-1 positions on scratch, with the 458 on 37.82.
And then the rain came – not a lot but enough to warrant the use of a leather.  About this time Dave Snelson and Jane called in to see how we were all getting on.  His new 488 stood out like a bright yellow submarine in the adjacent car park.  Dave is a bit handy with his mobile phone's camera so he climbed up to Crossing to snap everybody's action.
With another delay in earlier classes, the track for the Ferrari R2 was effectively dry.  By this time Tony had removed all the plugs from his Dino engine and found one that clearly hadn't been working.  A replacement restored the car to six-cylinder health.  Pauline improved to 39.09 but only just ahead of the Attwood revitalised Dino (39.65).  Iwan was slower, Swift moved briefly into the overall scratch lead with 37.52 but was then demoted to second by Booth's 36.80.
Championship coordinator Anne Swift quickly clicked her calculator to produce the PEP-corrected times showing that Tony Attwood's last run gave him the top score of 20 points, whilst also handing him the handicap award as the only competitor to better their target.
Paul Booth generously opened a tab at the bar to slake the thirsts of his fellow Ferrari drivers.  It had been a very close contest (just look at the PEP times) and, apart from the luckless Phil Whitehead, we all returned home with a smile on our faces.  Which is, after all, what it's all about!