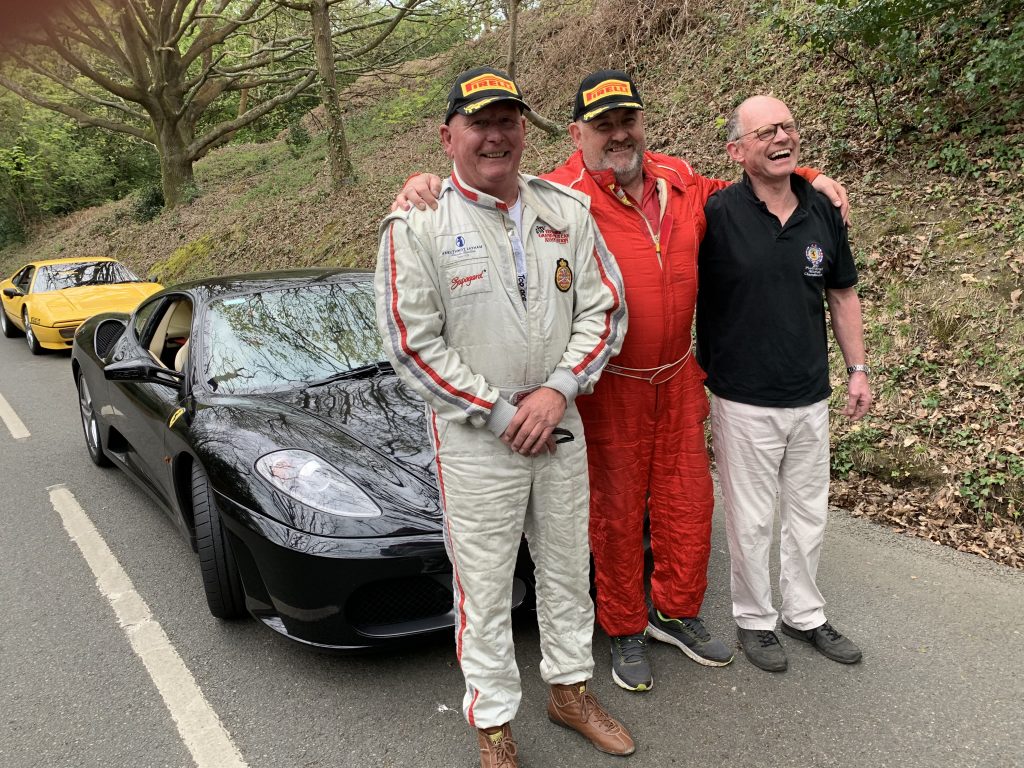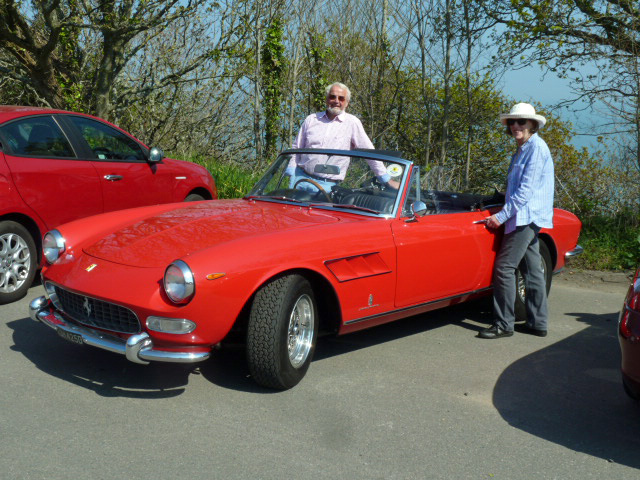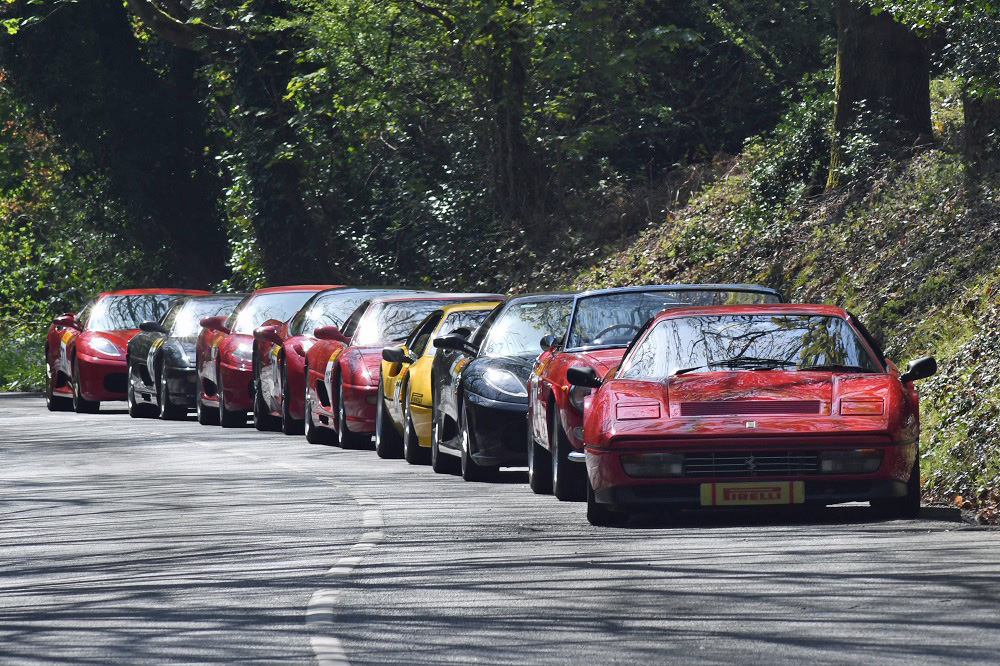 Here's an Easter recipe to rival any contrived by Mary Berry: book a fast ferry to the lovely island of Jersey, reserve a room with breakfast and dinner (at a demon price) at a brilliant hotel in St Helier, enter the challenging hillclimb at Bouley Bay on Easter Monday, and just relax and have fun in the sunshine with all your Ferrari pals.  That's the menu chosen by ten competitors, three FOC officials, and their friends and relations to kick-start the 2019 Pirelli Ferrari Hillclimb Championship season.
 Most of our party set sail from the port of Poole on Good Friday on the high-speed Condor Liberation, a powerful vessel that aims to be a Formula One of ferry ships.  But there were exceptions: Dave Snelson missed the embarkation time because of exceedingly high holiday traffic congestion, and your scribe and Mrs Swift were prevented from boarding because Anne hadn't brought any photographic evidence that she was who she said she was – a new regulation brought out the previous month as a result of the dreaded Brexit palaver.  No amount of negotiation with the port officials could change the situation, so we had no alternative but to point the 355 back to North Yorkshire to collect the required evidence.  It was a grueling trip of around 600 miles – the equivalent of three Formula 1 races!  So it was early on Saturday evening before we and the tardy David S reached Jersey's Elizabeth Port.
This report isn't meant to be a travelogue so I won't dwell on all the pre-hillclimb fun we got up to, save to say that on Sunday morning we met up on the west of the island with a group of Jersey Ferrari owners, together with their friends with other high-speed machinery (McLaren, Alfa Romeo Duetto, Lancia Delta Integrale, Lotus, etc) for coffee and a natter.  Not, I should mention, before Anne had given each of our Ferraristi a mini Italian Easter egg.
The Bouley Bay event is held on a public road so competitors had to be up at crack of dawn to sign-on before the hill was closed to traffic.  The Ferrari class – now down to nine cars after Paul Booth (458 Spider) was obliged to return home to sort out a minor family problem.  Paul suffered another bit of ill luck when a careless local truck driver attacked his Ferrari's wing mirror.  Also causing concern was the beautiful 275GTS of Jon Goodwin, which the night before had had a fit of the sulks and gone onto 10 of its 12 cylinders.  The best efforts of Mike Spicer failed to coax the recalcitrant pots into life, so it was touch and go as to whether Jon would be able to compete.
 The Ferraris were allocated paddock space at the top of the hill, which was a relief to those, like me, who had suffered damage to our cars in previous years when negotiating the return road to Radio Corner. A drivers' briefing revealed that, in accordance with new 2019 Motorsport UK rules, there would be only one practice run, the good news being that instead we would have an extra official timed run.  The Clerk of the Course said she hoped the first runs would start at 09.30 but that hope was dashed when a recovery truck wiped out the overhead timing cables below the Finish banner with his loaded recovered vehicle.  This was a prelude to constant timing problems which afflicted the meeting throughout the day.
An hour late, the meeting got underway. In reverse number order, Pauline led the Ferrari attack, giving the spectators at the start line her full tyre-warming display. Husband Jon had decided to see if his 275 would clear its throat – it didn't but was a joy to behold as it was wafted up the hill with its hood down.  Nick Taylor's raucous 430 was next, with a useful 51.93 (Nick is the current record holder at 49.82) but was beaten by Mike Spicer at 51.58 in a glorious tyre-smoking ascent in his bright yellow 328GTB.  Chris and Lorraine Hitchman (F355GTS and F360 Modena respectively) set times 1½ seconds apart while Mark Wyman, having his very first taste of speed hillclimbing, slotted his 458 in at 55.10.  Swift was next, in a leisurely 57.37, his marathon 900 miles in 24 hours seemingly having blunted his performance.  Finally, our current Hillclimb Champion, Dave Snelson, showed he was out for blood, blasting his 430 up the hill in a time of 50.14 secs.
Run 2 resulted in most drivers improving their times, notably Mark Wyman who shaved off over 2 seconds from R1.  Also Jon knocked a couple of seconds off his time, in spite of which he decided to retire the car.  "I'm not really enjoying it when I'm unable to get the best out of the car" he explained.
It was on R3 that the real troubles with timing equipment manifested themselves.  The display at the top of the hill hadn't worked from the start, robbing us of vital information on each competitor's time.  Now, both Pauline and Nick repeatedly failed to record a time.  In total, Pauline had 7 re-runs and Nick an amazing 9 – surely some sort of record for a speed hillclimb event.  To their credit, the organisers worked ceaselessly to keep the meeting going and make sure everyone had their quota of runs.  All the while this re-run nonsense was unfolding, we were kept amused by our very favourite commentators, James and Darryl, whose quick-witted repartee is simply priceless.
The meeting went on well after the normal finish time but in recompense the weather was wonderful and everyone I spoke to seemed to have had an enjoyable time.  At eventual close of play, Dave Snelson took the scratch win at 50.14 (his first run time), with runners-up Nick Taylor (51.06) and, incredibly, Mike Spicer on 51.58.  The Handicap proved to be a Hitchman bonanza, with Chris winning and Lorraine the runner-up.  In the all-important PEP contest which determines Championship points, the winner was the redoubtable Mike Spicer (20 pts) from Dave Snelson (17) and Nick Taylor (15).  All the results are shown on the accompanying table although the only stats available to us were the 0-64 ft times.
The Monday evening dinner back at the Hampshire was a bit special: our final night together and an occasion to reward our successful Ferrari pilots. Normally the organising club provides prizes for the winning competitors on scratch but, knowing this was unlikely on Jersey, Anne and I had brought some silverware with us from England.  Mr Snelson was dining elsewhere with his family and friends so was unable to receive his winner's trophy.  However, Nick Taylor and Mike Spicer were able to collect their 2nd and 3rd place cups amid enthusiastic applause.  We also were able to thank those loyal FOC officials who had joined us on this trip: Championship Stewards Sue Skinner and John Warner, together with our Eligibility Scrutineer Gerry Walton.
 A happy conclusion to the evening was that we were able to announce that we are invited by the Jersey M&LC Club to return to Bouley Bay next year for their 100th Anniversary, when again the date of Easter Monday is quite late (April 13th) and therefore promises good weather.  We hope that dicky timing equipment will be replaced by then . . .