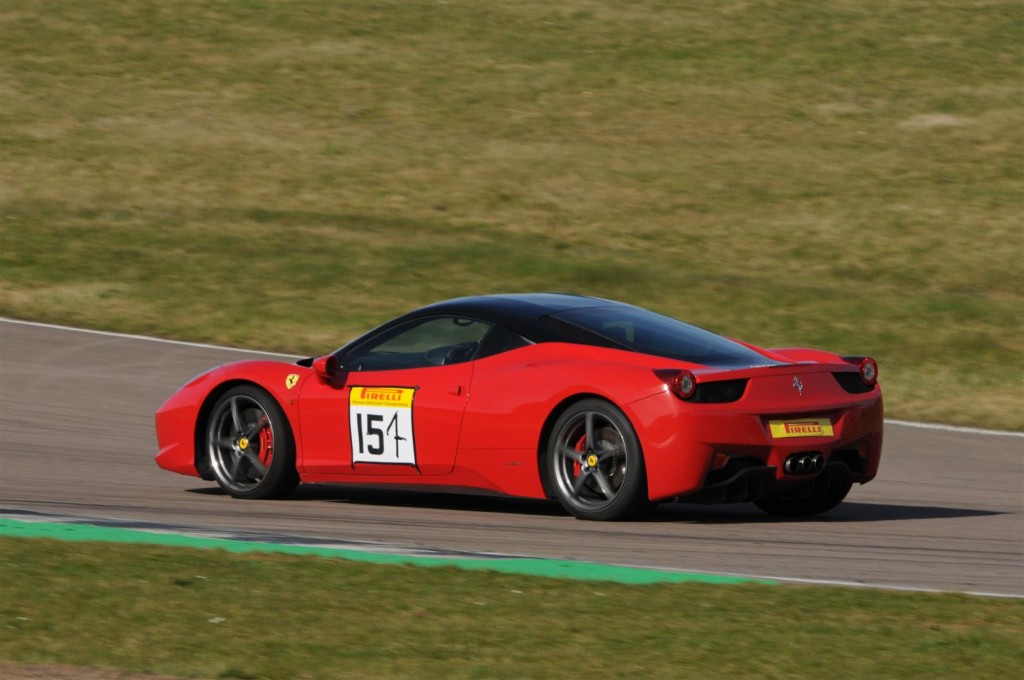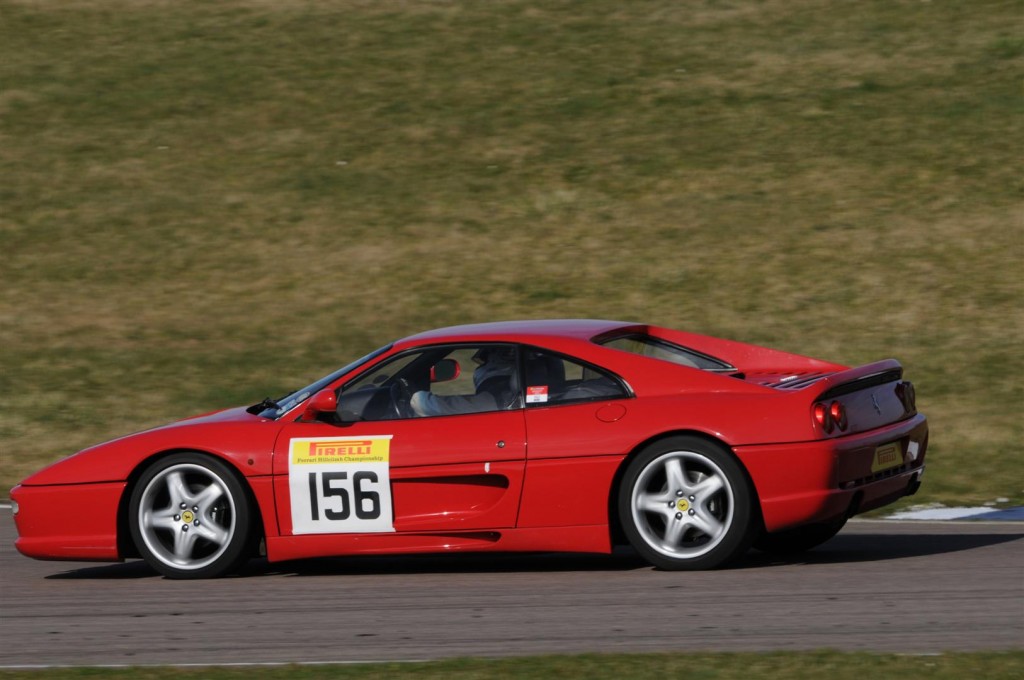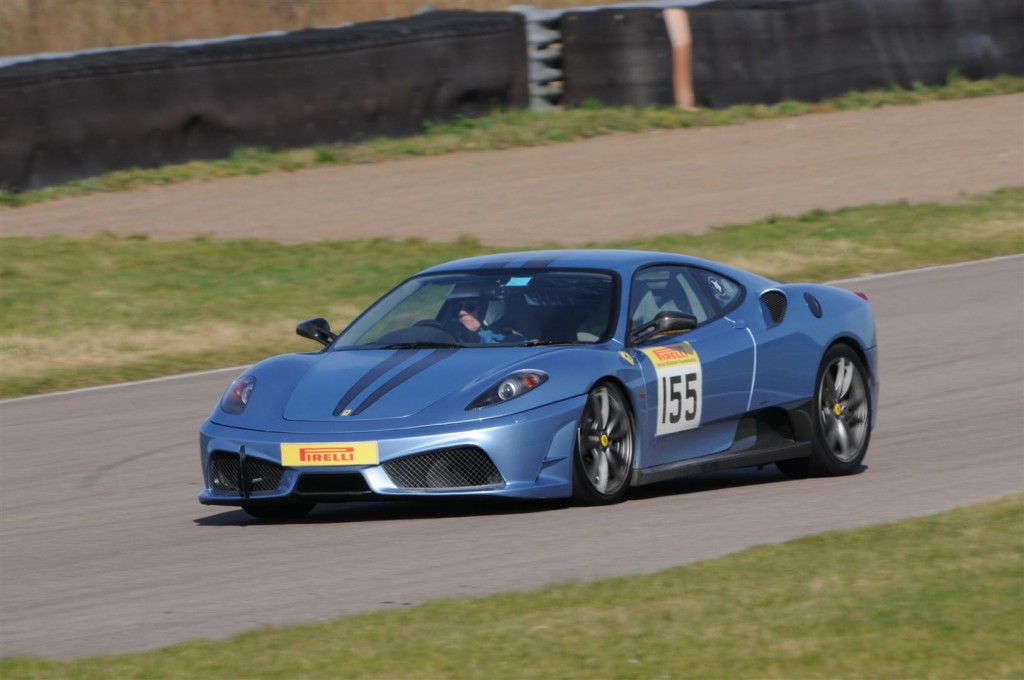 A lovely sunny spring day bought out 10 Ferraris to our first sprint at Rockingham Speedway near Corby. It would have been a good dozen, except Nick Taylor had to cancel in advance, and Mark Wibberley was feeling the effects of Man-Flu before the event.
This event is organised by the BARC and made a change to the usual season opener at North Weald. The new venue bought out some famous faces from the Ferrari Owners Club. Derek Seymour came to keep an eye on us, Simon Cooke brought out his big camera, 2014 PFHC runner-up Mike Spicer and Barbara were passing on their way back from a weekend away, Brian and Jenny Jackson live not too far away and came down to support the newest event in their neck of the woods, and Peter Everingham made the journey from Snettisham in his immaculate blue 308 GTB.
Peter Hitchman had brought along a new car to compete in, treating himself to a Rosso Corsa 430 coupe for 2015. Lorraine Hitchman had bought Peter's 360 Modena and was looking forward to using it on this fast circuit, while Husband Chris was in his faithful 355 GTS.
Some of the Ferrari class had been here before at FOC track days, but most were in at the deep end, with just some preparation via YouTube and studying track layouts on the Internet. I did a partial track walk around the twiddly bits but the track needed to be cleared by 9:15am, and walking the banking wouldn't have made much difference anyway.
The organisers had planned a convoy run, but the downside was competition cars were only allowed if they had been scrutineered, and due to the Ferraris being at the back of the programme we had sat back and let the other classes queue up (some taking over 45 minutes shuffling forward until they reached the Scrute paddock building.) We tried to talk them round, and they conceded that road cars would be allowed. Well, the creative PFHC bunch came up with ideas to get around this. A few of us piled into Derek Seymour's estate car and headed out for a sighting lap and others took their race numbers off the Ferraris and replaced the registration plates, well they are road cars, and some of us went out 3 times.
The startline was behind the scrutineering bay, we go straight away into a relatively tight left-right of Brook Chicane with the usual serrated concrete rumble strips, but with a massive built up kerb inside that persuaded you to keep your distance, they would surely have ripped most of the Ferrari front spoilers off. The track opens out left onto the fearsome Oval start finish straight, 18 meters wide of prime tarmac to play with, it allows you to concentrate on smooth changes until up to 5th gear.
Despite looking easy, the banked corner (turn #1) soon gets here and needs car balance and plenty of commitment to get it right. I'm not sure if it's flat out in a 328, but a lift on the throttle in a 355 was definitely needed. Once round this curve it was a straight dash down to Deene hairpin that takes you left into the infield from the banked Indy circuit. A short blast again takes you into two 90 degree righthanders then a nice flowing combination of left corners before looking ahead to the braking area for the final corner, another left over a brow heading for the finish line with foot firmly to the floor and using all of the tarmac to run out, and then a bit of green painted runoff for good measure. A speed trap was discovered on the finish line, and was lucky not to have been wiped out by more than a few competitors on a wild end to their lap.
First practice started with Dave Snelson lining up in his 458 (as the 430 clutch had gone before the event) followed by John Marshall in the 430 Scuderia. The organisers had asked for the Ferraris to be in fastest first, to avoid catching up the car in front. And in P1 it was as predicted with new boy Snelson leading the way, first time out on 83.64 seconds. It wasn't easy with that much power, and stopping was a little worrying too. Both Dave and John were sideways into the hairpin off the banking, and others were also reporting a slippery dusty feeling to the track. Pauline Goodwin (328) made a 'swerving turn' into the same corner, and lost a few seconds while she threaded her way through the cones to continue. Tony Attwood stayed on track, thankful that he now had working shock absorbers on the 308 GT4, but Mark Hargreaves (also GT4) came in too fast off the banked Indy circuit and executed a neat 270 degree before getting on his merry way. Prior got the best start with 2.48 seconds over the first 64ft in the 355, but it was never to be repeated in his later runs.
Practice 2 was much more civilised. Not so many excursions off the racing line this time. Snelson knocked another 0.3 seconds off his time and was fastest on 83.31, Marshall over 2.5 seconds quicker than before, and Prior just under a second better off. Chris Hitchman was now down into the 94's, while Lorraine was getting the hang of her new 360 and reduced the time by more than 4 ½ seconds to sit ahead of him on 93.28.
Jack Hargreaves in the 308 GTB left the startline in 2.60 seconds and had a good run finishing on 91.09 and a terminal speed over the line of 77.1 mph. Mark Hargreaves didn't spin on this occasion and got a banker time of 97.92, as did Pauline Goodwin on 92.82, but she now had the fastest acceleration from the start, just 2.42 seconds to break the 64ft beam. Tony Attwood nibbled away at his earlier time, and was 1.5 seconds quicker on 98.12 while Peter Hitchman took 5 seconds off his first practice in the 430 coupe.
And so on to the real competitive runs. After a bit of a feeding frenzy at lunchtime, we took to the track to start the 2015 season properly. Mark Hargreaves made his best run of the day, 96.12 seconds while the track was at its warmest, as did Pauline Goodwin (92.21) and Lorraine Hitchman (93.17). John Marshall also got a clean run on 87.81 and top speed over the finish of 86 mph, which would give him 3rd place on scratch.
Jack Hargreaves was in the running for the points today with his minus 4.5% PEP, his time of 91.35 would be reduced to 87.24 as a target for others to aim for. Richard Prior clocked up 85.74 and plus 1% PEP added gave 86.60 and the points lead. But Dave Snelson was so far ahead with a blistering 82.51, and even with 4.5% added to the 458's time he was now first in the points by 0.38.
It was all down to the last run and the sun was now below the yard arm (I mean grandstand) and the track was cooling off. John Marshall had a very slow start (3.35) which didn't help to maintain his earlier form, Chris and Lorraine Hitchman were also slower by 2 seconds, and Pauline was down 0.6 seconds this time.
In contrast to that, Peter Hitchman (430) knocked another 2 seconds off for 103.97, and had a spectacular start with 2.34, the fastest of the class all day. Tony Attwood also improved by 2 seconds to finish the day on 93.46 and 4th place on points.
Dave Snelson couldn't improve on R1 so it was up to the rest of the class to catch him on points. Jack Hargreaves had brought his time down to 90.41, and when adjusted meant a PEP figure of 86.34, and just behind the newcomer. Richard Prior threw everything at it, but too much wheelspin at the start made it even harder. Derek Seymour had been spotting the driving lines around turn#1, and noticed lots of drivers turn in too early making a tighter corner out of it. The only other option is to stay high a little longer, but risk getting on the marbles left by hundreds of tyres. This helped to take ¾ of a second off Prior's time, and 85.01 made sure of second place on scratch. Quickly whipping out the calculators showed it was just enough to get ahead of Dave Snelson's PEP time too for the 20 points.
When the official results were released, Chris Hitchman's fastest first run time (91.24) has been deleted from the TSL timing information. We couldn't work out why… and neither could the BARC.
Dave Snelson collected the trophy for the scratch win (his 2nd win in just 2 events with the 458), Richard Prior was 2nd (355) and John Marshall in the Scud took 3rd.
With the PEP factors applied, Prior had just snatched the 20 points, Snelson got the 17, and thanks to his last run Jack Hargreaves started the season with 15 points, Tony Attwood was pleased with 13 points.
Next Round (like Formula One) is a long-haul overseas trip to Bouley Bay in Jersey, on Easter Monday.
(roll mouse over pics for caption)
For more of Simon Cooke's pictures please visit our Flickr page.