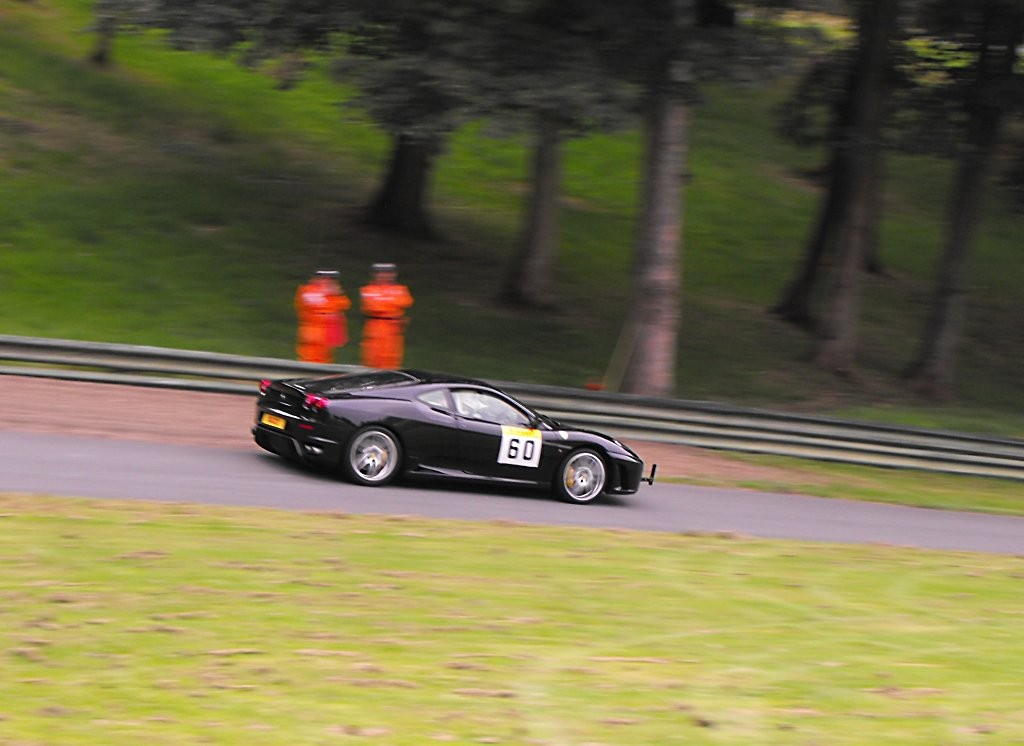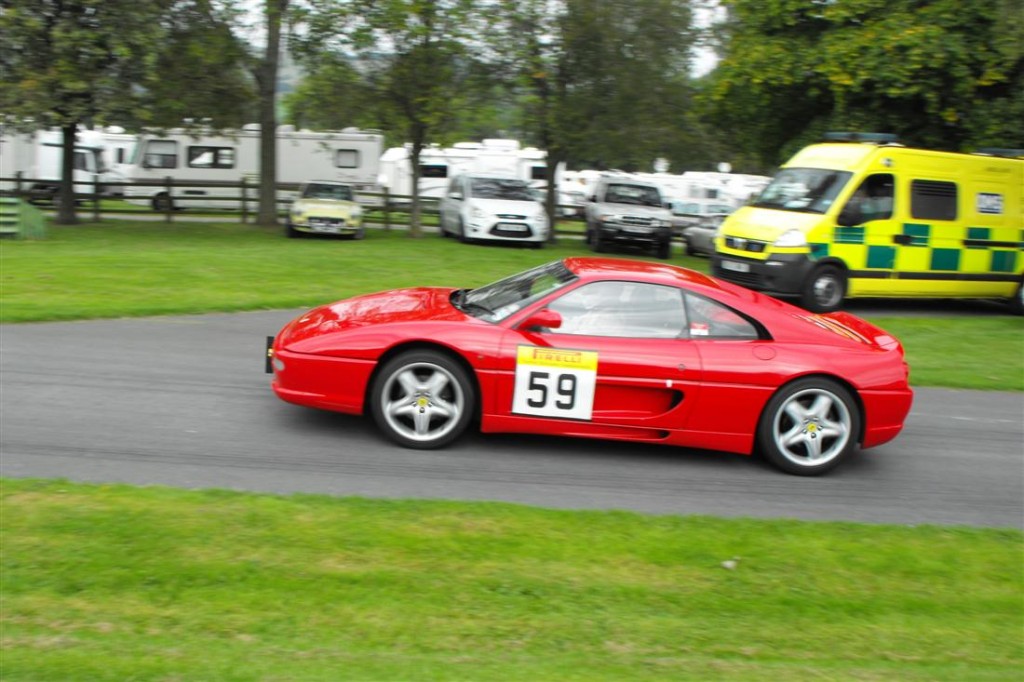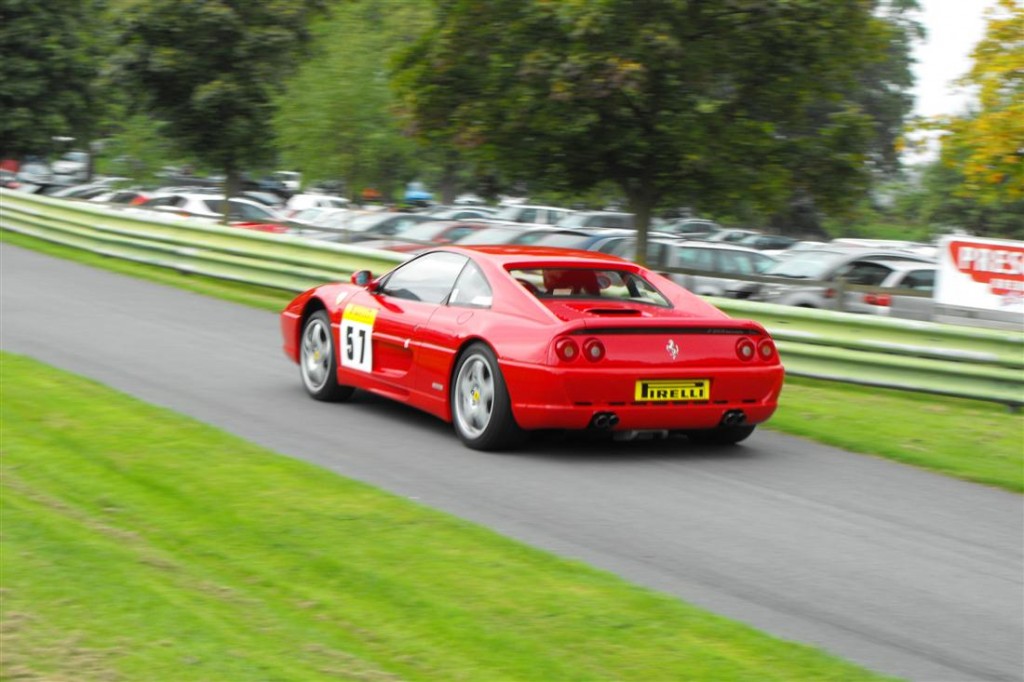 Things were going to get interesting in the championship stakes at this, the 13th round of our 15 round series. Only the best 9 scores count and there was still a slim chance that Shaun Smith could nick it from Richard Prior who had been leading for a good part of the season.
This meeting featured a round of the MSA British Hillclimb Championship and was nominally a two day meeting, but as usual the Ferraris got dispensation to both practice and race on the Saturday so as not to drag it into the next day. The downside was that, at this very busy meeting with a large entry, the Ferraris would run very late on the Saturday.
The entry was good with 17 Ferraris starting their practice runs. Prior (355) immediately set down the marker with a super 49.67sec time, followed by the man who would be his rival for the overall win on the day, Nick Taylor (430). But in the second practice runs the roles were reversed with Taylor getting down to a 49.00 whilst Prior improved to a 49.27. John Marshall (430 Scuderia) was not far adrift on a 50.48, the car sounding wonderful as it threaded between the trees of this picturesque venue.
Phil Whitehead (355) was next on a 51.78 ahead of a very committed Mike Spicer (328 GTB) on a 51.86, a great effort in this relatively underpowered car and looking good for those maximum 20 PEP points.
After practice there was a long wait. Some took the opportunity to watch the single-seaters entered in the British championship, extraordinary devices with few restrictions as to weight or aerodynamics or engines. As a result some very clever brains have produced cars with grip and cornering capability that far exceeds that of a current F1 car. The proliferation of engine manufacturers is one of the interesting aspects, with everything from 4-litre Judds to V8 motorcycle-based engines, with exotic fuels, some with turbos, others with superchargers. Very clever stuff!
It was now getting to past 4pm and still the competitive runs had not yet started. The organisers, bless 'em, did not appear to have much of a clue as to the eventual running order of the three classes that would take part in the Saturday competition. Would it be the motorbikes that ran first or the Bugatti Club members cars or maybe even the Ferraris? We then learned to everyone's dismay that the 'bikes would even have their own top 10 run-off! A 10 pm finish looked on the cards…
But then finally the Ferraris were called forwards for their first competitive runs – just as a few spots of rain began to fall. It didn't last long and most ignored it.
Wendy-Ann Marshall lead away in her 328 GTB , taking it a bit easy because of the damp bits. Pauline Goodwin was next in her California, also a bit gingerly with a 57sec run, and then Mark Wibberley (360 Spider) went into the 54s on his first run. Shaun Smith was the next quick runner, taking his 328 up in 53.01, but it would need more than that to ensure more points than Prior.
Mike Spicer went quicker than all before him, on a 52.71 but this was slower than in practice so there was clearly more to come on the second run. Phil Whitehead was the first to drop into the 51s but his time was immediately bettered by Richard Preece with a 51.26. After John Swift had taken his 355 up in a fairly sedate time came the heavy hitters. Prior went first and recorded a class-leading 49.54 but this was topped by a superb 48.16 from Nick Taylor – a new class record! John Marshall in the Scud could not match these times, being a couple of seconds slower than in practice, and so the order after the first runs was Taylor, followed by Prior and Preece.
After some more motorbike and road-car classes the Ferraris came out for their second runs, the sun beginning to get quite low in the distance…
Times were generally quicker. Amongst the early runners Wendy-Ann went some three seconds later and PG knocked over two seconds off to end up with a 55.10. Tony Attwood locked up going into Ettores and gently kissed the barrier in his GT4. Shaun Smith, mindful of the points situation, went quicker than on his three previous runs, but his 52.80 was not enough to keep his championship hopes alive. Mike Spicer again dug deep and got down to 51.45, a great time in a 328. Preece also went hard and got down to a 51.02 which would eventually net him third place overall.
Although Prior went a tenth quicker than on his first run, with a 49.43, it was not enough to unseat Taylor at the top whose 48 second run stood as the quickest of the day. John Marshall improved to a 51.32 but this would only give him fourth place.
So the final order on an overall basis was Taylor – Prior – Preece. Thanks to Taylor's outstanding record-breaking run he got the maximum 20 points with Mike Spicer a thoroughly well deserved recipient of the 17 points for second place. But with Prior getting the third-place 15 points the 2014 championship was sealed: Prior is the champion and none can now catch him in the last two remaining rounds. But behind him the points situation remains tight, with Spicer on 138 and Smith on 136. There is still a lot to race for!
Our congratulations go to Richard Prior for another excellent season.