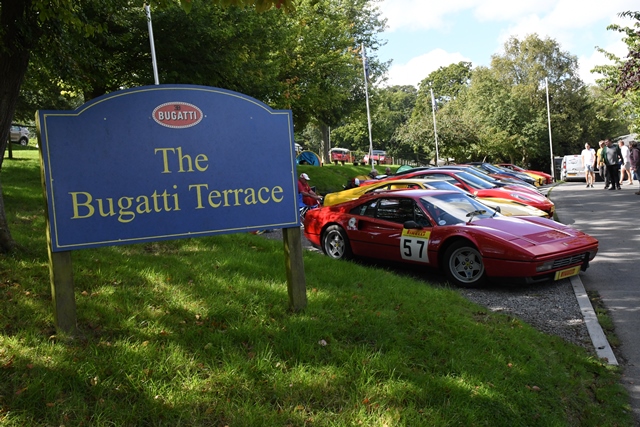 Nine competitors made the journey to Prescott for the 11th round of the 2017 championship, ten had originally entered, but Jon Goodwin had to scratch due to the Lusso running on less than 12 cylinders and the 250 also out of action, while waiting for a steering part to be delivered – I don't know – these old cars ! Of the remainder, Dave Snelson looked favourite to take the honours and perhaps clinch the 2017 championship. Hoping to keep him honest, were your reporter, returning from my mishap at Loton and starting malady which kept me from Curborough, together with the yellow perils of Mike Spicer and Brian Jackson. The Northern contingent of John Swift, Peter Rogerson and Mark Wibberley, were joined by Pauline Goodwin and Richard Preece to give a varied Ferrari class of 1 x 308, 2x 328's 3 x 355's , 2 x 360's and a F430.
The September meeting at Prescott is a 2 day affair, which hosts rounds of the British Midland and British National Hillclimb championships. The Ferrari class however, is run exclusively on the Saturday, which makes for two practices during the morning, then two officials much later in the afternoon, which tend to closely follow one another.
First practice commenced at around 9.30 and seemed to be going off uneventfully until Mark Wibberley, out-braked himself into Pardon and sailed off into the gravel trap. Mark and car were fine, however the small pea sized pieces of gravel get everywhere and much time was spent between runs, removing undertrays and shaking out as much gravel as possible – more on this later ! It should be noted at this point, that Mark was particularly keen to do well on account of his parents, who are over here from Australia, coming to watch him. Fortunately for him, they didn't arrive until shortly afterwards and he was spared the indignity of them watching this minor mishap. Of all the competitors who did complete the run, Dave Snelson led the way with a conservative but respectable 51.31 closely followed by your reporter on a confidence boosting 52.30 seconds.
Second practice didn't start until just before lunch allowing plenty of time for the hillclimbers to do probably what they do best, namely siting around relaxing, chatting/gossiping about those not here, and eating and drinking ! First up was Pauline who tried to carry a little too much speed around Bridge and spun off with a nice pirouette into the infield but continued unscathed to the finish. Dave S improved to just break through the 50 second barrier while Mark got in a solid 55 second run to boost his confidence and set him up nicely for the afternoon session. Unfortunately in doing this, he deposited the remaining gravel he'd picked up earlier all over the track, hampering both Mike S and myself and giving the marshalls some brushing up practice. When I say hampered, we weren't actually affected at all, but as all good hillclimbers know our relatively slow times, clearly couldn't be our own fault and so must have had some other root cause ! – so time to trot out Hillclimbers excuse number 76 – "Gravel on track". Mike also attributed his relatively leisurely pace to the fact he'd lost concentration due to being interrupted on the way to the line by a fellow Lagonda owner and a former hillclimbing legend.
So later in the afternoon, after the remaining 2 day weekend competitors had completed their second practice it fell upon ourselves together with the Bugatti owners club members class to take our official runs. So first of the line was Pauline with a solid banker 56.38 second run. Brian Jackson recorded a 53.89 and then next was Dave Snelson hoping to keep it on the grey bits after his lawn mowing exploits at the La vie en Rosso meeting back in May. This time around there were no issues and he stopped the clock on 50.00 secs exactly to set a marker down for the rest to chase. Peter Rogerson then again recorded a nice round time as he did 59.00 seconds. John Swift set his best time of the day with a competitive 54.26 and the returning Richard Preece also in a 355 finished with a very creditable 52.16. Mark who was now getting into the groove after his earlier off, saw 53.51 flash up on the timing display and then it was the turn of the reigning champion Mike, who realistically had the best chance of depriving Dave of the 20 points and taking the championship on to Shelsley. A 51.49 was a great effort and at that stage the 20 points were his. He reported afterwards though that he had braked far too early for semicircle and speculated on what a great time he could have done had this not occurred. Finally rounding off the batch was your reporter who despite being a little tentative following his Loton off and still being troubled by intermittent starting issues, completed the course in 50.91 to also keep up the pressure.
As there was only ourselves and the Bugatti class doing official runs on the Saturday the second and deciding runs as hoped, came around quite quickly . Pauline as usual, quick off the line on her way to her best time of the day – 55.93. Brian improved marginally by 0.02 and Peter slightly slower by 0.12. Dave similarly beat his earlier time by just 0.03 but dropped just below the psychological 50 second barrier. Usually when runs occur quickly in succession, times in general tend to improve, however in this case maybe the track was a bit colder as all times turned out to be very consistent compared to the earlier runs.
The one exception to this was Mark. Still keen to impress his parents, he blasted away to a very quick 52.03 and the win todays handicap prize with ease. Over a second better than his personal best, he was beaming from ear to ear and Mum and Dad looked very proud ! Mike had pretty much secured the 20 points now due to Dave not improving his time sufficiently and remembering his earlier mistake at semicircle set off again to see how much quicker he could surely go. However this time, Mike braked much too late for Semi- circle and recorded an amazingly identical time of 51.49 secs to his first run, seemingly proving it doesn't really matter whether you brake early or late at Semi –circle ! For Dave to win the championship today he needed at least 17 points, so it looked like now I was the only one able to pip him and keep the championship alive for another couple of weeks. He need not have worried however, as a slight mistake into Pardon meant I finished 0.07 behind my earlier time.
So with the final runs now finished the calculators were hastily reached for. The unofficial results seemed to confim that Mike had got the 20 points but by taking the 17 points, Dave Snelson had deservedly clinched the 2017 championship.
So for the fourth year running we had a different champion. Very well done Dave, he's competed in every event and driven smoothly and fast and is a deserved champion.
To celebrate, all competitors, relatives and friends retreated to the clubhouse bar and then on to the Bugatti owners club prize giving ceremony by the Startline for prizes and pictures.
Another great days hillclimbing, another new champion and for each competitor a thought of what could have been, if we'd only braked earlier or later etc, etc, to think about on the journey home !