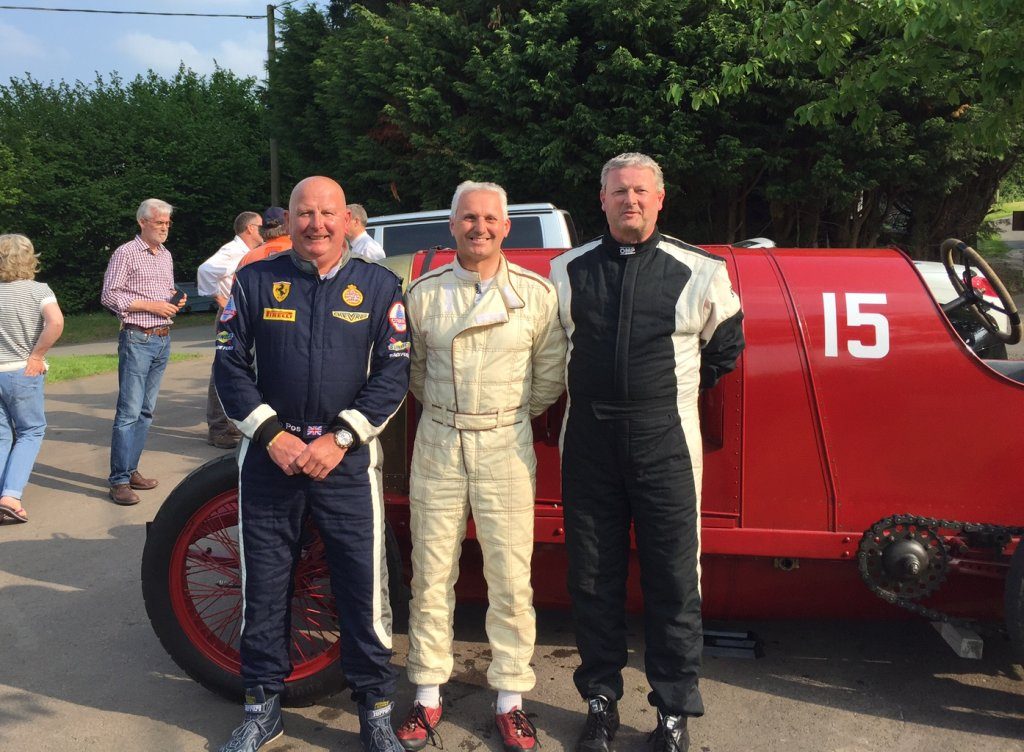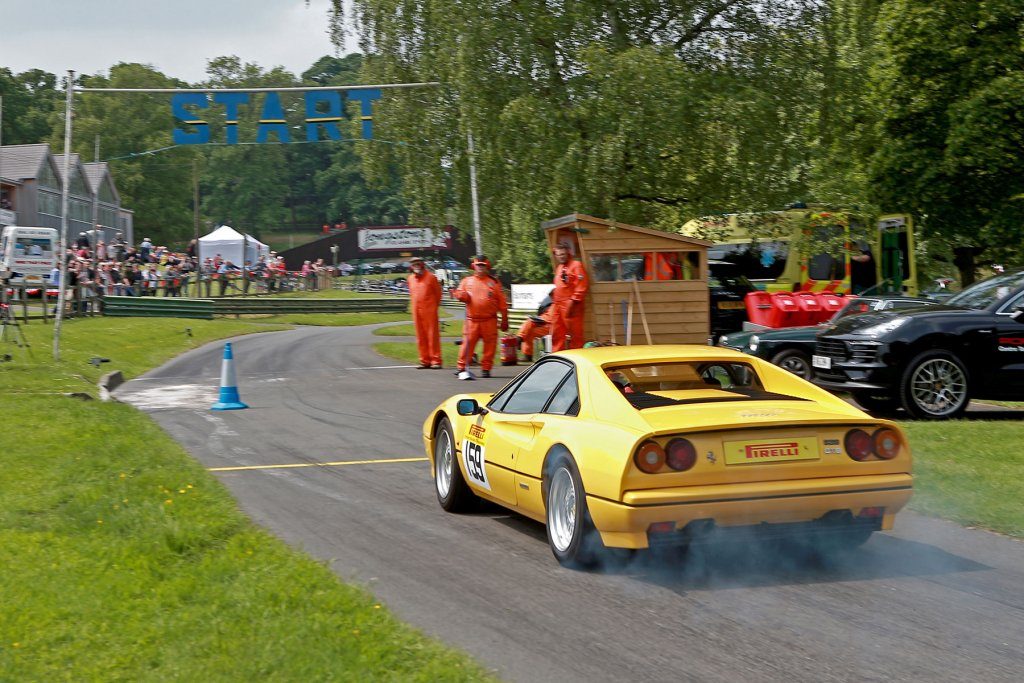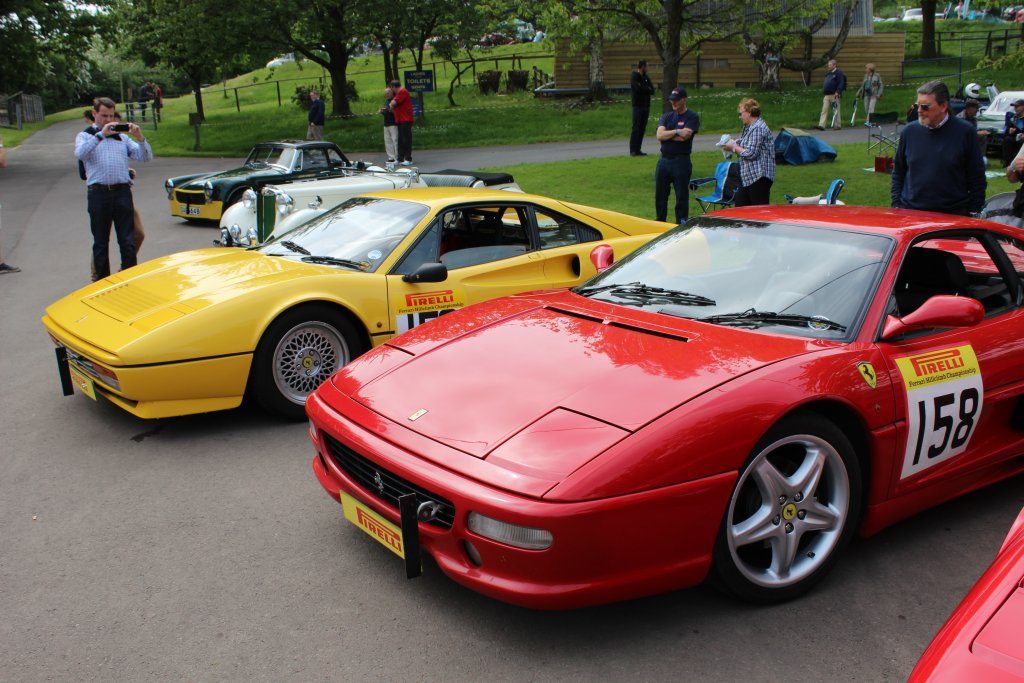 The premier hillclimb event on our calendar took place on 28th May, over the weekend of 'La Vie en Bleu'.
The Bugatti Owners Club had taken the superb decision to include an Italian Fest on the Saturday (when the PFHC were there) and had enviable displays of classic Lamborghini, Alfas, Ferrari and much more.
The La Ferrari and Enzo were very popular with the photographers and wide eyed small (and older) boys as they took to the track for regular demonstration runs, and of course 13 Ferraris in the Hillclimb championship also trying their hardest on the legendary tarmac.
The weather was spring-like rather than summery, race suits were soon the preferred attire a long time before the start of practice runs, but we did have our best paddock position yet, on the hardstanding in the Orchard near the BOC office.
Juan Moreno was first to arrive at the track so he could walk the hill, he'd never been here before and tried to get into a hillclimb school but they were fully booked. He drove carefully on the first practice in 57.94, but a few helpful opponents gave him some pointers and explained the late apex theory of Prescott Hill's various corners. Tony Attwood had the confidence of many hillclimbs here under his belt and powered the 308 GT4 up in 61.08. It was brilliant to see Brian Jackson and 'BoB' back on the hills again. This is their first event since a recent overhaul of lots of oily and shiny bits to get the 308 GTB back in stunning condition. 56.02scs was his first practice run, just a shade behind Mark Wibberley in the 360 Spider on 55.89.
Richard Preece also made another welcome return to the fold; his 355 sprang a water leak in the last few days, but all was back together just in time for his first Prescott hillclimb in 2 years. 53.05 was a decent run for Richard, with the fastest 0-64ft so far of 2.54 seconds. That was until our new start supremo Peter Rogerson followed, a cracking 2.45 away from the line got the 360 Modena up in 57.65, which was just a gnat's ahead of Mark Hargreaves 308 GT4 on 57.70.
Young Jack Hargreaves was ahead of both of them with 57.32 in his 308 GTB, John Swift in the black 355 tripped the speed trap at 58 mph under bridge (possibly explaining why the left hand Pirelli door panel flew off with such reckless speed) and finished in 55.36, while Iwan Attwood in the shared 308 GT4 crossed the line in 61.70.
The top 4 finished quite close together (and all in the 51's), championship leader Mike Spicer on a very credible 51.97 after the 328 GTB made a lightning start of 2.39 seconds, Nick Taylor (430) on the other hand had a terrible getaway in 2.96 but made it to the top a shade faster on 51.79. Current champ Phil Whitehead (355) was nearly half a second ahead of Nick on 51.31, but Richard Prior (355) was the early leader, throwing down the gauntlet with 51.02.
Amongst the usual strolling entertainment expected here at 'La Vie en Bleu' such as accordion players and Gendarmerie, were the new additions of live Italian Opera duets and dancers on stage (who were definitely not Can-Can girls this time) but refreshingly had some Latin flavoured moves going on.
Soon it was back to the other action, on the track. Before 2nd practice, one of the vintage cars had spilt some fluid on the left side of the startline, but cement dust didn't put our drivers off too much as there were improvements by almost everyone, except Richard Preece and Mike Spicer. Richard had reached the startline and found the 355 was running a bit lumpy, almost refusing to idle. But like the trooper he is, managed to get going when the light changed to green and the car picked up again and was just half a second off his P1 time.
Mike Spicer shot off the startline in 2.37 and was ahead on his previous split times, until the 'Mid-Way' split which showed he had backed off a little to be the same as P1, by the top of the hill he was 3 hundredths slower with 52.00 exactly, a 'scruffy' run was to blame, no particular incidents.
Back in the paddock Richard Preece eventually found the problem, part of the 355's intake system had come apart and was sucking too much air. Some bright yellow gaffer tape from Spicer's mobile garage soon had it back together and running normally for the afternoon runs.
There were more demonstration cars going up the hill during the lunchbreak, and then an announcement from the clerk of the course for all drivers to come for a compulsory briefing. Were we in trouble again.? I'm sure our boys hadn't put a foot wrong today.
Assembling by the paddock office we were told there had been a problem with the timing gear and a replacement part was being rushed to Prescott from Malvern. There would be a delay of a couple of hours, which meant only one guaranteed run for everyone. A bit like a penalty shootout, and really anyone could have won. The pressure was on, do you take a calm run and get a time in the bag, or go for it? There's nothing worse than ending up in the gravel trap while your nearest rival gets the glory by being sensible.
While pondering this problem, our drivers had the bright idea to sign up to join in the convoy runs taking passengers up the track. Not for the unofficial practice of course..! At least it kept something moving in front of the public spectators who paid to get in to watch cars do what they do best.
So after a few runs, and then a few more runs (seeing the same dozen or so cars go round) the marshals told us to get ready for the event to restart. The new clock had arrived and it was time to get serious once again.
On the first and only competitive run of the day Tony Attwood had beaten his PB with 56.70, but when son Iwan took over the driving seat all was going well until he approached Pardon Hairpin a little too quick after a good exit from Ettores, hitting the brakes hard he lost momentum on the sharp left hander and a slow exit saw him finish the day down on 61.85. Similarly Mark Hargreaves had got the better of his son too. Mark's 55.61 time had thrashed his long standing personal best time by over a second and took the first place handicap award, while Jack still put in a good performance with 55.75 but not quite matching his May 2012 time here.
Peter Rogerson managed to sneak ahead of Hargreaves senior by just 1/100th of a second, but the start made Peter smile the most, 2.37 second for the 0-64ft, easily the best one so far. Brian Jackson's progress was continuing with a 54.13, and with the PEP factor applied gave him 12 points in his return to the PFHC.
The next two drivers were in the 53s, both in 360 cars. Mark Wibberley had backed off a little and just lost out to Juan Moreno who knocked another 1.26 seconds off for his best performance of the day, while in the 355s Richard Preece pipped John Swift by 0.01 of a second on scratch, and as they were both in identical tipo the PEP scores were exactly the same, giving 11 points to Ricardo and 10 to Swifty.
First of the big guns in the queue was Nick Taylor in the 430, a better start this time put him in the mid 49's, I couldn't see his time from 2 spaces behind, so being in the dark added extra pressure. I got to the line after the usual tyre warming, but fluffed the start, almost having two bites at it when the wheels eventually gripped, and was surprised to see any improvement by the end, a low 49 this time and into a slim lead.
Phil Whitehead and Mike Spicer were the last ones left of the Ferrari class. Phil was up first. His start was good, 2.54 his best of the day but by the first split he was 0.19 down on P2. At the second split he had recovered the lost time, but must have had a problem on the last half of the run as he dropped back 1/4 of a second again to finish down on 50.22. When asked if there was an issue, Phil said not really, only due to the delays and the leisurely convoy runs he forgot to switch back from picnic mode into reigning champion mode.
All eyes were on Spicer, if he managed to get near his PB it would be 20 points to him for sure, he was trying hard as his family of supporters were all here today (only Mark Hargeaves, Peter Rogerson and Tony Attwood had beaten their PB's so far today & most hadn't got near). Mike's 51.53 wasn't quite there either, but it was close.
Calculators and laptops were out straight away, on scratch Mike was in 4th place but minus 3% gave him 49.98. By adding 1% to Richard Prior's time it changed to 49.71, so by just over 1/4 of a second Prior had got the 20 points, finally braking Mike Spicer's run of three consecutive maximums this year.
Nick Taylor took 15 points, and Phil Whitehead with his champion's PEP got 13 points.
The final scratch result was 1st Richard Prior, 2nd Nick Taylor and 3rd Phil Whitehead.
Only 1 week to recover until the next event at historic Shelsley Walsh for the British Championship meeting, where most of the Ferrari class get to do it all over again.