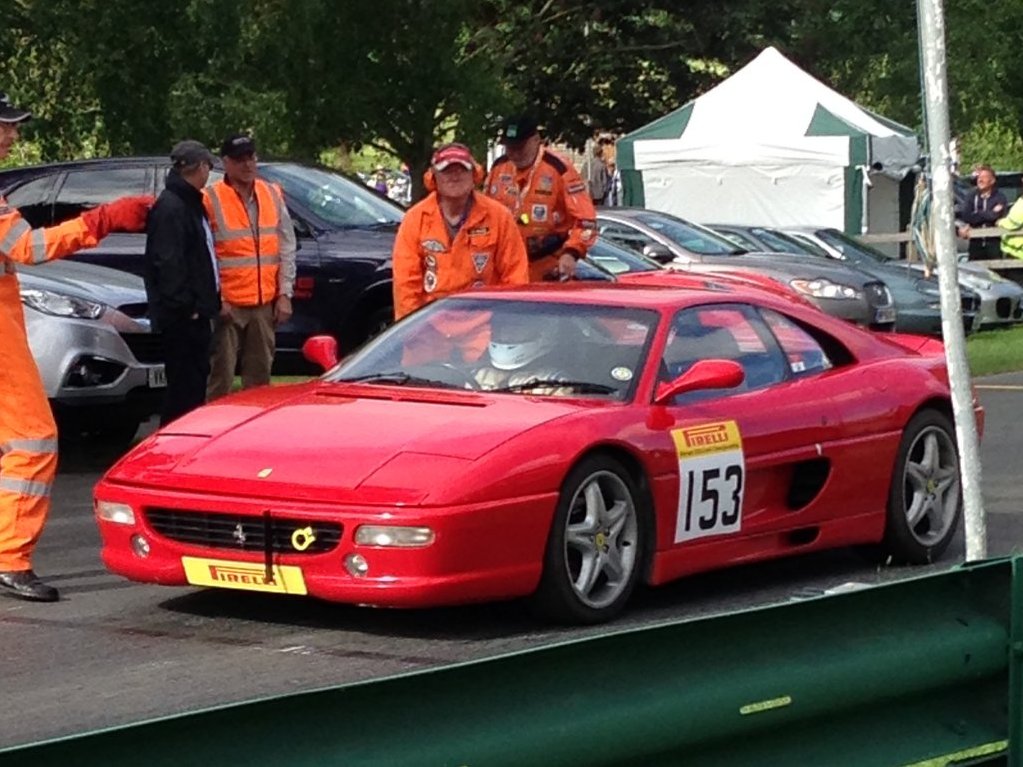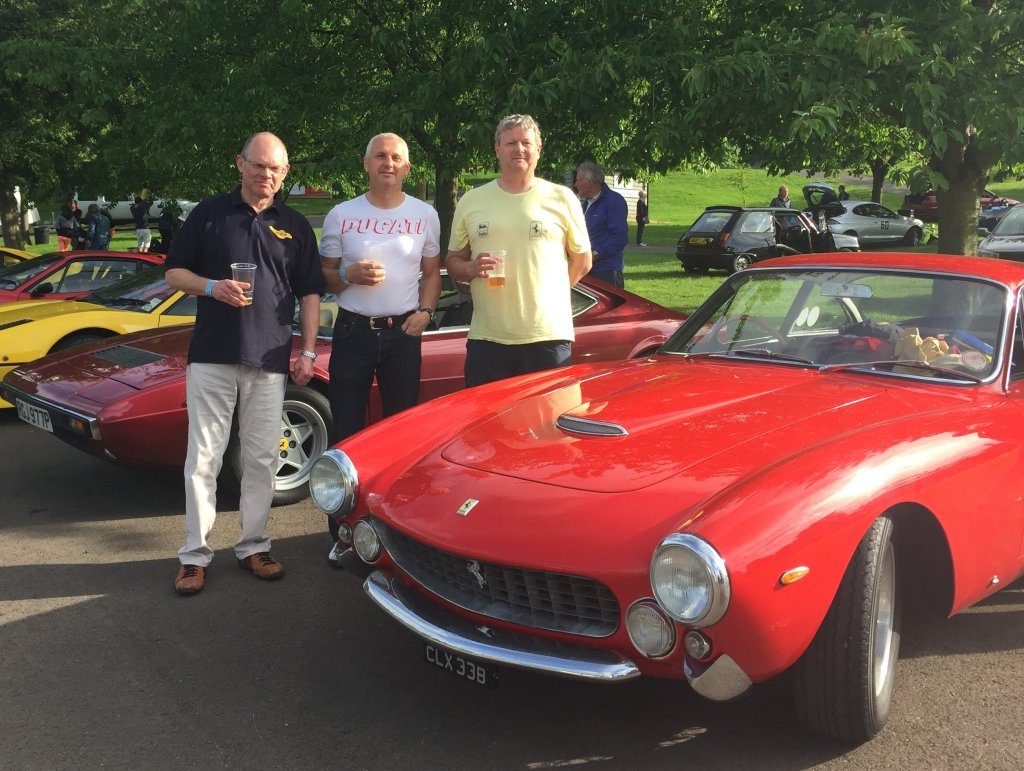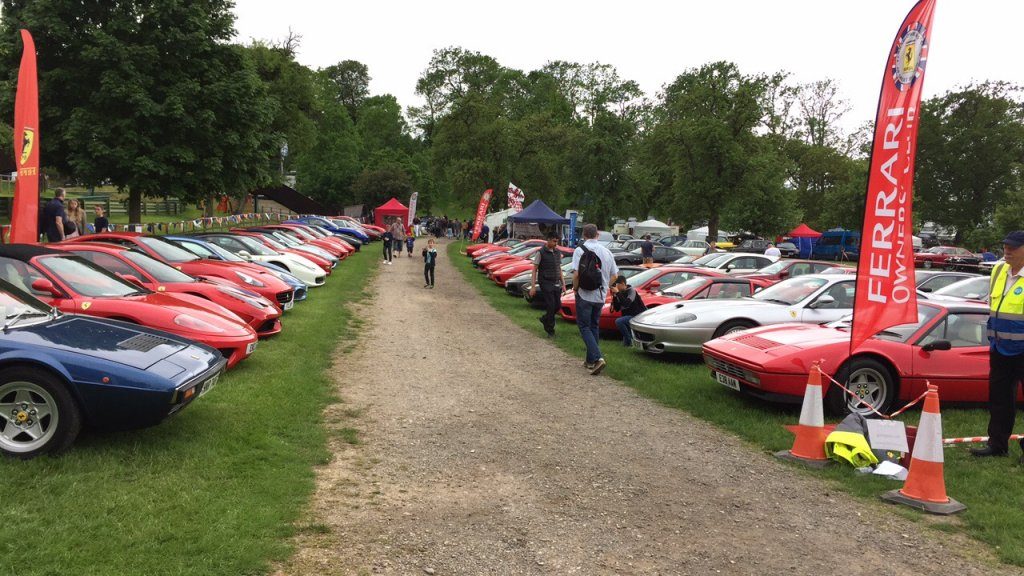 On the way down to Prescott it was raining lightly but when we turned up it was dry, but the track was still a bit moist.
It was nice to see Angela and Richard Preece in their immaculate 355 with Richard sporting a nice short haircut. When asked why he'd had his hair cut short he explained that he was off to Sardinia on holiday and it would be easy to dry as he was intending going shark fishing with his scuba gear and was going to be swimming a lot. Richard, being a top shot, has now gone to spear-fishing Great White.
Also out for the first time this season was Brian Jackson in his lovely, yellow 308 that has just been totally rebuilt looking like it would be better in the Concours than the Hillclimb Championship. Last year's champ and general good egg, Mike Spicer, came out in his lovely 328 to show us all how it's done. Also there was Richard 'The Legend' Prior who, unfortunately for all of us, loves Prescott and it's his favourite hill.
Juan Moreno came in his lovely, blue, manual 360 with his son who was giving Juan some ideas on lines from his last time up here in 2016.
Phil Whitehead had travelled down that morning and was in good form, giving lots of 'tips' out on the hill to us new-comers. Phil was a great help all day with advice on lines, tyre pressures and set-up tips. Thanks from all of us Phil, you're a star and we look forward to your guidance for Shelsley Walsh and the rest of the season.
Pauline and John Goodwin came in separate cars. Jon in his gorgeous 250 and Pauline in her 328. Jon brought a car cleaner down as well and several of us confused them from a distance as he looked like Jon but quite a bit more tanned. Swifty was in his mint 355, giving tips out on gaining a second or two on the way into Ettore's hairpin. Mark aka 'The Polish' Wibberley turned up with Sarah who had been kept up all night by church bells next to their friends' house where they stayed.
Tony 'Doc' Attwood came in his 308 GT4 without Ewan as he was busy, and was in good form looking forward to the event. 'Diamond' Dave Snelson turned up in his red 430 after winning the local pie-eating championship for the 10th year.
First practice started about 10ish and a lot us thought there may be some damp areas under the trees by the Esses and into Pardon.
Richard 'The Shark Hunter' Preece said the track felt a bit slippery on his first run and the rest of the field said it was a bit twitchy, to say the least, only for Richard Prior to put in a 50.00 sec first practice after not being out for nearly a year. How does he do it? Brian Jackson, out in his 308 GTB, did a respectable 55.11 on first practice as well as Phil Whitehead on 52.20. Pauline also did well with a 57.95. Mike 'Good Egg' Spicer turned up with his 2016 Championship winning car and his big smile to show us all how it's done.
After the first practice there were some good improvements by Juan Moreno, he'd obviously been getting some tips from Phil Whitehead on car set-up and lines and got down to 52.85. Mark 'The Polish' Wibberley was on form, but went slower on second practice, blaming himself for nearly going off at Semi-circle.
On the start of the competitive runs Jon's 250 GT sprang a leak but he topped it back up to do a 58.15, Tony 'The Doc' Attwood went well with a 57.58 only to beat his handicap time on his second run with a 56.26, which was really flying. John Swift did a very commendable 52.79 and then went slower on his next run with a 53.57.
Juan Moreno, after all of Phil's tips, did a blinding 52.02 on his second run. Prior on his first run set a fantastic 49.37, followed closely by Phil 'The Tip' Whitehead with a 49.76, Mark 'The Polish' Wibberley did a fantastic 53.08 after a wiggle on Semi-circle, Dave 'The Pie' Snelson was last to run and went under the Bridge into Ettories at 75mph, only to go grass mowing for 80 yards, then getting back onto the track to do a 52.35.
When asked, back in the paddock, what had happened, Dave said he was blinded by the sparkle from Richard Preece's gearbox on Semi-circle and couldn't see where he was going. Dave has kindly offered to do the lawn mowing at Cavallino House for the next year, albeit on a lawn mower.
Brian Jackson did another great run, ending up with a 53.83 in the 308, Phil 'The Tipper' Whitehead closed on Prior but went into the gravel at Ettore's, putting Prior 1st with 49.37, 2nd Whitehead with 49.76 and 3rd Mike Spicer with 51.18.
The weather, company and event were fantastic and enjoyed by all.