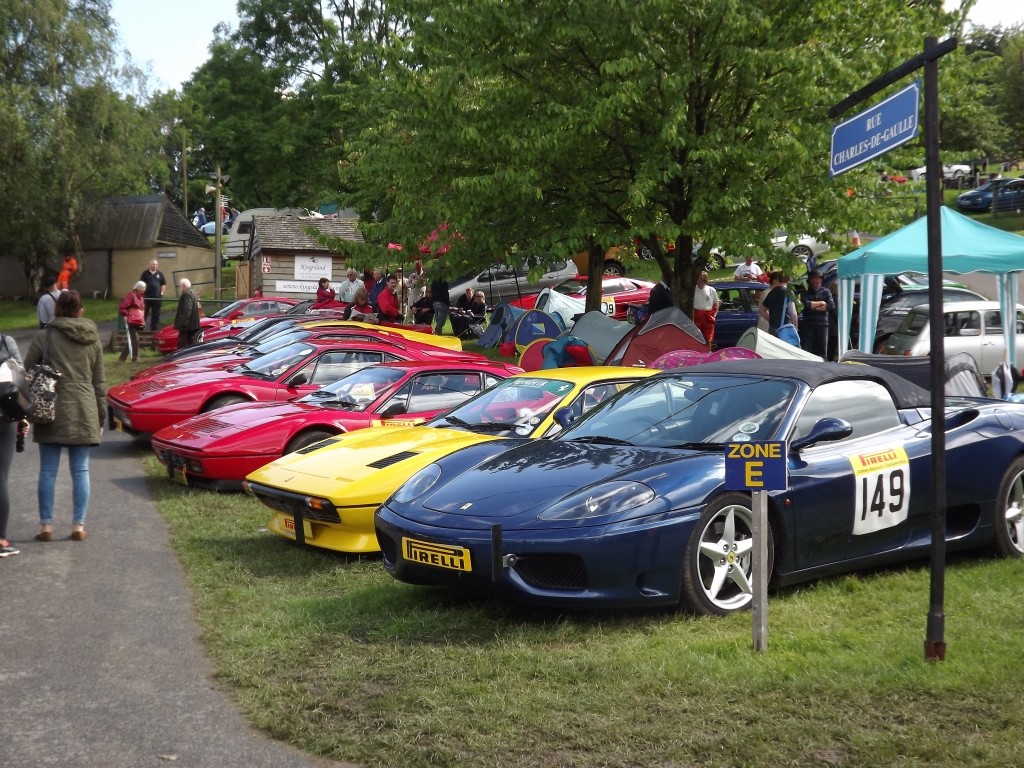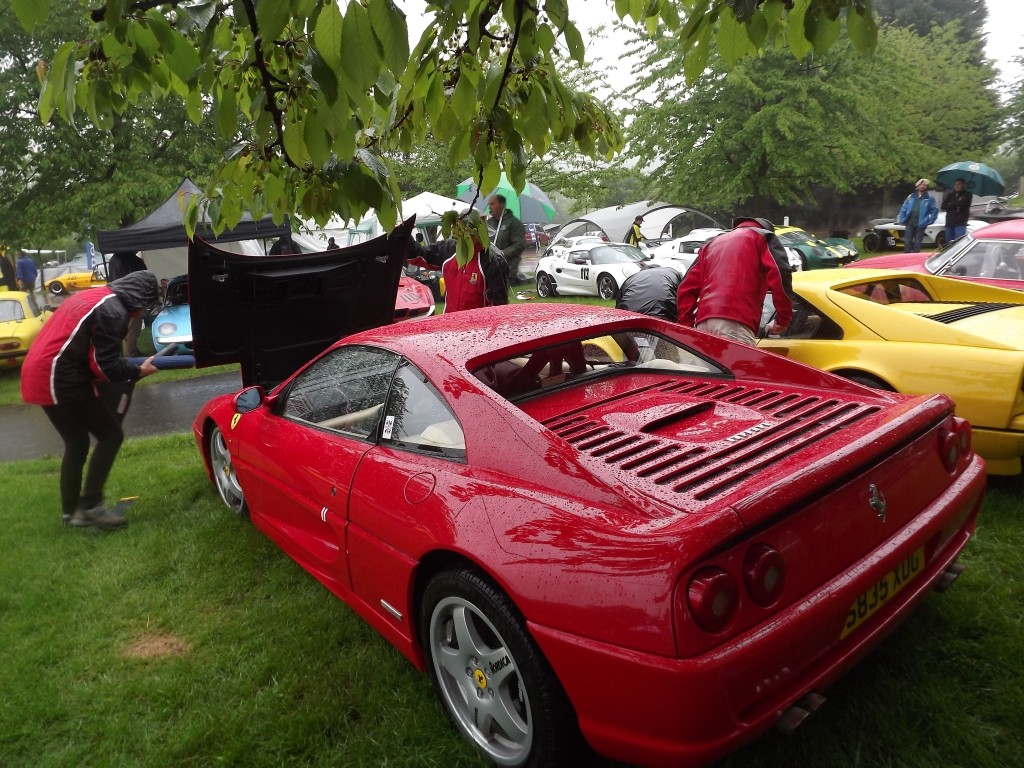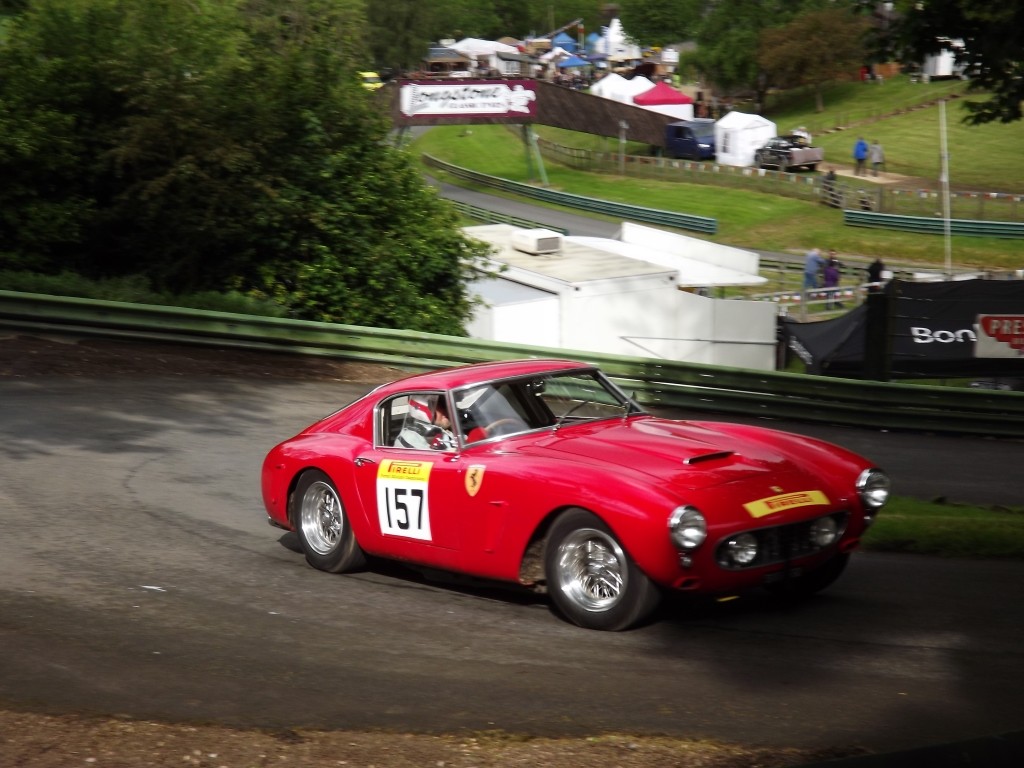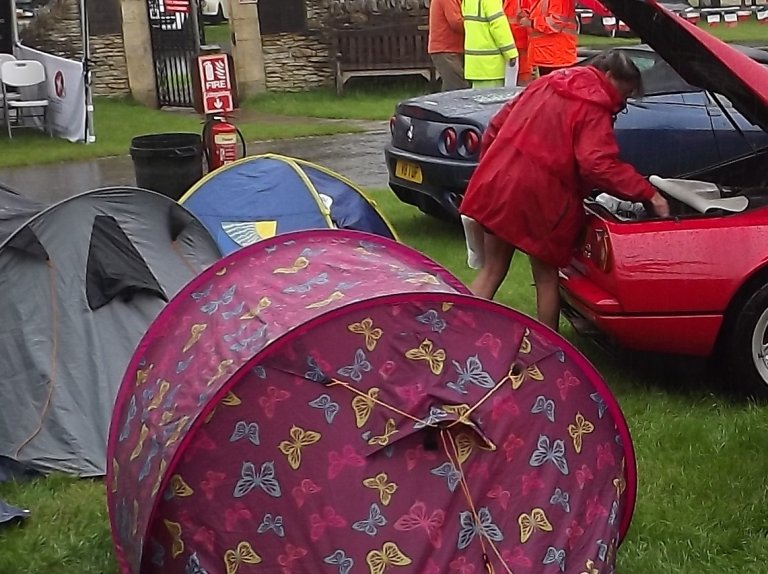 This lovely venue will be familiar to many who have attended the FOC Picnics there; Prescott in the leafy Cotwolds, bathed in warm summer sun, picnic blankets spread round with fold up chairs full of jolly folks enjoying sandwiches and noises of V8s enduring a good thrashing up the hill. Well, it was nothing like that for the hardy fools of the PFHC…
Despite a dead cert wet day it was hard to picture this lovely spot without sunshine, but as forecast it was tipping it down when competitors arrived. Not just rain – stair rods, rain so hard and persistent that even attaching race numbers with three layers of tape didn't look sufficient. Walking the hill was not even considered, just preparing the cars was enough – trying to keep them dry inside to prevent misting up took concentration. No Spiders going up the hill top down today, though pity those in the older cars who had no choice.
A great shame really, as Jon Goodwin brought his delightful 1962 250GT out to play for the first time, the culmination of three years work and what a beautiful result, with its high revving V12 of 3.0 litres sitting on tall tyres and Borranis. Contrast with John Marshall in all together different machinery, in a different example of the 430 Scuderia which he holds the hill record for Ferraris, shod with brand new tyres fitted the day before.  The usual smattering of other tipos, though mine the only 360, Pauline Goodwin choosing her more nimble 328 for this tight hill over her heavy but sophisticated California. In fact, the only one smiling at the prospect of a sopping track was Richard Preece, who always shines, if I can say that, in the wet with his Pirellis.
So, on a green track it was first practice, an exercise in self preservation, daintily tiptoeing up the hill to see how slippy it really was. We'd seen how the other classes fared as we were the last to go up, which probably didn't help confidence. And I got to go first – whoopee! Getting off the line was hard enough, 3-4 seconds being the going rate for the first 64 feet, against the usual 2.5 secs, and under the trees in the Esses it was lethal. Thankfully the organizers had placed a tyre wall halfway down the hill off Semi-Circle, the scary right hander before the home straight. How thoughtful. Best time then in P1 was Richard Preece, as predicted, in 58.96, Richard Prior 59.14, Nick Taylor on 60.01 and most of the field in the 62-66 seconds band. A full 10 seconds slower than dry times. John Marshall was extremely ginger with his new tyres, some way back, but we knew better was to come in later runs. Jon Goodwin noted how the 250 was a bit of a handful and its high lift cams made the start very hard, with the engine bogging down 5 yards after the start.
Relief all round and time for a warming cuppa and butty, a lament on the lack of printers for results this year, but still it poured. The track was closed for sweeping water off, and we readied to go again. No change in conditions and the enjoyment was wearing off to be honest, with any notion of pushing the car for a good time banished ahead of common sense. Those that did try a little bit had reminders of what might happen – Shaun Smith wagged his tail at Top Esses and reined the car in, other reported similar stories at Pardon and Ettores under braking. Times did fall though, generally by 3-5 seconds, with the leaders down to 56.01 (Prior), 57.96 (Taylor), 58.28 (Preece) and 58.35 (Philip Whitehead). Shaun Smith's calculated gamble lopped 7 seconds off to bring him to 59.46, Mike Spicer in the yellow 328 improved by 6 to 58.11 and Brian Jackson in the other yellow car, his trusted 308 down to 59.23. On a personal note, 6 seconds off my time brought a more respectable 62 ish but it was mentally very hard work – I know its more than a minute but the Armco is very close under the trees…
So, with lunchtime came lunch, naturally, and a slowing to drizzle – hardly joyous but at least it couldn't get any wetter. Richard Preece was of course crestfallen, the more rain the better for him, and Prior and Taylor, the usual suspects were becoming favourites for the scratch win. But it was still very wet and there were points to be scored simply by completing a run, which a number of other classes found hard, with at least 3 going straight on after the bridge and ending up in the kitty litter. No finish, no time – we watched and learnt. First up was me again, by which time it had stopped raining entirely, and I felt I could press on a little. This resulted in my worst start of the day, 4:29 secs with a complete lack of grip and the F1 'box being tricky combining with over confidence and a heavy right foot. I reminded myself of the cost of new body panels on the more recent models and took it very steady for a 60.90. Others found similar difficulties – Jon Goodwin still couldn't get away smoothly, Brian Jackson locked up going into Pardon, and 1-2 second improvements being all that almost everyone could or wanted to manage with the track offering only marginally more grip.
The leaders remained pretty much as before – Prior (54.72), Whitehead lopping 2 seconds to 55.48, Taylor close behind on 55.84 over 2 seconds up, Preece on 56.87 a second and half faster. Despite this, the usual sense of drama and excitement was missing, there was no fighting for places, just dogged steady improvement and attempting to stay upright in a paddock resembling the Marne. Despite the attempts of the Bugatti Owners Club to engender a festival atmosphere, with display cars, can-can girls, wandering mime artists and chaps on stilts plus various trade stands, it was  La Vie on Pleu, not Bleu.
The rest of the field strung behind in pretty much the same order – next were John Swift (up over 3 seconds to 57.17, Jon Goodwin starting to tame the beast at 56.60, powered by his mystery blue energy drink which turned out to be screen wash,  and Mike Spicer with his supporters club of wife and last season PFHC competitor James at 57.17.
So, to the final run and amazingly the sun was out, steadily drying the track and we were suddenly grateful for being last up, despite it meaning a late exit for those not winning prizes i.e. most of us. This of course made its own issues – where was it dry and where was it still wet and greasy ? The debate raged in the battered hillclimbers very own pop-up (can we have  a new one please Gary?) while people looked with amusement at the handicap times.  It was agreed that it would be patchy, just what a relative novice like me needs, and John Marshall with his new tyres too. At least we all agreed starting would be easier, and so it proved to be, with everyone away faster, even the 250 going better, albeit with 8,000 rpm off the line.
Well, the track proved dry where we expected it but greasy under the trees, with some runners surprised by the dry conditions out of there towards Semi-Circle which was dry, allowing a barnstorming final section. The first drivers took 5, 2, 3 and 6 seconds off respectively, Wendy-Ann Marshall delighted with her 60.94 despite an error and Pauline Goodwin breaking under 57 seconds setting the fastest 64ft time of the day at 2.54. Shaun Smith in the 3rd 328 in a row took 4 seconds off to end with 54.43, Mike Spicers 328 three tenths faster. Richard Preece was 3 seconds faster at 53.63, so maybe not just a wet weather performer as this gave him the lead, but it was short lived as once John Swift in 55.36 and Gooders' 250 (56.60) had taken their runs Philip Whitehead put in a 52.96. Next up the favourite Richard Prior who didn't disappoint with a 51.30 to throw down the gauntlet to Nick Taylor who put in an aggressive effort to finish 0.20 behind for second place. Final runner was John Marshall in the awesome sounding Scud, taking 20 seconds off his first practice time to end on 54.33 and perhaps exhibiting a portent of what he and his car can deliver at Shelsley Walsh next week.
So, the 1-2-3 was Prior, Taylor, Whitehead, with 4th place for rain man Richard Preece recognized by the organisers with a trophy too. The PEP points however went to Prior, Mike Spicer and Shaun Smith in that order. But everyone deserved a medal for safely piloting their cars back to the paddock and a day gaining valuable wet weather experience.