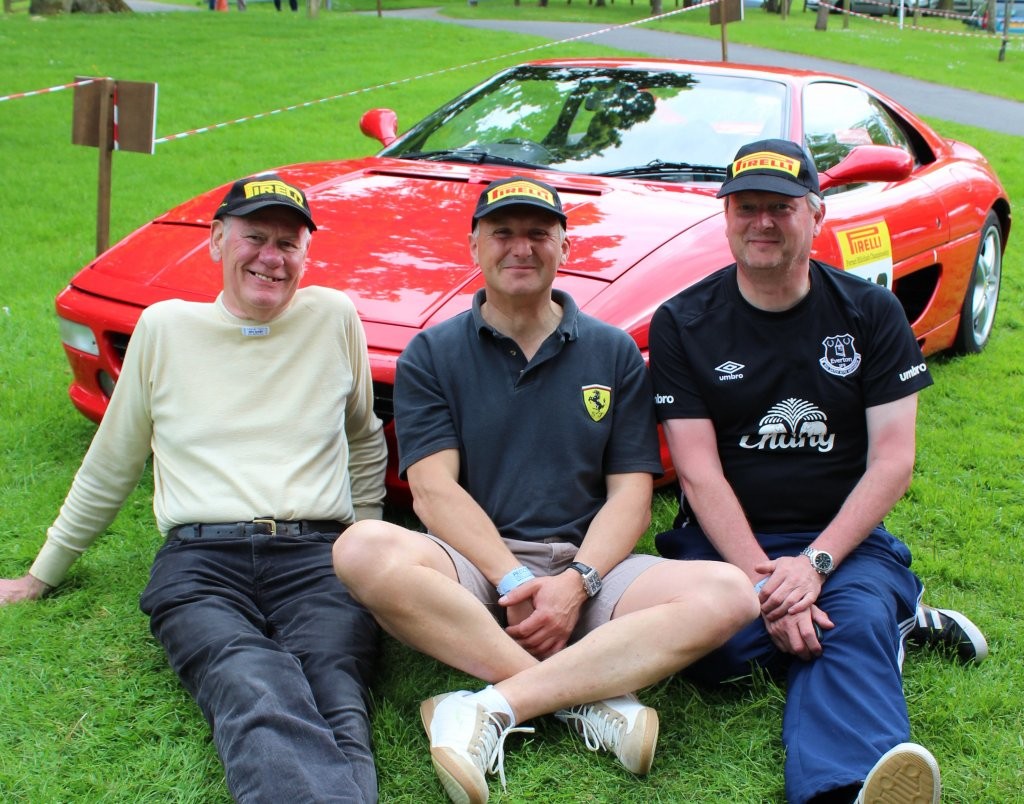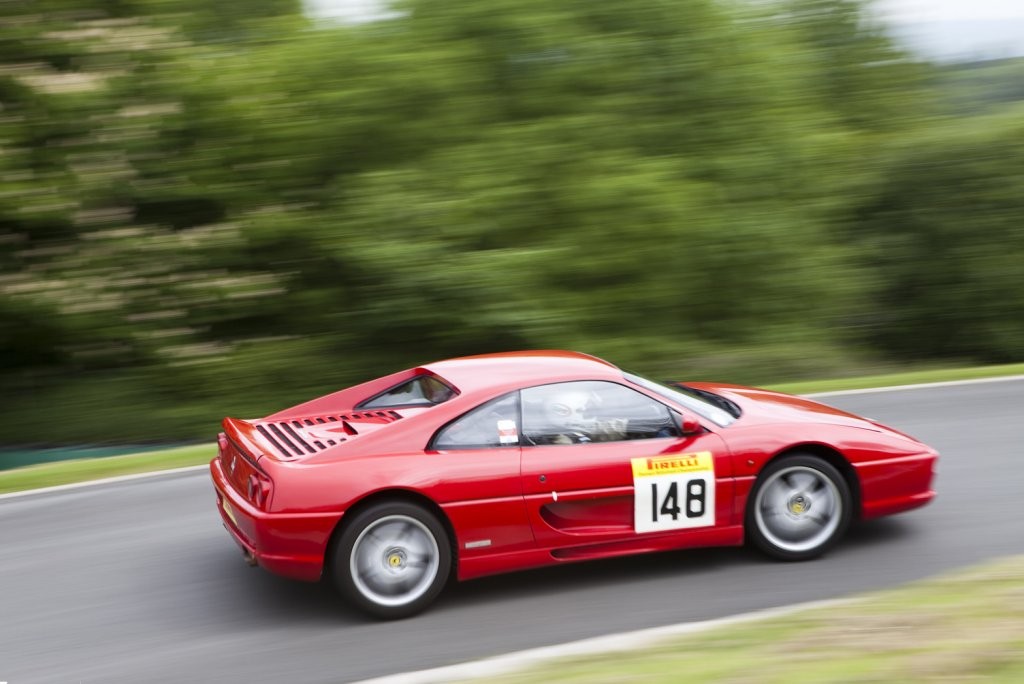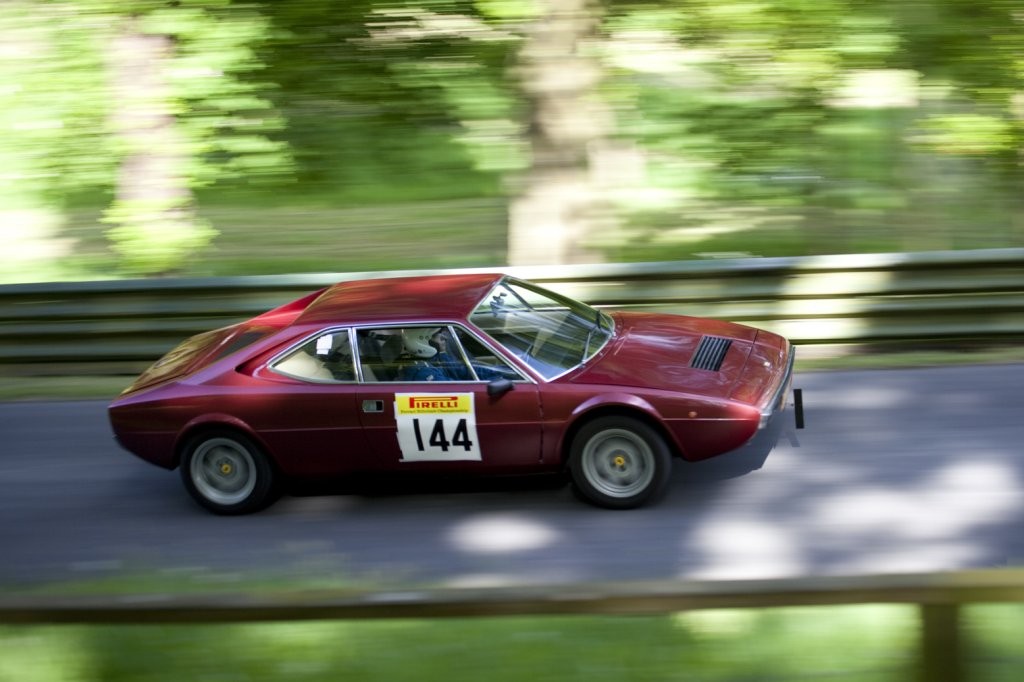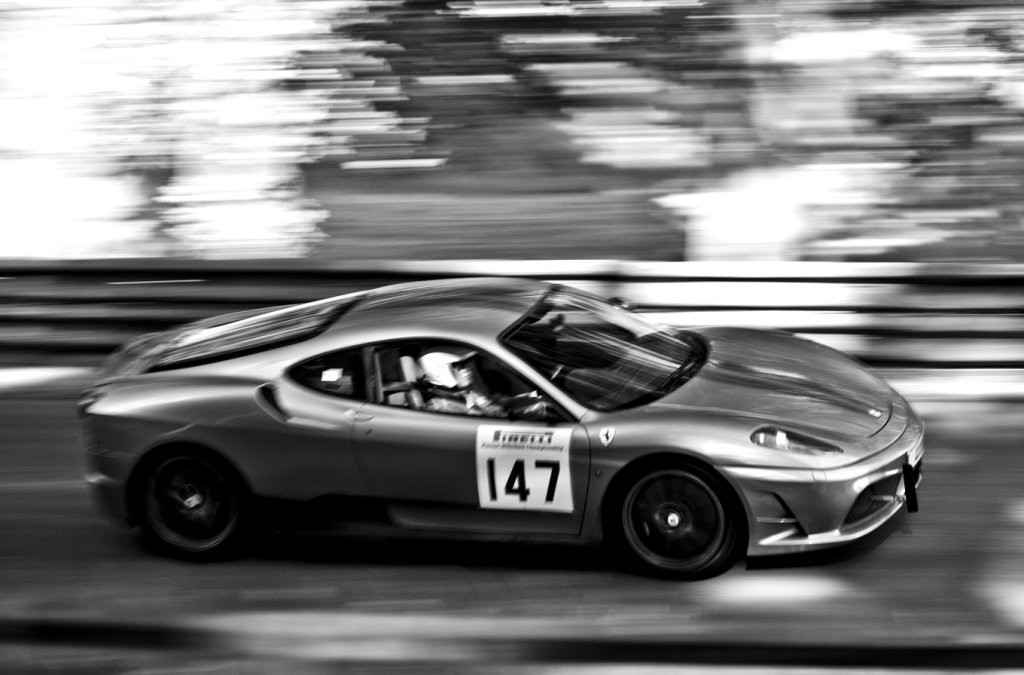 La Vie en Bleu is a very different event to our usual hillclimbing rounds, as not only is Prescott in a delightful spot, with steam trains whistling through nearby amidst pretty stone Cotswold villages, but it's also the HQ of the Bugatti Owners Club. They put on quite a show, with a sound stage featuring Can-Can girls (which is not ideal preparation immediately prior to taking a run up the hill), singers, accordion players and wandering mime performers in archetypal French costumes of stripey shirts, onions and berets.
Round 5 of our Championship saw the Ferraris arrive to specially ordered weather for this year, making up for last year's deluge dubbed 'La Vie en Pleut' – strong sunshine warming the track which we were to grace well into the programme, removing concerns about conditions under the trees which can be very different to opening and closing sectors for early runners.
First practice runs then around 10:30, with a range of performances from a 'gauntlet thrown down' run of 50.22 from Championship leader Richard Prior, a useful opener at 51.70 from Phil Whitehead, both of whom arrived uncharacteristically early, and John Marshall a surprisingly leisurely 55.01. My own time of 55.89 was surprisingly low for a ragged, error-ridden tale of poor lines, readjustment and reminders than it really is rather tight in the Esses. Iwan Attwood remarked upon this sector too – there is a lot of Armco at Prescott, pretty though it seems, and Semi-Circle with its infinite view of blue sky gnaws at the brain when willing the engine to give maximum power when pushing hard up to it and braking late whilst holding a line close to the edge of a long slide down the grass. [Very technical, all that – Ed]
Sunshine continued, bacon butties were despatched, chatter passed the hours till the second practice runs before lunch – this really is a most sociable series, with almost every competitor happy to share notes and tips. Practice Two then… all improved, notably Phil Whitehad who notched up a personal best of 50.19, the gloss of which was taken off by Prior also talking over a second off to remain leader of the field on 49.03. John Marshall concluded that his experiment of using Auto wasn't working – in fact, the first corner had proved that on P1 but he persevered to see what damage it caused. Quite a lot in fact – he was over 4 seconds quicker to tuck into 3rd on scratch, followed by myself on 54.25 and Attwood Jnr who improved whilst his father didn't quite get it together and fell back a little. Wendy-Ann picked up time and all in all, practice fulfilled its job as the track continued to warm.
A long wait after lunch, punctuated by various offs – the sheer variety of machinery here made for wildly differing times and entertainment for the large crowds. One such off occurred just as the Ferraris were in line for the first timed run, which really messes with mental preparation and consequently untidy runs by myself and Phil Whitehead failed to record the progress hoped for. Not all runners were affected though, with Iwan Attwoods improvement to 59.92, mostly gained in the latter sector unfortunately failing to keep him ahead of Tony when it mattered. Tony danced a graceful par de deau with his car and the Hill, a rare run of dreamy flow and power, waxing lyrically in the paddock and beaming after an improvement of almost 6 seconds from P2 to 56.84. John Marshall also upped the ante to 49.52, a direct challenge to the Champs' 49.21, itself a tad slower than P2. Phil Whitehead slowed by 15/100th, but remained in third spot but comfortably ahead of my dogged pursuit with 54.38, 13/100th slower than last practice. With so few shots in Hillclimbing and so much time to flaggelate oneself after a disappointing run it's a rollercoaster of frustrations for my loyal paddock helper Sarah to deal with.
On the Handicap front, this put Tony 2 seconds under his target, which proved unassailable, though 4 others were within a second of their target so a plaque was still all to play for. This included Wendy-Ann on 58.16, the leading lady driver, 0.6 off her PB here.
Final runs, after a cloudy interlude, lengthened by a TVR slamming into the Pardon rails and gravel, came around 5pm. First up was myself, satisfyingly almost a second better at 53.47, Iwan also improved by a second but finished 2 seconds behind a happy Tony despite his slower run, by a second. No par de deaux this time. Phil Whiteheads combo of still new race suit and new fireproof Everton shirt hauled him to within 8/100th of the 49's, but John Marshall had to be content with his T1 time as he was a couple of seconds off this time out. Richard Prior however took the scratch win with a run of 49.04, a hundredth off his best of the day, all runs remarkably within a second of each other. Fastest starts also to Mr Consistent, also outgunning the Scud with an almost Class-record 71mph at the speedtrap.
So the final podium was Richard Prior, extending his early season lead in the table, John Marshall and Phil Whitehead, my fourth notably being my best ever result. Our top pair took home some lovely champers glasses, our 20 pointer Mr Prior a bottle of 'Hillclimb' beer to celebrate with and Tony Attwood took home an immaculately folded race suit and the Handicap win, a family affair with Iwan second.
Au revoir Prescott. It's a very British affair at Shelsley next on the calendar.
(Many pics courtesy of Neil Williams whose work can be seen at www.shift-light.com)