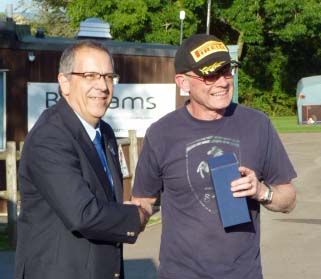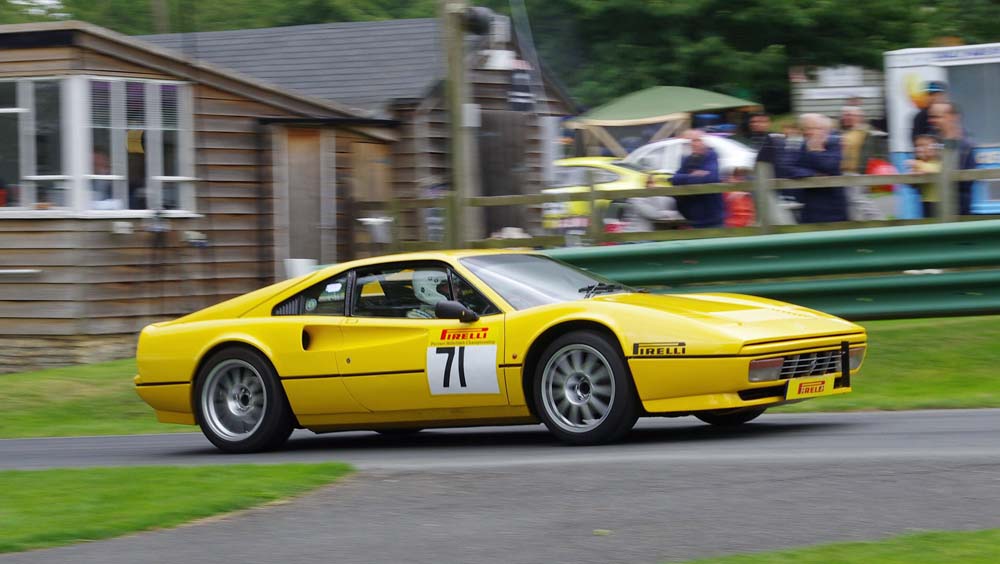 There are few finer venues than Prescott: to look down on the scene from the Bugatti Terrace, watching all the drivers fettle their cars, the constant stream of competitors going to and from the top paddock, and the roar of high-performance cars as they blast off the line. It's also rather handy for the catering and other facilities.
What we could have done with was some sunshine.  There was a distinctively autumnal twinge to the air, with the cloud and low temperatures not really heating up the track and making it overly exciting for many later in the day. It was also notable that only 50% of the 12 Ferraris assembled, which ranged from Jon Goodwin's 275GTS and Tony Attwood's Dino 246GT from the earlier days through to Paul Booth's up-to-the-minute 458 Spider, were painted in definitive red. In total, 8 tipos were represented, so clearly anyone can have a go, no matter what model of Ferrari they own.
First practice at about 9:30 passed without a great deal of incident. All drivers simply got on with re-familiarisation, with Jon Goodwin especially pleased to run as he was refused a scrut's ticket in the Spring meeting due to minor age (of the car) related infringements. Wife Pauline felt her clutch was on its way out but actually ignored it subsequently to return to her usual blistering starts. It's rare to see PG's starts on a par with us mere mortals!
Mike Spicer hit the hill at pace, recording the fastest small car time since 2001 with a 50.93 – a personal best, possibly due to warm tyres, having had a second go at starting, but nonetheless impressing all. Martin Jones had preceded him, though didn't come off at all so we were quizzical about the red flag for Mike. Martin made steady progress through the day from his initial 61.28 in the Oakley-liveried 360 which delighted many passers-by. Martin ended the day with the biggest smile, which of course is what it's all about – set your own targets, and then beat them.
Dave Snelson, as usual, set the fastest time: a sub-50, not bad considering he'd flown in on the Red Eye from the US again. Paul Booth found the weight and stopping distances of his 458 a handful compared to his featherweight F3 car, highlighting the addictive nature of motorsport and the fact that many PFHC competitors also compete on circuits.
Second practice was just before lunch, as the field was huge, being practice for a round of the British Hillclimb Championship the following day. It was just too much for Dave Snelson, who retired to his tent after a torrid run, and Richard Preece spoke for all the 360 drivers who found the track greasy and plagued by ASR coming on at multiple points. None of this group of four drivers enjoyed the run, though all bar your author managed to improve their times a little. Jon Goodwin also had a seat of the pants run, with the original servo on his venerable steed proving barely adequate in stopping him at Pardon Hairpin – 'brakes have come on a lot since 1967' he remarked. It's worth noting the disparity of speeds under the Bridge too – 45-70 mph even amongst the 360 drivers, though few know where the actual speed trap is. I can confirm that 70mph is perhaps a bit too much to carry round the next corner without a little light anchor deployment.
So began lunch and a near 5-hour wait for the game proper. With so many cars practising for Sunday there were actually only two classes completing their efforts on this single day, and we ran after the Q Classes T1 and T2s were complete. This undoubtedly gave us warm tyres but with less than 5 minutes to analyse, fettle, recompose and start again, many felt uncomfortable with the arrangement. Drive up, drive down, queue up and go again, such that the last Ferrari up signalled the end of the day's action.
After plenty of time for what we do most of – chat, car washing, ice creams, naps – there were competition times to put down. With no time to gain feedback from drivers between runs for your reporter, it largely comes down to the results after two incident-free final runs.
Big Dave was once again fastest, with Mike Spicer second in his 328 – no mean feat with Paul Booth breathing down your neck/clinging on with twice the horsepower.  Mark Wibberley squeezed home 4th in a pack of drivers in the 53 second band – Preece, Jackson and Swift, in that order, were all under 54 seconds. Pauline had clearly forgotten about any lingering clutch issues, with 2.59 off the line and a best of 54.69, following from a PB in the previous round. Her best time was on the second run – so maybe warm tyres is what it takes?
Martin Jones hit his target of under 60 seconds with a final run 59.14 and resultant huge grin, Doc Attwood slung his beautiful Dino over the finish line in 59.13 (yes, it's as little as 1/100th of a second to separate some drivers, folks) and Jon Goodwin stroked his 275 home in a best time of 61.89 on his final run. Peter Rogerson was one of the five drivers who peaked at R1 (at 61.77), so the debate is very much on as to whether thinking time beats warm tyres. Everyone agreed that sunshine really does help, with many drivers as much as 2 seconds slower than in the perfect conditions of this year's Spring meeting.
Prize-giving included a smattering of Prescott Breweries ales – 'Hillclimb' sounds much preferable to 'Pit Stop' I have to say.
The Championship is now poised on a knife edge. Dave Snelson yet again gallantly paid for a round of drinks as scratch winner while Mike Spicer took the maximum Championship points. The feeling is that his single point advantage at the top of the table may not outlast Shelsley Walsh where the power of the F430 should give its driver not only beer-buying honours but crucially also the maximum 20 points.
If so, a tense final round at Curborough, on 17 October, beckons . . .