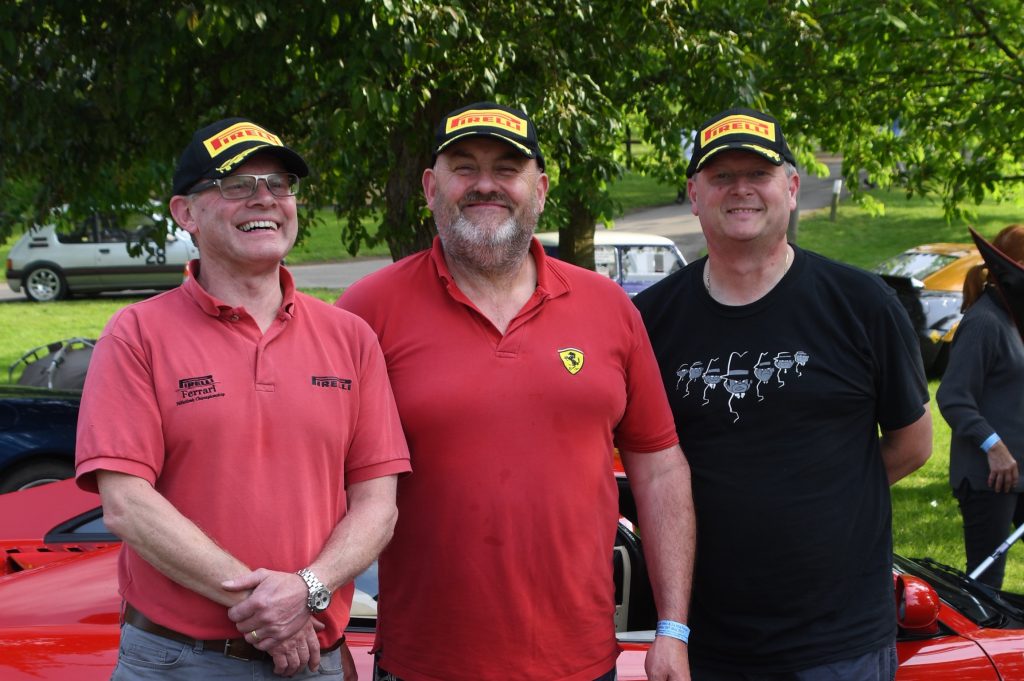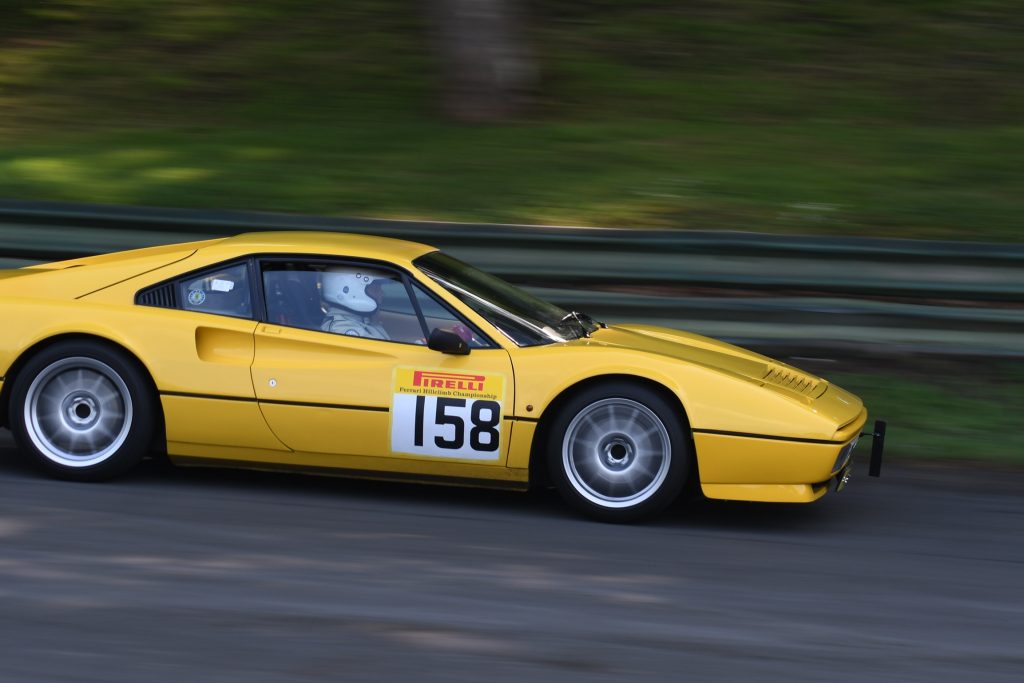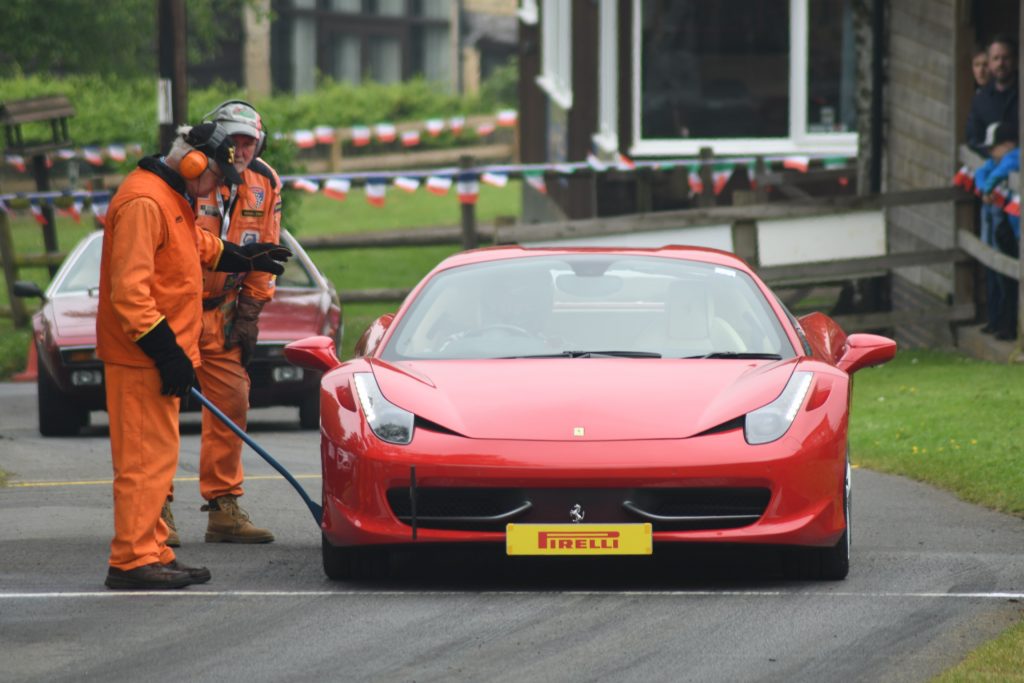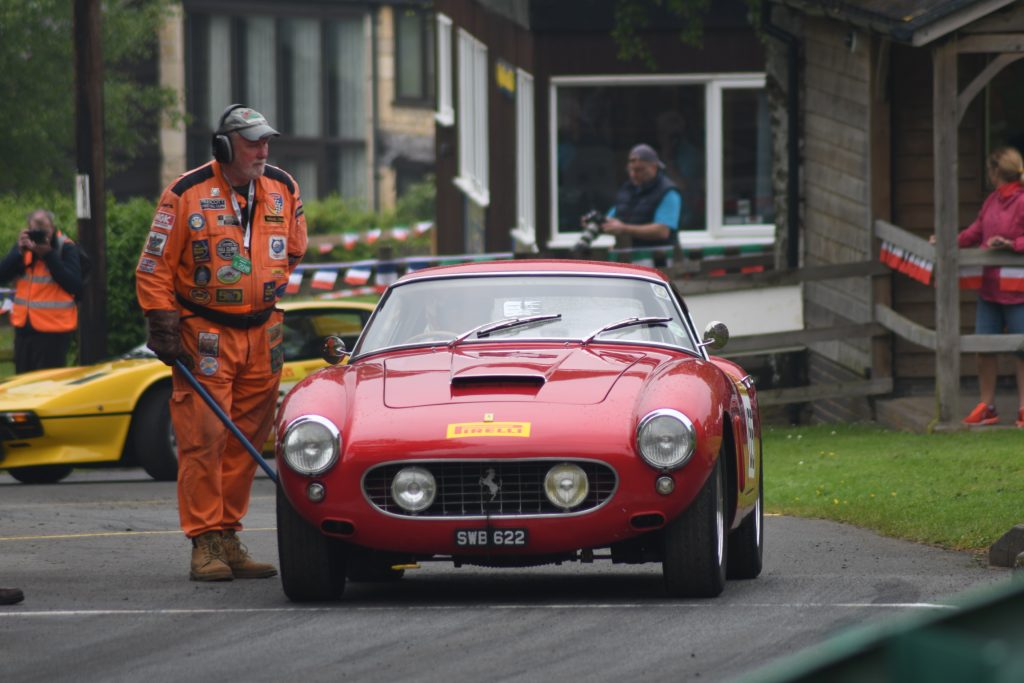 The third round of the 2018 Championship took place on Saturday 26th May at the lovely Bugatti Owners Club's Prescott hill climb in Gloucestershire. This final Saturday in May has for the past ten years been themed as the La Vie en Bleu Festival, or a "Life in Blue",  focusing on mostly French vehicles and all things French. This two day themed event, which has grown in popularity each and every year, now reserves the Saturday for La Vita Rossa, or a festival of all things Italian, which is where we come in!
This event has become a permanent feature on the Club calendar and as such, was well supported by a large Club presence. Chairman Nigel and wife Shirley were there, together with committee member Nicky and Viv Paul-Barron, Communications Director, Christian Mineeff, PHR supremo, Derek Seymour and Club magazine editor, Richard Dredge, who were all seen mingling with members and competitors in the paddock throughout the day. The Club stand was in a prominent position in the main car park, together with reserved Ferrari parking, backing along the main straight and featuring a large number of members' cars. This fantastic Club support is warmly welcomed by the hillclimbers.
The competitive action included on the Saturday an ERA class and an Italian class, and was also supplemented by feature convoy runs with a Bugatti Chiron, Bugatti Veyron and a LaFerrari together with a Ferrari 488 70th Anniversary special, which is the only one of its type in the world. Lunchtime on the Saturday featured a flypast by a Dakota, together with static displays in the paddock including Ferraris, a Lamborghini Countach and Gallardo, a number of exotic Alfas, together with an interloping McLaren, owned by the inspirational Joy Rainey.  So there was lots to see.
Or was there?   At 9.00am when I arrived the course was shrouded in mist and seemingly nobody could see anything much at all !  Apparently, the marshals couldn't see the next marshals' post and therefore on safety grounds the meeting was temporarily suspended. Some wags amongst our number questioned why not being able to see anything was a handicap as it hadn't seemed to hinder us much in the past!   This situation unfortunately persisted for most of the morning. Our first timed practice was consequently replaced much later in the morning by a convoy run, where the cars followed each other up the course at a respectable but non race pace and at a discreet distance from the car in front.  In order to provide the already large crowd at least some entertainment, low gears and plenty of revs seemed to be in order.
Practice 2 took place around 1.00 pm and, to the organiser's credit, by skipping the lunch break, most of the morning's lost time was recovered by the end of the day. The recent overnight rain had left the track dry up to Pardon hairpin, but wet under the trees through the Esses and particularly on the run up to Semicircle. As a result first runs were quite conservative. Most runners were happy to get to the top unscathed and get a feel for where the grip was.  New boy Paul Booth in his lovely F458 spider gave himself a bit of a fright at Worlds End or Semicircle as it's properly known, but proceeded without further incident to a very respectable 60.25 on his first ever timed run here.
Competition started early afternoon on a drying track with most people taking around 4 to 5 seconds off their earlier P2 time. There were a few incidents to report though. Mark Wibberley,  trying maybe a little too hard, revisited his favoured spot at Prescott, namely the Pardon gravel trap, (which we'll shortly be renaming the MW gravel trap) and collected a large quantity of pea gravel in his under tray. He'll no doubt find a use for it in the garden when he gets it all home.
Reigning Champion Dave Snelson made a mess of his gears through the Esses but still managed a competitive time of 51.99. Your reporter pipped this with a 51.83 to take the class lead and now started to pray feverishly for rain.  Meanwhile the yellow perils, the 328 of Mike Spicer and 308 of Brian Jackson, had quietly posted sufficiently good times to get one hand each on the top two provisional Championship points places.
Between runs, Pauline Goodwin had somehow managed to acquire an F1 style pit crew team: at one stage I observed Dr Tony Attwood on windscreen cleaning duty while well-known tyre guru and spanner man Mike Spicer was simultaneously tightening up the last of her wheel nuts. Pauline, meanwhile, was more importantly off looking for a lighter to get husband John's large cigar back to life.
Final runs were taken late in the afternoon and most people, particularly me, were still a little cautious. Tony won the battle of the Attwoods by just 0.28 secs and cleaned up the handicap award from son Iwan, while Peter Rogerson in his lovely Tdf blue 360 again broke the 60 second barrier with a respectable 59.92. Paul Booth had improved throughout the day and weaved his F458 through the Esses to finish the day on a very creditable 54.22. Pauline, despite the recent service, just failed to improve on her earlier P1 time, while husband John who had to be in Cornwall the following morning had passed on this run, but still had a sub 60 second time in the bank in the glorious and attention grabbing 250 SWB Re-creation.
Meanwhile, the two F355s of Richard Preece and John Swift both managed to knock just under a second off their earlier times. John's time of 53.41 was good enough for fourth place on scratch, and a nice Bugatti Owners Club memento at the end of the meeting. Mark held it all together this time to finish on 54.36 while Mike and Brian also both improved their times and consequently clinched the 20 and 17 championship points respectively.
Finally up at the front, the prayed for rain had not materialised and despite a small improvement by myself, Dave Snelson kept it all together to break the 50 second barrier and record a personal best of 49.92 to clinch the scratch win and with it the honours at the bar.  So the top Championship points went to Mike Spicer (20 points), Brian Jackson (17) and Dave Snelson (15)  while the Class awards went to Dave in first , myself 2nd, Mike 3rd and John Swift a very creditable 4th .
So another great day's hillclimbing ended in bright early evening sunshine in the lovely Gloucestershire countryside. Next round is at Shelsley Walsh on Sunday 3rd June 2018.