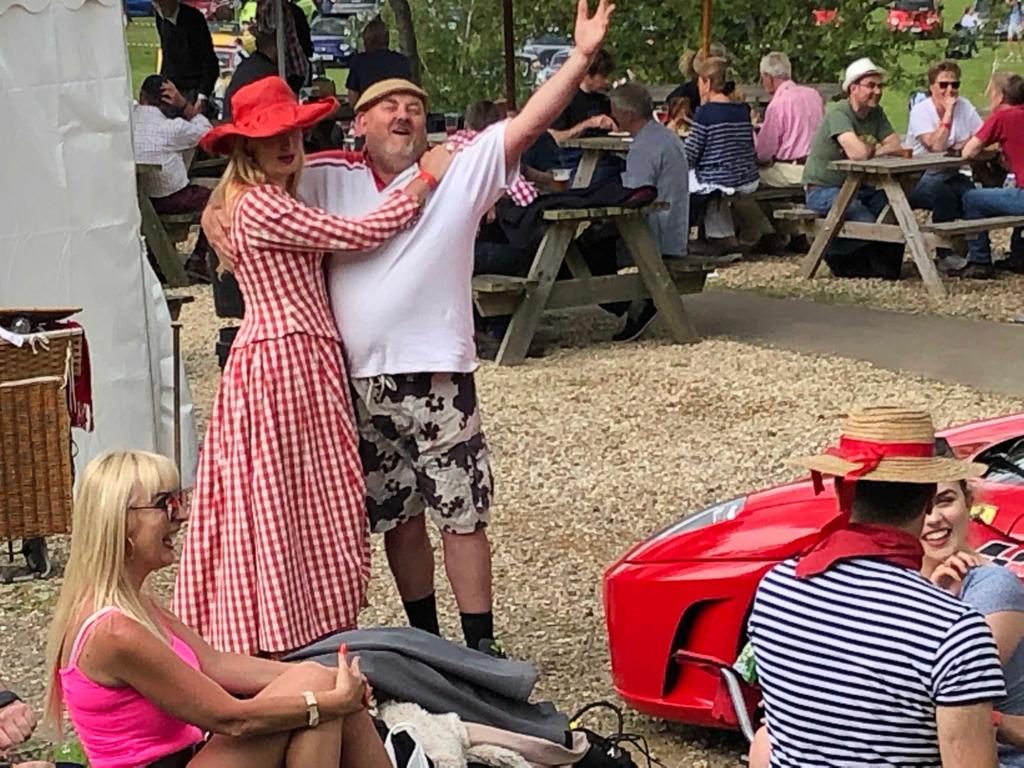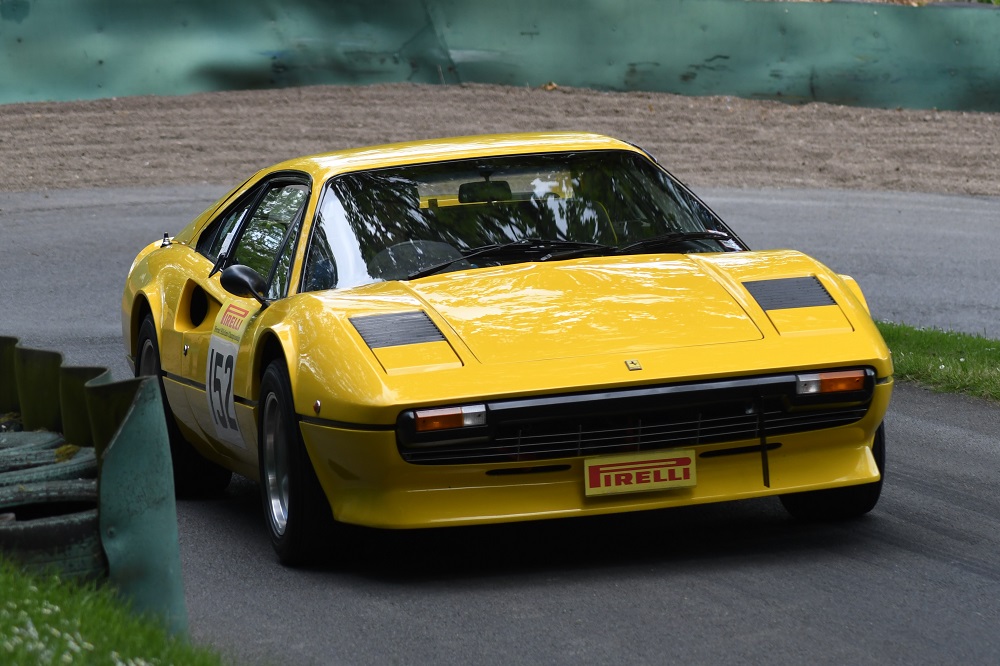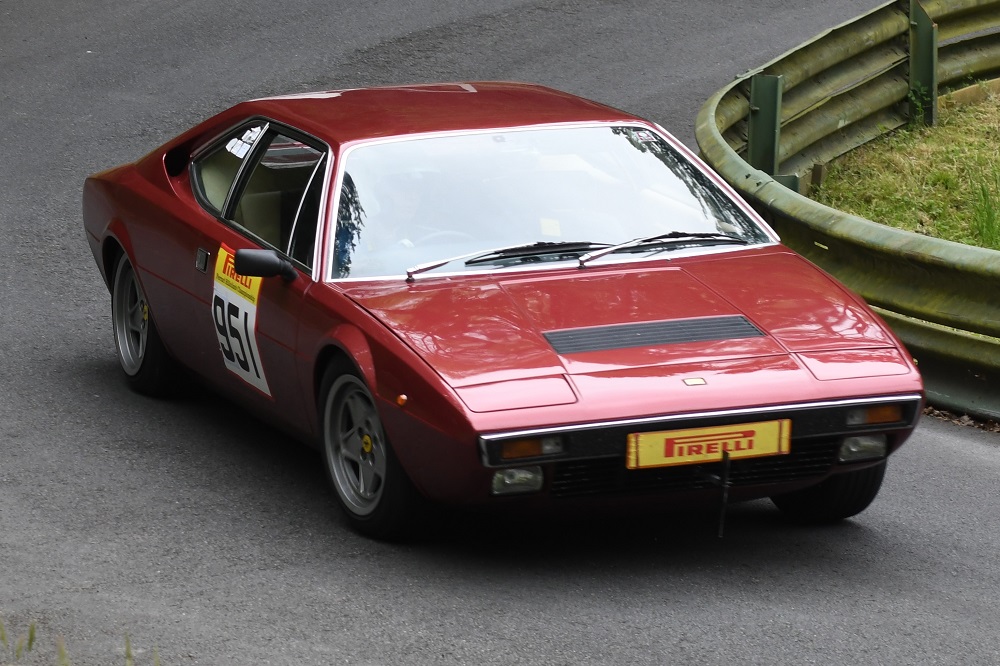 Pirelli Ferrari Hillclimb Championship competitors visit some pretty nice venues during the season.  But I am sure most would agree that Prescott, in the Spring, takes some beating.  The blossom on the paddock trees, the sun filtering through the leaves, the exciting reek of Castrol R wafting from the ERAs warming their transmissions – jacked up rear wheels spinning and engines blipping.  For the hillclimb aficionado it is sheer bliss.  This year, 2019, is extra special since it celebrates the 90th Anniversary of the formation of the Bugatti Owners' Club (BOC). 
It was a joy and a privilege to be part of the meeting on Saturday, 25 May – dubbed 'La Vita Rossa' by our hosts. The idea is that this first day of the 2-day event is focused on Italy, while the following day celebrates all things French, and in particular La Belle Bugatti.  The BOC treated us royally by allocating the Ferraris to the Bugatti Terrace, perhaps the plumiest spot in the paddock.  An excellent entry of twelve (mostly red) cars occupied this hallowed space – there were 13 Ferrari drivers as the Attwood 308GT4 was shared, as usual, by father, Tony, and son, Iwan.
The PFHC class was almost the last on the list, so the usual early-morning panic to get the cars ready for practice wasn't so acute.  The last to arrive was the GT4 – Tony A was delayed when a fuel spillage at a filling station en route caused a minor panic.  Paul Booth gave us detailed info about his race suit.  He had been testing his F3 car at Oulton Park the previous day when, due to an over-fueling problem, he found himself sitting in the cockpit in a puddle of high-octane petrol.  It didn't do his overalls any favours (nor, for that matter, his backside).
Jon Goodwin was here with his lovely 275GTS that had graced our earlier events at Bouley Bay and Harewood.  Unfortunately, the eagle-eyed scrutineers spotted some minor contraventions to the car's compliance with the Motorsport UK's 'Blue Book' tome of rules.  No amount of discussion could change their decision and sadly Jon's car failed to get the essential scrut's sticker to enable it to take part.
The two immaculate giallo fly Ferraris of Brian Jackson (308GTB) and Championship leader Mike Spicer (328GTB) glinted in the sun, their lovely classic shapes contrasting with the more recent Italian machinery.  Mark Wyman, who joined us this season at Bouley Bay, and Paul Booth had the most modern tipo, the 458 Italia.
Practice 1 got off to a flying start, with Spicer immediately on the pace with a 52.05 and Mark Wibberley (360 Modena) not far behind at 53.11. Dave Snelson was also quick, taking his F430 up the hill in 49.85 – a personal best.  Richard Preece was having some difficulties with his 360's mode-selection system which seemed to be misbehaving.  P2 saw times generally come down, Spicer getting off the line in an incredible 0-64ft time of 2.39 secs to knock a second off his P1 effort and record a new PB of 51.05.  Iwan Attwood, in the shared 308GT4, was also impressive, with 56.57 looking good for possible handicap honours.
During the lunch break there was lots to see in the busy paddock. Apart from the fascinating collections of hugely interesting cars, there were lofty stilt walkers, opera singers, can-can dancers, pseudo gendarmes, and stalls galore offering French and Italian delicacies.  Dave Snelson, not one of your shy, retiring characters, joined in the fun by dancing with one of the contraltos and, as an encore, drenching her partner with a water pistol that he just happened to have hidden in his trouser pocket.  It was all great fun.
There were a number of small collections of specialist cars on the outside of the track.  We came across Bernard Worth and his wife, with their precious Ferrari 166 they have owned for what seems like forever.  We managed to get PHR member Francis Newman included in the Ferrari cavalcade making an ascent of the hill; he and his 308GT4 had just returned from Italy and the annual Mille Miglia celebrations.
Following all this jollity, the serious matter of official runs got underway – the sun still beating down to make track conditions ideal.  Again, Ferrari times showed some improvement.  Tony Attwood carved a couple of seconds off P2 but then Iwan went even quicker to retain a 2-second advantage.  Jackson – always impressive here – did a useful 53.61 but felt he could go quicker.  Pauline Goodwin was unhappy with her 328's below-par performance but Martin Jones, in his racy 360 Modena, was grinning from ear to ear as each of his runs was quicker than the last.  In contrast, your scribe, despite all his efforts, was unable to find that second or so to get his F355 down to its previous Prescott times.
Dave Snelson, no doubt invigorated by his musical experience, blasted his 430 up the hill in a time of 48.97, a second quicker than ever before and only 0.81 seconds off Nick Taylor's existing record.  His nearest rival was Mark Wyman, in 51.52.
And then, quite quickly, it was time for our final assault, R2.  Those who managed to up their game included Jackson (53.26), Wibberley (51.99), Preece (52.72) and Iwan Attwood (55.26).  However, perhaps the most significant was Spicer, who persuaded his flying yellow 328 to stop the clocks at a remarkable 51.25 (2.38 0-64ft time!) to lift the top Championship score of 20 points.  Dave Snelson's R1 time secured the 17 pts with Brian Jackson rewarded with 15.  In the Club's handicap competition, as predicted Iwan Attwood took the first prize and Richard Preece the second.
Scratch victor Dave generously treated his fellow Ferraristi to drinks at the bar prior to joining the rest of the day's competitors for the official prizegiving.  He was complimented on his choice of summer shorts – some wit suggested that Enzo may have had a similar pair, but we weren't too sure.
The May Prescott proved to have been greatly enjoyable and lots of fun – which is, after all, what it's all about!