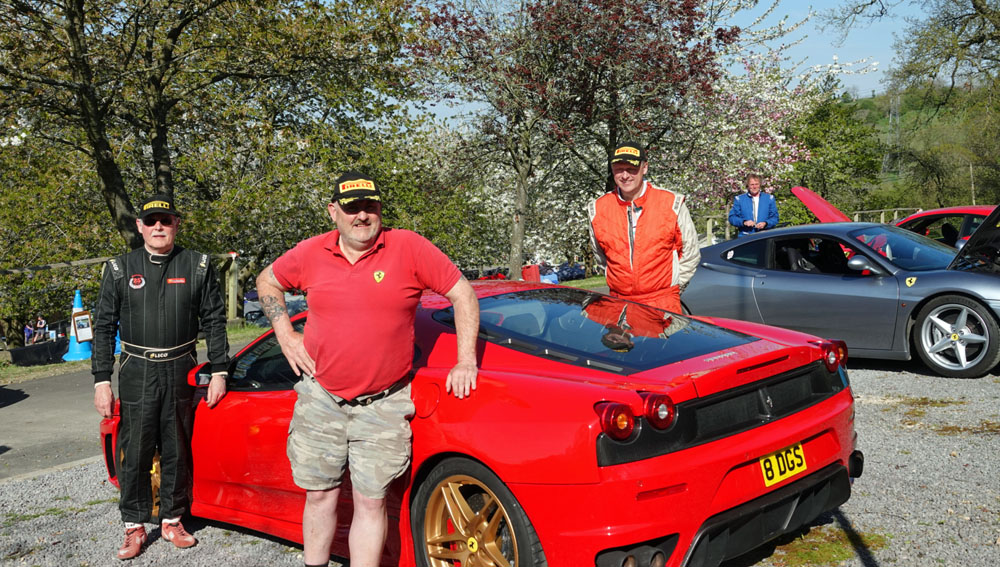 It was a wonderful and yet disappointing start to 2021. Perfect weather, great company, blossom on the Prescott trees, and yet so many friends missing.  The hillclimb community had responded to the easing of lockdown by crowding into the first Prescott meeting like cocker-spaniels released from a car boot.  The meeting was over-subscribed.  Despite entering well before the closing date, Phil Whitehead, Jon and Pauline Goodwin, Tony Atwood and John Kennedy all had their entries cancelled.  It was all the organisers, Bugatti Owners Club, could do under the circumstances, but it felt very unfair. The pandemic-inspired limits on accommodation prevented others from attending, including John Swift and Tim Dickinson.  The unfortunate John Shirley also had to pull out due to the embargo on crossing the Scottish/English border.
Just six competitors were left, but this reduced to five once poor Mark Wibberley fell ill.  Pauline Goodwin, through a mixture of charm and relentless determination, managed to get the organisers to accept her as a replacement for Mark, and so we were back to an entry list of six.
The first practice in the cool morning air was described as "slippery" by Iwan Attwood and Richard Preece, "shocking" by Pauline, "good" according to Dave Snelson, and "confusing" by Martin Jones and Paul Booth. The latter two both believed the Prescott owners had sneakily added corners they could not remember.
The track began to dry in time for the second practice, and this saw Dave Snelson take more than a second off his already very fast time, dipping below the 50-second mark.  Pauline had a fright at semi-circle when the turn- in was better than she expected, and she took her foot off the throttle.  This led to a worrying wobble although she still went faster than her first practice.  Martin tried a different approach to Pardon corner, and was consequently half a second slower.
The first real run in anger of 2021 saw Dave, Pauline, Iwan and Richard all going faster than in practice.  Iwan was going so well he seemed to lose the power of speech, and could only shrug in the style of Kimi Raikkonen.  Martin appeared to have adjusted his technique again, and was three seconds slower.  Paul, despite having the most powerful and modern car present, also lost time by messing up the gears after Pardon, which is quite an achievement in a paddle-shift Ferrari!
The second and final run came quickly after the first.  Martin put his technique issues behind him as he knocked a staggering 4.4 seconds off his first-run time.  Kimi Attwood reduced his already fast time by an impressive 1.4 seconds; clearly the wild, alcohol-soaked weekends have not affected his focus.  Only Pauline was (marginally) slower.
Richard knocked almost a second off his first-run time, coming third on PEP behind Attwood, as well as second on scratch, powering his 360 up the hill faster than Paul Booth's 458 Spider.  Richard also provided the most notable event of the day, when he hit a bank, which fortunately left only mud on the sides of his wheels and tyres. This was not during a run up the hill but on the 10mph return journey.
It was Dave Snelson who stood out.  He was not only the fastest by quite a margin, but also the most consistent. His times fell in a neat line from first practice to last run, putting him first on scratch and the collection of the 20 valuable Championship points.  As a further accolade, Dave was also adjudged to have the best turned-out Ferrari in the Paddock Cup assessment by Angela Preece and Kimi's father, Tony Attwood.