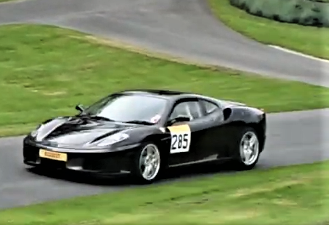 Round 2 of the 2022 PFHC, at Prescott on Saturday, 23rd April, was a bit special for several reasons.  2022 is the 84th year of hill climbing at this famous hill and 75 years of the British Hill Climb Championship.  And with an entry of 15 competitors, this was the largest number of Ferraris we have seen here for a number of years.  The weather forecast was 'fine and dry' which was reassuring, and at the last moment we were re-allocated to the prime Bugatti Terrace area in the paddock.
Joining the regular names in the Ferrari entry list were newcomer Steve Nunney, driving a 348ts, and Steve Thompson, who had impressed at the previous Cadwell Park event, in his beautifully presented 488GTB.  John Shirley, all the way from bonnie Scotland, was making his first essay at Prescott in his F355 – John's sister is handily resident in nearby Worcester which was a help.  A withdrawal from the entry list was Richard Preece, who has suffered an unfortunate spell in hospital; we wish him a speedy recovery to full health.  Mark Wibberley sported a brand-new beard and moustache, which was slightly confusing for us.
Phil Whitehead hasn't enjoyed the best reliability from his F355 in recent times but he said that all its faults were now corrected except (ominously as it turned out) a non-functioning ABS system.  The rest of the Ferrari pack appeared to be fighting fit.  We were instructed to be on parade in the paddock by 07.45 with our numbers affixed and timing struts in place. This early start was required because there was a full army of safety scrutineers engaged for this event, with plans to check every vehicle in the time-honoured way.   Most of us managed to comply although it proved to be unnecessary as there was subsequently a delay of over one and a half hours in the first practice sessions.  A high number of these seemed to be due to riders in the motorcycle class falling off their machines.
First practice showed that class record holder Nick Taylor (430) was still the man to beat, his time of 50.56 being half a second quicker than arch rival Dave Snelson in his similar car.  The others completed their P1 runs without incident although Pauline Goodwin lost her timing strut (but subsequently retrieved) on the return road.  New man Nunney had some difficulty getting his 348's engine to start but managed to rectify the problem with a little help.
We then waited . . . and waited . . . for P2 to be called up but further delays, caused by mishaps and feverish ambulance attendance, meant that BOC cancelled the second Ferrari practice altogether!  This was really bad news because, after the long winter lay-off, many of us needed the practice.  The lunch break was then curtailed and the organisers notified us that the first runs for the class would be the first official timed runs.  Even these were subjected to further delays and mounting despondency was very evident.
At last we were called up and our first car – Tony Attwood (308GT4) – hit the Armco barriers at the Esses.  Happily, Tony was unhurt but it seemed to take an age to recover the car and load it onto a trailer.  Sadly, this meant that, due to the bodywork damage, Iwan Attwood was unable to take any further runs.  The next big problem was with Phil Whitehead.  As I mentioned earlier, his F355's ABS was not working and he locked-up as he approached Ettores at high speed.  The car hit the barrier obliquely and his run was over. Again, the damage to the car was confined to its bodywork.
Of the others, Nick Taylor was the pick of the crop (48.84) with Snelson just over a second in arrears (49.99).  Kennedy drove well to put his California T into third spot (51.52).  First timer at Prescott, John Shirley (F355), was impressive with a time of 52.92 while Brian Jackson didn't disappoint in his famous 308GTB (54.99).  Your scribe's F355 was off-colour: spectators told me the engine sounded "awful" and indeed it did – at least two of its eight cylinders were not in action and I just hoped that it would be possible to drive it back home to North Yorkshire.
Following all this drama together with yet more delays in other classes (a single seater caught fire as it crossed the finish line and was substantially destroyed) time was getting on and competitors with other commitments for the evening were looking bleakly at their watches.  Nick Taylor and Martin Jones decided to head for home and forego their second run.
It was well after 5 o'clock by the time the Ferraris were called up for their second and final run.  The track temperature had now dropped significantly and it would be doubtful whether any faster times would be achieved.  John Kennedy made an indifferent launch of the Cali T and then got seriously out of shape at Ettores.  The net result was 6 seconds slower than R1.  Shirley squeezed a bit more out of his F355, which put him slightly ahead of his predicted handicap time.  Also defying the cooler conditions was Steve Thompson, who piloted his 488GTB into a creditable 3rd fastest on scratch.
With all the continuing delays, our hosts Bugatti Owners Club decided to scrap the awards presentation and those of us who had remained to the bitter end headed for home at something after 7.00 pm.  We were pleased that Phil Whitehead and the Attwoods were able to drive their cars home despite the damage to their Ferraris, and your reporter managed to reach base in the now 6-cylinder F355!  What had promised to be a wonderful day's motorsport had sadly turned out to be something of a disappointment.
However, we congratulate Nick Taylor on taking the maximum Championship points tally, Brian Jackson for the highest 'classic' score, and John Shirley for his handicap victory.  We can only hope for better things at the next round at Harewood, where hopefully we won't be delayed by our two-wheeled friends!