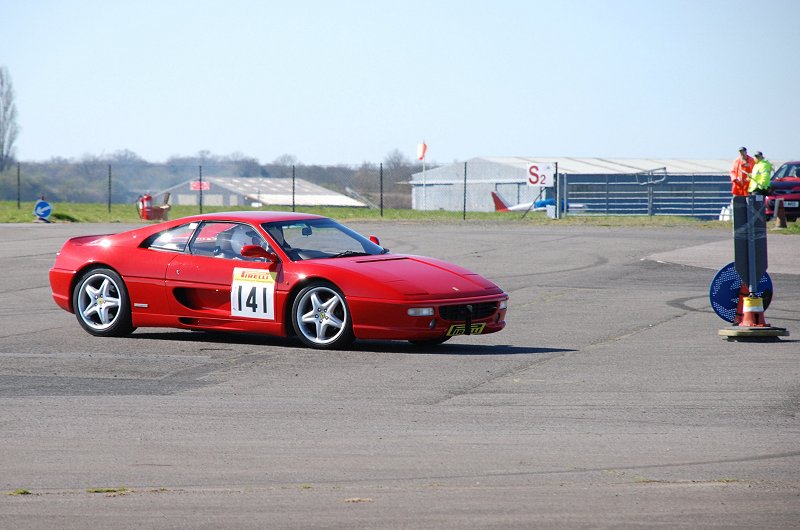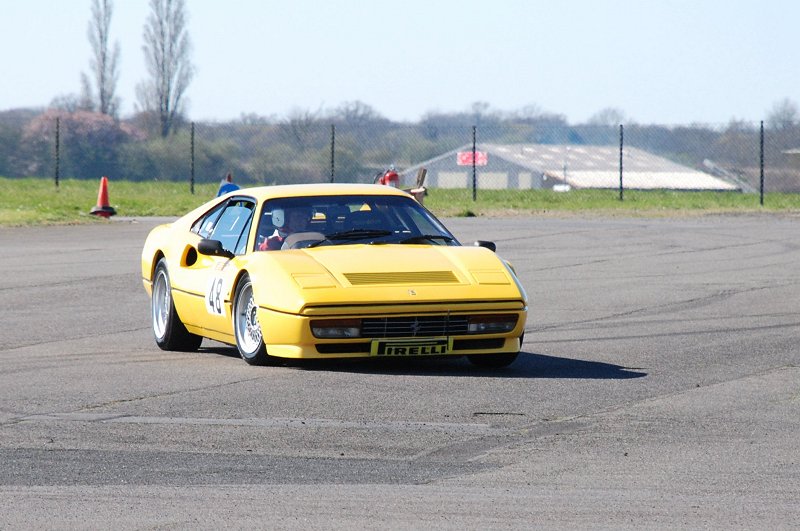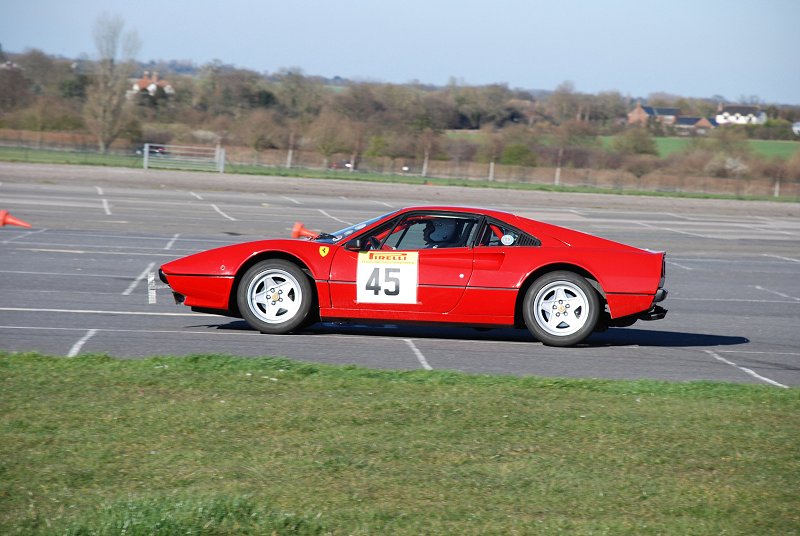 For the first time that I can remember we were actually outnumbered by another single make class at North Weald. The Lotus championship were there in strong numbers (27 of them) which left fewer spaces for the ubiquitous Caterhams, and just four TVRs came out for this first meeting of the year. Maybe the Lotus group had been boosted by the group behind Lotus On Track Racing Drivers Club, who reintroduced the Sprint Series last year, and for 2014 unexpectedly included Father and Son competitors former F1 driver Martin Donnelly and 20 year old Stefan.
The weather was a surprise too, bright sunshine with just a chilly breeze to remind you it still wasn't summer yet.
Nine Ferrari entries braved the Essex sprint circuit this year, including newcomer David Snelson in a gorgeous red/black 458 Italia, and a new car for Jeff and Caroline Cooper, replacing the 360 Modena with a more nimble 355 GTB.
After getting through scrutineering, now done more sensibly in paddock spaces instead of a 'drive through' it was time to send the gleaming Ferraris to the dusty underused track for the first practice run. Caroline Cooper lead the pack and left the line with her usual enthusiasm and drove a smooth run – until the very last 180 degree cone/roundabout where she turned sharp on the exit and floored the throttle which unfortunately put her into a spin. The 355 stalled and wasn't cooperating to get going again, Pauline Goodwin was approaching fast in her California and the marshals didn't even have the red flags in their hands! Luckily in the last 50 yards PG saw a partially dangled warning flag and probably caught sight of the stranded 355 ahead. Too close for comfort.
New lad Dave Snelson didn't realise he would get so much wheelspin from the line and lost quite a bit of time in the first 30 yards. But after his run he mentioned he was fiddling with the traction control settings on the 458's manettino when the start line official told him to go after the green light had been on for a few seconds. Still, a very good time for his first run on 82.23 secs.
Mark Wibberley also hit the power pedal heavily and got the same wheelspin, if only for half the distance of Dave's, eventually settling down in the 360 Modena to record 91.21 secs. PG got her re-run and without any incident this time set the fastest practice time of 81.44.
Second practice was smoother for most; Dave Snelson outbraked himself at the very end of the straight and crossed the white boundary line with all four wheels and so received 'no time', Pauline was going much quicker now, an 80.25, but was using a vast amount of fuel on each run: despite having a few gallons on board the trip computer said it only good for another 30 miles, but we know these high tech modern tipo can shut down before the tank gets to the dregs to protect the engine and can leave the driver stranded out on track. (Jon!)
The smaller cars of Jack Hargreaves (308) and Shaun Smith (328) were hitting the rev limiter in second gear between the start line and braking for the first right hand corner, but 88.77 and 85.32 respectively were good efforts from these Classic owners, while Caroline Cooper coasted into the first corner and could make up a little time there, but completed the full run this time on 97.89. Husband Jeff was consistent on the second practice with only two hundredths difference to his first run. Mark Hargreaves in the 308 GT4 had dipped under the 90's with 89.45, as did Mark Wibberley who was on 89.09. Shaun Smith had knocked 1.5 secs off with 85.32, and Mike Spicer (328) was on the rev limiter near the end of his run and was now 3 seconds better off with 83.30.
The organisers decided on three competitive runs as everything was running smoothly and the weather was fine, with the first of these run before lunch.
Mrs Cooper was again away first, looking slower around the roundabout pins, but a quicker time overall on 97.12; with Jeff now jumping into the driver's seat the car again left the line quickly enough but coming down the straight at the bottom end of the course it slowed unexpectedly. Jeff crawled all the way back to the paddock without an official time on the board. One nil to Mrs C.
Mark Wibberley took a wide exit from the same roundabout and had to wait to get on the gas dropping a few tenths but still a good result on 87.73. Shaun Smith got no time on this run and must have missed a cone or taken a wrong route, while Jack Hargreaves had now smashed his earlier time and was 4.3 seconds better off with 84.47 and looking good for the 20 PEP points. Dave Snelson was still improving and was now in the 70's with 79.28, but the 9% difference between him and Jack meant he needed to go another 2 seconds quicker for the maximum points. Mike Spicer again performed superbly in the 328 and clocked 83.51 seconds which meant he was keeping in touch with Jack, just 0.33 seconds away from being the points leader after PEP's are calculated.
In the second runs Pauline became the first away (as the Cooper 355 was retired from the event) slightly slower this time by 0.3 seconds, Mark Hargreaves was back under 90 seconds with his best run so far of 89.94, but Jack had gone quicker again, now on 84.24 and firmly in the lead on points if PEP factors are applied. Shaun Smith got an official time at last with 83.61 and was only a tenth of a second behind the best time of Mike Spicer in a similar car. Mark Wibberley would have his best time of the day on the 2nd run with 86.87, enough to put him into 6th place on scratch and give him 10 points in the championship.
Dave Snelson was enjoying himself and really getting the hang of it now, no wheelspin away from the start meant a faster time of 78.20, and on a PEPs basis closing in on Jack who was now just 1.3 secs ahead on the maximum points.
So it was all down to the final run, still sunny but even chillier. Pauline got under way and another good run showed it to be her fastest time of the day, but 80.64 turned out to be 85.64 after picking up a 5 second penalty for hitting a cone.
Jack couldn't continue his steady progress anymore and was a tad slower this time, as was Dave Snelson, but Shaun Smith had his eyes on a podium place if he could overtake Spicer's 328. He was going well until the end of the straight when there was a big lock up with clouds of tyre smoke and he thumped the raised curb as his 328 slid off the track. He had to stop and be towed back to the paddock by the support vehicle but there was no serious damage to the 328.
Only Mike Spicer could now upset the result. He drove with his usual smoothness and looked visibly quicker through the chicane on the return section. Jack Hargreaves was watching the digital display and he saw an incredible Spicer time of 81.75 which meant a 2nd place on scratch and with a minus 3% PEP factor took his adjusted time down to 79.30 and ahead of Jack's 20 points by more than a second. BUT, a sharp eyed marshal reported that Mike had clipped a marker cone and, similar to PG, had 5 seconds added to his time giving him 86.75 and dropping him down to the last step on the podium courtesy of his 1st official run.
So Dave Snelson accepted the winner's trophy from Martin Donnelly, Pauline was 2nd and Mike got the 3rd place trophy. The important 20 points went to Jack Hargreaves, 17 to Mike Spicer with Shaun Smith on 15 points, all three of them being in the Classic class.