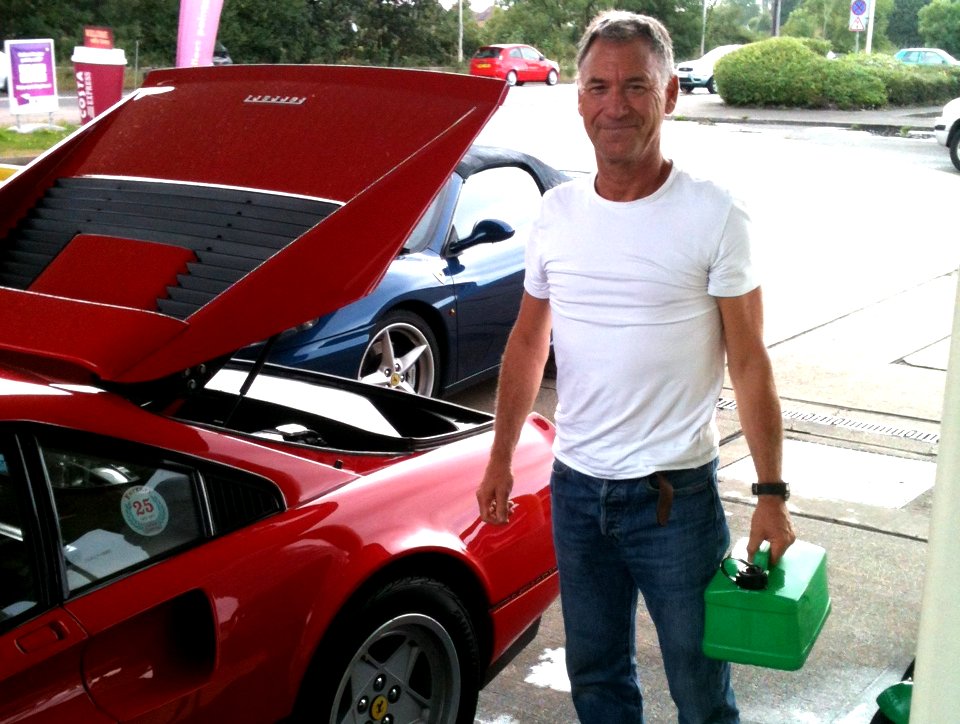 Welcome to MIRA, the secret motor industry testing area just outside Nuneaton – well, not so secret actually, but no cameras are allowed inside which limits reporting somewhat.
Round 11 of the PFHC rumbled into town, with 9 competitors in a variety of tipo, from 328 to 430 Scuderia, including three consecutive V8s and a California. Only two Classics were there, Mike Spicer and Shaun Smith's 328, the latter resplendent in a fresh coat of rosso corsa after Blyton off roading. Spicer's Giallo car stood out, as usual.
MIRA is an ex-airfield infield track of around 1600 yards and is the Dunlop Handling Circuit. It's fast, as speeds recorded by our competitors will show, heavy on brakes in one spot and comprises a couple of long radius curves which require a lot of nerve to hold the gas pedal down on.
First practice was a dry run, and straightforward, without incident amongst our pilots, and much the same conditions existed in P2. A strong early show was made by Richard Preece in his F355, on 59.27secs, 25/100th ahead of Nick Taylor's F430 and Pauline Goodwin's California, which deployed its electronics allied to such an experienced driver to good effect with a 60.63. The rest of the competitors were in the mid to lower 60s, with my debut at this track a tidy 66.76. Also in the 66 seconds were old hands John Marshall and Mike Spicer, with record holder here John Goodwin on 62.22. Top speed was 98mph. Peter Hitchman in the other 360 was still finding his feet after P1 and P2.
P2 saw general improvements of around 4 seconds for the middle field, though Preece could only shave a quarter off to fall behind Taylor, now on 55.94 and Goodwin (the record holder) on 58.38. John Marshall took 5 seconds off, to 60.48 and nudged the speed bar up to 104mph at the trap in front of the control tower. This requires bravery as the hairpin right is just after and the surface is showing its age.
The bonus of third practice was sadly of little value as a persistent, middling rain shower started to show on the tarmac after John Goodwin's run and gathered pace as later drivers started. So times were 5 to 8 or more seconds slower as drivers were sensible and preserved their cars. The rain turned heavier over lunch, forcing competitors under gazebos, into cars and tents, ruining the usual banter, though John Goodwin was heard to mutter a prayer of thanks to Him Upstairs for services rendered in preservation of his record. Nick Taylor was hoping for a Saharan blast from his contacts.
So, the first competitive run and a very wet track, with the rain having only stopped when earlier non-Ferrari runners started. This left a soaking wet track with standing water in many places which claimed at least 5 victims, 3 Westfields and a Lotus Cortina amongst them, which sadly hit a marshall. The air ambulance arrived and a long delay ensued, though this did give the track time to dry out.
Times were badly affected by the conditions, with times varying between the dry P2 and the damp P3, but Nick Taylor (60.45) was closely followed by Richard Preece and Pauline Goodwin, separated by 1.5 seconds. Next came Spicer and Smith but no-one beat even first practice times, with speeds well down, as expected, to P1 levels. Clearly, it was all to play for with times on T2 being critical to the standings and points for the day, and errors would prove costly. Richard Preece was the only one to push his luck in T1, wrestling with the car on the last curve to retain control, and announcing he'd not be doing that again.
So, la denouement. Track condition information gleaned from other competitors told of a generally dry track with a couple of puddles which could be avoided. First off was John Goodwin, defending his record of 53 seconds, setting a 57.46, then danger man Taylor, who hit 108mph to record a 55.06, came after John Marshall. His Scud had been very much in the background, other than aurally, as it's simply lethal on a wet track, and saved for a hopefully dry later run. This was its moment and it was taken with gusto, John thundering through the speed trap at 115 and recording a class-leading 54.53. Peter Hitchman in the first 360 to run improved by 10 seconds to 70.42, followed by Richard Preece who had showed so well early on, and realistically the only threat to the leaders. His 57.25, only 2mph slower than Taylors 108mph showing considerable commitment at the trap, placed him third on scratch.
Next up was Shaun Smith who took the track by the scruff of the neck, and must have had some very hard braking for the hairpin after taking the speed trap at 105 – this in a 328 remember, finishing on 58.30. Pauline Goodwin's California recorded the fastest start and closed at 58.67 for 6th position. Mike Spicer must have broken the beam to take over 6 seconds to complete the first 64ft – he could have run faster, and crossed the line in 62.38. Your reporter was last off, clearly going for it, redlining the car for the first half of the run and taking 8 seconds off T1, and delighted with a safely delivered time, on his MIRA debut, of 60.76 and 7th on scratch.
The podium therefore saw John Marshall take the win, followed by Nick Taylor and Richard Preece. But for the all important points it was all down to Richard's computer which computed the PEPs. This showed less than a second between the top five, with the 20 points going to a very pleased Shaun Smith, 2nd to Nick Taylor and third to John Goodwin, who had the biggest grin of the day due to retaining his record. The minor placings were: John Marshall, Richard Preece (both illustrating how the PEPs can so affect points), Pauline Goodwin, Mike Spicer, and the 360s of Mark Wibberley and Peter Hitchman.
Next stop – the new Curburgring layout on 17th August.