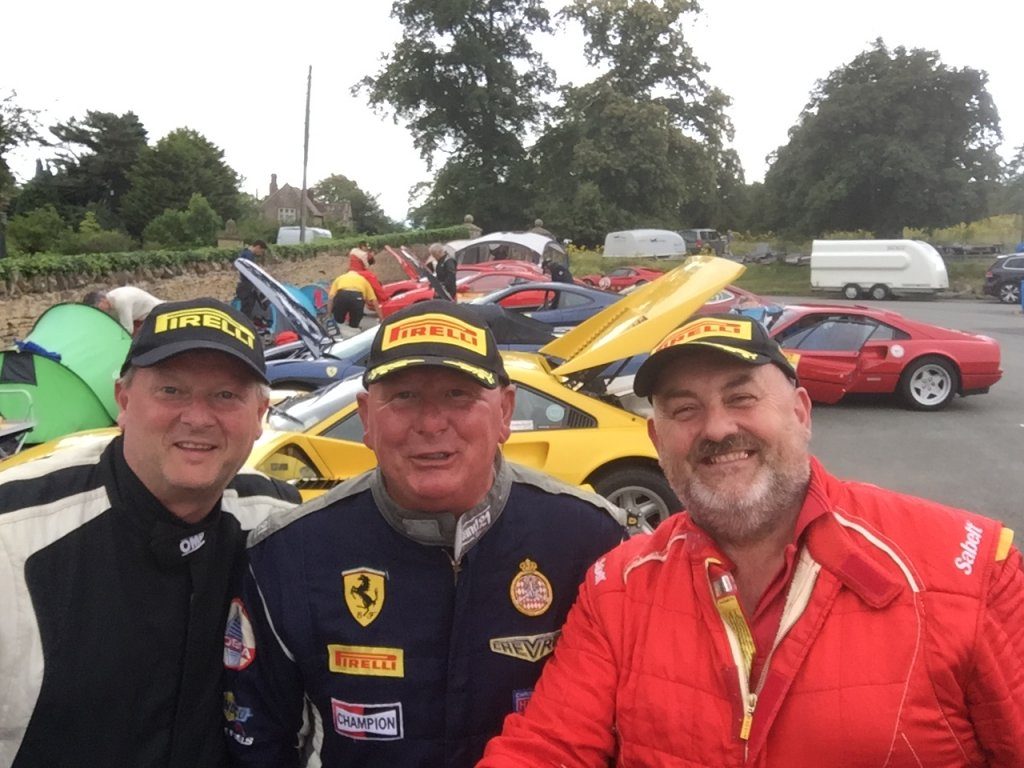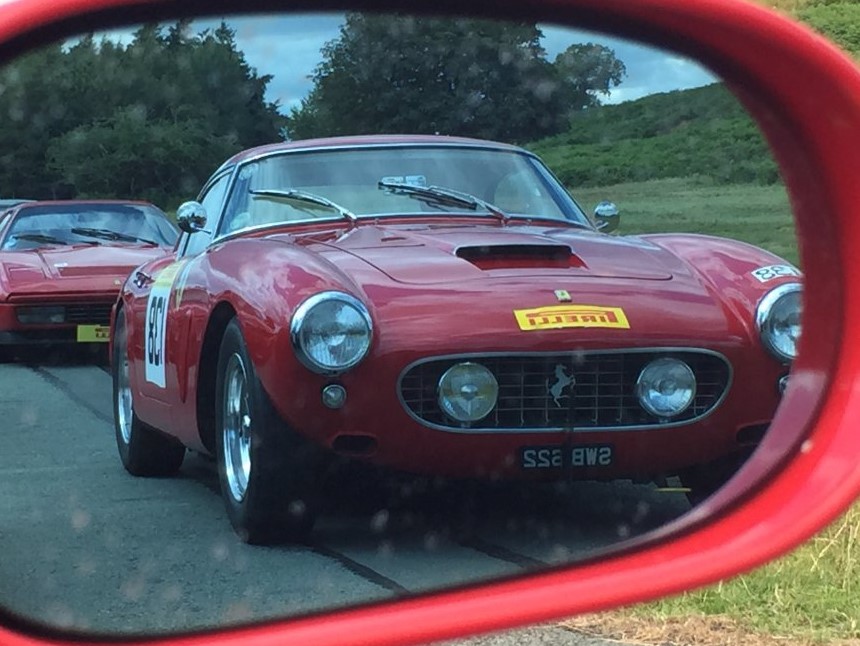 Round 6 at Loton Park turned out to be a day full of the unexpected:
An unblemished track with 10-day old tarmac – a Bride and Groom driving Loton Hill – an all-time ever, Ferrari class record set for the fastest 0-64 feet.
It's true to say our class numbers were down on previous years even though its a popular venue but we still had the support of 15 keen and some ultra-competitive hillclimbers. It was great to see the Hitchman Trio up to full strength with Lorraine back with us and in good form. As ever, we welcomed Len Watson (our Australian returnee) who hadn't competed at Loton since the late 90s. Len is back in the UK with vengeance and has also been hitting the formula classic scene.
Via an email marked 'urgent' all competitors were advised to walk the hill first thing as there were several notable changes to the track and surrounds.  From the paddock it was easy to spot that many large trees beyond the start line had gone.  Winter saw one mature tree fall and block the road; as a result, an unhappy Sir Michael Leighton, owner of Loton Park, had no alternative but to fell the remaining mature trees.
In many sections a rumble strip, or just a previously slightly wider track, was replaced with an area of small grade, compacted gravel. Its main role, presumably, to lessen the drop-off between the height of new tarmac and surrounding run out.  With ten day old tarmac not yet bedded in and a possibility of oil rising after the earlier rain, it became apparent that the track could turn into a potential ice rink should it not quickly dry out. On walking the hill it became obvious that the camber had increased here and there; Keepers showed a little adverse camber at mid section. The infamous Cedar Straight had generally improved in smoothness and flow particularly at The Kink; for some, the smoother surface could give enough confidence to keep on the gas!
After heavy rain before the start of the meeting, Annie Goodyear, Deputy Clerk of the Course, called our drivers to a meeting reiterating the warning to, 'take it easy on first runs'. This we almost did, except one of our competitors where, at Fallow,  grass cutting seemed his preferred option. Fortunately, Iwan did the honourable thing and straightened out his father's timing strut… twice! Talking of timing struts, never before had I turned up to a hillclimb without one. Thankfully, Chris in an instant fabricated a replacement! Not too perfect in appearance mind, but it worked.
All P.1 times were slow which was indicative of the moist state of the new surface.  P2 times dropped considerably. Chris Hitchman moved into the 67s as did Mark Wibberley and Brian Jackson. Heading the practice times was Dave Snelson (the most popular driver in the paddock) who flew up the hill with an impressive 60.56 followed by Phil Whitehead on a very handy 62.28. Our 3rd fastest man of the morning Nick Taylor, came to grips with the new surface on a 62.73secs.
After lunch, the weather was perfect; the scene was set for some great competition not only at the 'top end' but also for the 'in-class' duels lower down the rankings. The track was exceptional and we all enjoyed driving it.
Competition aside and bearing in mind just how sedately we descend the hill, probably about 10mph, we still have to abide by a recent crazy ruling that, as well as fireproof overalls, our helmets and gloves all be worn driving back to the paddock.  However, a couple of our competitors blotted their copy books when the Clerk of the Course tore a strip off our Champ (he made it down to the paddock first) for having his arms and body revealed with overalls tied at the waist.  The other offender is known for regularly breaking the rules. He was sweltering in the heat, so decided to completely remove his overalls (in the top paddock) and attempt the descent wearing just his shirt, shorts etc. and helmet…. On leaving the top paddock, he was pulled to one side and told that he'd be banned if he didn't comply! Rightly so, Mr. Goodwin, rules are rules.
T1 took Snelson into the lead on 60.39secs with Taylor 200ths behind at 60.41. Later, Nick Taylor, with the running order slightly awry, took full advantage of observing the electronic board at the start…  Chris Hitchman produced a 67.05 with Loraine on a 71.93. For Peter Hitchman, a 73.95 became his fastest time of the day. Peter Rogerson in his 360 Berlinetta is generally very quick off the line and today was no exception with a 2.25secs and a best time of 70.01.  Similarly, Mark Wibberley was going well with a time of 65.12secs, proving his best of the day.  Brian Jackson in his 308GTB always puts up a good time and he too set his fastest of the day in T1 at 66.05.
T2 saw Len's times drop consistently over the day and finished on 69.63secs. Iwan crossed the line with a great 67.08. just ahead of Tony who tried very hard to catch him, this time staying on track at Fallow and finishing with a 67.83 secs.  Jon Goodwin enjoyed being back out on his favourite hill after his absence for the whole of last year through Parkinson's. Jon being Jon, is fighting it all the way and managed a reasonable 69.54; he's talking of adding power assisted steering to the 250GT to assist him in reaching the apexes.
Our reigning Champion Mike Spicer in his 328GTB finished 4th with an envious 64.3secs; Mike showed the consistency of a champion with his last three runs all in the 64s and within 0.32secs. Dave Snelson also drove incredibly well all day; he too had three consecutive runs, this time in the 60s just 0.55 secs apart; his efforts were rewarded with a great second place podium and an excellent 60.01. And topping the chart in first place, the very hard to beat Nick Taylor with a superb 59.58!
Mike and I held hands here at Loton (with Barbara's approval) for a number of years sharing a joint fastest 0-64ft time of 2.19secs.  In T.1 the warmth of the day plus the grippy new surface was ideal to establish a good time off the line. Back down in the paddock someone said that I'd set a 2.14sec. 0-64ft. Sure enough, there it was.  Mike looked at me saying, 'You know, that time will never be beaten.'  Feeling a bit excited about that, I went off to celebrate with a cuppa and a Kit-Kat!   Low and behold after our final runs, Mike's quote of the day went out through the window and my trusty 328 managed a 2.13secs,  the fastest ever Ferrari Class 0-64ft time since Richard Allen began the Championship, now in its 31st year. (Don't be concerned about it lads, it's because I'm a lightweight and it all goes wrong after 64ft).
After dinner Saturday evening, Jon expressed thanks to John and Anne Swift who arranged our accommodation, barbecue lunch and dinner with thanks also to Mark Wibberley for taking charge in their absence. Our loyal supporters of John Warner, Sue and Paul Skinner were recognised and thanked for their support.
Saturday was a great day's motorsport and next day, we'd do it all again!