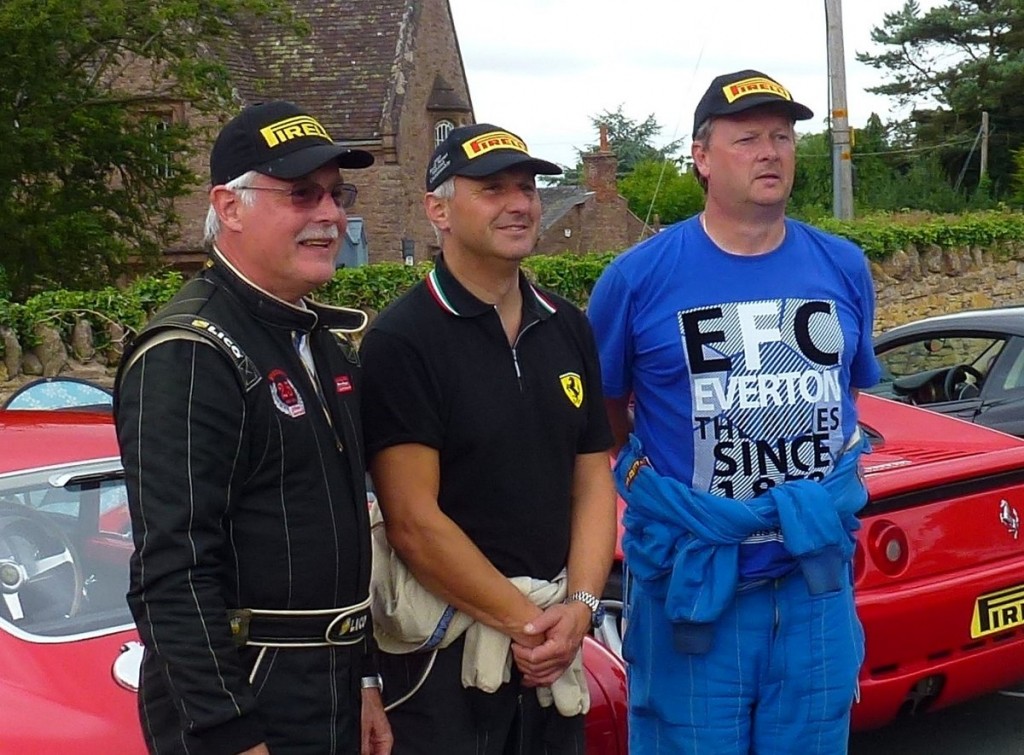 Another double-header weekend for the Ferrari hillclimbers, this time at picturesque Loton Park, close to the Welsh border. A promising 18 entries was reduced to 16 with Pauline Goodwin feeling sore after her off at Prescott, aggravated by a mid-week session at Loton in her badly vibrating 328 race car. Brian Jackson also cried off with back pain and was volunteered for reporting duties having turned up to spectate. Tony Attwood had arrived from Scotland to meet up with Iwan who had driven their shared 308 GT4 to the event.
The first practice runs got under way on a hot and sunny morning. Lorraine Hitchman took to the grass at one point but otherwise no incidents were reported. Prior and Taylor missed this early run but ran out of sequence later. Taylor's 430 was suffering electronic gremlins and seemed stuck in wet mode, only allowing full power when pointing in a straight line.
Tony Attwood was red flagged on second practice, while most tyre squeal at Triangle was generated by the 355s of Whitehead (understeer) and Prior (oversteer). Prior was ahead at this stage on 61.93, chased by Whitehead on 63.01 and Preece on 63.65, all in 355s. Mike Spicer led the 328 battle from Shaun Smith, 64.12 playing 66.29. Just fractions behind were Jon Goodwin's glorious 250 replica and Swift's 355.
Jon had again arranged an excellent lunchtime barbeque in the paddock which everyone enjoyed.
The sky clouded over in the afternoon as the proper racing runs began but it remained dry and hot. Most drivers improved on their morning times, Smith by nearly 2 seconds to close right in on Spicer. Shaun was a little twitchy out of Triangle, while Swift took a wide line exiting Fletchers Dellow.
Prior remained in the lead on 61.65, now followed by Preece on 63.16 with Whitehead a tenth further back. Taylor was stuck in the 64s unable to use his 430's power through the corners. The 308 grouping was being led by Jack Hargreaves on 67.19, chased by Tony Attwood on 70.85.
On the final run Hitchmans Lorraine and Peter were both red flagged on their first attempt. Both recorded their best time on second asking however, Lorraine happy to break the 70 barrier with 69.72, while Peter got down to 75.90.
Peter Rogerson's 71.16 was also his fastest of the day in his 360. Jack Hargreaves got down to 66.83 despite being a little sideways out of Triangle to lead the 308 pack, Tony Attwood and Mark Hargreaves relying on their first run times for 2nd and 3rd spots. Others failing to improve on the final run were Jon Goodwin, John Swift, Shaun Smith who locked up into Triangle and was ragged at Museum, and Mike Spicer.
Nick Taylor improved a little to 64.22 in his recalcitrant 430, but the 355s took the top three places in the final standing. Whitehead on 62.38 was pipped by an ecstatic Preece who found a whole second to record 62.17. Prior however took another three tenths off his first run time for a 61.33, enough for the maximum 20 points after his 1% PEP factor was applied.
Then it was back to the hotel for Pimm's on the lawn followed by a convivial evening meal before a repeat performance at Loton on the next day.