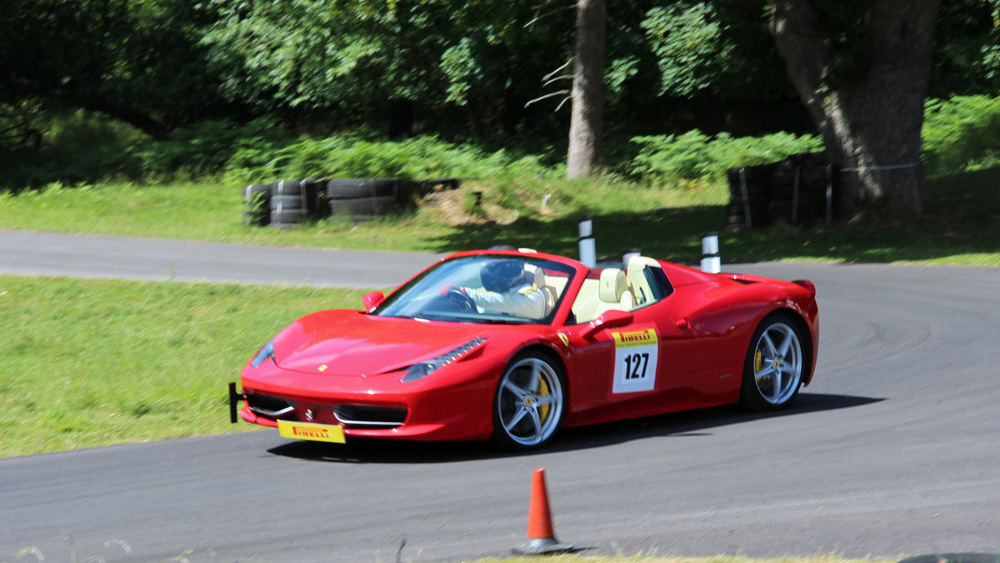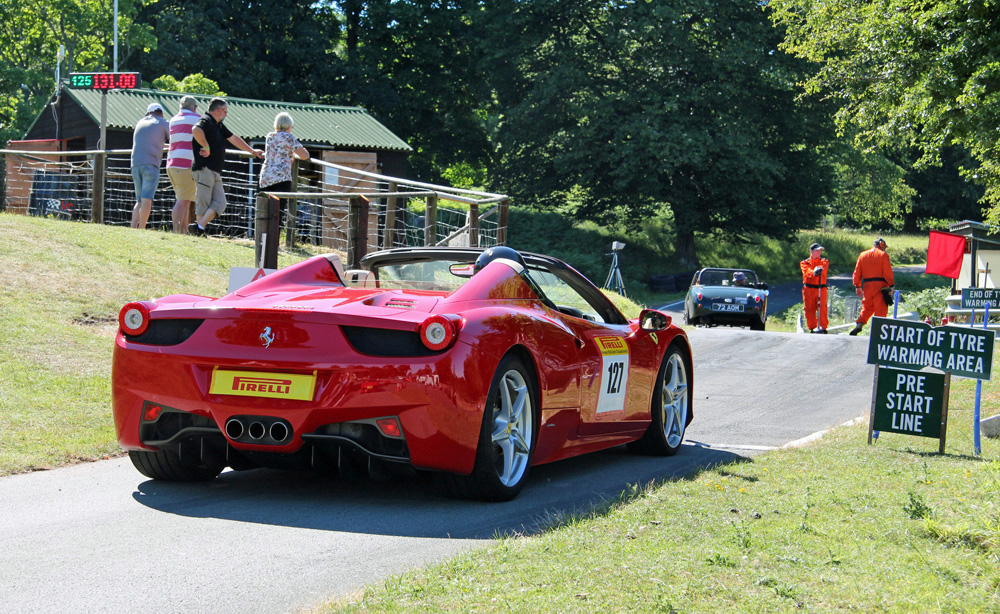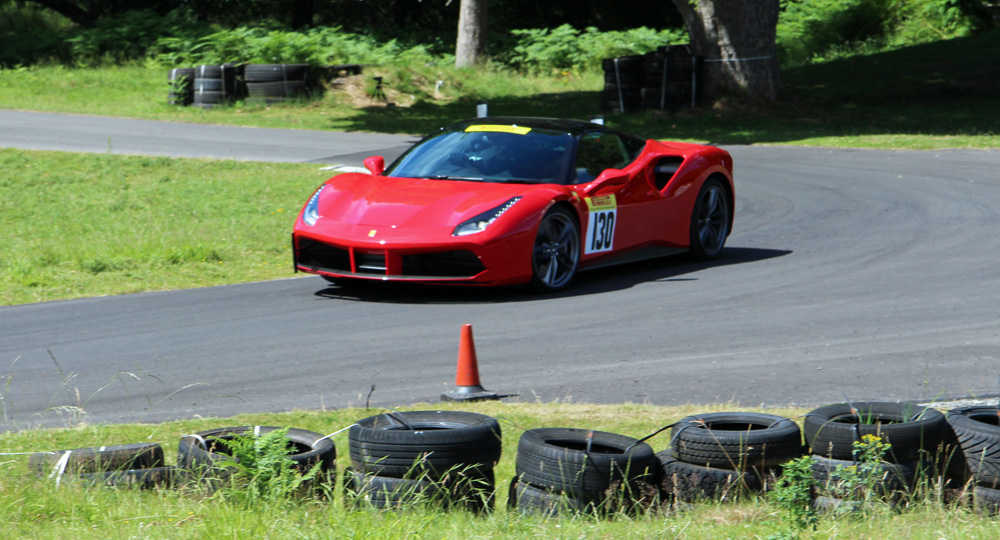 The summer meeting at Loton Park has always been a favourite with PFHC competitors, their families and their friends.  The course is a winding track in a beautiful unspoilt deer park, with mature trees, shrubs, bracken, and even lots of resident deer.  It is owned by Sir Michael Leighton who also owns the nearby mansion.  Hagley and District Light Car Club have a long-standing arrangement with Sir Michael to take over the park for their season's hillclimb events, and our annual visit in early summer is eagerly looked forward to.
We traditionally organise two rounds of our championship, on the Saturday and Sunday, and combine it with a dinner party at a local hotel.  In recent times, as this year, we have based ourselves at the Mercure Albrighton Hall located nearby Shrewsbury.
This year, we had the largest entry so far this season: 17 competitors.  Unfortunately, at the last minute, Mark Wibberley had to dash off to Australia, where his mother was seriously ill, Iwan Attwood (tested Covid positive) and your scribe (inability to replace the damaged F355's windscreen).  So, we were immediately reduced to a still-satisfactory 14 drivers.  We also had the pleasure of the company of John Warner and Paul Skinner, two of our three Championship Stewards.
The weather forecast for the weekend couldn't have been better: dry and sunny.  And, for a change, the predictors were right, with sweltering temperatures each day. We were allocated a different area in the paddock to our usual spot, with the advantage of having some shady tree cover to shelter under.
Scrutineering produced the first difficulty: Jon Goodwin's lovely 250GT Lusso's off-side door catch broke and the door couldn't be closed.  All sorts of temporary solutions were offered but the scrutineer wasn't persuaded any would pass muster.  Jon was obliged to seek a welder in Shrewsbury to repair the locking plate properly, after which the car was approved.  The net effect was that Jon missed the two practice runs.  Lorraine Hitchman suffered serious transmission problems on the start-line when the noise judge tested the decibels, so she missed P1 while the clutch temperature cooled.
Fastest in P1 was our current Champion, Dave Snelson, who took his F430 (he switched from his entered 488 Pista at the last moment) in 60.60.  The current Ferrari record holder, Nick Taylor, in his similar tipo was just 0.37 shy of his time, our 'Man from Miami' John Kennedy took his California T up in 62.40.  Newcomer Steve Thompson wasn't far behind in his potentially faster 488GTB.  Brian Jackson had substituted his pristine Portofino for his regular 308GTB after the latter had developed some unwelcome play in its drive shaft assembly.
P2 saw improvements in times for most, with Taylor dipping into the sub-60 seconds to take overall charge.  Thompson, who hadn't ever seen Loton before, looked as if he would be very much in the hunt by the time the weekend was over.
Following practice and the lunch break, the Ferrari contingent would previously have enjoyed a barbecue provided by our friends from the Hand & Diamond pub down the road.  Sadly, this year Hagley & DCC had to ban BBQs due to dry weather and the consequent fire hazard.  So, we had to join everyone else at the burger bar; I must say the sandwiches and fries were good, so we didn't starve.
Following a dessert of a couple of ices, it was down to the serious business of the official timed runs Chris Hitchman had a stonking run in his F355GTS, lopping half a second off his previous best time.  His dad, driving his F430, got the idea and similarly chopped a similar amount off his previous best.  Thompson booted the potent 488GTB in a competitive 60.21, just half a second slower than the maestro, Dave Snelson, managed in the F430.  But the record holder, Nick Taylor, trumped them all with an outstanding 58.86 – just a soupcon outside his record time.
It was also interesting to see how Brian Jackson's Portofino would fare when pitted against the slightly older California T of John Kennedy.  Their P1 times were 63.34 and 62.56 respectively.  Rain Hitchman, having allowed her F430's transmission to completely cool off, was delighted to find that it all seemed to work properly again.  She attacked the hill with aplomb, recording 69.85.  Another driver to be just relieved to be taking part in the official runs was Jon Goodwin, the repairs to his Lusso's door having passed muster with the scrutineer.
Pauline G. once again showed she was 'Queen of Starts' by setting the fastest 0-64ft time – we would all like to know her secret!  We were also agog to find who was the 'Fastest of them All'  (this is beginning to sound like a fairy tale).  The answer: Thompson 3rd (60.21), Snelson 2nd (59.68), Taylor 1st (58.86).  And the PEP adjusted times echoed that order.
There was not long to wait before the Ferraris lined up once more for their final run of the day.  The high temperatures had cooled a bit, so perhaps the track might be less grippy.  This was borne out, as almost all the cars were slightly slower, with a notable exception being Rain Hitchman, who beat her handicap target by a substantial 3.46 seconds – she took the day's Handicap prize.  The three fastest runners maintained their R1 order, Nick Taylor being the winner on Scratch.
For most of us the day ended at the Mercure Albrighton Hotel in Shrewsbury, where we had arranged a private Ferrari Dinner preceded by Pimms on the terrace.  The Ferraris were arranged on the lawns as usual, and it was quite like old times.