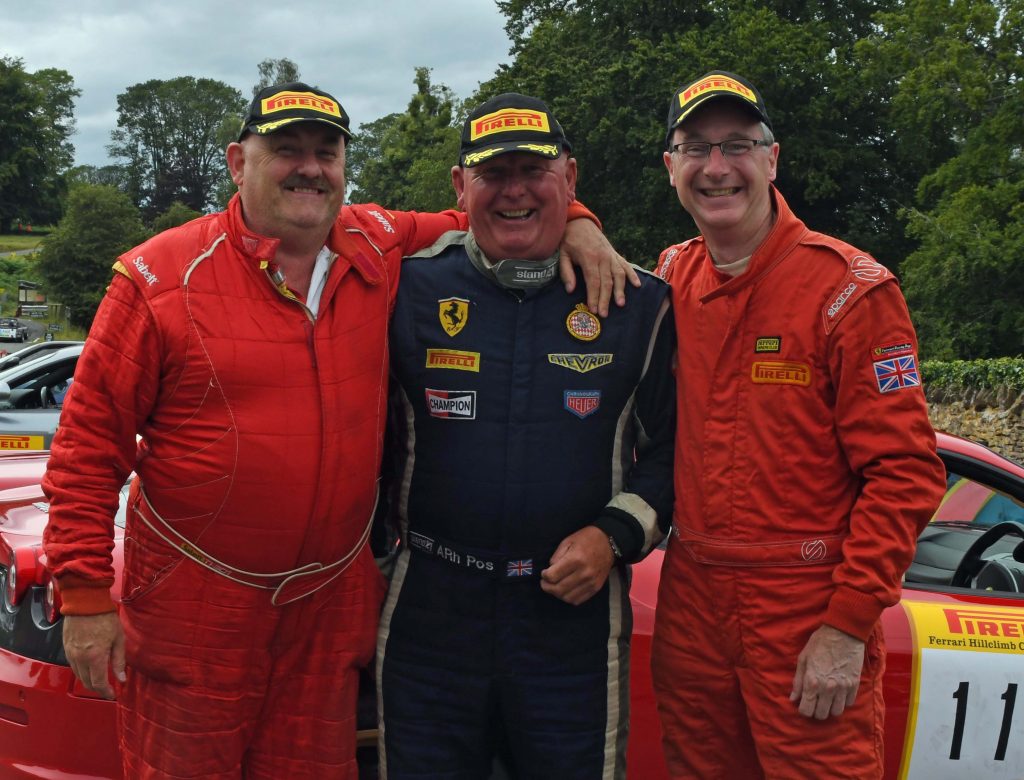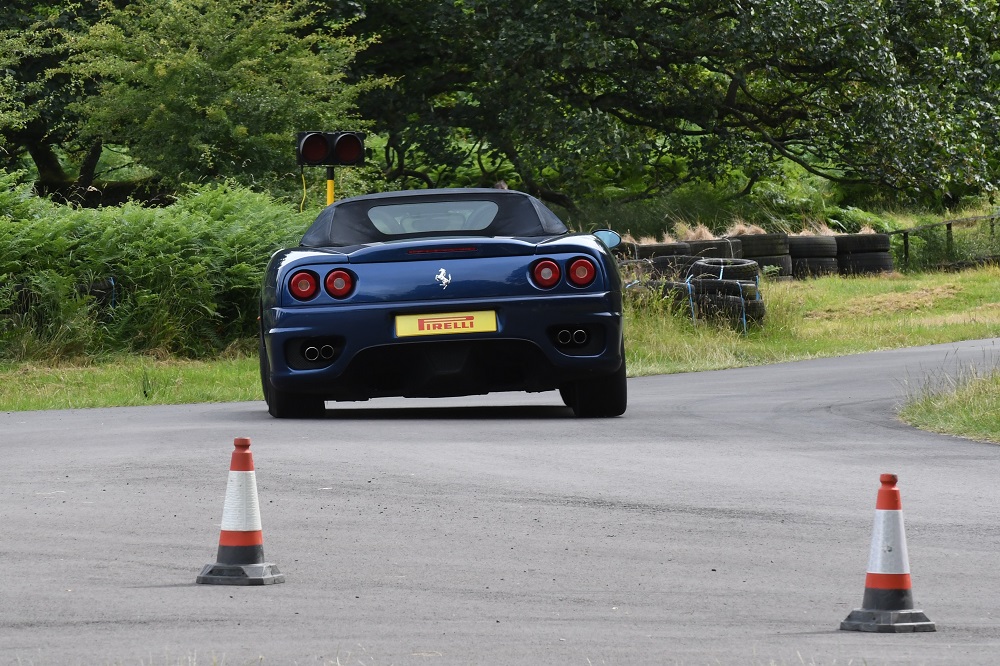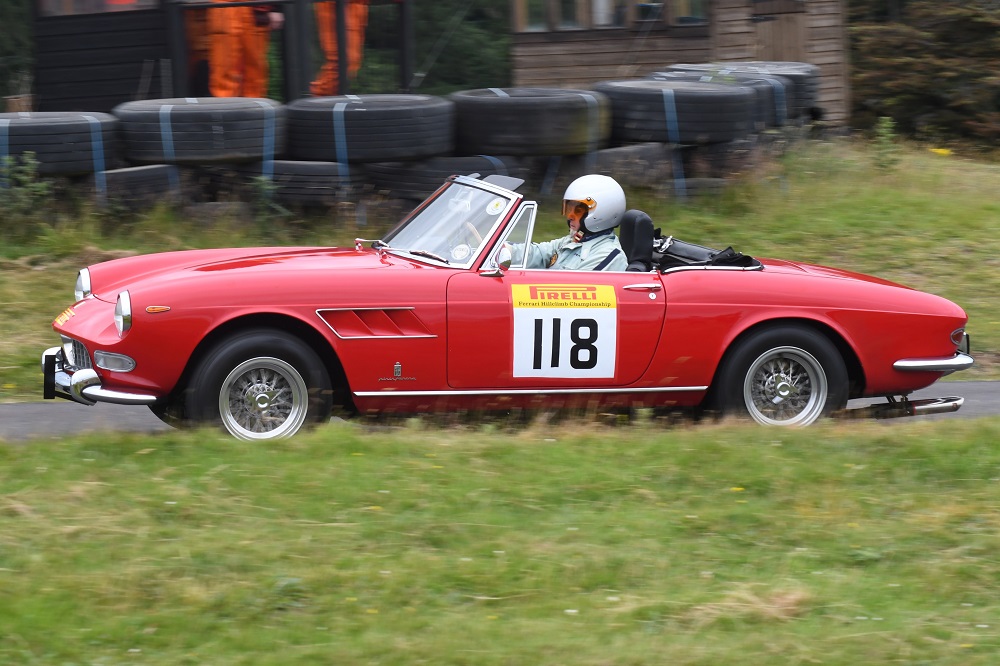 The second part of our Loton Park long weekend – Round 8 of the 2019 Championship – swelled to a very healthy 15 competitors with the arrival of the Coopers (Jeff and Caroline) and Brian Jackson.  Dave Snelson arrived late again, to the irritation of the organisers, and the previous day's record breaker, Nick Taylor, went AWOL when he called on Sir Michael Leighton to have his de Portago biography, one of the prizes of his yesterday's success, autographed.
The weather, after overnight rain, was now fine but hot and humid.  Times in P1 were generally a bit off the pace of the previous day. Jon Goodwin's lovely 275GTS now complied with all the Motorsport UK strictures (after having been excluded at Prescott at the end of May) in respect of locking seat back rests, headrests, and catch tank details.  All the scrut's requirements had been incorporated in ingenious and exemplary ways, a credit to the resolve of the car's owner.  Jon was red-flagged at the start-line to allow a family of young ducks to waddle across the track to their pond in the infield.
My notes show that the superstitious Pauline G declined to remove bird droppings from her 328 – probably a good decision because she rocketed away from the line with a 0-64ft time of 2.42 secs and an untroubled 67.11.  Caroline was concerned that husband Jeff had switched off the ABS on the shared 360 Modena.  Championship contender Spicer was immediately on the case, slotting his shiny yellow 328 into third behind the warring 430s of Snelson (60.29) and Taylor (59.17).
A feature of Loton Park is that all noise ceases at 10am while the morning service is held at the little church just across the road, the silence a slightly eerie experience.  About this time our Championship steward, John Warner, arrived with Marjorie after having enjoyed the Ferrari dinner at the Albrighton Hotel the previous evening.  Our dedicated eligibility scrutineer, Gerry Walton, should also have been on parade but sadly he was taken to hospital a few days before; we wish him a speedy recovery.  The esteemed editor of Ferrari magazine, Richard Dredge, also made an appearance, weighed down by a bewildering assortment of Canon bodies and long-range lenses.
For P2 there was a slight drizzle but it didn't adversely affect the times.  Snelson clipped half-a-second off to close on Taylor's effort, and Mark Wibberley was clocked at a blistering 87mph up Cedar Straight – virtually the fastest of anyone – in his effort to keep rival Richard Preece at arm's length.  Swift slashed 3 seconds off his F355's time but was still shy of his PB of a few season's before.  Peter Rogerson admitted to total confusion: he braked a thought too late for Fallow, the car lurched sideways, and then he frantically tried to change gears with the dip switch stalk.  OMG!  Another driver unable to match his PB was Mike Spicer despite a terrific time of 63.37.
Then it was time for our barbecue.  Today there was a change of menu and a significant increase in customers.  Anne coped valiantly in dealing with those who had forgotten to bring their tickets, although eventually the food ran out for the unfortunate few.  The pub with whom we arrange the catering are to be applauded because a few days earlier their premises were under water after a serious flood.
Appropriately refreshed, the Ferrari drivers got into action again for the first official runs although it wasn't until mid-afternoon that our class was called up.  Iwan Attwood pedaled the family 308GT4 to good purpose, with a 66.31- some 6 seconds ahead of his Dad in the beautiful Dino 246GT.  Jackson returned a 66.16 in a workmanlike climb in his immaculate 308 ('BOB').  In contrast Spicer entered the final corner, Museum, too fast and paid the price by coming to a sudden halt.  Nick Taylor, his black 430 being the small boys' favourite Ferrari because of the all the noise, smoke and sheer drama at launch on the start, returned a very fast 58.60 to retain his scratch lead, with rival Snelson a second or so in arrears.
After what seemed a very short interval, it was time for the final fling.  Now we would get everything right, all the other runs were just preparation.  Jeff Cooper had the idea: 2 seconds quicker.  Caroline an even better notion and improved by 3½ secs.  Iwan took the second-place handicap award with an outstanding 65.32 and Tony an almost equally impressive 71.07 in the little Dino.  Rogerson used the proper paddles this time while your scribe breathed a sigh of relief that he had outpaced Pauline for a change – but not Brian Jackson.  Wibberley harvested 11 Championship points with a 62.52, marginally quicker than Paul Booth's time with his 458 Spider.
And then we waited for Preece to join us at the top of the hill.  But he didn't.  A very strange thing had happened.  After safely negotiating Triangle, Richard later explained that he had swallowed a fly!  Not any old fly, but a lively horsefly.  In the oral mayhem that followed he put a wheel over the kerb and the car slewed sideways to an involuntary stop.  The damage was inconsequential but the run, of course, was ruined.  The moral of the story is clear: when hillclimbing, leave old ladies to swallow the flies.
Proceedings shortly resumed, with Spicer bravely equaling Booth's time, and Nick Taylor putting his seal on things with an unbeaten 58.43 to take the H&DLCC Class award and, once again, the 20 points. 
The current position of the Championship continues to be on a knife edge, with Dave Snelson still hanging on to the lead by just 2 points from Mike Spicer, with Nick Taylor now much closer in third.
The next round is a sprint for a change, at Curborough on 18th August.  Don't miss it!   
9For more pictures go to our Flickr page).