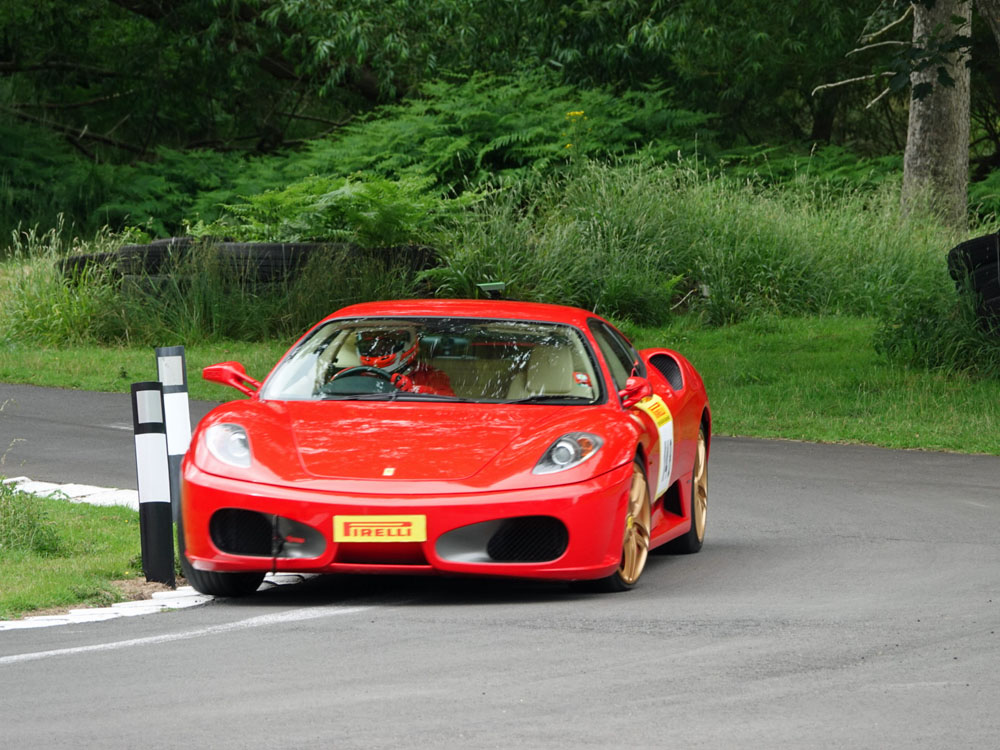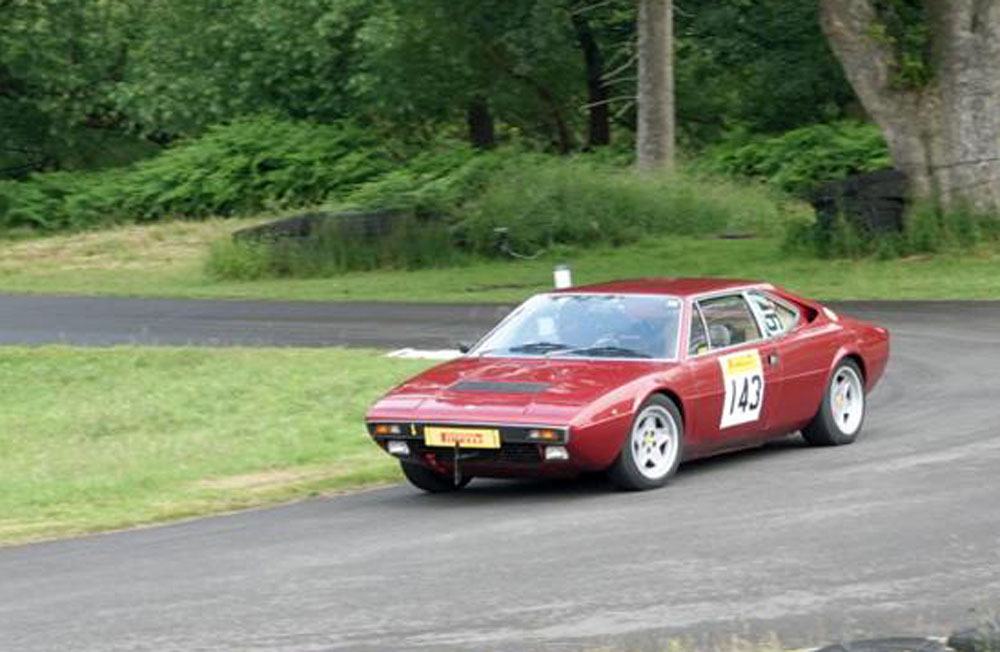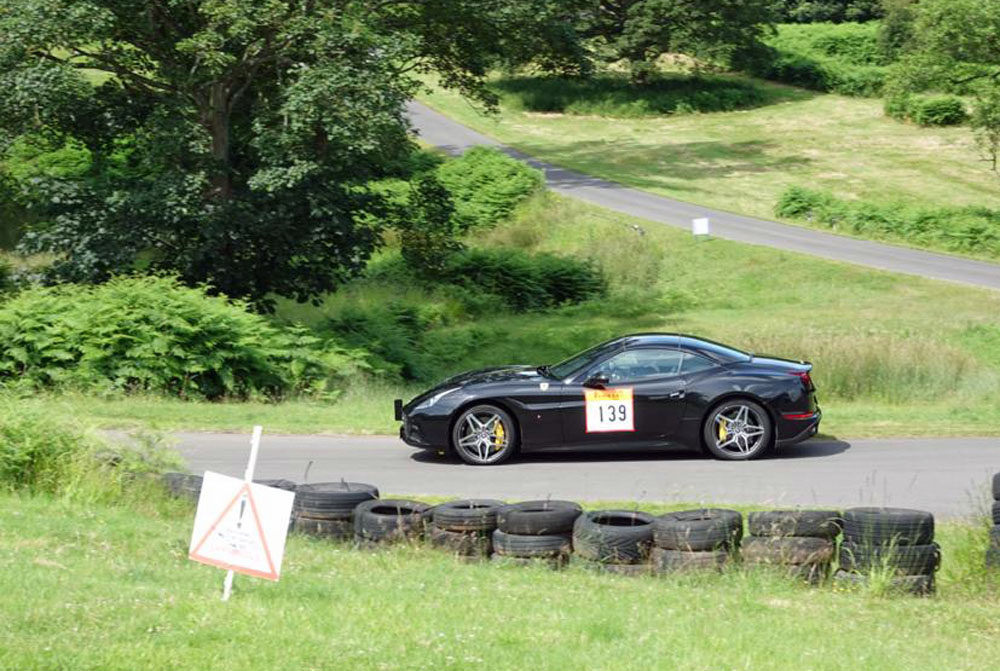 Sunday dawned fine and warm, and any rain that might spoil things was forecast for late in the afternoon.  The Ferrari class was now short of Phil Whitehead, who had managed to reach home successfully the day before despite a non-working alternator, and yesterday's giant killer, Brian Jackson.  Some of the entry arrived late to the displeasure of the organisers.  It was good to see Tony Attwood on time in the paddock despite having to sort out his front tyre problem from Saturday. 
With five competitors missing the batch call-up, only three Ferraris were permitted in P1.  The two Attwoods recorded almost identical times – both faster than yesterday – and Jon Goodwin clocked a fairly leisurely 73.75. P2 was delayed when a single-seater made a comprehensive attack on one of the tyre barriers, and it seemed to take forever to rebuild it.  Eventually the Ferraris were lined up – all eight of them – and most were slightly quicker than the day before.  As expected, Snelson led the field in his 430 from the California T of Kennedy, Jon Goodwin shaved a couple of seconds off his P1 time, and Rogerson wound up his 360 Modena to a 70.22.  Swift, out of practice due to the pandemic restrictions, was a woeful 6½ seconds slower than his previous best time here with the F355. 
Dave Snelson's zippy daughter, Daisy, had taken over photographic duties from yesterday's Dave Rose (both competent snappers) and we hoped for the usual excellent images.  The lunch break is normally when we retreat to the end of the paddock to enjoy a splendid barbecue provided by our friends from the local Hand and Diamond pub.  Not this year, sadly, due to the dreaded lurgy restrictions. 
When the course reopened for business, the temperature was decidedly hot and most of the Ferraristi sought shelter under the trees.  Dave produced some loaded water pistols and vigorously attacked his rivals. 'Sante', John Kennedy's mom over from Florida for a short holiday, was cajoled into selecting the best-turned-out Ferrari.  It was no surprise that it was Jon's superb Lusso that she picked. 
The first official runs revealed no surprises, although Rogerson was now sub-70 seconds to his obvious delight, and the Attwood v Attwood contest was going Tony's way with a splendid 65.86 – just reward for all his early morning tyre repair efforts.  Pauline G's normally unbeatable 0-64 ft time was just (by 0.02 seconds) bettered by Kennedy.  Snelson's 60.15 run time almost guaranteed the scratch win. 
And then something strange happened.  We saw that the whole of the Triumph class was packing up for home and therefore missing R2.  "Oh yes", one of their drivers explained.  "It's the 2020 Cup Final on the telly and we've got to get back home to watch."  Oh dear.  Someone mentioned that Richard Branson's trip into space was also broadcast, so Jon Goodwin also skipped his final run. 
With rain threatened to arrive at 5.00pm we just managed to get lined up for R2 while the track was dry.  Iwan Attwood (66.22) tried hard but couldn't quite beat his father's first run time in the shared 308GT4.  Pauline G. put in her fastest time of the weekend (66.23), almost identical to Iwan. For good measure, Tony Attwood was the winner of the Club's handicap award.  And the top prize, for the winner on Scratch, was won by Dave Snelson, who also took home the 40 Championship points accrued from his weekend's efforts.   Coordinator Anne Swift calculated the points, they were checked by the visiting Richard Preece, and Championship Steward Paul Skinner (taking over from John Warner) presented the prizes.  Then the rain arrived with a vengeance, we all got wet, and happily headed for home.