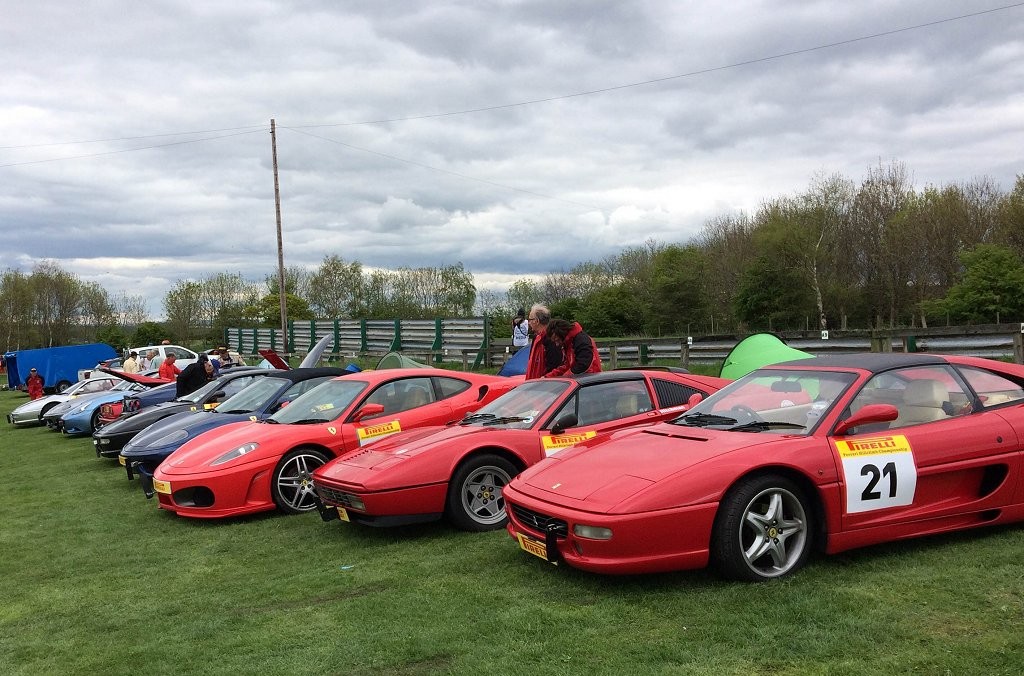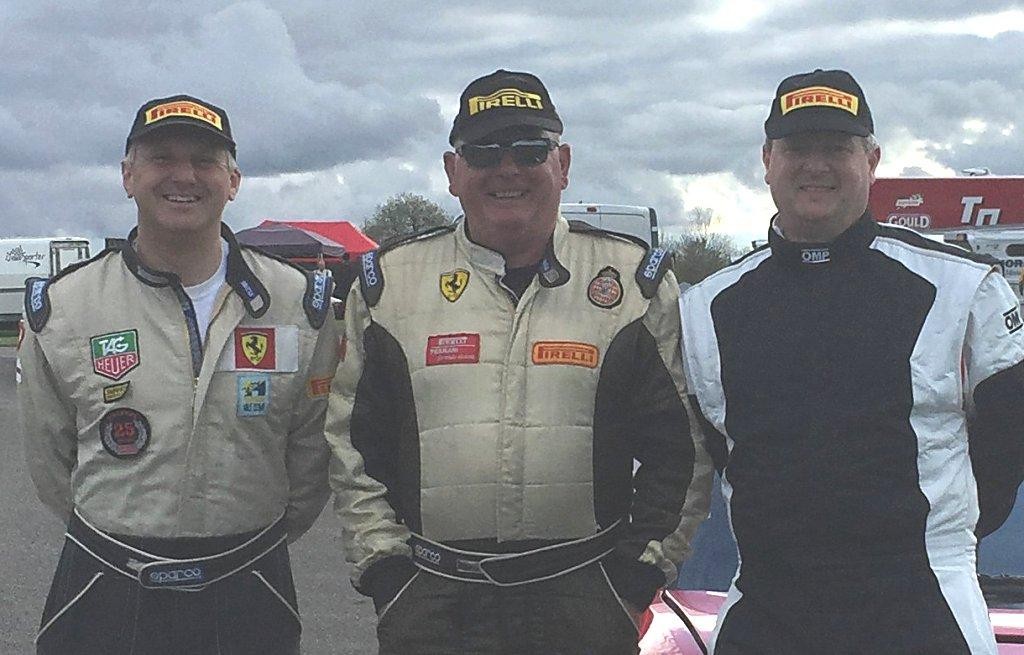 And so to God's Own Country for the first double-header of the 2015 hillclimb season.
Many competitors arrived the previous evening, surviving pressure-washer intensity rain, and met in the paddock overlooking the valley – very picturesque, and affording views of the whole track for spectators.
The field was large – 17 cars, less than half of them red, with pairs of GT4s, 360s and three each of the 328, F430 and even more of the hitherto champions choice, the F355.
Scuderia Hitchman was out in full force, fielding a 328 (late substitute for recalcitrant 360), F355 and new F430, driven by its Capo. Despite programme order being advertised, there were long awaits for P1 and P2 under greyish skies and a persistent cool breeze, though thankfully no rain (also advertised).
Straight out of the box, having never been here before, Dave Snelsons 430 put in a cracking 69.49, and 3+ seconds ahead of Nick Taylor. Most competitors were sensibly content to put in a familiarisation run into the high 80s on what is the longest course in the UK. Apart from that then, no real portent of what was to come from the rest of the field, with Phil Whitehead delayed on the M62 and running later. Start times were also sluggish, especially for the F1 paddle-shift cars who traditionally struggle here.
Phil Whitehead duly arrived, put in a brisk first practice of 71.80 but had clearly used his contemplation time to think out a second practice – 68.29, fastest so far, with Prior, Snelson, Taylor and Allen under 70 seconds and everyone else 5 seconds or so better then their previous. Game on.
A first timed run before lunch saw the same top five runners but switched around somewhat – Richard Prior put down a marker at 67.57, Phil Whitehead improved from P2 with 68.02, aided by his new go-faster race suit, and Snelson and Taylor tucked in under 68.5. Richard Allens' was the only other car under 70. Shaun Smith was the fastest classic at 73.46 amidst general improvement as the track gained traction.
After a sociable lunch came the second timed runs. Prior improved marginally, Taylor by 6/10th to close to second on scratch, Whitehead slowed and Snelson recorded an identical time. Richard Allen was half a second up, still followed by Jon Goodwins first run time in the big 550 Maranello. Jon was the only off-track explorer of the day with a revisit to last years Chippys excursion on T2 forcing a pootle to the finish. So, the usual suspects for the points then.
A notable improver was Lorraine Hitchman, 15 seconds better than T1, which was aided by staying on the track throughout. There were 4 drivers within a second of John Goodwin, another 4 within a second of that group, so the middle runners were all close.
We usually only get 2 timed runs but another was taken, though not all welcomed it with open arms, as the potential for points to change was obviously present. This also involved some unpacking for those too keen to head for the bar.
Dave Snelson, first up, put in his best time of 67.69 to lead until Phil Whitehead came home 11/100ths faster (and with a PEP advantage), Richard Allen marginally slower and Gooders marginally faster than his T1. Pauline Goodwin chopped a second off in the big Cali but many runners were slower. Until Nick Taylor, last up, responding magnificently, knocking a second off to take the scratch win at 66.85.
Second was Richard Prior over Whiteheads identical F355 by 11/100ths, Snelson in 4th followed by Allen, Goodwin, Chris Hitchman, Swifty and Pauline. Next batch was Shaun Smith who led the classics, myself with a satisfying 73 dead after steadily chipping away at times, young Hargreaves, Lorraine in the 328 and Peter Rogerson who had first gear issues. Hargreaves Snr and the Attwoods, in seniority order and Peter Hitchman closed the class.
Then onto the Bridge Inn for a well deserved Black Sheep or whatever your tipple before a very good dinner surrounded by the superb Byron Room's ornate plasterwork. Thanks to the Swifts for organising that. The points award was announced with Phil Whitehead gaining the maximum 20, followed by Richard Prior with 17 and Nick Taylor for 15. Handicap awards were a family affair, with both trophies being won by the Hargreaves. And I think an early night was had by all residents before battle recommenced on Sunday.