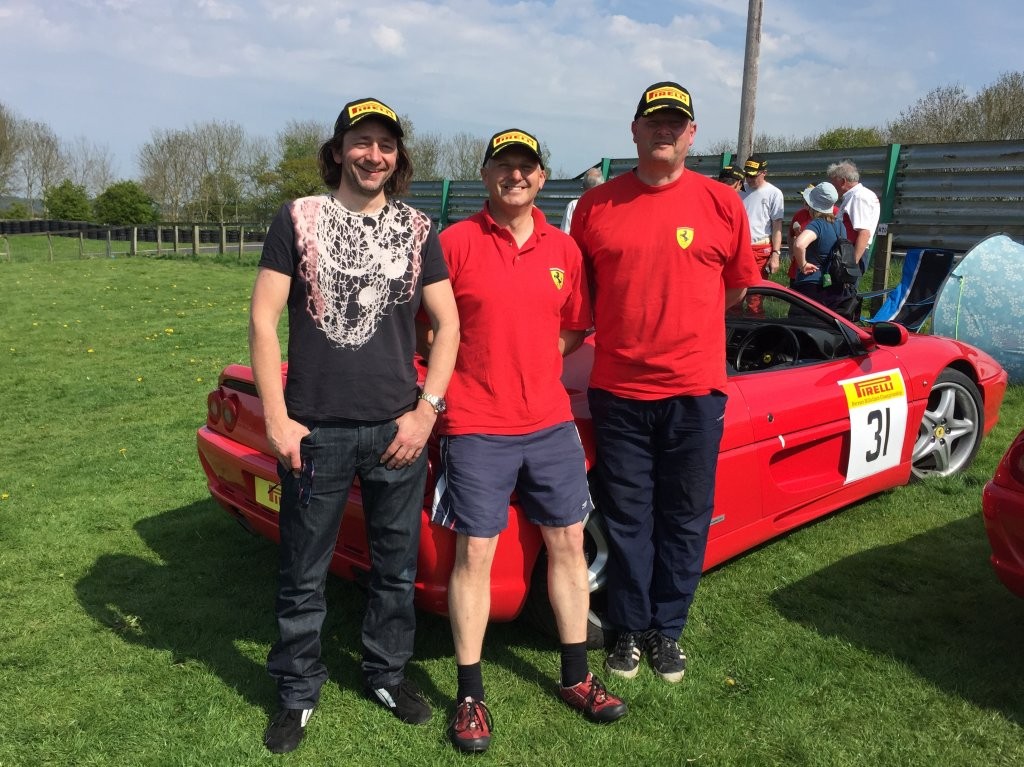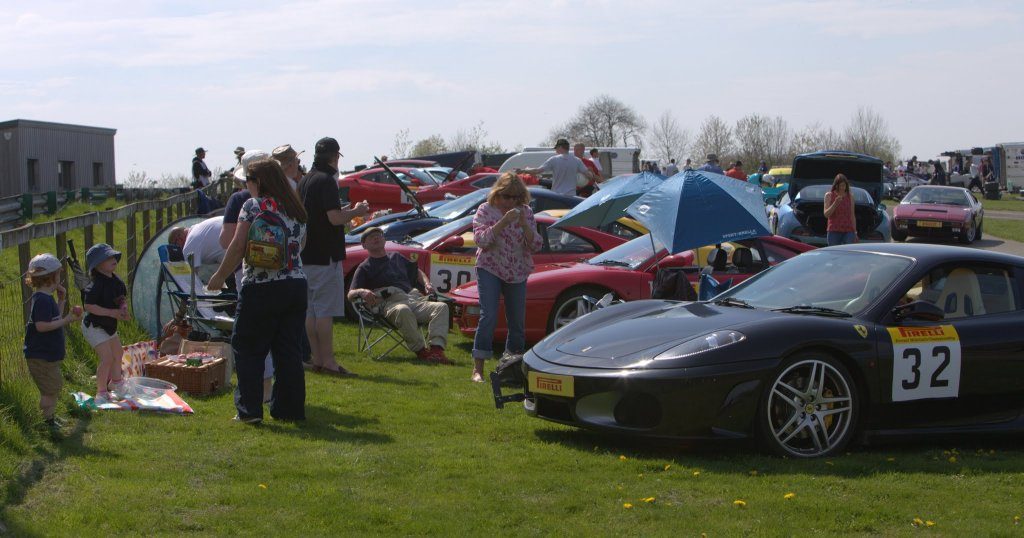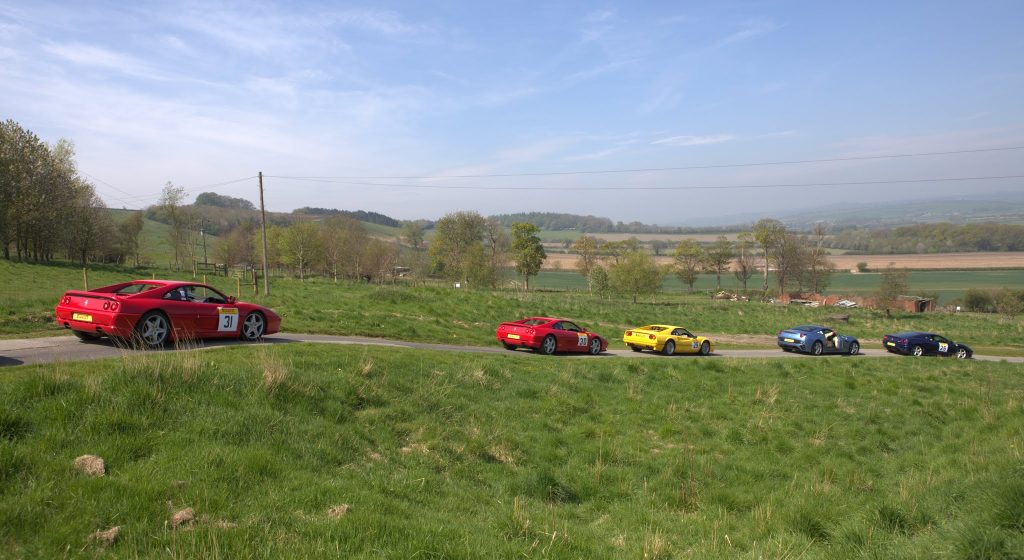 After a fine and filling dinner in a superb room at the new venue of the Hazlewood Castle Hotel, which included a toast to our absent colleague RA, the competitors were somewhat surprised to be off as the very first batch at 9am. This caught out some who'd been expecting the long waits of the previous day.
Track conditions were much better than first practice on Saturday too, so most competitors put in times reflecting those posted in competition, some albeit a little slower after a hearty breakfast. Our ranks were also swelled to 17 by Jeff Cooper, the 6th driver in a 360. It wasn't without incident though – Swifty put two wheels on the grass out of Farmhouse, which is an unwelcome shock to the system and Lorraine had a wiggle coming out of Willow. Nick Taylor was hampered by a roll of tape circulating in the footwell, and the other leading contenders started well, though Phil Whiteheads run was a little untidy for him. Early honours though to Peter Rogerson with a stunning start of 2.44, good for a manual car, fantastic for a paddle shift. Early fastest time was Richard Prior's 67.68.
As temperatures rose on a largely (and rarely for Harewood) wind-free day, track conditions improved. Second practice was off by 10am, packed with tension after runs were complete, to see if Mike Spicer was again going to be the man to beat for the points. Sporting non-regulation headgear in the paddock he described his 69.42 as 'sensible', whilst Nick Taylor, faster at 67.58 felt Richard Prior was the man to keep an eye on after his first ever foray into the 66s (66.62) with a typical relaxed run, perhaps reflecting his new tyres scrubbing in.
Mechanical issues dogged the 308GT4 of the Attwoods, with the car not running right and slowing Ewan, with Tony copied John Swifts grasstrack racing efforts. Swifty himself suffered from a sticky throttle which frightened the life out of him, though a few years of experience prevented any major issues and he posted an identical time to P1. Pauline Goodwin put in a personal best, I improved in a ragged and aggressive run which I actually thought was poor, though the Hargreaves were off yesterdays pace and Lorraine's start was compromised which ruined concentration on her domestic battle with Chris, hence a slower time than P1. Jeff Cooper reported that the track had somehow shrunk in width with the winter rains around Farmhouse, which always looks the most intimidating sector on Youtube videos. Nevertheless, grip kept him on the black stuff for a best practice time of 78.08. First timer Juan Moreno felt his 70.91 of yesterday may have been unrepeatable, but as conditions were improving further, maybe more was to come from him and others ?
So, all poised for keenly awaited competition runs in the sun before lunch, and which were to see personal and class records tumble across ours and other classes. Pauline's 70.01 was her second of the day, Lorraine was only 3/100ths off hers, after 2 PBS the previous day, and Richard Prior scored his second PB too, pushing his time down to 66.26. This put the pressure on the other Championship leaders, with Phil posting 67.39 despite manhandling his 355 round the final bend to avoid hitting the posts and Nick Taylors 66.77 a little off his best of 65.98. But it was once again Mike Spicer who was in pole position for the points, his PB 68.56 giving him the advantage on PEP. Amongst other runners, Swifty clocked an improved 71.36 despite a feeling that many also had that there was time to be gained on the tricky final bends, and was left marginally behind myself on a pleasing PB of 71.30 after a frustratingly consistent but too slow day yesterday. The Attwood GT4 ran well for The Doc, taking 2 seconds off yesterday, but didn't favour a slower Ewan. Scuderia Hitchman Capo, Peter, finally got going halfway round for an improved 77.99 whilst son Chris put in a storming 69.28, easily the best of the 360s.
Lunch and a long delay for the single seaters run-offs, who do this hill in around 50 seconds, meant we had time to kill before our final run. Track conditions were still perfect, so many hoped for improvement, and indeed a couple of personal bests were recorded (myself and Peter Hitchman), but only around half the field posted improvements, as is often the case for final runs.
The battle of top time honours went to Richard Prior, on sparkling form yet relaxed as ever, with 66.31 (down a modest 5/100ths on T1), then Nick Taylor 19/100ths behind, and Philip Whitehead on 67.24, 15/100ths faster than T1. So, the expected contenders were fastest, but who would get the points ? All eyes on the yellow 328 of Mike Spicer, who was around a second down this time but nevertheless, once the calculator had come out, walked off with his third successive maximum points.
Chris Hitchman put in a 68.40 for 4th fastest overall, though commented he didn't think the car will ever go any faster, and a mixed set of results from the others in the unofficial 360 Class saw myself, Juan and Jeff Cooper all improve, with Lorraine and Peter Rogerson having peaked on T1. PG was a little off her T1 with a still impressive 70.55 and was very happy with her weekends work, both Hargreaves Snr and Jnr were also off previous pace though Peter Hitchman took a huge 3.5 seconds off his T1 time with a 74.44. Maybe the hearty dinner had finally worn off. Sadly the Attwodds GT4 developed a rev limiting issue which destroyed Ewans run, though Tony seemed to manage with a marginally slower second run. My apologies to John Swift, as having posted a 71.25, just inside my 71.30, I improved further to 71.12. I enjoyed the battle John – it's not always about the points for the top runners, there's plenty of competition further down the order.