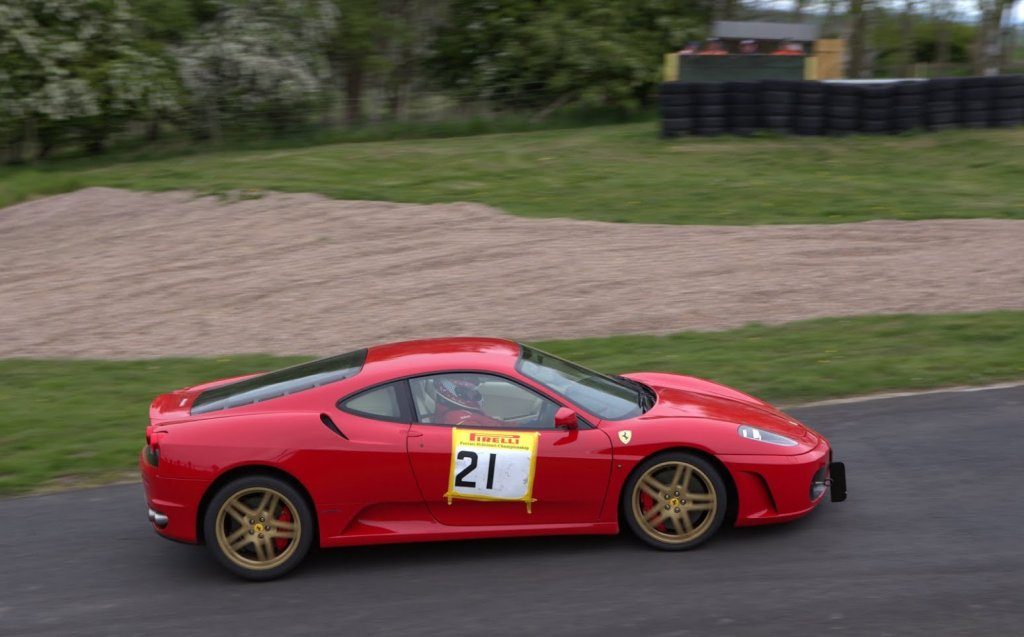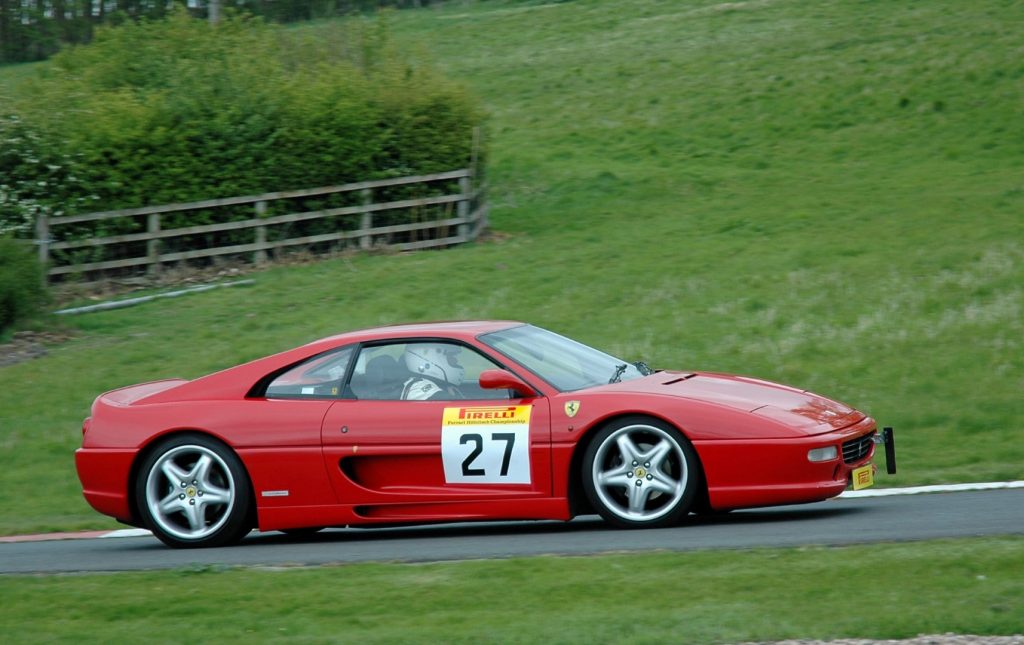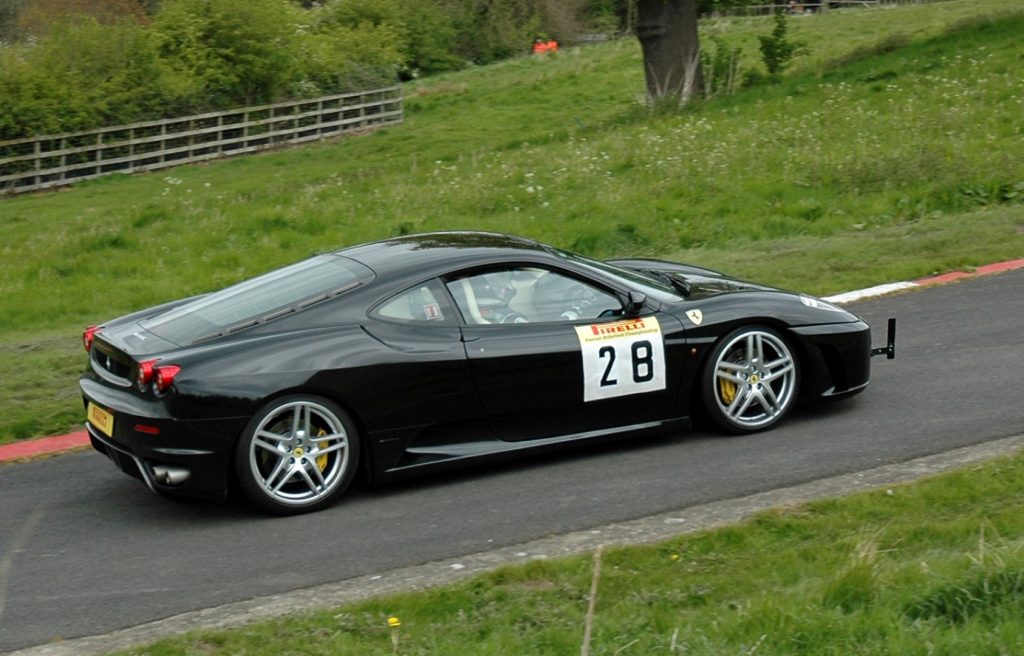 The weather for Sunday was much of the same: low temperatures and a chilling wind. On an adjacent field, the 'Fueled Society' had gathered together a collection of extraordinary vehicles finished in dazzlingly vibrant colours. Many of them had air suspension allowing them to show off alarming negative wheel camber angles that would surely give an MOT inspector heart tremors.
One imagines the cost of modifying these cars to this extent must be seriously expensive and one wonders why the owners bother. The nicest car, to the writer's eye, was the little red 308GTB of the Skinners, which was parked there by mistake!
This time we had 11 Ferraris to do battle. Iwan Attwood had joined his father to share the GT4, and Juan Moreno had taken his place in the class after his long enforced rest of the previous day. Swifty had scratched his F355 until the cause of the throttle jamming had been investigated and Peter Rogerson had absconded to play in a golf tournament where previously he had scored a highly acclaimed hole-in-one (with doubtless useful cash rewards).
The Attwoods caused some amusement when they lost a spanner in the nether regions of the family GT4 while fixing their timing strut. They imagined that it would shake itself out when they attacked the hill but it seemed to be determined to stay in hiding. Eventually Tony spotted it and replaced it safely in his toolkit.
With no driving to do, yours truly was given the job of scoreboard scribe by Championship Coordinator Anne, a task usually carried out accurately and so neatly by the absent Richard Prior. Come back soon, Richard, we miss you!
P1 produced moderate times, the fastest of which was Nick Taylor's 69.90. Nick commented that he thought the track was quite grippy, an opinion at odds with most of the others, who had reported, as Mark Wibberley put it, "no grip at all".
P2 caused Tayor to revise his assessment when he sailed straight on at the Esses. Most of the others' times were a useful improvement, with Snelson recording a promising 68.58, just over a second ahead of Whitehead, who had a little wobble at the final corner, Quarry.
Following a long lunch interval, ostensibly to allow spectators time to take in the wonders of the 'Fueled Society' display in the adjoining field, the hillclimb activities resumed.
The unhelpfully chilly conditions were confirmed by single-seater champion Trevor Willis. "It's been so cold this weekend, none of us could keep heat in the tyres," he commented.
In PFFC, Whitehead (68.65) closed to within 0.35 of Snelson's class-leading time, Chris Hitchman got his hammer down to break the 70-second barrier, and Iwan Attwood bettered his father's time of 77.87 which no doubt pleased him no end. Once again Jon G went a bit quicker in the Lusso with Pauline just half a second ahead.
In the battle of the 360s, Wibberley kept just ahead of Moreno (71.59). And Taylor again repeated his overshoot at the Esses to produce the slowest time of 79.49. "I really should have kept my mouth shut about thinking the track was 'quite grippy' " he muttered ruefully.
Only two official runs are possible when the British Hillclimb Championship is taking part, so R2 was make-or-break time for the Ferraris.
Moreno wracked his brain to work out a way to crack 70 seconds, something he had never managed before at Harewood. We discussed where he might save a fraction at various points and he seemed confident it would work. So, the proof of the pudding . . .
The final runs began with the temperature even colder than earlier. Wibberley went too deep into the Esses and took to the grass, which ruined his time. Similarly, Iwan made errors which scotched his chances of retaining his lead over Tony, who put in a super time of 75.90.
Then Moreno put his plans into action and, judging his split times, was almost certain to achieve his sub-70 ambition. But then he crossed the dreaded white line and was adjudged to have exceeded track limits. The punishment: a disallowed time. It simply hadn't been Juan's weekend. Whitehead, trying hard to beat Snelson's R1 time, got it all wrong at the Esses – just as Taylor had done earlier – and clocked a worthless 82.82. However, Nick managed to avoid a third desultory run with a 69.32 to put him on the podium once more.
Luck smiled on Pauline G when she was given a re-run (the timing clock apparently became faulty on her R2 run) and she improved on her discarded effort.
So, on scratch we had the same podium names as on the previous day except in a different order. This time it was Snelson on the top step followed by Whitehead and Taylor, with Whitehead carrying off the maximum 20 points. On handicap, Mark Wibberley almost matched his target to take first place, with Juan Moreno runner-up (and some consolation for his wretched ill luck).
It had been a perishing weekend but lots of fun. Let's hope that that the weather warms up for the next meeting, at the big Prescott event on 27 May.