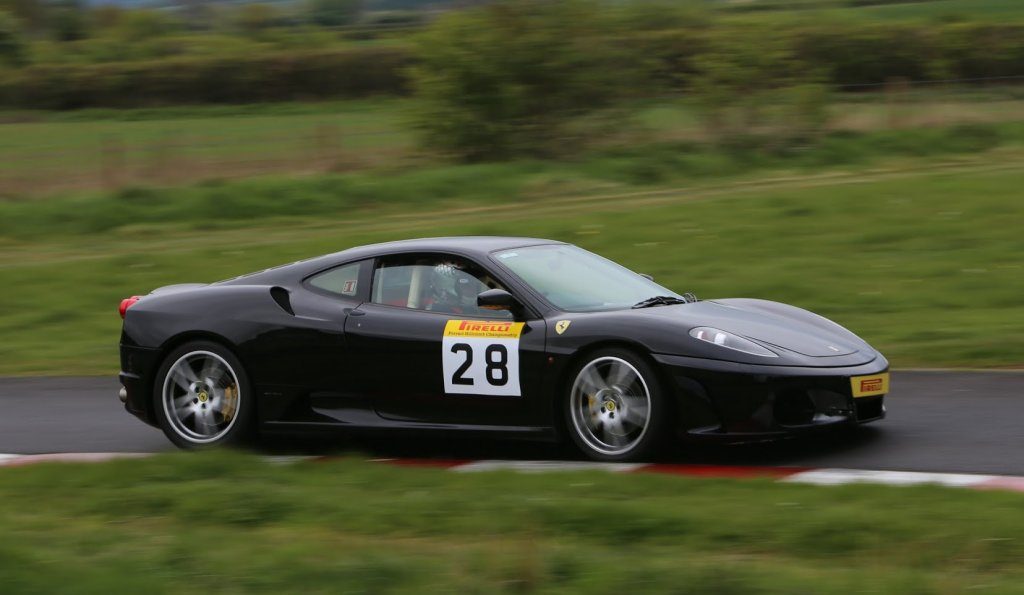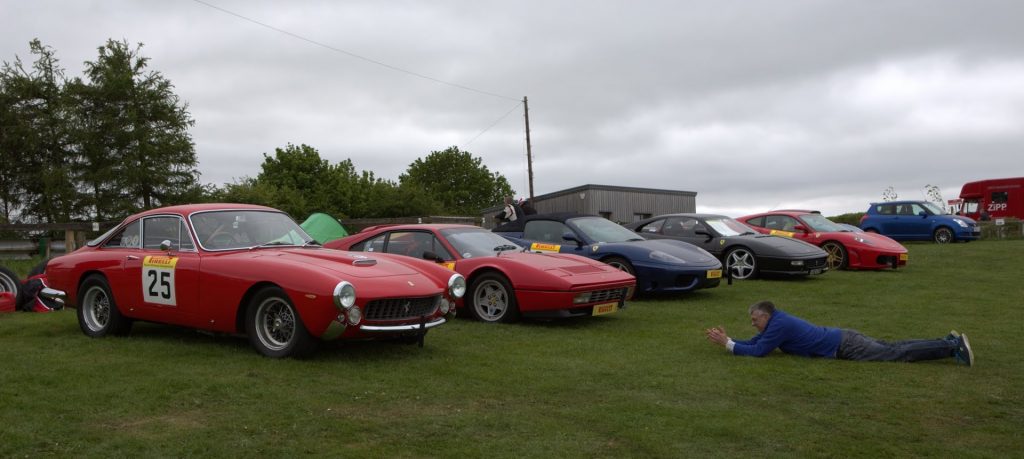 Isn't it always the same? Just when you think you're in for a brilliantly warm and sunny weekend, the weather gods play their tricks and ruin your expectations. So it was for our double-header meeting at Harewood on 6/7 May. Yorkshire had been bathed in lovely spring sunshine for days when, on Saturday morning, a bitterly cold wind swept in and refrigerated the hill for the whole weekend.
The ever-popular northern venue attracted an entry of 13 Ferraris, although by the start of first practice this had shrunk to 11 cars. Len Watson turned up in his Range Rover to report that his 308GTB was hors de combat due to a suspected bearing failure with a cam belt pulley. And Juan Moreno, who thought he had entered for both days, was told he had only paid for the Sunday meeting. His appeal to the organisers fell on deaf ears and he had to spend Saturday shivering in the confines of his parked 360 Modena whilst his compatriots kept warm doing their stuff up the hill.
First practice saw previous champion Phil Whitehead dip below the 70-second mark in his F355. Mark Wibberley (360 coupe) forgot to change gear after leaving the line and consequently was the slowest. P2 times were more respectable. Now it was the ebullient Dave Snelson who led the field in his F430 (68.45) with Whitehead and Nick Taylor snapping at his heels on 69.18 and 70.13 respectively. Of the others, Swift brought his black F355 into 4th, Jon Goodwin made sweet V12 music with his glorious Lusso, and Wibberley made a huge improvement (to 73.96) with a correct sequence of gear changes.
The first official runs were taken prior to the lunch break by which time we were joined by previous record holder Nick Frost, and our loyal fan club, Sue and Paul Skinner. Again, Snelson and Whitehead were ahead, posting identical times of 68.62. Taylor retained his third spot (69.12) while Swift and Chris Hitchman (in his dad's immaculate scarlet F430) vied for the next position, just 2 100ths apart. Tony Attwood expertly guided his nice 308GT4 to a very respectable 76.60 and Pauline Goodwin, driving the third 328GTB in her Ferrari stable, set her quickest time of the day in 74.25. She also posted the quickest 0-64ft time in a rapid 2.38 despite Harewood being one of the hills where pre-start tyre warming (Pauline's spectacular speciality) is now banned. Peter Hitchman made a huge improvement of almost 6 seconds in the shared 430.
It was on R2 that your scribe had a near-disaster when the F355's throttle stuck wide-open as he barrelled into Farmhouse corner. It was probably one of the quickest-ever Ferrari approaches and a catastrophe was only averted by quick dousing of the ignition. It was just eight years previously that the same thing had happened at Clark's – the first corner after the start – when the car hit the barriers heavily, incurring serious damage. The notion that bad luck comes in threes doesn't bear thinking about.
For the rest of the field, things were fortunately not quite as exciting. Now it was Taylor who showed his colours with a class-leading 68.41, a margin of 0.62 ahead of Whitehead. Snelson was slower after a little off-course excursion at Farmhouse, and Goodwins P and J posted near identical times in their disparate Ferraris.
The already cold track temperature seemed to be dropping even further for the third and final runs although this wasn't reflected in many of the times. Jon Goodwin – competing for the first time since autumn 2015 – continued his improvement on every run with a 75.91. Chris Hitchman clocked 71.26 to equal the ill-fated Swift's time and grab equal 4th on scratch. Attwood almost got down to his personal best in the GT4 while Snelson finally got ahead of Whitehead with a storming 68.08. However this wasn't quite enough to win the day: Nick Taylor had his menacing black F430 on fast-freeze to stop the clocks at 67.40 – a terrific time considering the far from favourable conditions and good enough to capture the 20 Championship points.
Peter Hitchman's startling improvement on R1 brought him the handicap award from the always competitive Tony Attwood.
Some very cold drivers and their companions set off for the nearby Bridge at Walshford for hot baths and sustenance. As usual at this comfortable hotel the eighteen of us enjoyed a pleasant dinner, preceded by glasses of Prosecco, in the lovely Byron dining room.