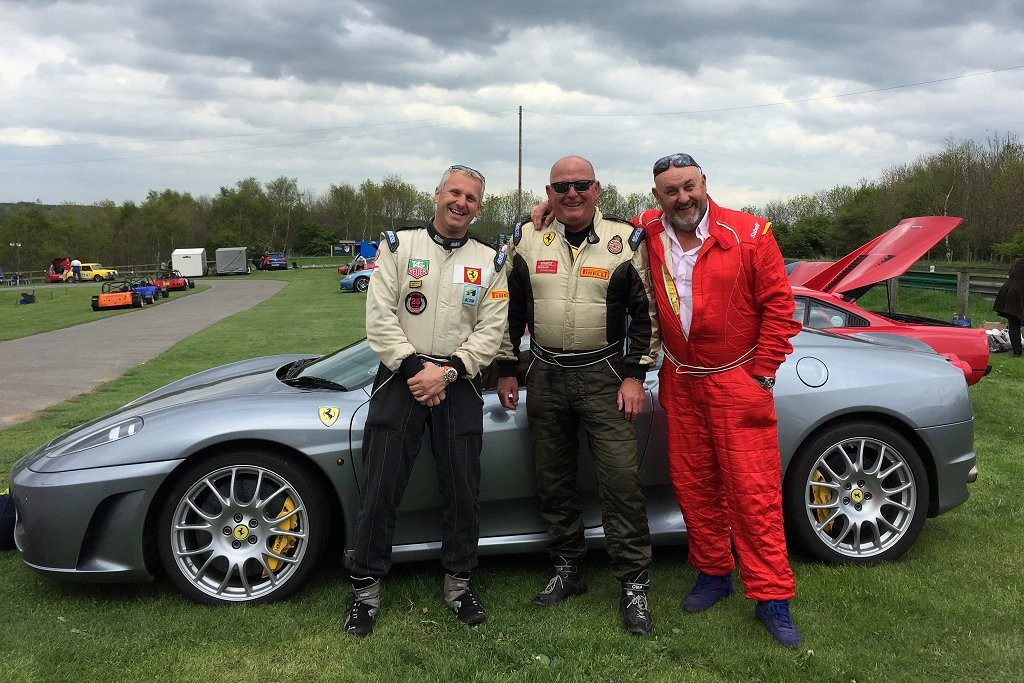 You could hardly imagine a bigger contrast with Saturday's fractious blustery weather; Sunday at Harewood turned out to be a very pleasant day indeed. As the tarmac warmed up in the morning sunshine so the tyre grip improved – all good, as they say.
Whereas the previous day's meeting was labelled 'Harewood Open', this event was more importantly titled 'The May MSA British Hillclimb Championship'. There is a bit of a downside to this elevation of title as the single-seater pilots get all the best slots meaning that we lesser competitors have our session times adjusted to accommodate them.
There were fewer competitors in the paddock and the rules were slightly different to Saturday. Even if there was time to allow it, MSA regulations dictate that other classes, including our Ferrari championship, are strictly limited to two official runs.
The Ferrari entry list was as the day before except for the absence of Philip Whitehead, who had returned home after impressively picking up the maximum points score at Saturday's meeting. It was difficult to predict who, of the other big hitters, would take the class although the smart money was split between Richard Prior and Nick Taylor.
After the excellent Ferrari Dinner at the Bridge at Walshford (and its accompanying liquid refreshment) the previous evening, our drivers reported for duty nice and early in the morning – necessary since we were the first batch for the 9am practice. There was one tardy driver: Dave Snelson and Bambi, who were too late to get a booking at the Bridge, spent the night at the Hilton in nearby Leeds and got mixed up with a big Half Marathon event, so missing first practice.
P1 saw a few contretemps. Jon Goodwin spun his 550 at Chippys after applying the loud pedal a thought too early. Tony Attwood was a bit too late on the brakes into the Esses and, rather than spin, went straight on into the infield but returned to the track to complete his run a few seconds later.
Richard Prior headed the P1 times (68.02), 0.63 seconds ahead of Richard Allen's similar F355, with the 430 of Nick Taylor back in 3rd despite clocking the fastest speed up the straight at 87mph. By the time P2 got underway, Snelson had arrived, made appropriate excuses to the Clerk of the Course, and was allowed two runs in quick succession, the second one a rousing 66.76. This stupendous time was no doubt assisted by having hot tyres for the second run although Dave commented "Didn't you know my middle name is stupendous?"
Pauline Goodwin experimented with selecting 1st gear out of Orchard on P2 but the California seemed to prefer a higher cog.
The first of the two official Ferrari sessions was late in starting after delays due to numerous 'offs' by the single-seater boys. Richard Allen got his F355 seriously out of shape at Orchard but retrieved the situation in masterly fashion. Talking of RA, his and your scribe's 0-64ft start times, at 2.49 and 2.51 seconds respectively, were the fastest of Sunday's times. Old guys can very occasionally be best, but it doesn't happen often.
Taylor was the leader after R1, with 67.18, just 0.4 in front of Snelson. Prior, slower than in P2, was third best at 67.90. Jon Goodwin was now driving more accurately and got the 550 down to 70.88, half a second ahead of Pauline's California which carries a 2% higher PEP tariff. Lorraine Hitchman was quick in her 328GTS (substituted for the 360 after it misbehaved in its garage on Saturday morning). Shaun Smith, in the only other 328, was 0.9 seconds ahead of her at this point.
Jack Hargreaves (308GTB) was about 0.6 seconds ahead of his dad's 308GT4 at this time; a suggestion that his pocket money might be reduced if he continued to drive so quickly wasn't taken up. In the Attwood's case, the reverse applied, with Iwan around 1.2 seconds in arrears of his father.
There was a long delay before R2 commenced. The course licence demands that two ambulances and crews are available at all times and one of these was needed to take care of a spectator who had suffered a fall in the paddock. An air ambulance arrived eventually and the unfortunate patient was despatched to Leeds Infirmary by helicopter where later he sadly died. It transpired that he had been a competitor at the hill during the '60s and '70s.
During this interval Pauline G found her California's battery was flat – she had inadvertently left the car's ignition switched on after adjusting tyre pressures with her little electric pump. The car was slaved off and left running to acquire some juice for R2.
It was now late in the afternoon and track temperatures had fallen when the meeting recommenced. Prior drove the wheels off his F355, attacking the plastic corner marker posts with little respect, but he was marginally slower (68.09) than on R1. Snelson tried hard but again was unable to improve. However Taylor wound his 430 up and clocked his fastest run of the day at 66.77 to take the class, the 20 points, and the BARC trophy.
RA was a commendable 4th overall with a sub-70 second time. The handicap award was won by Peter Hitchman from Tony Attwood.