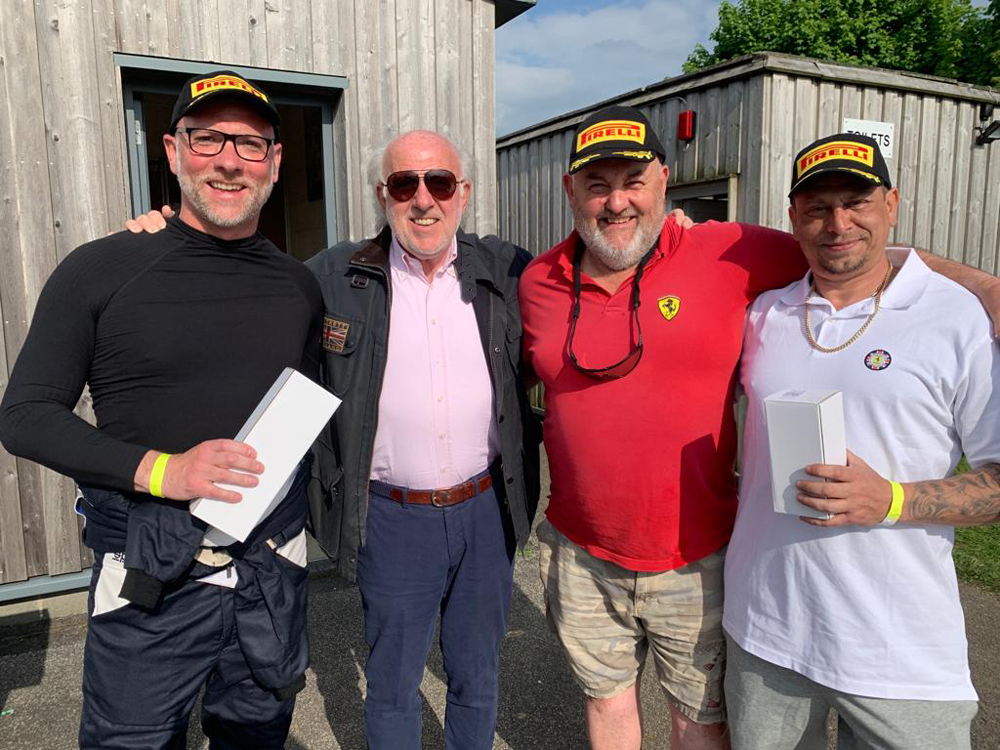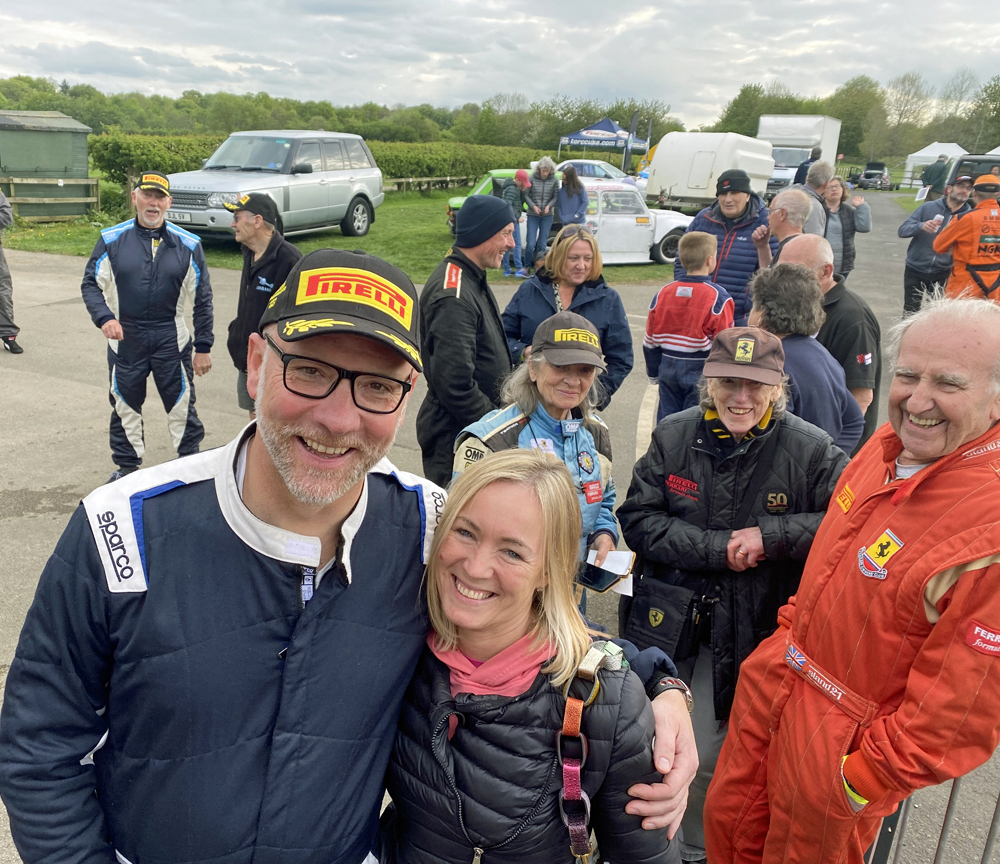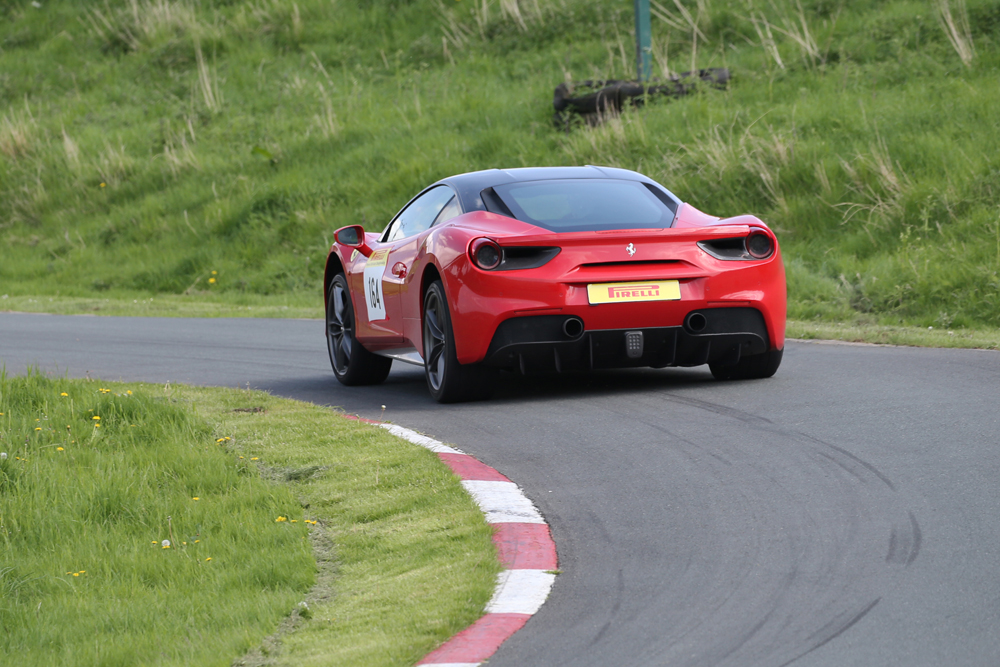 As a prelude to the second day of our Harewood weekend, most of our Ferrari party gathered on Saturday night in the famed Byron Room for dinner.  There is quite a history to be told about this lovely dining room, with its 18th century rococo plasterwork restored to its original glory after being left in derelict Halnaby Hall.  The Hall was a 17th century mansion famous as the site for Lord Byron's honeymoon in 1815.  In 1952 it was stripped and then blown up with dynamite to avoid taxes.  Twenty-two of us enjoyed an excellent meal preceded by prosecco, although yours truly had to be content with more wretched antibiotic pills.
Happily, the cars didn't have to be re-scrutinised the following morning and, with the exception of Steve Nunney (he had a previous engagement), we were quickly formed up for the Sunday action.   However, we realised that Mark Wibberley was absent – he 'phoned in to tell us he was unable to start his 360 Spider as apparently its gear change system had lost pressure.  Geoff Talbot, Peter Rogerson's riding mechanic, set off to the hotel with an electrical power unit to help.  It seems there is a trick to solve this problem – don't ask me! – and after getting advice from several quarters Mark was able to report that he was on his way.  Phew!
One interesting feature of the Ferrari line-up in the paddock was that they seemed to be in colour sequence: all the reds, then all the blues, the yellows and then the blacks.  Perhaps it was a happy accident.  In P1 Snelson was back in pole position with a 66.83, about a second quicker than John Kennedy's Cali T and yesterday's victor, Steve Thompson in the 488GTB.  Brian Jackson maintained his advantage over Pauline G. and once again Mark Wibberley, despite his little starting scare, had his 360 Spider immediately on the pace.  Paul Booth (76.23) began a series of runs that systematically got quicker as the day progressed.
The second practice times were almost all improvements on the P1 figures, with a determined Dave Snelson maintaining his lead.  And then it was the break for lunch.  We were envious of the marshals, who wisely had brought their own sandwiches.  As if by magic we were joined by Peter and Victoria Hayman.  They had driven all the way from Anglesey to see if Peter's record would be beaten, which on the basis of Saturday's times was a distinct possibility.  Peter has sold his record-breaking 488 and acquired an F8 ("just a little bit quicker").
The chips were down with the first of the official runs: Steve Thompson stopped the watches at 64.53 – just 1/100th of a second shy of the existing record!  I guess that Dave was regretting not bringing has Pista to the party.  A hard-trying Kennedy was all smiles as he beat his handicap time.  Also on the case was Booth, lopping two whole seconds off his P2 time.
R2, and Thompson made the slightest of errors in trying to squeeze that extra fraction which he needed to capture the record, although he was still fastest (65.24).  Booth (70.95) maintained his progress.  And Brian Jackson detected a slight 'clunk' in his 308GTB's final drive.  Perhaps wisely, he decided to withdraw from any further runs to make sure of getting home safely.
As we know, at most events we are given two official timed runs, but this afternoon BARC generously gave us a third one.  Thompson's R3 time was again terrific (64.64) but still an elusive 0.12 off the record.  And both Snelson (65.96) and Kennedy (67.30 but subsequently disallowed) nibbled fractions off their previous times to go respectively 2nd and 3rd on scratch.  This time Paul Booth took his 458 to first place on Handicap while Brian Jackson took home a total of 32 Championship points to put him ahead of Pauline in the Classic section.  A bonus for Brian was that his car was picked as the day's best turned-out.
Then, on to the official prizegiving which was very special.  Earlier in the afternoon we had heard the whirring of a helicopter landing.  It signalled the arrival of Dave Richards CBE.  For anyone interested in motor sport who hasn't heard of Dave, I can tell you that he is the chairman of Motorsport UK, the owner of Prodrive, former team principal of BAR and Benetton F1 teams and World Rally Champion in 1981.  In short, perhaps the busiest, most influential, and hugely talented man in motor sport on the planet.  Dave presented the day's trophies to all the winners including our Ferrari drivers.  It was an occasion they will remember for a long time.
Harewood had provided an exciting weekend of hillclimbing for us, and we look forward to the following two events at Gurston Down (on 19 June) and Shelsley Walsh (on 26 June).  Make sure you are there!