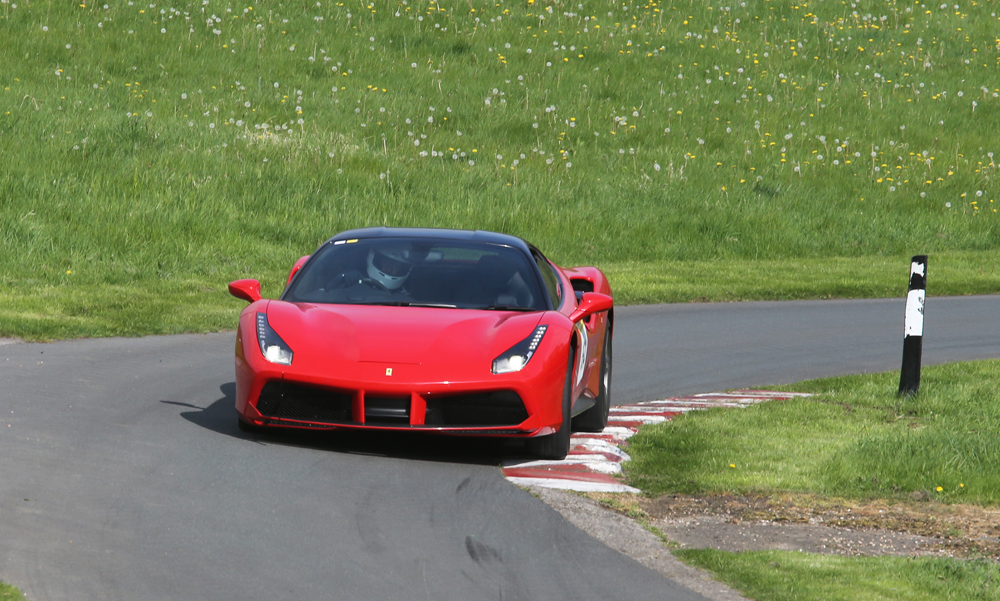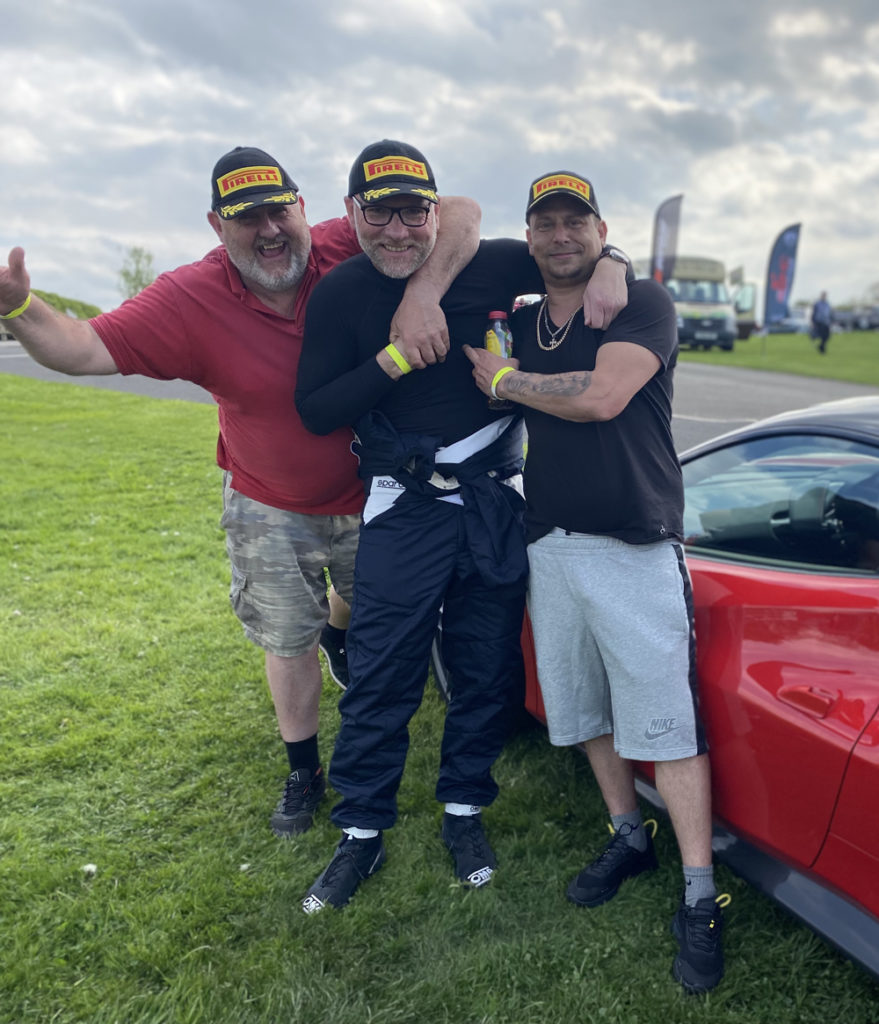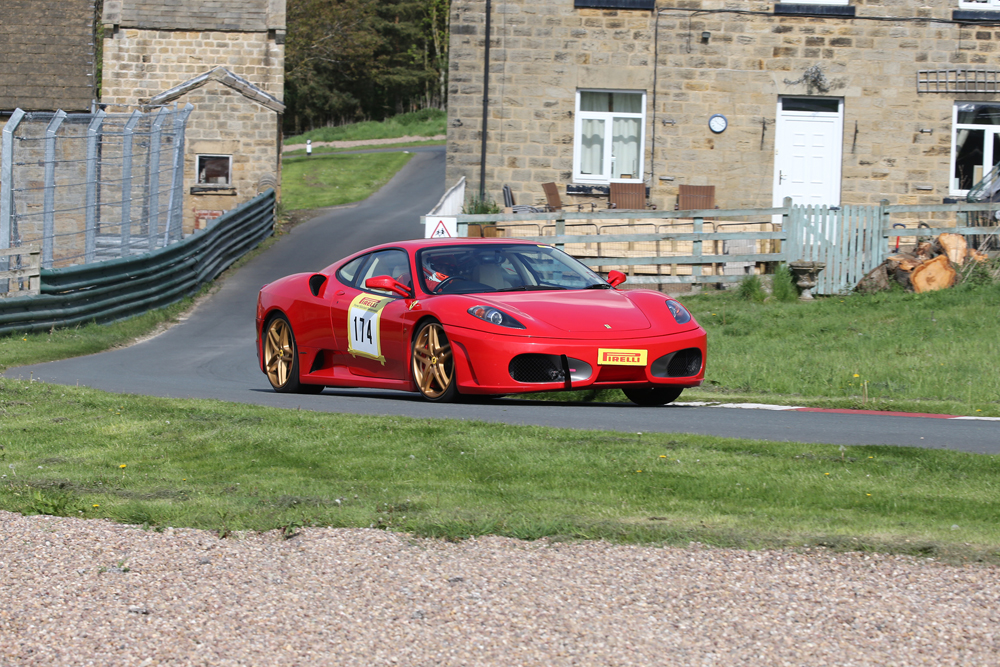 The PFHC hillclimbers' destination in early May, in accordance with long-standing tradition, is Yorkshire and the testing sweeps and turns of Harewood.  As usual, the weekend consisted of a double-header on the Saturday and Sunday, with a Ferrari dinner at the nearby Bridge Hotel at Walshford to enjoy in between.  This arrangement seems to suit the majority of Ferraristi and we were delighted to have the company of two of our diligent Championship Stewards with us: John Warner and Paul Skinner.  We also had a welcome increase in entries, even though Phil Whitehead and the Attwood duo were awaiting completion of repairs to their Ferraris after their misfortunes at Prescott the previous fortnight.
The BARC, who are responsible for the event, had just about returned the details of organisation to pre-pandemic norm.  All competing cars were individually scrutinised, signing-on was conducted in the hill office, and the computers were available to competitors to check run times throughout the day.  There were one or two new instructions that were irksome:  providing evidence of identity and scanning of documentation – particularly as the guidance BARC provided was wrong.
The Ferraris were allocated to a different area of the paddock to our usual spot so that we were unable to watch the competing cars complete their runs at the top of the hill.  Funny how you get used to things remaining the same!
As usual, there was a representative selection of Ferrari tipos to drool over: 308GTB, 328GTB, 348ts, F355, three 360s, 430, 458 Spider, California T, and the most recent – a gleaming 488GTB.  That all these disparate models can compete for Championship points on equal terms speaks volumes for our unique PEP system.
Things got underway on time for the first practice runs.  A small amount of overnight rain cast a bit of doubt about the grip level, but times were generally unaffected.  However, there were plenty of red flag hold-ups and re-runs due to faults with the timing gear.  John Kennedy had to make an unexpected return dash to his Harrogate hotel as he had left his comp licence (and cash!) in his room.  Pauline Goodwin noticed her emergency spare wheel was rolling about loose in the front compartment of her 328, causing some consternation.  Your reporter was almost rattling around with antibiotic pills in an effort to counter an infection that mysteriously made an appearance the night before.  Otherwise, not much to report on P1 apart from Pauline G. dramatically getting her car sideways at the finish line.  The quickest times were returned by favourite Dave Snelson (67.46) and the hugely competitive newcomer, Steve Thompson (70.27).  P2 runs were accomplished without drama, with Snelson again leading the field, but Thompson closing to within a couple of seconds.
Without a delay, the cars were then assembled for the first of what proved to be four official runs.  Thompson took to the grass as he over-enthusiastically attacked Country corner (72.06), Kennedy moved his Calif T into 2nd position (68.50) but the red 430 of Snelson took prime spot in 66.26.  Brian Jackson stopped the clocks at an impressive 72.72, demonstrating his prowess at the wheel of his beloved 308.  First timer Steve Nunney (348ts) was making was making workmanlike progress and Swift noticed the ABS warning light seemingly permanently displayed on his F355.  Since he is well used to cadence braking anyway, he wasn't too concerned.
Activity then ceased for the lunch break.  In the past, we looked forward to lunch at Harewood.  There used to be proper tables and chairs set out in a large marquee, with slick service from an excellent wholesome buffet menu.  All that has sadly changed.  The marquee has been replaced by a wheeled trailer from which is served the usual fried and greasy offerings.  Apparently the previous caterers were beaten in their bid for the contract – one can't but regret the change.
R2 saw some useful improvements to Ferrari times.  Thompson got it all together (67.00), Booth got the 458 Spider humming along (73.61) and Mark Wibberley made a useful improvement to 71.36.  Kennedy wound up his Calif to an impressive 68.09 but Snelson was again top of the form with 65.75.  Almost before we knew it, we were lining up for a third run.  R3 saw some good improvements:  This time, Steve T.  was the star of the show, recording the quickest scratch time to date: 65.75.  This should be read in the context of Peter Hayman's class record of 64.52, set in 2019 in an identical 488.
Then, to our surprise, we were given an unprecedented 4th run.  The weather had by now become cooler as a stiff breeze had blown up.  Despite the slight drop in track temperature, there were still some improvements for a few drivers.  Martin Jones was delighted to beat the 80-second barrier in his smart 360 (78.90) and Paul Booth shaved another second off his R3 figure (72.12).  Wibberley improved to 70.78 and Kennedy also did well (67.91).
So the Day 1 scratch winner was the impressive Steve Thompson who had managed to at last bring Dave Snelson's remarkable run of end-to-end victories to a close.  We were pleased that the winner of the Handicap Award was Steve Nunney, who hadn't seen the hill until that morning.  And John Warner and Marjorie deservedly picked Paul Booth's magnificent 458 as the Best Turned-Out Ferrari.
We all then gathered our belongings and followed your scribe in convoy to our venue for the evening.