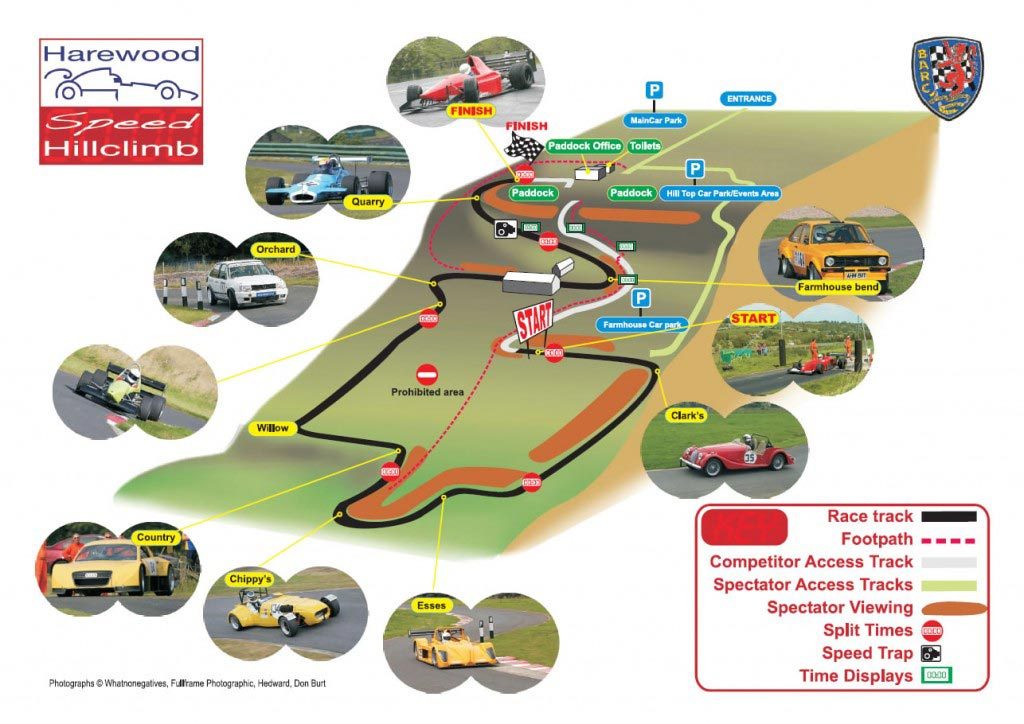 A mixed weather picture was in prospect for the first two rounds of the PFHC over the weekend of 12/13  May.  A fine day on Saturday was forecast, to be followed by rain until around 2pm on Sunday.  In the event the overnight rain had cleared by breakfast time on Sunday so our 14 competitors enjoyed a very pleasant weekend.  It was good to see two newcomers join us this season: Salvatore Albanese in his F430 and Paul Booth with a 458 Spider.
Peter Hitchman had to withdraw his F430 due to a hand injury sustained in a dispute with a large wheelie bin while abroad.  Chris Hitchman, who was due to share this car, instead shared the 360 Modena of wife Lorraine.  Jeff Cooper also withdrew his 360 entry after being injured by a horse – only a small one (an American miniature horse called Ralph) but able to inflict a full-blown black eye if he gets too friendly – which meant its owner, Caroline, didn't take part either.
The Ferraris were first on the hill both days so an early start was required.  A few drivers seemed rusty on their first practice runs after the winter lay-off and took to the grass at various parts of the track, losing themselves a second or two.  P2 saw everyone more controlled and we went into the lunch break with Dave Snelson (F430) leading on 67.87, well ahead of the rest of the class who were all in the 70's.  Chris Hitchman was next on 70.11 followed by Lorraine (72.79).  In the 73's were Brian Jackson, using his California T for the first time at Harewood, and Mark Wibberley (360 Spider). Then came local man John Swift in his F355, followed by new boy Albanese in the 74's.
Following lunch in the Harewood café it was onto the first timed runs and Snelson was slowed by a slight off-course excursion allowing Chris Hitchman to take over the class lead with a 69.86.  Dave held on to second with 70.25 but now found himself challenged by Paul Booth, who hustled the 458 up the hill in 71.80.
The second runs saw normal order restored with Dave on 68.07, Chris on 69.84, and then Brian on 70.94, having managed to prevent the California's traction control interfering too much on this run.
We were about to pack up for the day when a third run was confirmed (it was only mid-afternoon) so it was back to the track for all except Jon Goodwin, who decided to give this run a miss in his 250 SWB re-creation.  Improvements were made by Snelson, Hitchman, Booth, Lorraine Hitchman, Wibberley, and Peter Rogerson (360 Modena), so a worthwhile run for most.
Looking at Saturday's final results we had Iwan Attwood, in the shared 308 GT4, on 78.86 and ahead of him Peter Rogerson on 76.01.  In the 75's were Jon and Pauline Goodwin with Tony Attwood just ahead of them.  John Swift finished on 74.09 with Salvatore ahead on 73.49.  Mark, Lorraine and Paul were all in the 71's, while 3rd was Brian on 70.94, 2nd Chris Hitchman 69.04, and the winner Dave with 67.60 to collect the 20 Championship points.  Paul Booth won the Handicap being ¼ second below his set time.
Back at the Bridge Hotel that evening we were served a splendid meal in the Byron Room and it was a rare pleasure to welcome two of our Championship stewards: Jeff Simpson and Sue Skinner (with husband Paul), along with Jeff & Caroline Cooper who came along to spectate at the Sunday event as well.