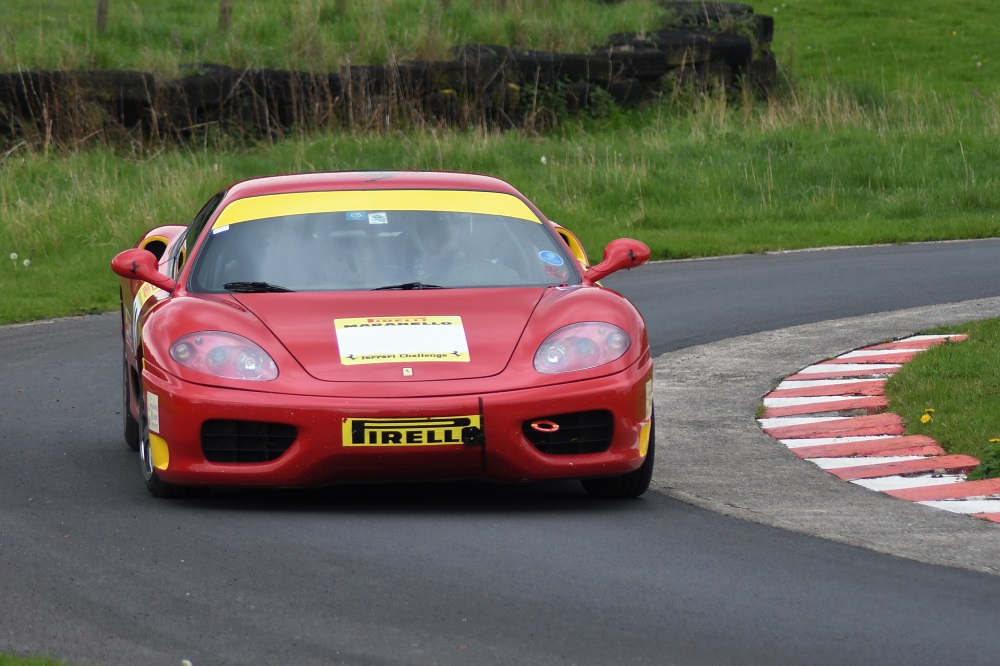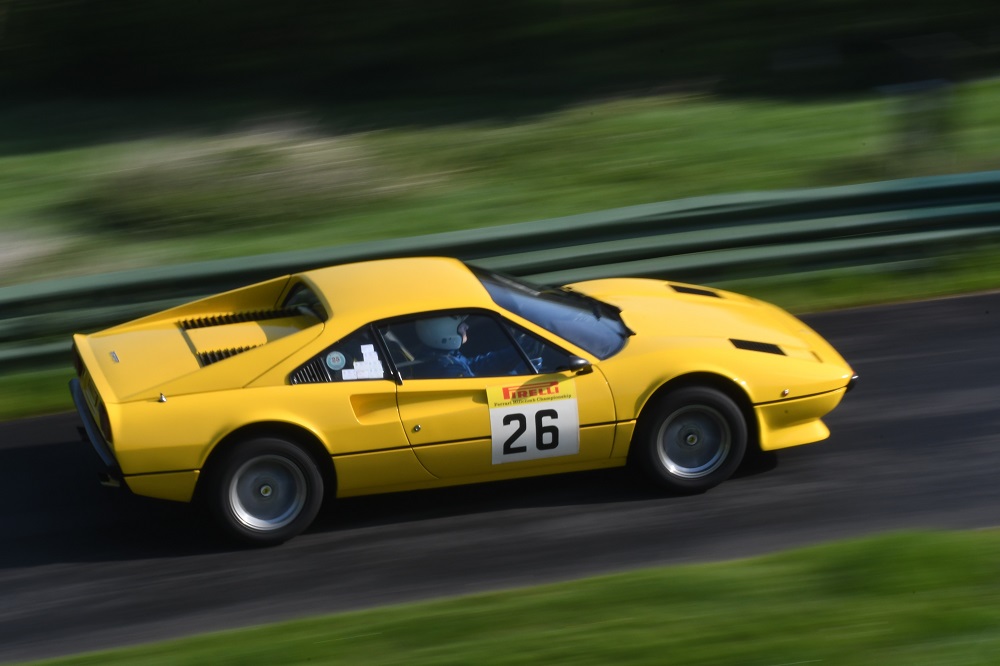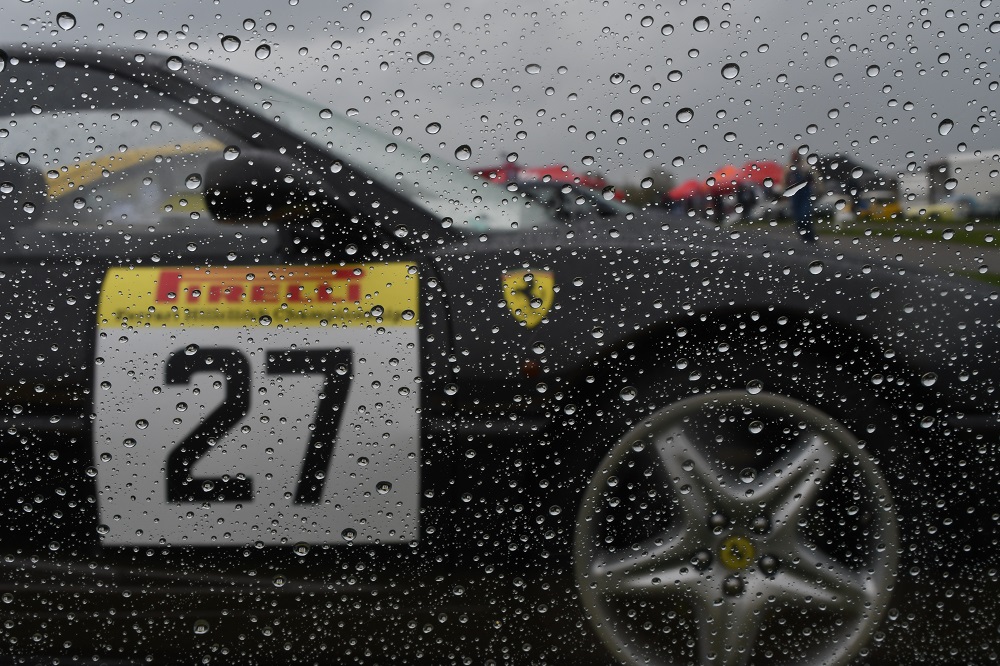 Harewood has always been a favourite with Ferrari hillclimbers, but this season we seem to have seen a resurgence of interest.  The entry for Saturday's event – Round 2 of the 2019 Championship – was a thundering 18 drivers, and almost back to figures we had in the 'good old days'.  It would have been 19 if Jeff Orford, our airline pilot, had managed to secure an entry with his F355.
Many of the cars and drivers were familiar friends from last season so let us concentrate on the new faces and/or cars. Tim Dickinson comes from Halifax with his sharp-looking 458 spider finished in mafia black.  Tim had absolutely no previous experience of speed hillclimbing but in years gone by he was pretty handy on racing motorcycles.  He was offered 'guest' status for the day: if he liked what he experienced he could subsequently register for the Championship.  Tim had prudently sampled the Harewood drivers school to help him on his first essay.
 Another newcomer was Martin Jones, who is based in Cologne.  He arrived with an old friend of ours in the shape of a 360 Modena which, back in 2002, was campaigned with great success in the 'O' class of Pirelli Maranello Ferrari Challenge by John Taylor.  The car is still in the livery it was dressed in that year, with the extravagant yellow flashes on its flanks that were the signature of Steve Farthing's Wren Classics.  Again, Martin is new to hillclimbing but bubbling with enthusiasm.  He tells me he still has every copy of Ferrari Competition News and his very favourite Ferrari was his Dino 246GTS – all good news to my ears!
It was a great pleasure to welcome Peter Hayman with a scarlet 488GTB.  Peter made his debut with our hillclimb Championship on 16 April 2002 at Gurston Down, driving a formidable silver 512 TR.  He made his first appearance at Harewood 18 years ago in that same car, vying with Nick Frost for FTD in the class.  He returns to America in a few week's time to do a gig in Nashville where he plays piano with rock 'n' roll legend Gerry Lee Lewis.
Richard Preece arrived in his newly acquired 360 Modena, a very smart dark metallic grey car that wouldn't disgrace a concours. Jon Goodwin's weapon of choice was his lovely 275GTS which had aficionados' cameras clicking.  The Coopers – Caroline and Jeff – made a welcome return in their shared 360 Modena after a short break last season.  Caroline tells me she is back in the saddle in  competitive equestrianism (but thankfully not riding that disfunctional steed that caused all her problems!).
So, having sorted out the dramatis personae, let's get on with the action.  As predicted by the weather prophets, the morning started off fine but gradually deteriorated to dismal rain of varying intensity.  Jon Goodwin, with the hood unfurled on his 275GTS, got into trouble with the marshals for not having a visor or wearing goggles – an oversight that was easily corrected.  Pauline's 328GTB was on new Pirellis having comprehensively flat-spotted her previous set at Bouley Bay.  Jeff Cooper confided that it was just 5 years since his debut at Harewood, a fact trumped by Mike Spicer who admitted to a yeomanly 20 years.
For most, P1 was a bit tentative except for our current champion, Dave Snelson (F430) who scorched up in 66.85 (rumour had it that he had recently done a refresher at the Harewood school).  Peter Hayman was driving the very first Ferrari 488 we have seen on the hills and his time of 67.14 was a pointer to the car's potential.  The two glorious bright yellow 3-series machines were immediately on song, with Brian Jackson (72.74) marginally quicker than Mike Spicer (73.13).  P2 times were generally faster, with the Hayman car now quickest overall at 65.01, a soupçon short of Nick Taylor's official Ferrari record of 64.82 set nine years previously.  Of the rest, worthy of note was Spicer's 70.49, newcomer Dickinson's 68.91, and Nick Taylor's new personal best with the 430 of 65.91.
The best place to be following the P2 runs was the tented cafeteria where we enjoyed a variety of hot lunch dishes, safe from the heavy downpour of rain outside. It was still raining quite heavily when we were called up for the first of our official runs.  Now it was Taylor who led the field on scratch, with Snelson a little over a second in arrears.  Most of us saw little point in chancing fate in the nasty conditions, hoping that the weather would improve for the final runs later on.
 By the time R2 arrived the course was substantially dry although a few damp patches were an inhibiting factor.  Tony Attwood was now in control of things in the shared 308GT4 at 78.09.  In the battle of the 360 Modenas, Mark Wibberley (71.98) held the fort from Richard Preece, who was quickly getting to grips with his new wheels.  Mike Spicer put in another herculean performance in his 328 (70.79) to move into 5th on scratch although Brian Jackson skillfully drove his older 308 into 6th spot, only a second slower.
 At the pointy end of the list the two 430s, the 458 of Dickinson, and the 488, slogged it out with gusto.  In the final analysis it was Nick Taylor who found that fractional split second to take the scratch victory on 65.87, with Dave Snelson right on his heels (66.30).  In third place, the 488 of Peter Hayman stopped the clocks at 69.06 just in front of Tim Dickinson's maiden 69.77 – a great achievement by both drivers.  Nick was also rewarded with the 20 Championship points, ahead of Dave on 17 and Brian with 15.  Richard Preece beat the handicappers ahead of Mark Wibberley and Tim Dickinson.
Most of us loaded up our soggy belongings and repaired to our weekend headquarters at nearby Hazlewood Castle for our traditional Hillclimb Dinner and a comfortable bed.  We were able to give our thanks to our two Club stewards of the day, Jeff Simpson and John Warner, and applaud the day's successful pilots.  There was lots to chat about and, judging from the laughter and tinkling of  glasses, everyone had an enjoyable time.